Events & Tickets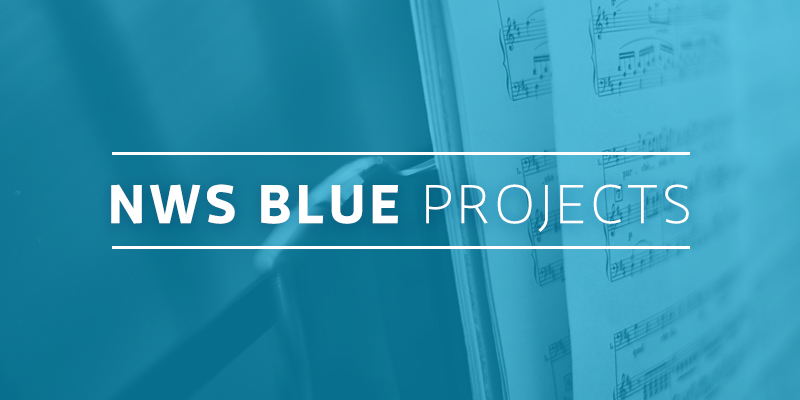 2020-21 NWS BLUE PROJECTS
During the 2020-21 season, NWS Fellows are participating in NWS BLUE projects. Standing for Build, Learn, Understand and Experiment, NWS's BLUE program is a combination of leadership and entrepreneurship training and hands-on experimentation that provides NWS Fellows with a comprehensive skill set to complement their musical training. 
NWS BLUE projects allow all Fellows to pursue musical activism based on their personal interests with their own original initiatives, from concept to execution. These special projects guide their continued development, while demonstrating music's ability to have a positive impact on the community, and benefiting South Florida programs and businesses. 
NWS BLUE projects were made possible with support from the Maxine and Stuart Frankel Foundation. 
The 2020-21 season's BLUE projects fall into three main categories: audience and community engagement, education and media, and will reach diverse audiences. 
* MIDIC WINDS RESIDENCY 
September 2020 
Fellows: Johanna Gruskin and Justin Cummings 
Alumnus: Russell Rybicki 
Wind quintet residency in Kansas that provided live performances and a recital on the Live from our Living Room series. The quintet also commissioned a new work dedicated to Goodland, Kansas.  
* INSIDE THE MUSIC: MUSIC AND MINDFULNESS 
Thursday, December 1, 2020 at 7:00 PM ET 
Fellow: Carson Marshall 
A guided online experience including a centering meditation, and encourage the audience to explore their own experience through a series of sonic meditations including original improvisations, works by J.S. Bach, and others. 
* FACE OFF: A BATTLE OF THE INSTRUMENTS 
* CONCERT FOR KIDS: FACE OFF JR.! 
Friday, January 15, 2021 at 7:30 PM ET 
Sunday, January 17, 2021 at 2:00 PM ET 
Fellows: Angelo Quail, Corbin Castro and Eli Pandolfi 
Hosted by DJ Fly Guy, Fellows vie for the win in a classical music competition that has the audience deciding the winner. New this season is a kid-friendly version hosted by NWS alumnus Zach Manzi.  
* INSIDE THE MUSIC: THAT SOUNDS LIKE… 
Tuesday, January 19, 2021 at 7:00 PM ET 
Fellow: Chava Appiah 
A lecture recital that will explore certain musical techniques Western classical composers use to appropriate sounds from musical cultures beyond their own. 
* SOLO SPOTLIGHT: THE OBOIST 
Monday, January 25, 2021 at 7:00 PM ET 
Fellow: Victoria Chung 
A multimedia recital that portrays the life of a musician before and during Covid-19 through a broad sound world of oboe pieces, as well as colorful visual narrative 
* BRAHMS V. TCHAIKOVSKY: THE STRING SEXTET  
Monday, February 1, 2021 at 7:00 PM ET 
Fellows: Michael Turkell and Stephanie Block 
Alumnus: Nicholas Mariscal  
NWS Fellows, alumni and friends put two of classical music's beloved Romantics head-to-head with their iconic works for string sextet. 
* INSIDE THE MUSIC: AMERICAN HERITAGE
Tuesday, February 9, 2021 at 7:00 PM 
Fellows: Brendon Elliott
A recital of American music that explores a musical history that's often left out of the spotlight. 
* SOLO SPOTLIGHT: PERCUSSIONIST AS SOLOIST  
Monday, March 8, 2021 at 7:00 PM ET 
Fellow: Marcelina Suchocka 
Recital of solo percussion works.  
* SPECTRAL SOUNDS: THE REAL WORLD IN THE SYMPHONY 
Friday, March 26, Thursday, April 15, and Thursday, May 6, 2021 at 7:30 PM ET 
Fellow: Scott Leger  
A series of streamed performances, partnered with an interactive online "concert museum," that allows the audience to engage with music and sounds featured on the concert program. The program will feature music that is inspired by birds, water and "unNatural" human-made sounds.   
* SOLO SPOTLIGHT: AMERICAN PIANO PREMIERES
Monday, April 5, 2021 at 7:00 PM ET 
Fellow: Thomas Steigerwald 
A recital featuring premieres of solo, chamber and small ensemble works. 
* INSIDE THE MUSIC: HOUSE CONCERT
Tuesday, April 6, 2021 at 7:00 PM ET
Fellows: Joo Bin Yi and Jung Eun Kang 
Online performance of Baroque and Classical chamber music by NWS Fellows sheltering in place at home in Korea.
* BEER AND BRASS 
Friday, April 16, 2021 at 7:30 PM 
Fellows: Andrew Abel, Arno Tri Pramudia, Luca Farina, Morgen Low and Corbin Castro 
Explore the notes of taste and sound in this adventurous evening that pairs brass quintet works with different beers by Veza Sur. Performance includes world premiere of an NWS commission by Giancarlo D'addona Castro that is inspired by a craft brew.  
* EXPLORING WORLD FLUTES
Monday, April 19, 2021 at 7:00 PM 
Fellow: Jack Reddick 
A multi-instrumental recital featuring new and little-known works for different types of flutes from around the world, with a historical description of each one. 
* INSIDE THE MUSIC: MENTAL HEALTH @ NWS  
Tuesday, May 4, 2021 at 7:00 PM 
Fellow: Leah Stevens 
Recital to raise support for NAMI Miami-Dade—a mental health organization that provides free mental health resources to NWS's local community. 
* UNMUTED: DISCOVERING THE HISTORY OF CLASSICAL MUSIC COMPOSERS AND PERFORMERS OF THE AFRICAN DIASPORA 
Date TBA 
Fellows: Chelsea Sharpe and Brendon Elliott 
A lecture recital exploring Black composers and musicians through historical context, video animations and performance. 
* LIVE FROM OUR LIVING ROOM 
Ongoing throughout season 
Fellows: Scott Leger, Chava Appiah, Margeaux Maloney, Scott Jackson, Arno Tri Pramudia 
Live and pre-recorded chamber music performed by NWS Fellows from their homes in Miami Beach and at the New World Center. 
ENCORE FOR HEROES  
Fellows: Harry Chang, Stephanie Block, Sophia Bernitz, Clare Bradford, Michael Rau, Sam Pedersen and Dillon Welch 
Series of videos featuring classical music's most beautiful melodies, dedicated to healthcare heroes and front-line workers. 
A NEW WORLD OF MUSIC PODCAST  
Fellows: Gabe Napoli, Spencer Ingersoll 
Conversations with musicians about innovation, creativity and entrepreneurship. 
THE ART OF THE MUSIC LIBRARY 
Fellow: Matthew Searing 
Creation of a method book for aspiring music librarians 
OPEN BOOK PERCUSSION RESOURCES
Fellow: Charlie Rosmarin 
A free online educational resource for percussionists, featuring blog posts, interviews, videos, and recommended readings.
MUSICIAN'S LIFESTYLE BLOG: THE MARLEA NOTE 
Fellow: Marlea Simpson 
Lifestyle blog for musicians that covers fashion, beauty, health, fitness and music 
@FELLOWSOFNWS 
Fellows: Kathryn Bradley and Michael Turkell 
Create an NWS Fellows page on Instagram to be run by Fellows in order to share their stories and expand NWS's global reach. Follow @FellowsOfNWS. 
VIA: VIRTUAL INCLUSION ARTISTS + MIAMI MUSIC PROJECT 
Ongoing throughout season 
Fellow: Corbin Castro 
Alumni: Christopher Robinson 
VIA artists continue to engage musicians from communities underrepresented in classical music through a new partnership with Miami Music Project. 
ORCHESTRAL EXCERPT DIGITAL COMPANION  
Fellow: Ethan Hoppe 
Fellow-created website that serves as an audition preparation resource. 
SOCIAL MEDIA SYMPHONY 
Fellow: Scott Leger, Ka-Yeon Lee  
Led by Horn Fellow Scott Leger, Fellows experiment and create a variety of social media content for YouTube and Instagram. 
PBUZZ BOOTCAMP  
Fellow: Arno Tri Pramudia 
Online workshops about brass fundamentals for young instrumentalists 
INTERACTIVE CONCERT PLAYBOOK: A MUSICIAN'S GUIDE TO ENGAGING AUDIENCES
Fellow: Thea Humphries 
A research project that will culminate in an Audience Engagement guide for interactive performances and series of resources for performers. 
BRASS QUINTET PLAY-ALONG  
Fellow: Jessica Elder 
Educational play-along resource for students wishing to perform brass chamber music with others while ensembles are unable to gather during the pandemic.  
NWS AND SEATTLE PUBLIC SCHOOLS PARTNERSHIP 
Fellow: Antonio Escobedo 
A partnership between NWS and Seattle Public Schools on educational resources and guides for student musicians and teachers during the pandemic. 
THE COLLECTIVE QUARTET 
Fellow: Stephanie Block 
Alumni: Drew Comstock, Christopher Robinson and Alex Gonzalez 
The string quartet is recording a series of interviews with underrepresented composers and remote recordings of their pieces.  
SHATTERING THE CEILING 
Fellow: Kelsi Doolittle 
A series of conversations empowering women and building community in the classical music industry. 
 
* Events that are open to the public