Events & Tickets
WALLCAST® Concerts and Park Events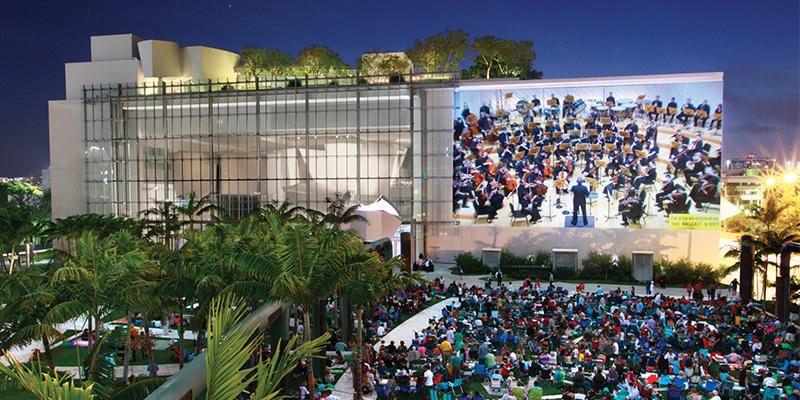 NWS WALLCAST® Concerts
New World Symphony WALLCAST® concerts, allow you to experience live classical music performances throughout the season at SoundScape Park through a striking use of visual and audio technology on the soaring, 7,000-square-foot projection wall of the New World Center. 
Bring a blanket, share a picnic dinner and enjoy the sights and sounds of the New World Symphony with friends and family! 
WALLCAST® concert goers have public restroom access in the southeast corner of SoundScape Park during each WALLCAST® concert. Download NWS's free app for program information and concert reminders.
NEW: NWS's new Mobile Wall, a 23x13-foot projection wall with a state-of-the-art sound system, will extend the viewing areas in SoundScape Park during WALLCAST® concerts.
NWS's 2023-24 WALLCAST® Concert Series
Remainder of concerts announced in late October. Join our e-mail newsletter list to be the first to hear about our season-long WALLCAST® concert series.
WALLCAST® Concert Club
Sign up for the free WALLCAST® Concert Club to receive notifications and reminders about upcoming WALLCAST® concerts and events in SoundScape Park, special offers and discounts.
You can sign up online today.
WALLCAST® Concerts: Behind the Scenes
NWS Mobile WALLCAST® Concerts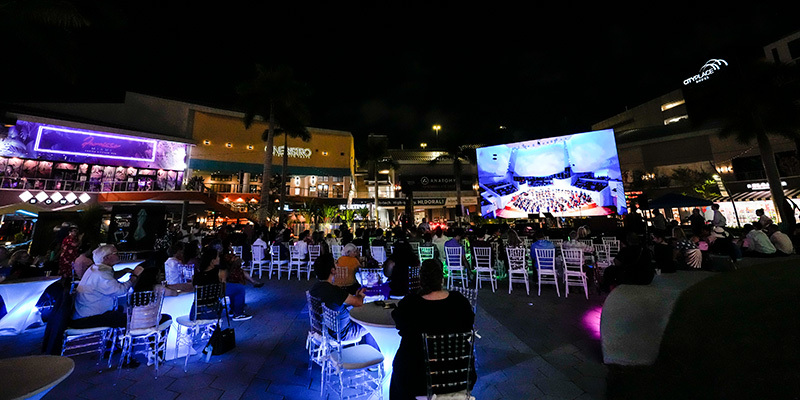 New World Symphony launched its much-anticipated Mobile WALLCAST® Concert Series in the 2022-23 season. It is an essential part of its commitment to make symphonic music accessible to audiences beyond the New World Center.
The New World Symphony's groundbreaking WALLCAST® Concerts allow concertgoers to experience great music while enjoying an evening under the stars in SoundScape Park. The Mobile WALLCAST®, first unveiled at SoundScape Park in May 2022, brings the WALLCAST® experience on the road and into communities around Miami. 
SoundScape Cinema Series
Entering its 14th season, the Cinema Series at SoundScape Park returns in October 2023 — featuring some cinema's latest blockbusters.
The FREE SoundScape Cinema Series is held at SoundScape Park at the New World Center. Movies begin at 8:00 PM, RAIN OR SHINE unless otherwise noted. Stay informed by signing up for e-blast at mbartsandculture.org. Titles subject to change. 
In order to welcome all members of our community, films in SoundScape Park will be screened with English subtitles and captions, where available. The SoundScape Cinema Series is presented by the City of Miami Beach. Any requests for any other accommodations should call 305.604.2489 and select 1 for English or 2 for Spanish, then option 6; TTY users may call via 711 (Florida Relay Service).
2023-24 SoundScape Cinema Series
OCTOBER
4: Guardians of the Galaxy Vol. 3 (2023)
11: Asteroid City (2023)
18: Indiana Jones and the Dial of Destiny (2023)
25: The Little Mermaid (2023)
NOVEMBER
1: Mission Impossible: Dead Reckoning - Part I (2023)
8: Elemental (2023)
15: Spider-Man: Across the Spider-Verse (2023)
22: Barbie (2023)
29: Fast X (2023)
DECEMBER
6: No screening due to Art Week
13: Mrs. Harris Goes to Paris (2023)
20: Teenage Mutant Ninja Turtles: Mutant Mayhem (2023)
27: The Wizard of Oz (1939)