New World Center
Other Spaces
Additional spaces at the New World Center are available for larger events as support or break out rooms, meeting space for executives using virtual connectivity or as unique audio and video recording suites for artists seeking inspiration.
THE CLINTON ROOM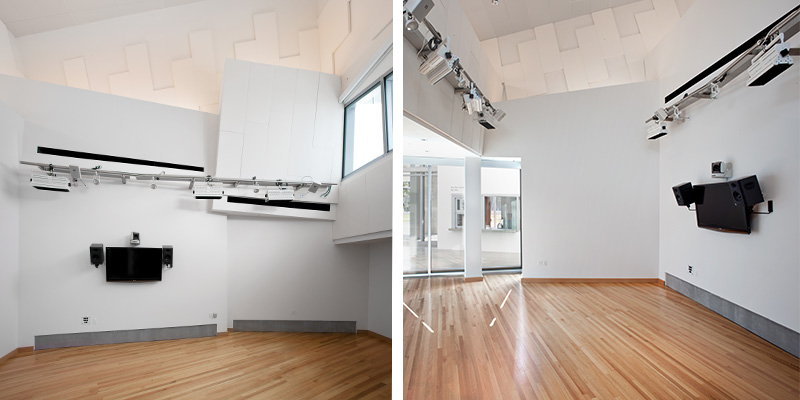 Located within the atrium lobby, the Martha and Bruce Clinton, Clinton Family Fund Ensemble Room is partially glass enclosed, inviting guests to witness musicians at work, view a premier sponsor's products or lounge while people-watching. Fitted shades provide privacy to create a meeting or staging area while acoustical treatments preserve recording integrity. The Clinton Room is an excellent space for sponsor activation, press interviews, and small meetings with virtual participants.
Martha and Bruce Clinton, Clinton Family Fund Ensemble Room capacity is seated at rectangles for meetings, 20/standing 35.
THE CLINTON ROOM  – FLOOR PLAN (PDF)
ATRIUM TERRACE
Overlooking the atrium lobby and offering dramatic views of the New World Center's signature Gehry architecture and Miami Beach Soundscape Park, the atrium terrace is a unique gathering space. At the behind-the-scenes intersection of the Knight New Media Center and the performance hall production command center, this lofty terrace hovers halfway up the atrium airspace offering a vantage point like no other in the facility.  
The atrium terrace holds up to 100 standing and 40 seated in rounds.
ENSEMBLE ROOMS 3 and 4
Ensemble rooms 3 and 4 reside on the third floor across from the Knight New Media Center. Their fluid shapes combine to subtly suggest a blooming flower. Space outside these adjacent rooms can be used as a staging or guest waiting area. These adjacent meeting and recording suites enjoy a shared recess.
Ensemble room 3 accommodates 18.
Ensemble Room 4 accommodates up to 15.
Small practice rooms are available on the first floor for individual musicians to hone their craft. These practice rooms can also be used as staging or changing rooms depending on client needs.
Capacities subject to change based on event parameters.
ENSEMBLE ROOM 3 – FLOOR PLAN (PDF)
ENSEMBLE ROOM 4 – FLOOR PLAN (PDF)