News
July 22, 2019
2019 NYO2 Travel Journal: The Road to Miami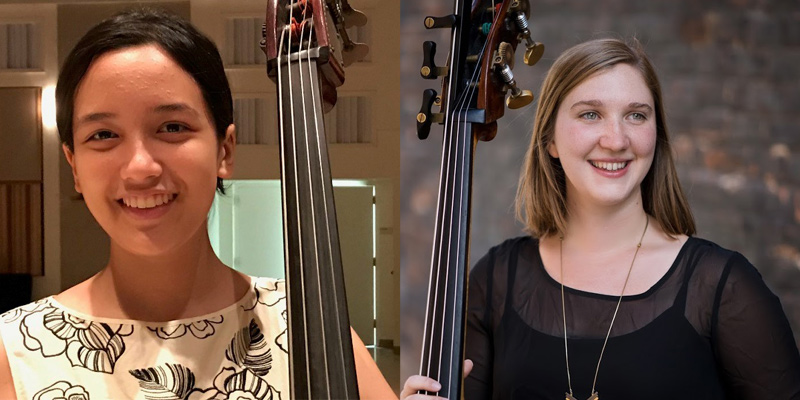 On Saturday, July 27, Carnegie Hall's NYO2 will take the New World Center stage alongside conductor Carlos Miguel-Prieto and pianist Gabriela Montero for their only performance before its finale concert in New York City. Last week NYO2's 80 young musicians worked with guest artists and faculty mentors (including 16 NWS Fellows and alumni) at New York's Purchase College. 
NYO2 bassist Matin Boulos and NWS second-year Bass Fellow and NYO2 mentor Kathryn Bradley share their immersive NYO2 experience by journaling during their time in New York. Come see Matin and Kathryn at the New World Center for their performance on July 27!
CARNEGIE HALL'S NYO2
Saturday, July 27 at 8:30 PM
New World Center
Tickets: nws.edu/NYO2
Monday, July 15
Matin: In the morning we all had a very refreshing start to the day with orchestra rehearsal. The whole bass section was pretty solid today! The Piano Concerto "Latin" and Antrópolos are getting easier and much smoother so we're starting to sound really good. After lunch, all the strings came back for a thorough strings sectional. Miss Deanna Tham (NYO2 Assistant Conductor) was really inspirational and lots of students were really pumped to practice afterwards. I had my second private lesson with Miss Katherine Bradley. It was really amazing and she taught me different positions to help me transition to the high notes of the bass! It was great and she explained things that I couldn't understand back home!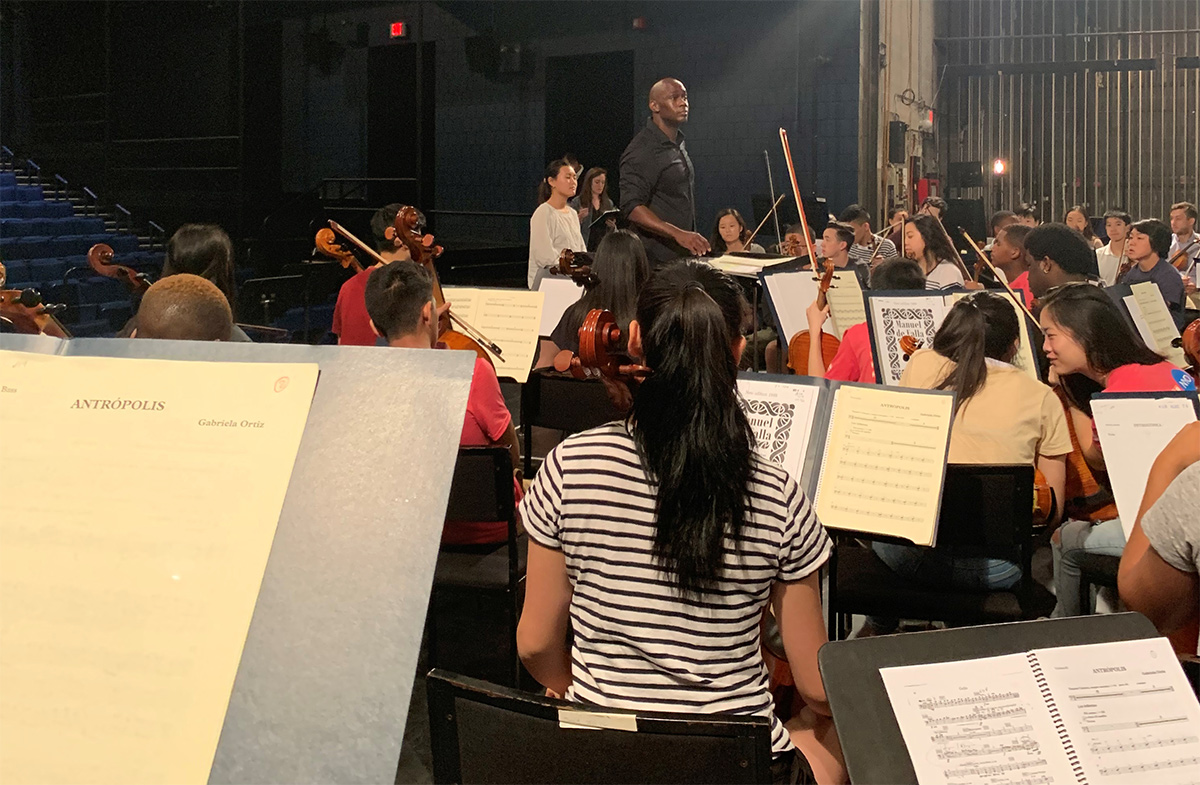 Kathryn: The week started off with a bang with a 10:00 AM puppet show (a.k.a Petrushka) rehearsal. Followed by lunch and a string sectional lead by violin faculty, Ying Fu. Later in the afternoon I got to teach lessons, including one to my travel blog partner, Matin! We worked on incorporating different kinds of vibrato in solo playing and discussed the advantages and disadvantages to sitting on a stool while playing.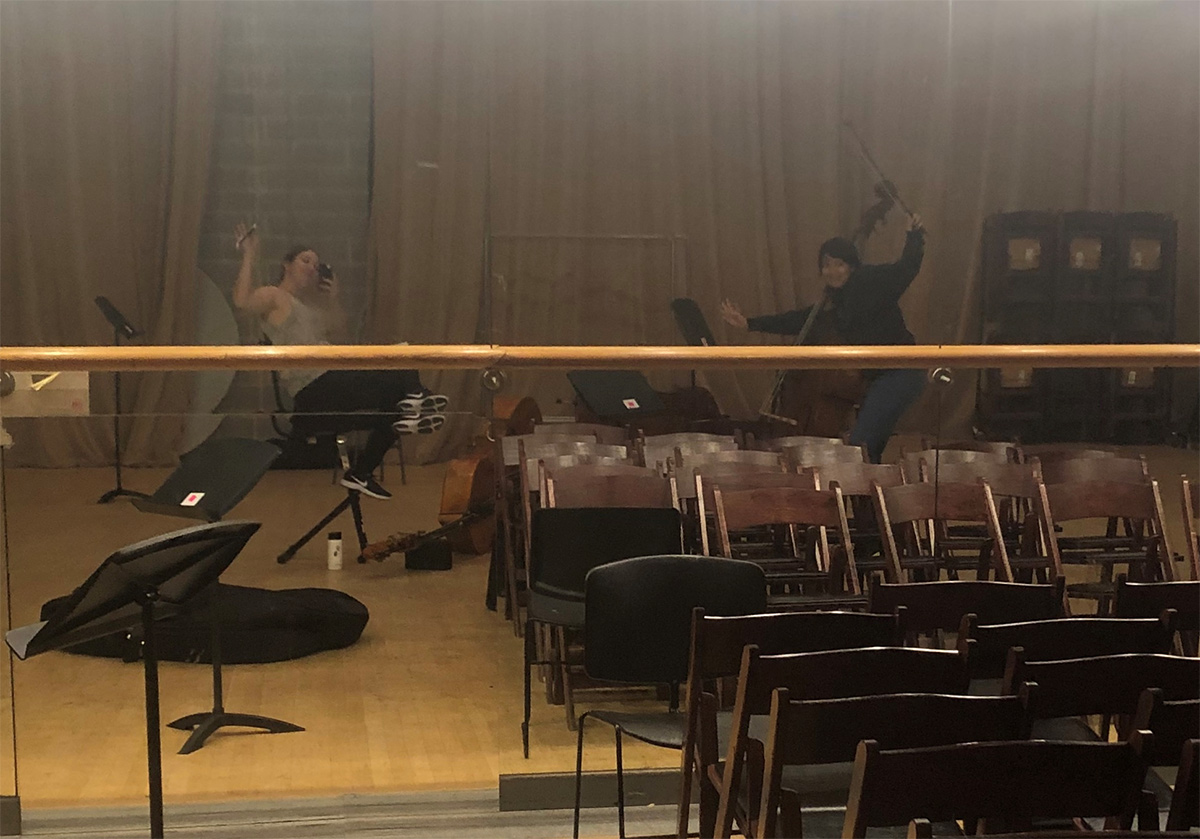 Tuesday, July 16
Matin: Our first bass master class was today! Even though most of us had heard each other play solos, it was really interesting and an amazing learning experience for everyone. I learned so much and Mr. Joe McFadden was very patient and helpful to all of us! It was also another full day with rehearsals and sectionals. In today's bass sectionals, we focused on Stravinsky's Petrushka and its hardcore rhythm. We all did our best and sounded great in the afternoon rehearsal that followed sectionals. Later that night, my friends and I went to the faculty showcase that included all the instructors that have been here this week! They played beautiful classical music and pumped us up at the end of the concert with wicked jazz tunes. It was another great day!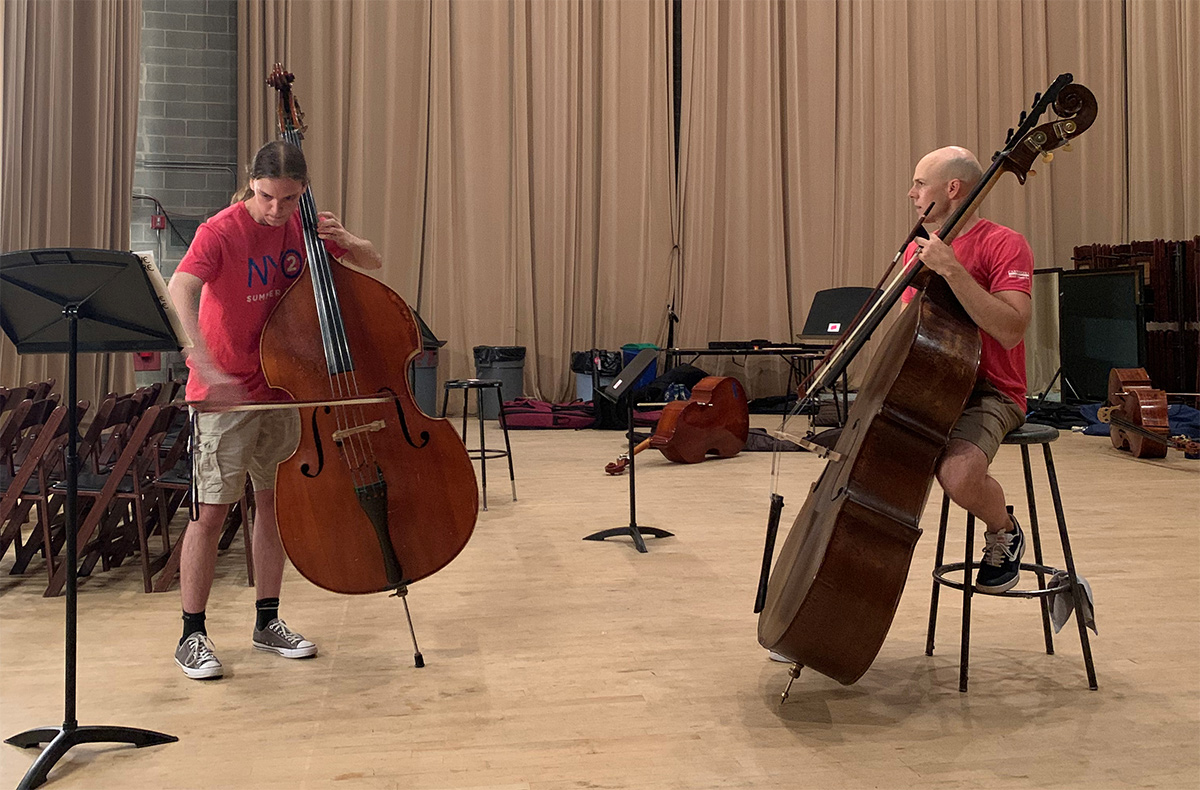 Kathryn: We began the day with a bass master class taught by Joe McFadden, our NYO2 bass faculty, who is Principal Bass of the Atlanta Symphony. It was fun to hear some of the students performing works that aren't being played in orchestra this week. In the afternoon we had a rehearsal where we got to work with Maestro James Ross, which is always fun! He brought new rhythmic exercises and listening techniques to the orchestra, which proved to be immediately effective. The evening activity was attending the faculty showcase, which was a concert of chamber music and jazz band. Watching these musical masters perform in such a fun, casual way was a unique and inspiring experience. There was a faculty reception following the showcase, which was a great opportunity to meet these musicians, many of whom I have admired for years.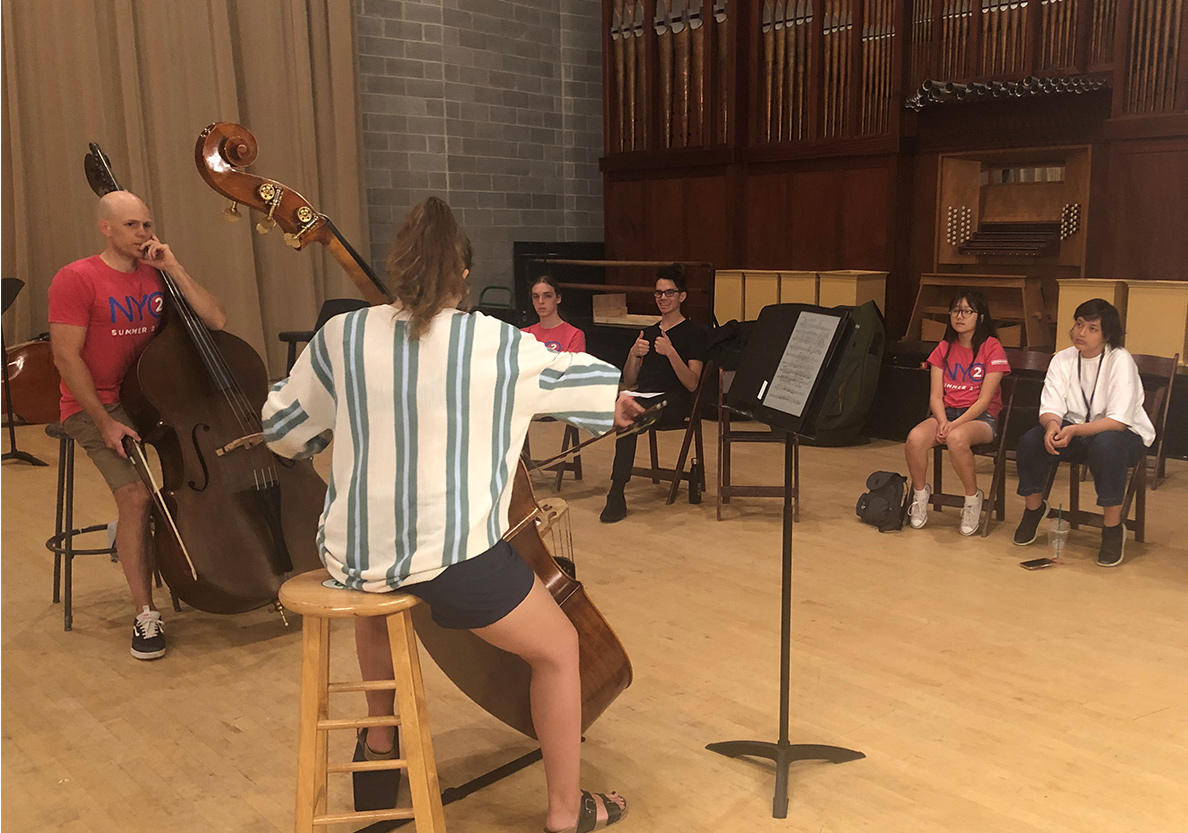 Wednesday, July 17
Matin: This morning's orchestra rehearsal was a nice one! The bass section seemed really tight and we really focused on following the principal and conductor! We also bonded and took a selfie together during break. During sectionals I got the chance to talk to the other people in the section I hadn't had a chance to get to know yet and bassists are really amazing people. Mr. McFadden went around during sectionals asking us what our favorite donut flavor was! Yum! The second orchestra rehearsal during the evening was more mentally challenging. We really had to focus and the pizzicato section for the basses in the Ortiz piece was really hard. We kept going back to the beginning, so we might have done the pizzicato section about 11 times! But we really became solid as an orchestra, so it was 100% worth it. Tomorrow I hope that I'll become way more comfortable with the other people playing my part in the orchestra and learn to listen more closely with them. Some of us had From The Top auditions and the rest of us all went to the Q&A for the Weill Music Institute program at Carnegie Hall. They showed us all their different non-profit organizations that are completely focused on helping the community and building education for everyone. I fell completely in love with the different programs. Today was a really fun day.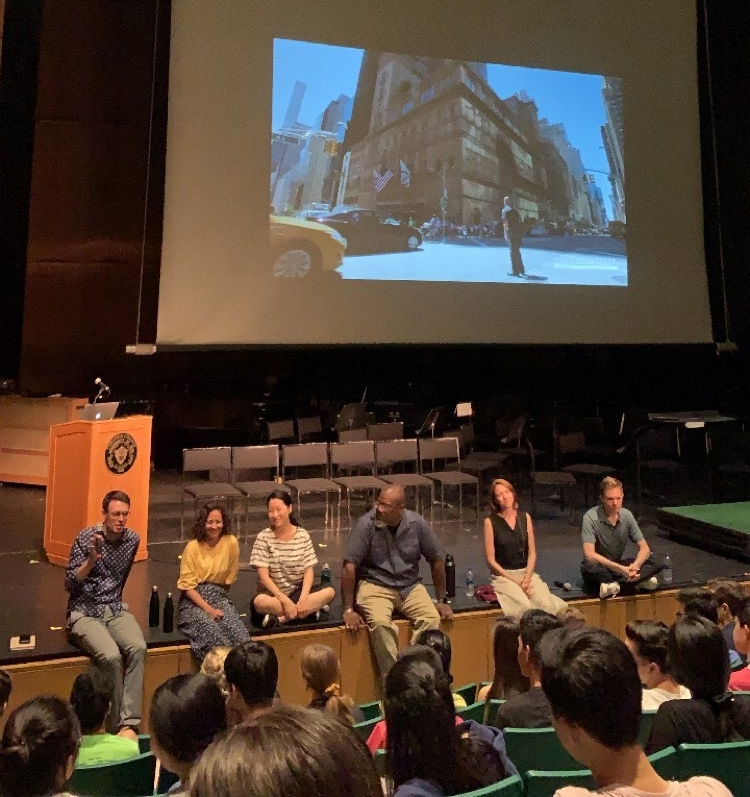 Kathryn: Today we had two orchestra rehearsals, one in the morning and one right before dinner, with a bass sectional in between the two. I remember going to camps when I was in high school and hearing the coaches/faculty saying they needed coffee in the afternoon, and I always thought they were just being dramatic. I am now that person, and I get it. The students bring so much energy to each class and every rehearsal, and that extra boost of caffeine is the quickest way I can keep up! It has been revitalizing to work with students of this age, because it makes me remember when I was in high school and I didn't want to put my bass down, even after six hours of rehearsals and classes.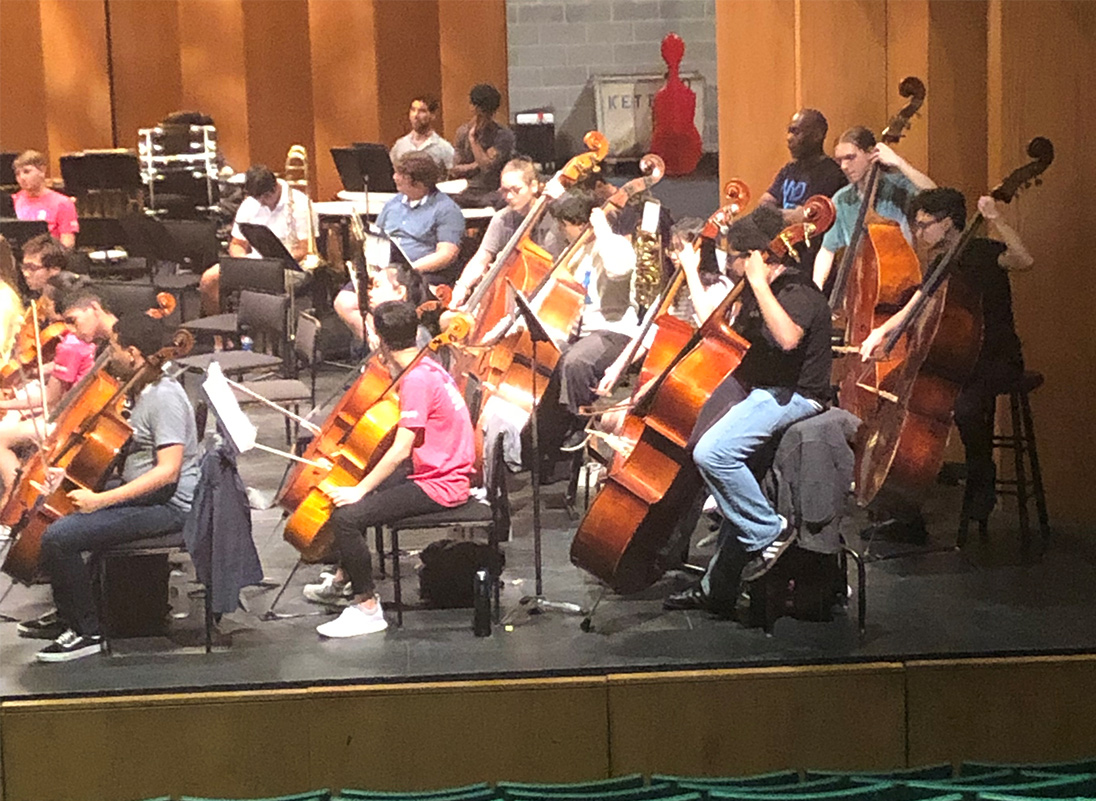 Thursday, July 18
Matin: Today was pretty relaxing!! I had the usual orchestra rehearsal in the morning and then lunch. Since I had finished all my private lessons on Sunday and Monday, I didn't need to go to any and just relaxed in my dorm till I went to a movement class. I had a lot of fun in it and learned so much about how my body reacts to music and how I can use it to make more expressions when I play! After dinner, my roommate and I went to check out the chamber rehearsal our friend was playing in. I haven't heard Tchaikovsky's String Serenade in a very long time, so it was great to hear it!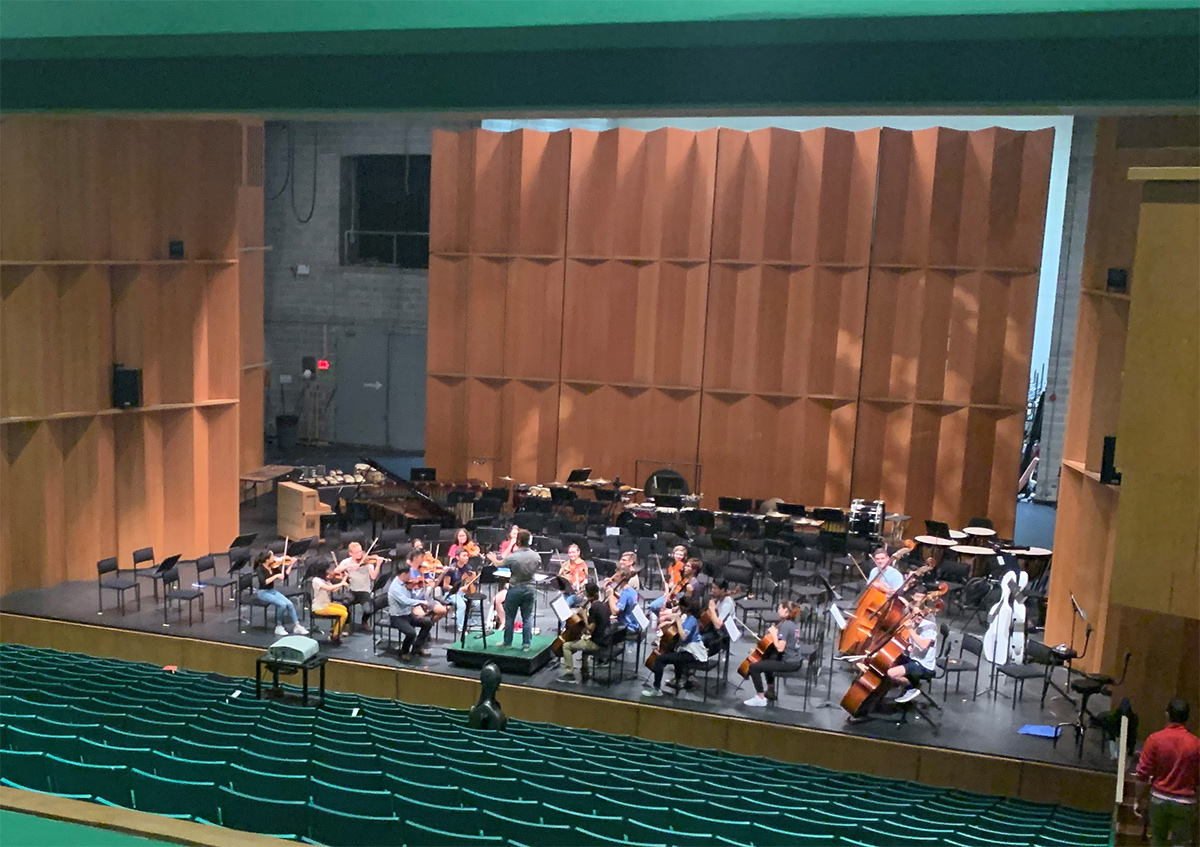 Kathryn: Today was the most relaxed day for most of the week. We only had one 2.5 hour rehearsal in the morning, then had most of the afternoon free. After we worked on some spots in the Stravinsky, the students did a "reading" which means the orchestra plays through a couple of pieces that they have never seen before. One of the pieces was Grieg's Peer Gynt suite, which I have played many many times, so it was fun to hear the bass section reading the iconic pizzicato movement "In the Hall of the Mountain King" for the first time. There are many NWS Fellows and alumni working with NYO2 this summer. Here are a few familiar faces.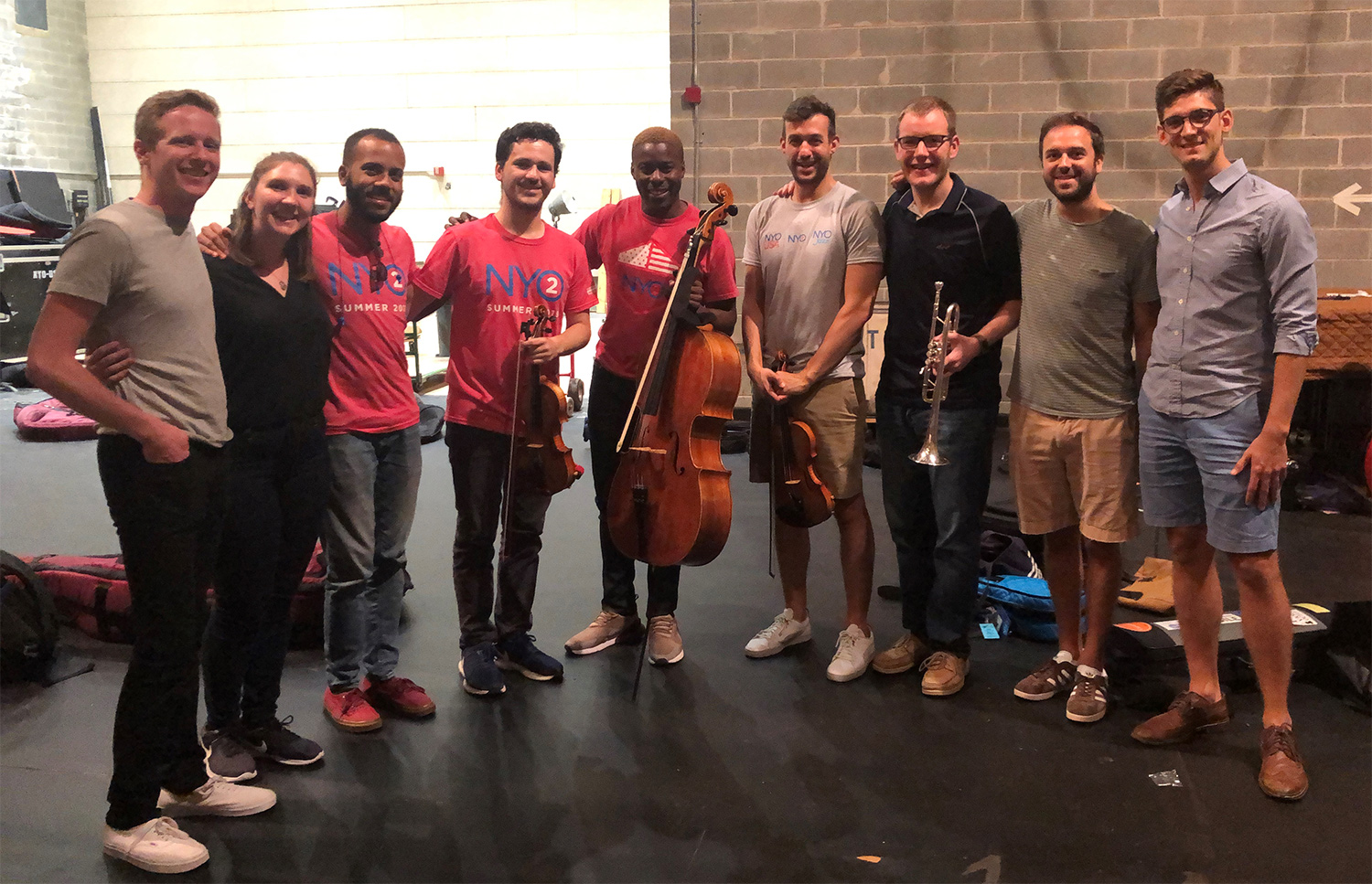 From left to right: Kevin Ritenauer (percussion), me, Fracisco Joubert Bernard (bassoon), Christopher Robinson (violin), Blake-Anthony Johnson (cello), Scott Jackson (violin), Aaron Ney (trumpet), Matthew Searing (library) and Kip Riecken (viola)
Friday, July 19
Matin: This morning, the orchestra recorded our rehearsal of Petrushka and The Three-Cornered Hat for live streams on Facebook! We still went through stuff during the recording so I'm excited to see how my family reacts to the live-streamed rehearsal! After lunch, we came back for a string sectionals in the music building. It was mostly to help the violins get their part down so basses got to leave 10 minutes early before the orchestra rushes out. We had another orchestra rehearsal after and went over the music that we are going to play with NYO USA and NYO JAZZ tomorrow! The music was really fun so I look forward to playing with all of NYO!! After that, we all went down to have our final wardrobe check. Dinner was good and we all stopped by to check out the soccer game that Gabi and Leo set up!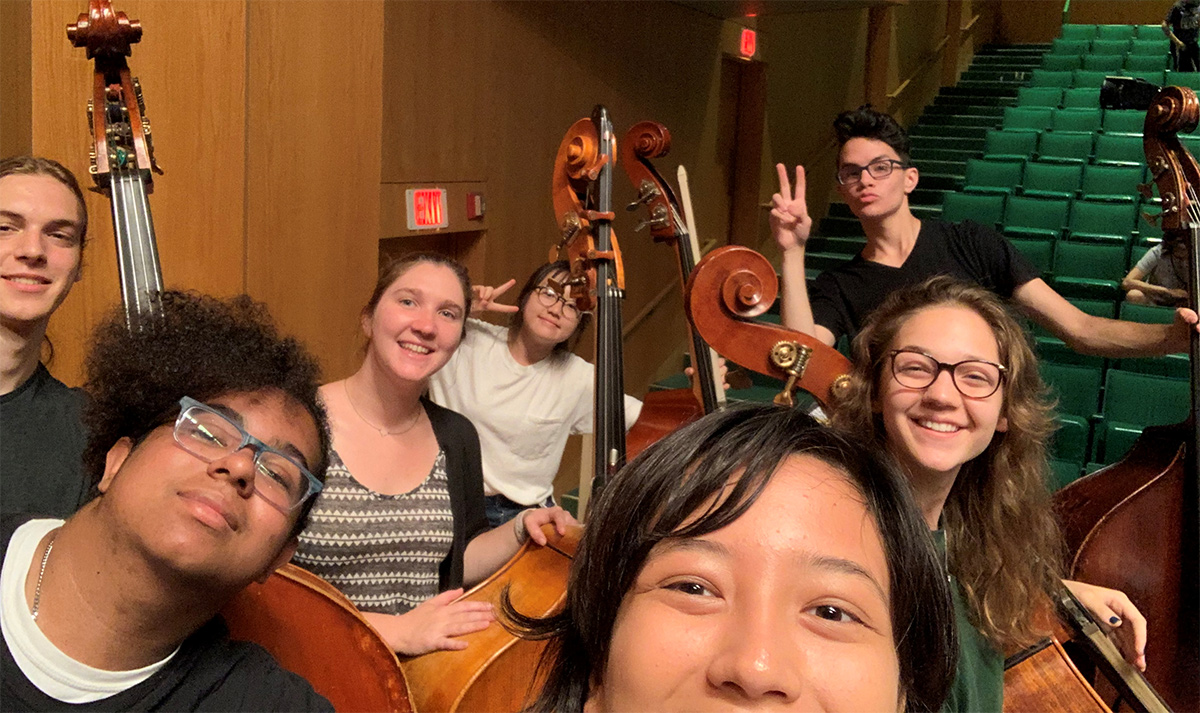 Kathryn: Today was back to the normal rehearsal-string sectional-rehearsal schedule. The orchestra is starting to make phenomenal progress on the Stravinsky, and it's so exciting to be a part of the evolution of the piece with the students. It was Joe's, our bass faculty, last day with the students so we took a group picture to commemorate the awesome week.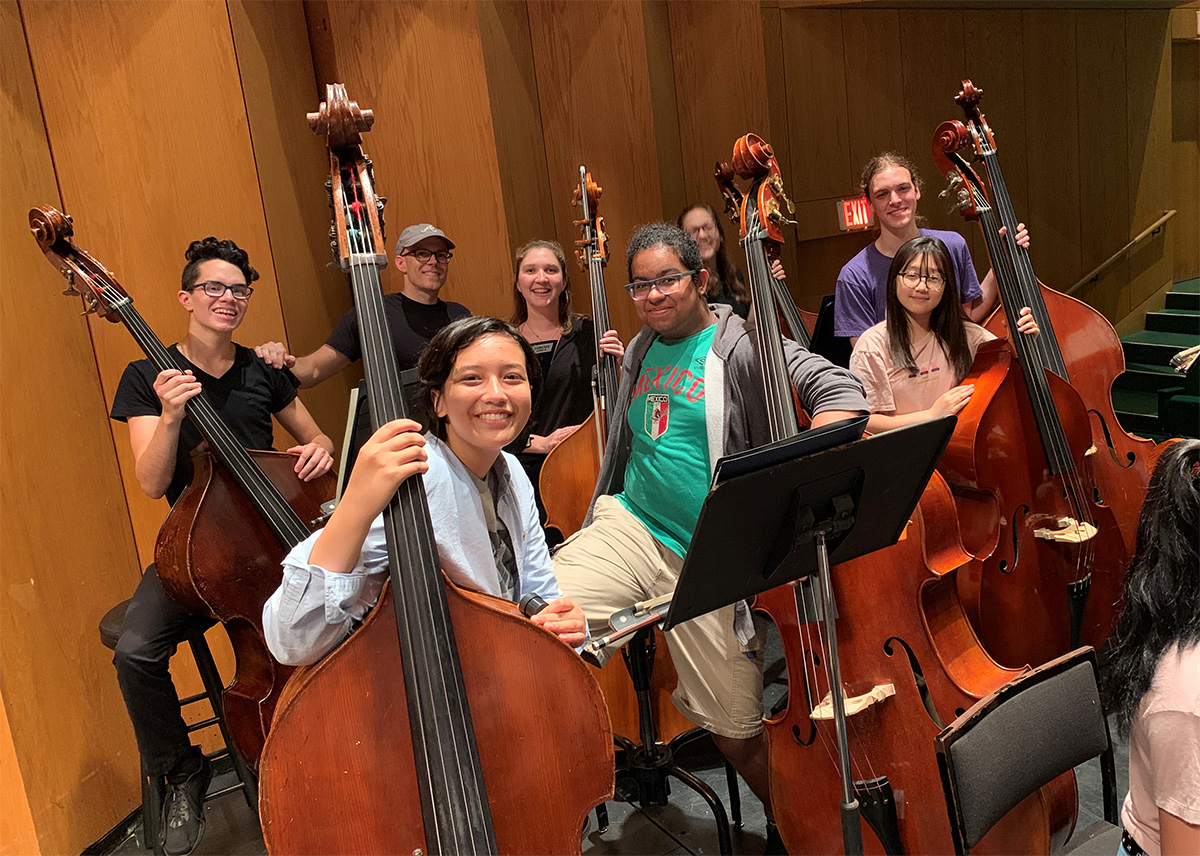 Next up: NYO2 and the NWS Fellows travel down to Miami Beach, continue to build upon the progress we have made and make more memories! Come see and hear us at the New World Center on the 27! 
Signing off: Matin and Kathryn
Posted in: Alumni, Community Engagement, Fellows, NYO2, Travel Journal
---