News
December 6, 2016
25th Anniversary of NWS Tour of Japan


A quarter of a century ago, a four-year-old New World Symphony embarked on an exciting venture, its first concert tour in Asia, and still the only NWS orchestra tour to the Far East.
The NWS newsletter, in an article entitled Orchestra to rack up frequent flyer miles described it afterwards: "Carrying a passport may soon seem as routine as carrying an instrument to New World Symphony musicians… The day after Thanksgiving, they flew to Japan for a tour organized and partially underwritten by the Yamaha Music Foundation. The special concert series, which took them to Osaka, Hamamatsu, Nagoya and Tokyo, commemorated the 20th anniversary of Yamaha Music School's Junior Original Concert (JOC), whose purpose is to cultivate composition talents of its students, ages 4-15."



Fellows and staff endured some 20 hours in the air, from Miami to San Francisco to Osaka. A day of rehearsals preceded the first concert on Monday, December 2, at Osaka's Symphony Hall. The following day was a sightseeing trip to Kyoto. Wednesday, December 4, was the next concert in Hamamatsu, at Hamamatsu Arena. Thursday was another day off for visits in Kakegawa to Yamaha's woodwind, brass and piano factories, hosted by Genichi Kawakami of the Yamaha Music Foundation. The concert on Friday, December 6, was in Nagoya, at Aichi Kosei Nenkin Kaikan Hall, followed by a four-hour bus trip to Tokyo. The final concert took place in Tokyo on Saturday, December 7, at Bunkamura Orchard Hall. That day was coincidentally Pearl Harbor Day, and the 50th anniversary of the attack. The next day, NWS Fellows and Michael Tilson Thomas participated in a joint rehearsal with their counterparts at Tokyo's Toho Gakuen School of Music. And on Monday they were honored at a reception given by the American Ambassador to Japan, Michael H. Armacost, at the Ambassador's Residence. Tuesday was the return trip to Miami, again many hours in flight, and both setting watches back 16 hours, then setting watches ahead 3 hours. The rest of the week was time off for recuperation from a rewarding and demanding trip to Japan.



The repertoire for the tour included three variations of the programs which all included Copland's Billy the Kid and Brahms' Symphony No. 4. Teenaged JOC composers contributed four original pieces for the concerts, performed by them on the piano. And a number of pieces were played as encores.

The NWS 10th anniversary history described part of the experience: "At the end of the final concert, the audience broke into rhythmic clapping and foot-stomping to the Symphony's rousing performance of Stars and Stripes Forever."

Besides NWS President Chris Dunworth, Artistic Director Michael Tilson Thomas, Resident Conductor Leif Bjaland, and tour physician Dr. Marvin Meitus, there were a number of  NWS administrative and production support staff who accompanied the Fellows, three of whom are still New World staff members today.

NWS Board Chairman Sherwood Weiser wrote for the concert program book: "As an educational institution that shares Yamaha's dedication to the development of future musical talent, we are honored to participate in such a noteworthy occasion, and we are deeply gratified to know that our reputation reaches all the way to Japan. It is impossible to overestimate the importance to young musicians of playing for diverse audiences. Our orchestra members can only benefit from the opportunity of exploring the Japanese culture, sharing a part of their own, and performing with the Foundation's talented students."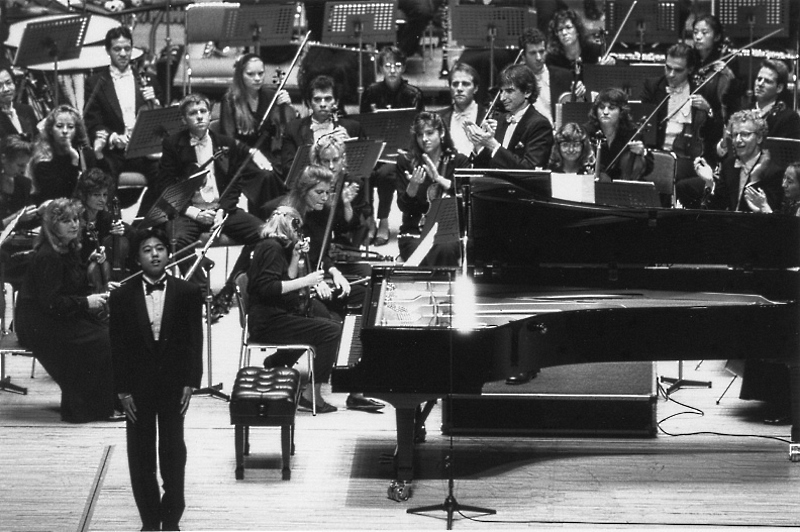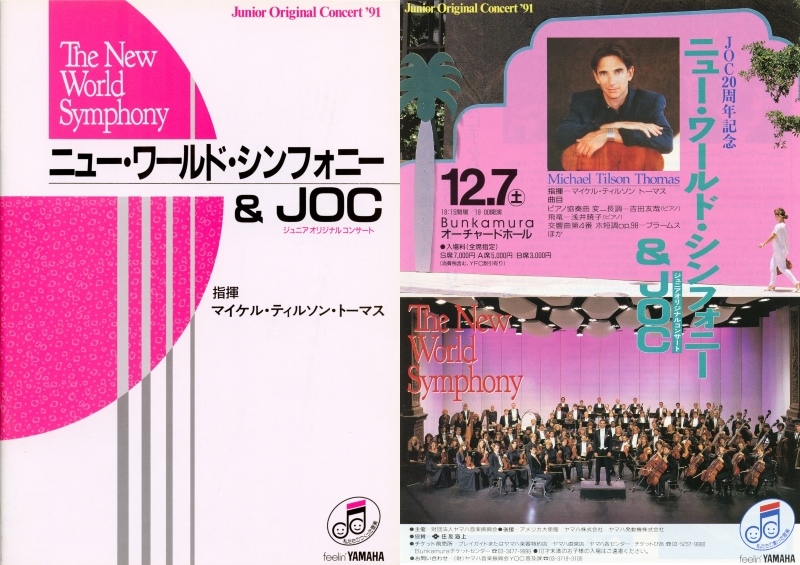 All images courtesy of the New World Symphony Archives
Yamaha Music Corporation is a Founding Donor and continuing supporter of New World Symphony, and Yamaha is the official piano of the New World Symphony.
Posted in: From The Archives, Tours
---