News
February 2, 2023
A Lyrical Look at the Paintings of Henry Ossawa Tanner and Loïs Mailou Jones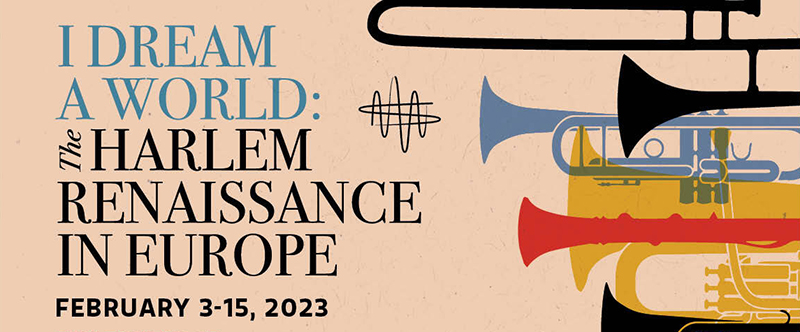 This week marks the start of NWS's second I Dream a World festival. This year's festival takes us on a tour through interwar Europe to meet the Black musicians who transformed art and culture on both sides of the Atlantic. Ticketholders to events at the New World Center will enjoy an art installation curated by Christopher Norwood—curator and founder of Hampton Art Lovers at the Historic Ward Rooming House—that features works by painters Henry Ossawa Tanner and Loïs Mailou Jones. Click here for a list of full festival events. 
"Old Forgotten Banjo Songs": A Lyrical Look at the Paintings of Henry Ossawa Tanner and Loïs Mailou Jones
I am weaving a song of waters,
Shaken from firm, brown limbs,
Or heads thrown back in irreverent mirth.
My song has the ush sweetness
Of moist, dark lips
Where hymns keep company
With old forgotten banjo songs.
— Gwendolyn Bennett, "Song," (From The New Negro by Alain Locke, 1925)
During the Harlem Renaissance, all eyes—and ears—were on art. During the 1920s, African Americans flocked to the New York City neighborhood, where fine art flourished and the performing arts reached new heights. Black writer Alain Locke celebrated this collective creativity, championing art and music that was influenced by the past and inspired by the future—a harmony he found in the lyrical paintings of Henry Ossawa Tanner and Loïs Mailou Jones.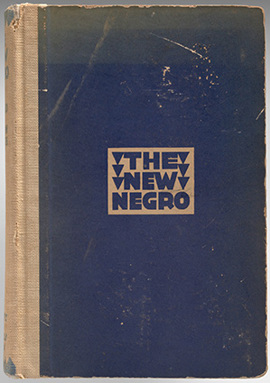 First edition cover of The New Negro. Image via Wikimedia Commons (Public Domain)
In 1925 Locke published The New Negro: An Interpretation. Dedicated "To the Younger Generation," this pioneering publication showcased the literary and artistic accomplishments of Harlem's creative thinkers. In addition to offering shining examples of prose, poetry and illustration, the volume also features several references to music—even within the first few pages. In his dulcet dedication, Locke included a musical notation from a Negro spiritual—a striking visual that sets the stage for his notes on Tanner.
Henry Ossawa Tanner was born in Pittsburgh, Pennsylvania, in 1859 to a minister father and a mother who had escaped slavery through the Underground Railroad. After discovering his artistic talents as a child, Tanner attended the Pennsylvania Academy of the Arts (where he was the only Black student) and taught art in Atlanta before several instances of racism prompted him to move to Paris in 1891. While it was in France that he would eventually establish religious imagery as his signature subject matter, it was during a visit back to the United States that he conceptualized one of his most moving compositions: The Banjo Lesson.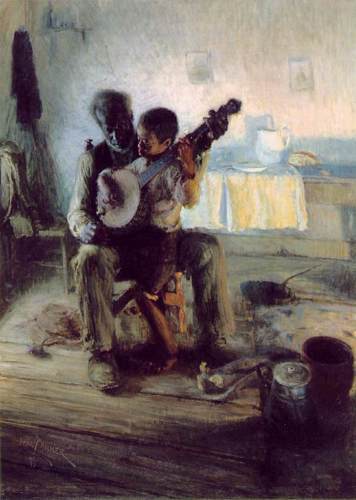 Henry Ossawa Tanner, The Banjo Lesson, 1893, Oil on canvas, 124.4 x 90.1 cm, Hampton University Museum. Image via Wikimedia Commons (Public Domain)
The Banjo Lesson captures a tender musical moment. Based on studies sketched and photographed by the artist while in Appalachia, the oil painting depicts a young boy plucking the strings of a banjo while perched on an elderly man's knee. Rendered with warmth and simplicity, the painting challenges the contemporary trope of the Black banjo player—a figure that had been the subject of dehumanizing caricatures and associations with slavery since the Civil War. Locke would later remark that Tanner's treatment of The Banjo Player had the power to spark a "racial school of American Negro art." Tanner, however, was not inclined to take on such a role. Instead, he remained in France, where The Banjo Lesson—a success at the 1894 Paris Salon—charmed new audiences abroad.
Tanner continued to paint in Paris until his death in 1937—the same year that African American artist Loïs Mailou Jones would spend her sabbatical in the French capital. Born in Boston in 1905, Jones attended Boston's School of the Museum of Fine Arts before stints in New York City, North Carolina and Washington, D.C. led her to her year abroad. While in Paris, Jones honed her avant-garde artistic techniques and adopted the African tribal mask as her motif of choice.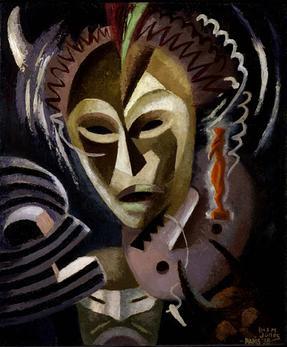 Loïs Mailou Jones, Les Fétiches, 1938, Oil on linen, 64.7 x 54 cm, Smithsonian American Art Museum. Image via Wikipedia (Fair Use)
In 1938 Jones prominently presented this iconographic inspiration in Les Fétiches, a swirling oil painting of five stylized masks. Though based on sketches of masks and charms Jones had frequently encountered in modern Parisian art galleries, the floating masks of Les Fétiches also evoke dance—an inspiration confirmed by Jones in a 1991 interview.
Jones explained that, as a teenager, she met Grace Ripley, a costume designer for a dance school—and one of her earliest supporters. "She felt that I had considerable talent for design," Jones explained. "I worked with her on Saturdays and after school, designing costumes and, especially, masks. I think my work with masks accounts for my painting Les Fétiches."
Shortly after completing this painting, Jones traveled back to the United States, where she encountered Alain Locke while teaching at Howard University in Washington, D.C. Though Locke praised the young artist for her work in Paris, he also instilled in her the belief that Black artists had a responsibility "to do more with the black experience and, especially, with their heritage"—a message that echoed earlier urgings spelled out in The New Negro.
Jones carried this advice with her into the next decade, prompting her to paint Mob Victim, an Impressionistic, imagined portrait of a man about to be lynched, in 1944. Jones recruited the model for this painting—a "tall, Black gentleman"—after spotting him on a Washington, D.C. street. That same year, he would star in another of Jones's paintings: a touching piece called The Banjo Player.
Rendered in expressive brushstrokes, this painting captures an African American banjo player mid-strum. As he clasps his instrument, a smile emerges from his thick beard and sparkling eyes appear beneath the shadow of a hat. The setting is simple; a wash of color denotes the background, while a table with a bottle and glass imply an indoor arrangement. The painting, however, is full of life, as Jones captures the character of her unassuming sitter.
Fascinatingly, the banjo did not factor into the mainstream music of the Harlem Renaissance; by the time it was in full-swing, jazz had taken center stage. However, visual artists associated with the movement visited the instrument in several iterations—even after this "golden age" came to a close. In the early 1940s, William H. Johnson, a painter who had taught in Harlem during its heyday, crafted Folk Scene—Man with Banjo; in 1958, Harlem lithographer Robert Blackburn situated the humble banjo in Quiet Instrument, a stylized still-life; and, in 1961, American painter Palmer Hayden produced Banjo Song, a painting that blends washes of watercolor with written lyrics.
In The New Negro, Locke does not focus on folk music; instead, he praises traditional spirituals as the height of African American music. However, if the visual arts are any indication, it seems that the humble banjo struck a major chord in Harlem.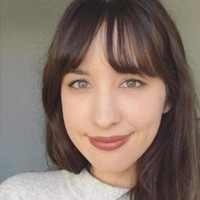 Kelly Richman-Abdou is an art historian and art writer based in Washington, D.C. Born and raised in San Francisco, she has also resided in London and Paris, where she worked in the cities' arts and culture sectors. She holds a BA in Art History from the University of San Francisco and an MA in Art and Museum Studies from Georgetown University. Currently, she is a doctoral candidate in Art History at the University of Birmingham, U.K., researching how modern American artists challenged established perceptions of race, gender and class by radically reimagining traditional Marian iconography.
Sources:
"Loïs Mailou Jones." National Museum of Women in the Arts. https://nmwa.org/art/artists/Loïs-mailou-jones/
Locke, Alain. "The Negro Artist Wins His Spurs," in Negro Art: Past and Present. Washington, D.C.: Association of Negro Folk Education, 1936.
Locke, Alain. The New Negro: An Interpretation. New York: A. and C. Boni, 1925.
Mosby, Dewey F. Henry Ossawa Tanner. Philadelphia: Philadelphia Museum of Art, 1991.
Porter, James A. Loïs Mailou Jones : peintures 1937-1951. Washington DC : Howard University, 1952.
Rowell, Charles H. "An Interview with Loïs Mailou Jones." Callaloo, no. 39 (1989): 357–78. https://doi.org/10.2307/2931576.
Posted in: I Dream a World
---