News
April 5, 2016
Abrams, Tilson Thomas co-lead Town Hall Master Class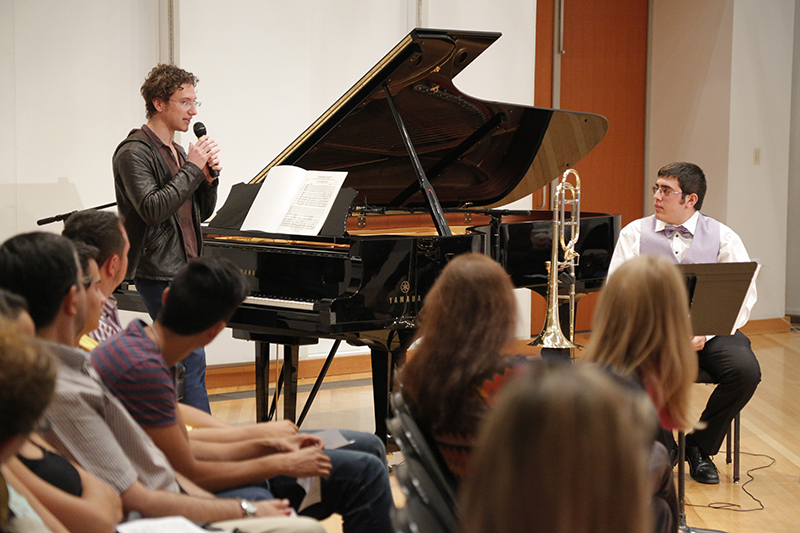 NWS alumnus Teddy Abrams (left) with Florida high school student and trombonist Austin Canon (right).

"The breath is like a clue for the audience about what you feel is coming next," said Michael Tilson Thomas. 
From more than 3,000 miles away in his dressing room at the San Francisco Symphony, the New World Symphony Co-Founder and Artistic Director co-led a Town Hall Master Class with NWS alumnus and Music Director of the Louisville Orchestra Teddy Abrams. 
Abrams and nearly 50 young musicians, parents, music educators and community members gathered at the New World Center in Miami Beach, Fla. on Tuesday, March 29 for the event.  It's the first time that the Town Hall Master Class, an annual tradition for NWS, has been co-led by someone across the country. 
Advanced distance-education technologies, like Internet2, make it possible. The New World Symphony has been experimenting with cutting-edge technologies such as LOLA, Ultragrid and Jacktrip to reduce the processing delay of video and audio to mere milliseconds – making real-time instruction and collaborations, like the Town Hall Master Class, possible.   
Just one-week earlier, technologists, academics, artists engineers and others converged upon the New World Center for an annual conference to learn more about how these technologies are increasingly being used to facilitate new collaborations and experiences in the arts. 
Abrams and Tilson Thomas worked with Florida student, Austin Canon a high school senior and trombonist from Riverview High School in Sarasota, Fla. Canon won third place in the NWS Young Artists Concerto Competition held earlier in February. 
Together, they explored themes of loneliness, sadness and mystery in Grøndahl's Trombone Concerto – and focused on rephrasing the second movement of the piece to emphasize its strange meter. 
Next, Tilson Thomas and Abrams worked with a quartet from the Atlanta Symphony Youth Orchestra. They talked about the presentation of the Mozart quartet, and even had the members stand up to change their positions, which really changed the sound of the piece. 
Finally the evening concluded with a workshop with the Greater New Orleans Youth Orchestra and their Music Director, Dr. Jean Montès on the Festive Overture by Shostakovich. Concentrating on the Presto section, Tilson Thomas and Abrams helped the orchestra bring out the zany and circus-like character of the piece.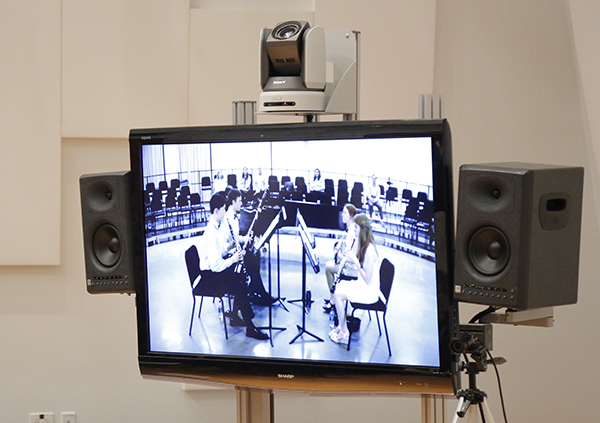 The Atlanta Symphony Youth Orchestra quartet. 
Posted in: Community Engagement, Events, News
---