News
April 6, 2017
An Eventful Spring for Michael Tilson Thomas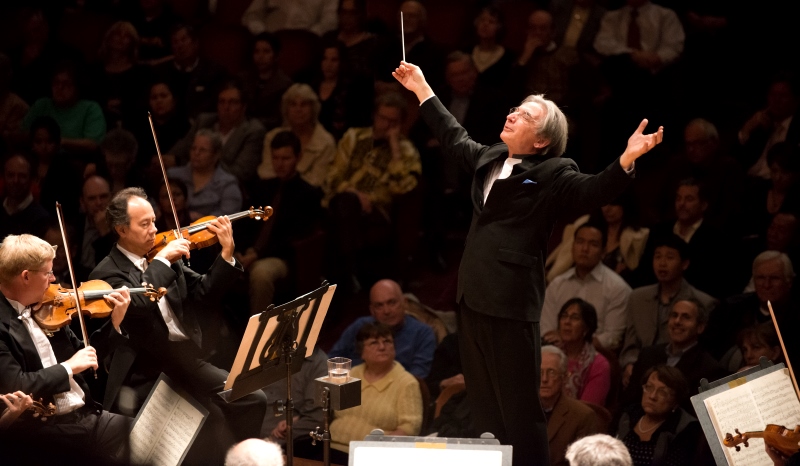 Along with a regular conducting schedule at his San Francisco Symphony, NWS Artistic Director Michael Tilson Thomas spends part of the spring here at New World Symphony with a unique variety of activities and performances. And those are preceded and followed by guest conducting gigs in the U.S. and abroad.

MTT led the famed Philadelphia Orchestra at Philly's Verizon Hall on March 10th through 12th. One of the works he conducted there was Beethoven's Symphony No. 3, the Eroica, which New World Symphony will also perform under his direction at the NWS Season Finale concerts of Saturday and Sunday May 6 and 7. Click here to read a review of the Philadelphia concert.

In December the San Francisco Symphony (SFS) announced the cancellation of two planned performances in Chapel Hill, North Carolina, April 5–6, 2017 in response to that state's House Bill 2 (HB2), a law which overturned equal rights protections for lesbian, gay, bisexual and transgender people.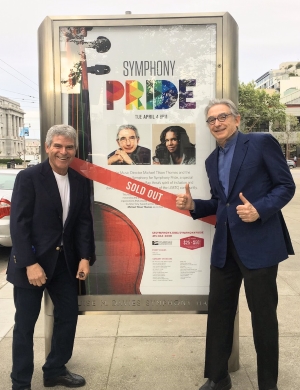 Later SFS scheduled a new concert to replace the cancelled ones and on Tuesday April 4th, MTT led SFS, with Broadway star Audra McDonald (who was NWS 2017 Gala guest performer), in Symphony Pride, a benefit concert celebrating the Bay Area's spirit of inclusion and diversity, recognizing and supporting the LGBTQ community. MTT and SFS "believe strongly in representing the values of the community it serves, offering Symphony Pride as an event which not only celebrates and affirms the Orchestra's commitment to inclusion but also supports service organizations working towards equality for all." The concert featured works by LGBTQ musical mavericks that MTT has championed throughout his career, including Lou Harrison, Henry Cowell, Meredith Monk and John Cage, plus Aaron Copland, Leonard Bernstein and Stephen Sondheim.

Read the tweets.
Read about the event,  plus television coverage (featured in the video is NWS alum Eliot Lev.

On Friday and Saturday, April 7-8, MTT leads the San Francisco Symphony in two concerts at Carnegie Hall in New York. The first concert features 20th century works by Cage, Shostakovich and Bartók. The second concert is an all-Mahler program, the third in a series of Mahler concerts that Carnegie Hall has staged this season.

Most excitingly, MTT makes his Louisville Orchestra debut on Saturday April 15 - although the LO did perform movements from his work The Diary of Anne Frank during its 2000-01 season. He joins his protégé and former NWS Conducting Fellow, now Music Director at Louisville, Teddy Abrams for this concert entitled Maverick – A Celebration of MTT. The orchestra will be performing works by a variety of American composers – Bernstein, Adams, Copland, Gershwin - plus MTT's own Agnegram which was performed as well by NWS at its 2017 Gala.

Teddy's talks about his relationship with MTT
---
When he arrives back at the New World Center, MTT will be thrust into a series of varied musical events. On Wednesday April 19th, he does double duty. He will be leading a conducting workshop in the morning for three visiting conducting students. And coincidentally, a 16-year-old Teddy Abrams participated in the 2003 MTT-led conducting workshop at NWS. This month's edition welcomes talented young conductors Enrico Lopez-Yanez, Radu Marian Paponiu and Tal Samuel
That same night MTT leads the annual Town Hall Master Class. He will be working onstage at New World Center with a young local violinist, and via technology, with students from the Nashville Symphony Accelerando Program and Atlanta Symphony Talent Development Program and Youth Orchestra.

Next, on Saturday April 22, MTT will lead the annual Side-By-Side concert, to be seen in the concert hall and via WALLCAST® concert in SoundScape Park. The following Saturday, April 29, MTT will conduct part of the New Work concert. A not-to-be-missed concert event, it will feature the world premieres of two NWS-commissioned works (one a work of poetry), the world premiere of an orchestrated version of another piece and finally the world premiere of the stage production of a work by Niccolò Castiglioni. With dancers! And composers in attendance!

MTT winds up the New World Symphony 2016-17 season with two performances of Delius' The Walk to Paradise Garden, Britten's Symphony for Cello and Orchestra and Beethoven's Eroica at the Season Finale concerts of Saturday and Sunday, May 6-7.
---
Later in May and in early June, MTT's wanderlust takes hold again. He is off to Europe for several high-profile guest-conducting gigs. He takes the reins of the Royal Philharmonic Orchestra in Stockholm, Sweden on May 18 and 20. He is in Rome the following week with the Orchestra of the Accademia Nazionale di Santa Cecilia (where NWS did a residency in 2004) with guest pianists Katia and Marielle Labèque performing Mozart's Concerto for Two Pianos (which they performed with MTT and NWS on tour in Monte Carlo in June 1995). MTT winds up his own European tour with the London Symphony Orchestra on June 4 and 8. He is Conductor Laureate of the LSO, having served as Principal Conductor from 1988 to 1995 and Principal Guest Conductor 1995 to 2016.

Finally, Michael Tilson Thomas begins the summer with a return to San Francisco, and then – start all over again for next season!
---