News
December 10, 2020
Bass Fellow creates path forward with Black Reflections series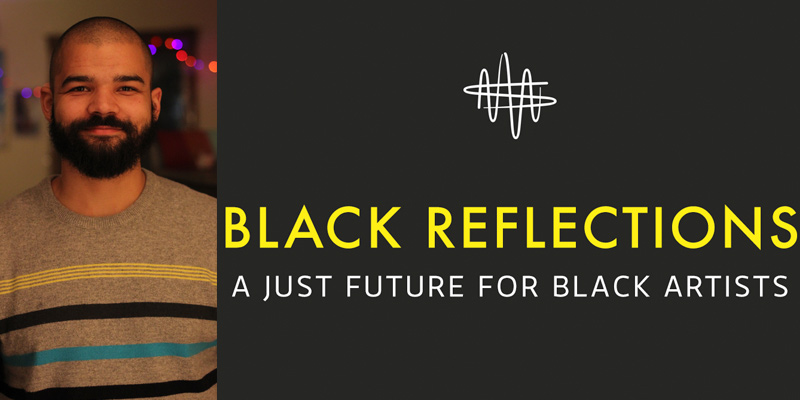 Since the 2018-19 season, NWS Fellows have created NWS BLUE projects that allow them to pursue musical activism based on their personal interests with their own original initiatives, from concept to execution. Before this season had started, Bass Fellow Michael Martin was already hard at work creating Black Reflections—a three-part panel discussion on Black artistry in concert music.
Michael assembled Black artists, activists, scholars and executives in classical music and jazz for online conversations that covered the historical and social context of Black musicians' participation in concert music, the personal experiences of Black musicians, and reimagining a just and equitable future for Black artists in concert music.
Over the three sessions, over 6,700 viewers tuned in live to join the discussion and many have viewed the archived videos (included below).
Michael Martin shares more about his Black Reflections project and hopes for the future:
Millions of people this summer watched a Black man have the life crushed out of him by the police, and I was one of them. Seeing George Floyd killed by the impassive hands of a police officer in plain view of a crowd of onlookers was one of the most painful and traumatic moments in my recent memory. I was filled with a deep sense of despair, horror and anger, which turned to outrage as the institutions I have spent my adult life studying and working in remained silent. The days that followed seemed filled with empty platitudes, as virtually every arts organization I knew made hand-wringing comments about "doing better." Many of my friends and colleagues who are Black shared similar parts of this experience: siloed off alone in our homes, avoiding the coronavirus, while images of cruelty and human suffering filled our social media feeds.
A few days after Mr. Floyd's killing, I sat in on a lecture at Northwestern University by Holocaust scholar Danny Cohen on the multifaceted forms of genocide. I found this lecture fascinating and haunting, as it explored the role of extrajudicial police killings of Black Americans in much the same way that the Jewish diaspora faced persecution across Europe in the first part of the 20th century. Professor Cohen also spoke about how cultural erasure is a key element of genocide, as it seeks to wipe out even the memory of a people's contributions to the world. I couldn't help but immediately think of the countless Black people whose contributions have been erased, co-opted and appropriated, and whose lives and stories have been scrubbed from history. Generations of people who look like me have been deemed unworthy of study, pushed into the realm of folk and pop art, anonymized and made into a monochromatic fabric of Black music that has been largely dismissed by our cultural institutions. This lecture made it clear to me that while the arts may not have a role to play in ending police violence against Black Americans, it certainly has a role to play in affirming the value of Black lives and our contributions to this world.
I decided that I couldn't allow a moment when our whole industry was asking how they could further racial equity go unanswered. I also found that what I needed most was to hear from other Black colleagues, mentors and family members; if only to know there were other people who shared the same thoughts and feelings, and understood them. I felt this was the moment to bind both of those needs together. I created Black Reflections with the intention to show a path forward for our industry, but most importantly, for young Black musicians like me to hear from the greatest Black musicians of our field, and see themselves in them. I picked panelists whose contributions to this world changed me: pre-eminent soloists and ensemble musicians whose playing redefined what being a musician meant to me; scholars and professors whose perspectives, work and intellect revealed truths I hadn't ever considered; and executives whose leadership has forever changed my life and others'. Every one of them has shown the way forward for me as a Black musician, and I know they have for others as well.
The issues that we face as a field are of a systemic scale and are the product of generations of discrimination and oppression. Building a just future for Black Americans may take as long, and as frustrating and angering as that may be at times, manifesting that future demands more of us. It demands passion, hope and a bold vision of the future to carry us through what will likely be a long and difficult process. Part of the reason I chose the panelists I did was because every one of them also inspires tremendous hope in me and in others around them. Every day they wake up and build a better world around themselves, regardless of their resources and circumstances. I felt that kind of leadership was what more people needed to hear in such a dark moment.
I hope viewers of Black Reflections take away a more complete appreciation of the contributions of Black musicians to classical music, our personal stories (with all our struggles and successes), and what pursuing racial equity in classical music requires. I hope they understand that even our orchestras and music schools have a role to play in the fight for racial equity and justice. Valuing Black lives and their contributions to the world includes more than just a program of spirituals on Martin Luther King Jr.'s birthday. It requires understanding that American music and classical music would not be what it is today without the work of Black musicians; that many Black musicians have faced and continue to face enormous obstacles to participate in this field; and that a richer and prosperous future for our artform exists through the inclusion of Black artists.
 Our panelists and many other thought-leaders in music have illuminated the way forward: changing our learning curriculums, concert repertoire and experience, hiring and tenure practices, and our education systems. We have ample options in front of us to make our corner of the world a better place, all we need is the courage to take them.
I think something that is defining about being a Black person in this country is turning one's pain into power; turning moments that bruise and scar us into opportunities to rise up and empower ourselves. At a time when so much about our world seems cruel, hostile and unjust, hearing from the panelists of Black Reflections became an enlightening, empowering and hopeful experience. I hope it was the same for others, and I hope it will be just one of many more discussions on racial justice in music.

Watch the Black Reflections series
Contributions of Black Artists
Meet the Panelists: Chi-chi Nwanoku (moderator), Aaron Diehl, Aaron Dworkin, Fredara Hadley and Tammy Kernodle
Experiences of Black Artists
Meet the Panelists: Steven Banks (moderator), Joseph Conyers, Nkeiru Okoye and Ann Hobson Pilot
A Just Future for Black Artists
Meet the Panelists: Christian McBride (moderator), Afton Battle, Toni-Marie Montgomery, Joy Payton-Stevens and Titus Underwood
Black Reflections sponsors
Black Reflections was conceived, designed and executed by Michael Martin, with funding by the Oberlin Conservatory of Music and New World Symphony. The series is also supported in part by the Sphinx Organization and Gateways Music Festival. Black Reflections is an NWS BLUE project, made possible with support from the Maxine and Stuart Frankel Foundation.
---