News
June 16, 2020
Beer and Brass goes virtual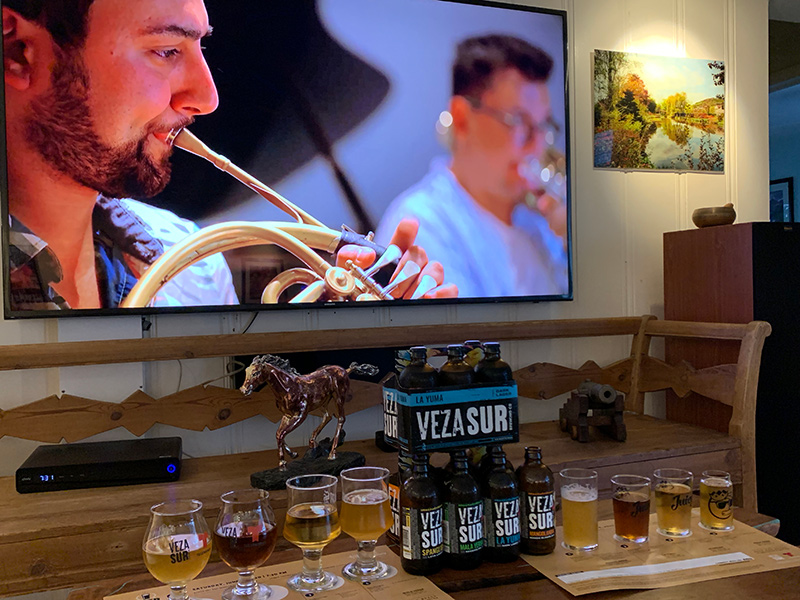 Beer and Brass virtual concert on June 6, 2020. Photo by Lyndall Lambert
On Saturday, June 6, five Brass Fellows welcomed a virtual audience to Beer and Brass – a concert that paired music for brass quintet with beers from Miami brewery Veza Sur. Beer and Brass was originally scheduled for March 27 at the New World Center; due to COVID-19 restrictions, the Fellows adapted their concert design to take place in a digital space, reaching audiences in their own homes.
Ticketholders enjoyed a pre-recorded concert, a six-pack of curated Veza Sur beers (four of which were paired to music during the concert), program placemat, souvenir glass and live interaction with the musicians and Veza Sur's head brewer, Rhett Dougherty, who provided tasting notes for each pairing.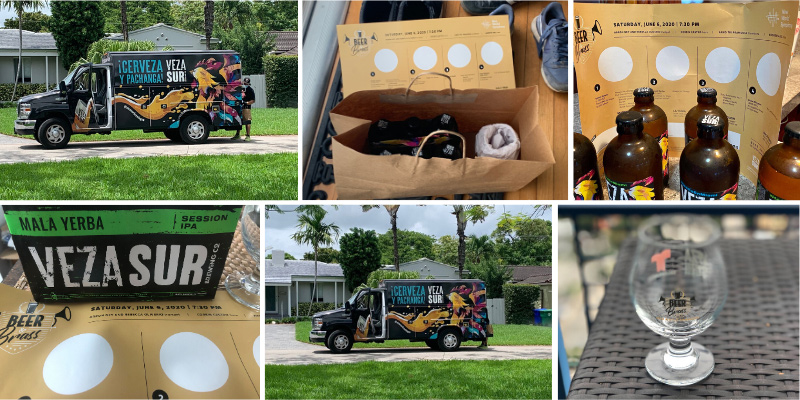 Beer and Brass packages delivered by Veza Sur -- six beers, program placemat and souvenir glass
Beer and Brass was sponsored by Veza Sur, Telemundo and the John S. and James L. Knight Foundation. Knight Foundation and New World Symphony: Reimagining Classical Music in the Digital Age. Beer and Brass was also sponsored in part by the Maxine and Stuart Frankel Foundation.
A Virtual Experience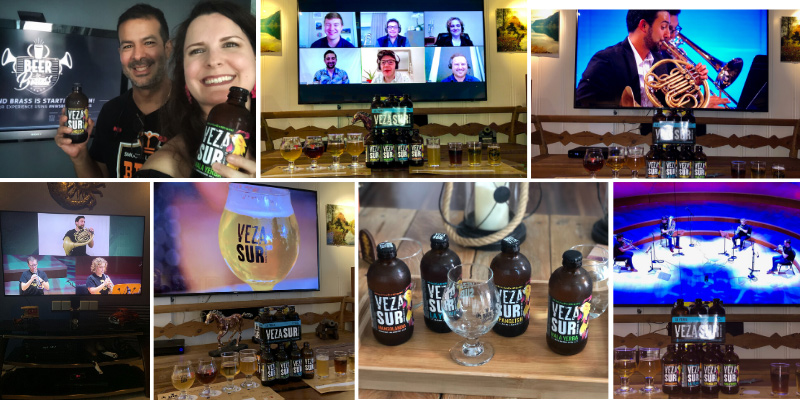 How You Watched: Viewers shared their home-viewing experiences. Photos by Lyndall Lambert, Maureen O'Brien and Michael Humphries
While the Beer and Brass concert format was developed last season, this year's event marked NWS's first experiment with a ticketed online event. Aided by NWS staff, Fellows faced the challenges of transitioning their project's format to be online with curiosity and excitement. Their work was rewarded with an engaged audience, whose numbers increased by 60% compared to last year's in-person concert.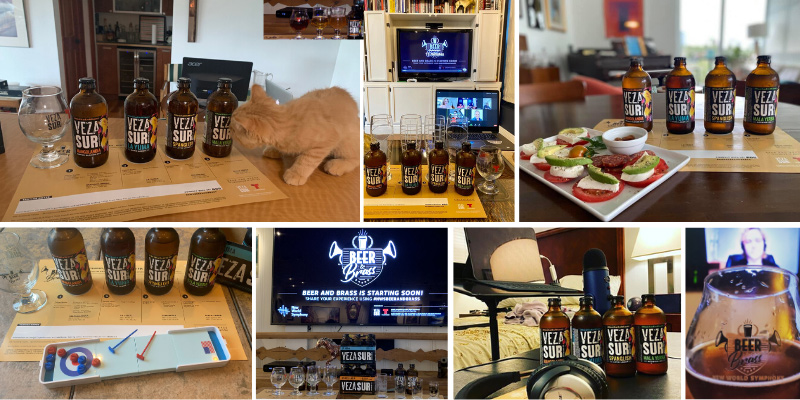 Creative setups for unique Beer and Brass experiences. Photos by Lyndall Lambert, Aaron Ney, William Kleh, Craig Hall, Michael Linville, Kathleen Drohan and Michelle Kucharczyk
Rebecca's Reflections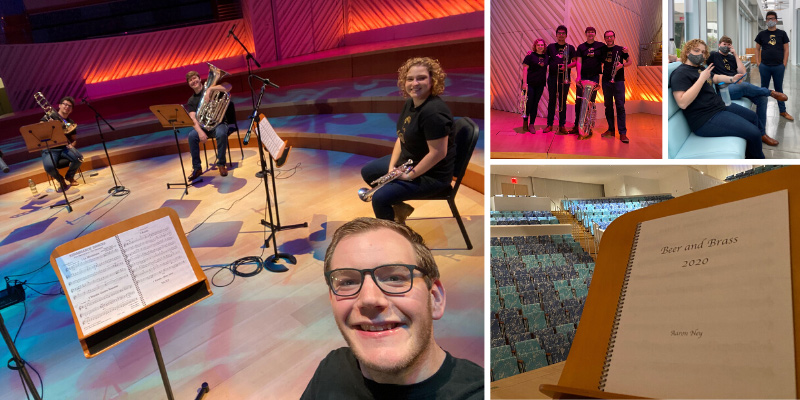 Brass Fellows record Beer and Brass in empty New World Center. Photos by Aaron Ney.
Trumpet Fellow Rebecca Oliverio reflected on her Beer and Brass experience during COVID-19:
We encountered several challenges in our attempt to take Beer and Brass to an exclusively virtual audience. We had to consider how, where and when to rehearse and record, what pieces to choose from our program, how to coordinate the beer element of our project, how to present the concert and tie in a live element so that the project offered as many of its original ideas as possible. Of course, there were many more challenges and elements that the entire team who made this project possible encountered, but for the brass quintet these were our main concerns.
When it came to recording the pieces we picked, we were reminded of how much is at stake every time we did another run of the pieces. With the limited amount of time in the performance hall and physical endurance, we had to make each take of each piece count. Then our horn player, Corbin, had to record his part in Georgia while listening to the recording the rest of us made at the New World Center. All of us learned how to adapt and get creative when you have limited time, freedom and resources.
For the event, I was nervous about speaking to an audience I couldn't see, but I was comforted knowing that my friends in the quintet were right there with me in the video meeting. There is a certain kind of energy we, as musicians, get from playing in front of a crowd of people there to see us. Although we had a dress rehearsal, the actual concert was a moment of discovery for all of us. We had a great team that made this whole event possible so all we had to worry about was speaking when our cue came. Pre-recording the pieces made this event a lot less stressful than it would have been! However, we would have loved to perform live and for a full audience in the NWS performance hall!
During these confusing and unsettling times art helps remind us that there is good happening in world. Just because we can't gather and experience art together does not mean that is isn't being created. We wanted virtual Beer and Brass to be a way for our audience to get away from the world for one hour and enjoy good music and good beer. It is our job as artists to share what we have and we figured out a way to do that. We never know what will come and so we must share what we have while we have the ability to do so.
NWS BLUE Projects
Beer and Brass is a NWS BLUE Project. Standing for Build, Learn, Understand and Experiment, NWS's BLUE program is a combination of leadership and entrepreneurship training and hands-on experimentation that provides NWS Fellows with a comprehensive skill set to complement their musical training. NWS BLUE projects allow all Fellows to pursue musical activism based on their personal interests with their own original initiatives, from concept to execution. These special projects guide their continued development, while demonstrating music's ability to have a positive impact on the community, and benefiting South Florida programs and businesses. NWS BLUE Projects are sponsored in part by the Maxine and Stuart Frankel Foundation.
Posted in: BLUE, Concerts, Fellows, Technology
---