News
May 3, 2021
Behind the scenes: NWS's virtual Side-by-Side week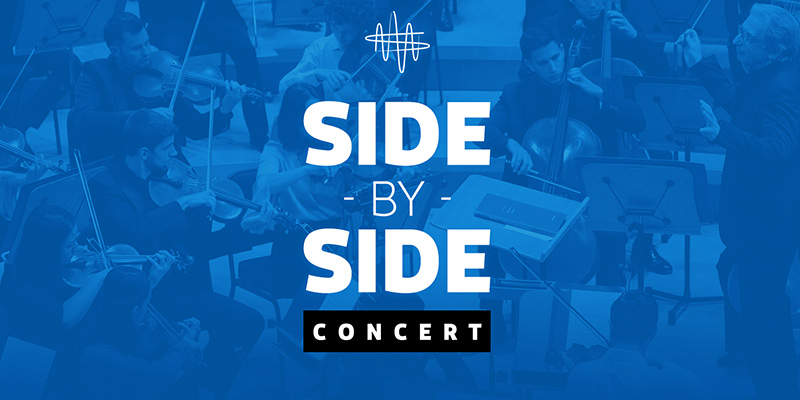 The end of April brings to NWS a beloved annual tradition: Side-by-Side Week. In a normal year, advanced instrumentalist students (grades 7-12) audition to secure a spot in the Side-by-Side Ensemble, which brings them to the New World Center for in-person mentorship workshops, master classes and rehearsals with NWS Fellows. The week culminates in a joint performance led by Michael Tilson Thomas.
NWS reimagined this season's Side-by-Side experience to be exclusively online, cultivating a week of interactive panel discussions with industry leaders in performance and education, master classes with MTT and NWS alumni, one-on-one mentorship with NWS Fellows, performances by NWS Fellows and a closing virtual performance with over 110 musicians together.
Leading the project was Terell Johnson, NWS Interim Director of Community Engagement and Director of Business Development. "The integration of technology was essential in redesigning this year's Side-by-Side program, from the daily activities to its culminating performance," said Terell. "NWS is all about shaping the future of classical music and we know this experience is so crucial to the growth of young musicians. Collaboration and mentorship are essential to a musician's development and we were thrilled we could make that collaboration happen in a digital space."
"Being in a really fine orchestra with great colleagues, when you are young and impressionable, is a very important thing," said MTT. "Whether you're going to be a musician or not, being in an ensemble that can instantly play a piece so that it sounds like something really wonderful is a very inspiring experience and you don't forget that."
Side-by-Side Week Activities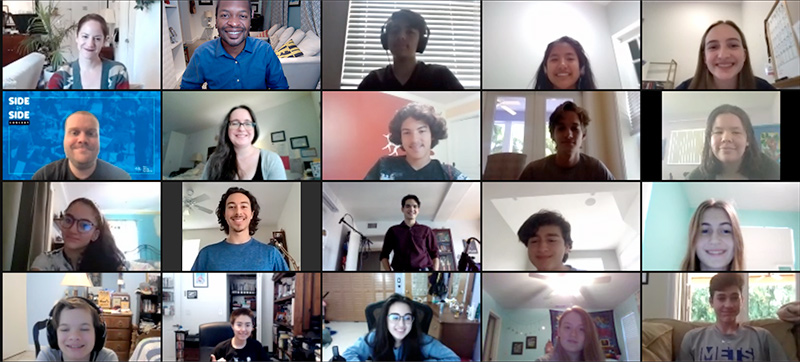 Over the course of the week, this year's 38 Side-by-Side participants enjoyed private workshops with performance psychology master Dr. Noa Kageyama; NWS visiting faculty and alumni Megumi Kanda (trombone), Mark Nuccio (clarinet and D'Addario performing artist), Philip Payton (violin, NWS 1998-2002), Elizabeth Rowe (flute, NWS 1996-98) and Jennifer Snyder Kozoroz (viola, NWS 1998-99); NWS Conducting Fellow Chad Goodman; and percussionist and D'Addario performing artist, Matthew Strauss.


Guest Artist Session with MTT and NWS alumni and visiting faculty 
The participants also had one-on-one sessions with their NWS Fellow mentors, as well as a Q&A group chat and an opportunity to watch their mentors in solo and chamber performances from the last season.


MTT Town Hall Master Class

MTT and Chad Goodman hosted a public Town Hall Master Class that featured this season's top four Side-by-Side participants: Stephan Bloch (percussion), Jonathan Entenza (cello), Aaron Abbey (trombone) and Sophia Molina (violin). Joining the master class were four NWS alumni who now perform and teach around the country: Sergio Carreno (percussion, NWS 2007-11), Natsuki Kumagai (violin, NWS 2016-17) Si-Yan Darren Li (cello, NWS 2008-09) and Kenneth Thompkins (trombone, NWS 1995-96).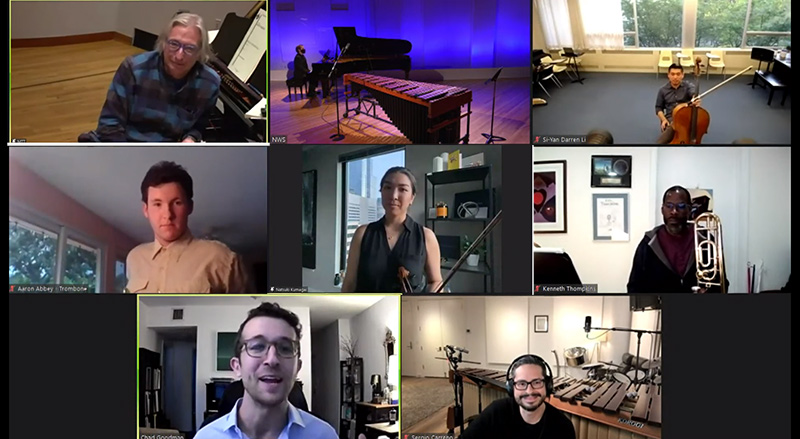 MTT, Chad Goodman, NWS alumni panelists and participants
Side-by-Side Concert

The 2021 Side-by-Side Concert featured an interview with NWS Side-by-Side alumnus Matthew Hakkarainen—who now studies at the Curtis Institute, before culminating in a virtual performance of Ravel's Boléro.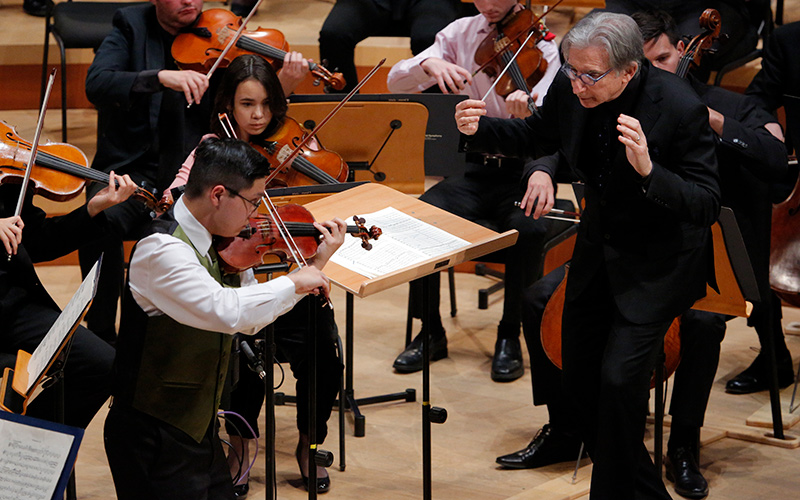 Michael Hakkarainen and MTT at 2019 Side-by-Side Concert, photo by Rui Dias-Aidos, REDAV, Inc.
Assembling the digital mosaic of over 200 personalized recordings and videos required many steps. The foundation was created by NWS Director of Corporate Partnerships Eduardo Delgado, who orchestrated a click track recording to serve as a reference source for students recording their performances.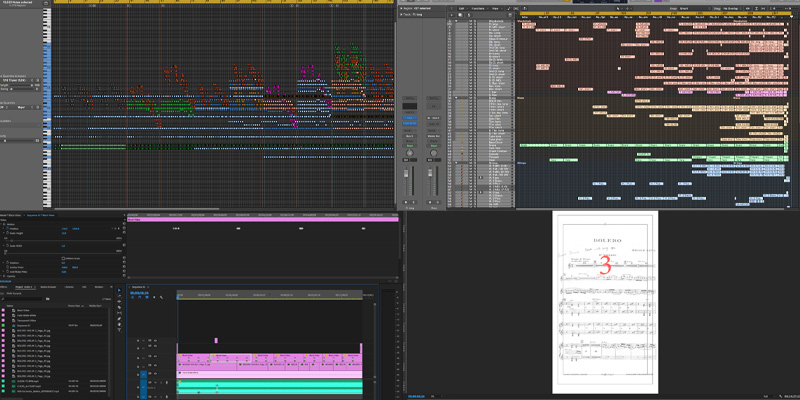 Eduardo Delgado creates orchestrated click track for participants
Eduardo sequenced over 10,000 notes in more than 50 tracks to create three audio files for each musician participating: one with full orchestra, one with instrument families and one with individual instruments with the snare drum. Participants used these recordings to practice and record their final product. NWS staff and Fellows also provided step-by-step instructional videos and microphones for the participants to use in capturing their performances. Final video and audio stitching were created by former NWS videographer Jonathan David Kane and NWS Audio Engineering alumnus Cody Engstrom.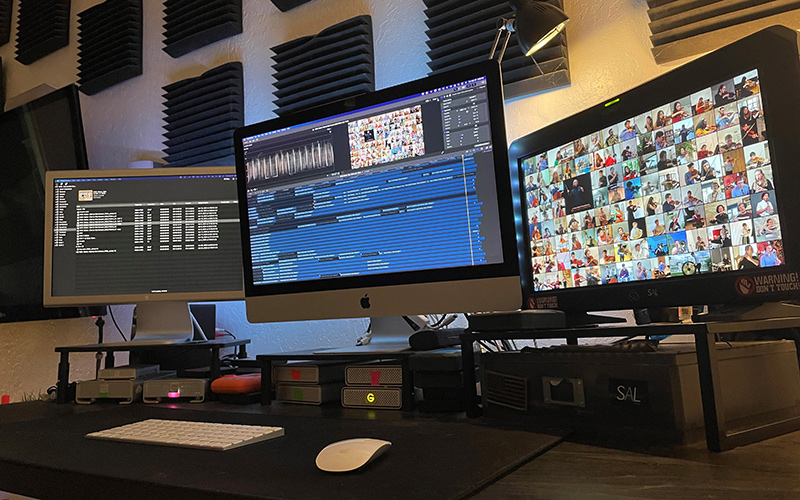 Jonathan David Kane edits the final video
"In a year when students haven't had many opportunities to play music together, I was excited to help facilitate this online concert where musicians feel like they are part of an ensemble," said Eduardo. "Music—when made together—is a powerful thing, and we're humbled to connect our young musicians, NWS Fellows and MTT together on a virtual stage."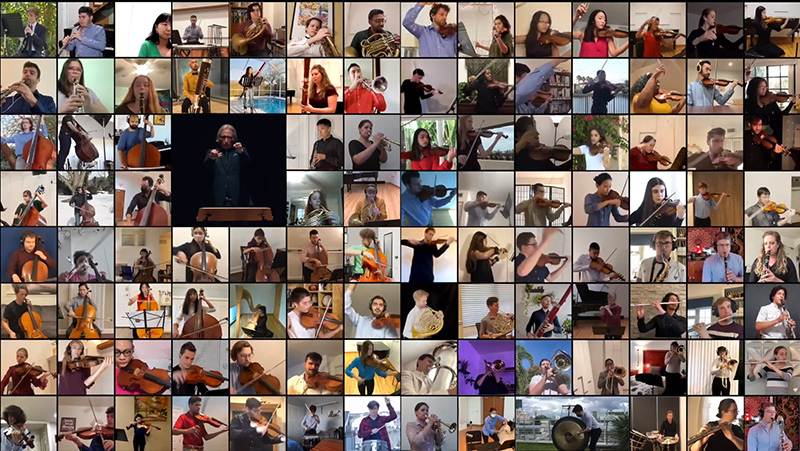 NWS's 2021 Side-by-Side Concert was sponsored in part by The Batchelor Foundation and The Kirk Foundation. Side-by-Side session clinicians generously provided in part by D'Addario. 
Posted in: Alumni, Community Engagement, Fellows, MTT
---