News
August 5, 2013
Brave New World: A 25th Anniversary Look to the Future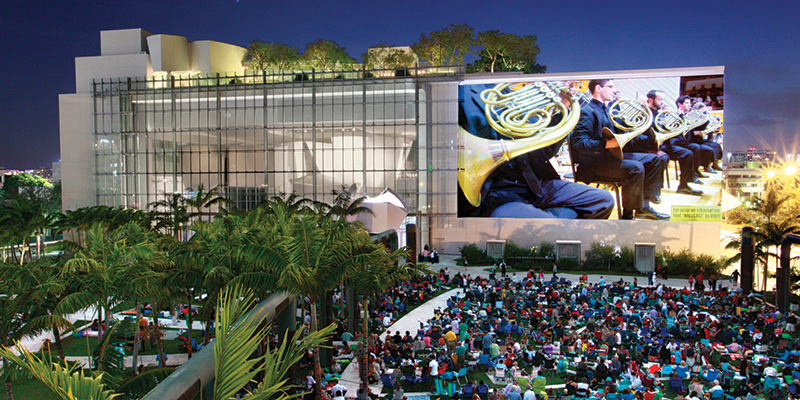 Anniversaries are often celebrations of past achievement. At New World Symphony, our 25th year was focused on the future. Working in the middle ground between academic requirements and professional structures, the entire season was designed to galvanize past and present into a series of exercises that would prepare our Fellows for the unpredictable road ahead.
We are becoming recognized as a research and development arm of classical music. Led by MTT, we are generating new ideas about the way music is taught, presented, and experienced. A few examples:
Our festival, "John Cage – Making the Right Choices," formed a community around the exploration of 26 of his works. We formed partnerships with musicians and historians who knew Cage, our Fellows and guest artists, and our audiences, as we explored unique recreations of his multi-dimensional works. The festival will be extended through an online reference that will be available in January 2014.
Our search for new audiences reached a critical milestone.  For five years, we have been refining a concert content/marketing development cycle that combines artists' intuition with audience research.  We identify prospective audiences then design performances and accompanying marketing plans focused on those patrons.  Audience response, based on extensive survey data, guides the evolution of our offerings. Publication of our findings will allow orchestras to take informed risk as they pursue new listeners.  A summary of findings can be found at this link.
We live in a visual culture. The New World Center was designed to explore the balance points between sight and sound. Video commissions, use of images to augment our pre-performance contextualization of music, and WALLCAST™ Concerts are examples of how we are using visual elements to redefine musical experiences.
To see a clip of one of our video commissions, Stravinsky's Circus Polka, click here (password: nws).
To see a clip of one of our WALLCAST™ Concerts projected onto our building's 7,000 square foot façade, click here (password: nws).
Online instruction is gaining acceptance in higher education. Over the course of the season, New World Symphony joined forces with the Royal Danish Academy of Music (RDA) and Aalborg University in studying the efficacy of online music instruction. Throughout the season, New World Fellows worked with RDA professors, while Aalborg researchers observed their interactions. A report will be published this fall, but several preliminary reflections are intriguing. Our Fellows and the RDA professors identified a third room, a virtual space where their imaginations came together in spite of the physical separation. Fellows were surprised to see themselves move quickly into a trusting relationship with the Danish professors. What we learn from the study will be applied to our Fellows' prototypical online work with students at Northwestern High School here in Miami and at the Academia Filarmónica de Medellín in Colombia.
Looking back over 25 years, we are beginning to understand alumni impact on the future of classical music. Of our 917 alumni, ninety-five percent remain in the field and many have used their entrepreneurial spirit to become leaders in their orchestras, ensembles, faculties, and communities. A few examples:
Mark Niehaus left New World in 1998, having won the principal trumpet position in the Milwaukee Symphony. Over the course of his tenure, he has become ever more active in the orchestra's governance and as an advocate for the orchestra. As a result of his knowledge of the orchestral process, affinity with the community, and institutional vision, Mark has now stepped into the role of executive director. He will use his New World perspective in shaping that orchestra's future.
Zeneba Bowers left New World to become the principal second violinist of the Nashville Symphony. Over the past 17 years, she has been an artistic and institutional leader in that orchestra. Her dedication to music and community led her to found the Alias Ensemble, eleven players who perform throughout their city, often for the benefit of social service agencies. Alias has a large Nashville audience, two recordings - one nominated for a Grammy - and an active commissioning program.
Thanks to the capabilities of our new campus, we find ourselves at the crossroads of music, education, architecture, and technology. Since our opening in January 2011, 407 arts leaders from 237 institutions worldwide have traveled to Miami to consider their own futures based on the design of our facility and the nature of our programs. More are scheduled in the coming season. We have formed partnerships with 132 music schools, universities, and professional orchestras in pursuit of projects that required collaborative thinking and joint funding. We are thrilled to be pursuing work that may have broad influence and we take our responsibility for the future of the art form seriously.
On to Season 26.
Posted in: Brave New World
---