News
November 30, 2012
Brave New World: A Conversation Among Investors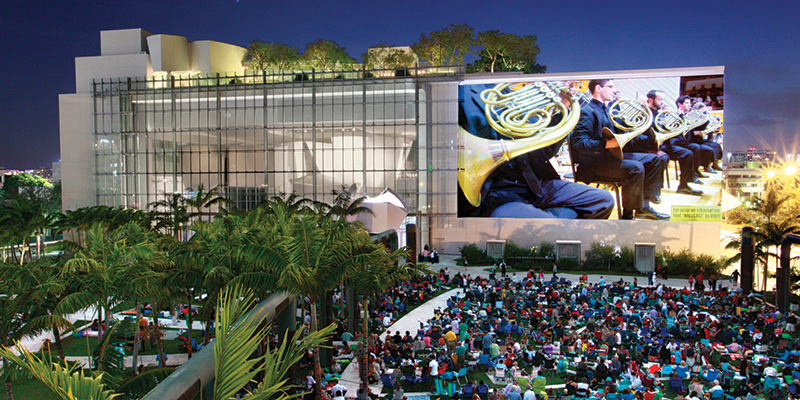 Yesterday, we initiated a new forum for conversation between distinguished artists and major donors. Participants were able to join us in person or, through the power of digital technology, virtually. Here at New World, digital connectivity has eliminated barriers and given us new forms of expression thanks to the Knight New Media Endowment. Now, we are harnessing its capabilities to shorten the distance between donors and artists, all of whom are deeply invested in the art form.
Our distinguished artist this week is John Adams. As guest conductor and composer, he has been preparing our Fellows for a Saturday performance of two of his own works and the Variations for Orchestra by Elliot Carter. John is always welcome at New World, having done a number of projects with us over the years. Each time, he expands our Fellows' imaginations and gives our audience a wild ride through the music of our time.
With a shared commitment to New World and the future of the art form, each forum participant had his/her own approach to the risks and rewards of creating, preparing, promoting and experiencing new work. John spoke about the creative process, how composers synthesize their life experience into formal expression. We all reflected on the act of listening. The conversation inevitably turned to the place of the arts in contemporary American education. Digital reality was inextricably linked to that topic. John asked everyone to reflect on technological changes in recent experience. His example was the invention of the microphone and the resulting realignment of musical culture. We spent a good bit of time considering how to sort through internet clutter in search of meaningful experiences. Throughout the session, we kept returning to the relationship between commerce and art, for instance, serious music as a victim of the corporatization of American popular music or arts organizations as fulcrums for neighborhood development.
We came away with guarded optimism, a spirit of camaraderie and a renewed sense of responsibility for the creative process.
Here are a few of John's concluding thoughts about healthy artistic environments and vital cultures. I will keep you informed as these forums continue.
Posted in: Brave New World
---