News
October 16, 2014
Brave New World: Access and Participation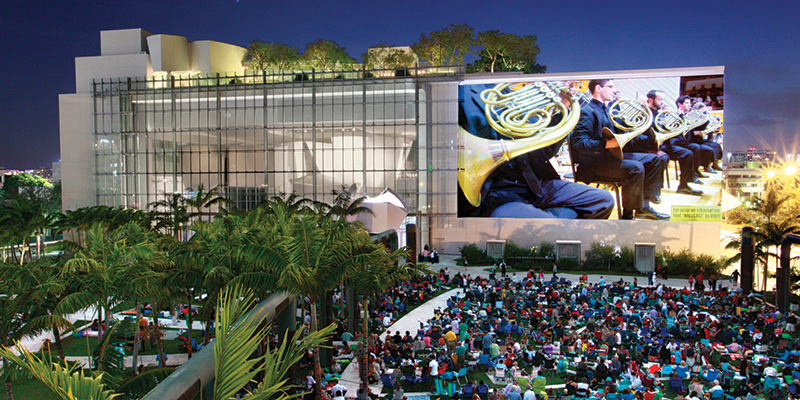 As of this morning, The Miami Foundation has released an expanded Our Miami initiative – data and narratives on eight categories of livability in our community. The report is available at http://ourmiami.org/ (it is an interactive website, as opposed to a downloadable document).
This is an important step for our community. This data creates a baseline that will inform strategies and measure progress in the coming years. Our recent achievements are impressive, but our next moves can benefit from a sharper focus.
Today's Miami Herald includes a special supplement on the Our Miami initiative. I was asked to write a short article on culture, one of the categories in the study. A copy of my statement is available HERE.
In my article I mark Miami's cultural accomplishments and articulate our challenges. I call for increased emphasis on access and participation. Let me give you specifics on how New World Symphony is approaching program design based on these fundamentals.
Let's consider access. Frank Gehry gave us a primary façade that is transparent, an invitation to the community. Our WALLCAST™ concerts have become a new center of gravity in Miami and a model for others around the country. Our alternate performance formats are designed to integrate our concerts with the lifestyle of prospective audiences. Through greater access, we have won a new place in this community.
Regarding participation, our community engagement in Miami and in Medellín is bringing young players and their families into the flow of music training. MUSAIC (http://musaic.nws.edu), even in its current beta 2.0 form, is beginning to attract music students from Miami-Dade County and all corners of the globe. The teaching segments are providing access and encouraging participation.
In my Herald article, my premise is that programs designed for access and participation can attract inspired funding. Our new partnership with Citi is an example. Citi's global strategists created a short list of cities that were right for long-term investment in client prospecting and more effective brand alignment with all Citi lines of business. Having chosen Miami, they searched for ways to associate themselves with innovation and culture. Our WALLCAST™ concerts combine the uncompromised presentation of serious music with a structure that redefines access. This is the heart of the partnership.
At yesterday's trustee meeting, we talked about visibility. Here in the laboratory of America's Orchestral Academy, we will continue to push the limits. Public notice of our accomplishments will increase our visibility. Then, we will have the chance to represent our commitment to access and participation. Whether enlivening Miami or redefining the orchestral enterprise, we have the stories that will inspire new philanthropic investment.
Posted in: Brave New World
---