News
February 14, 2013
Brave New World: Anything is Possible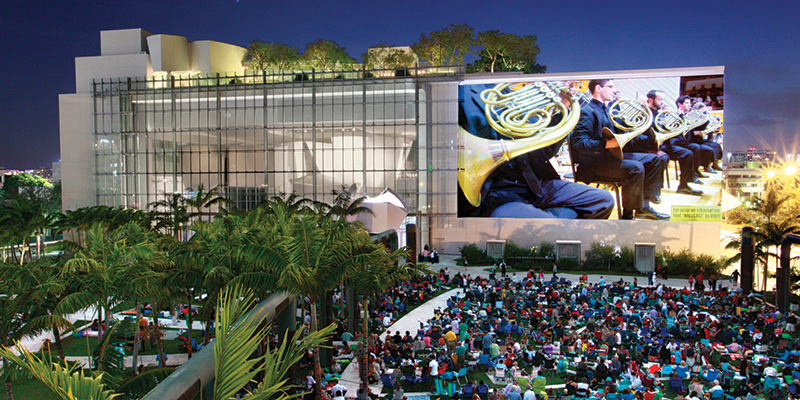 Last week the New World Symphony staged a three-day, multi-sensory festival to honor the centenary of John Cage. Supported by a major grant from the John S. and James L. Knight Foundation and designed by MTT, the concerts, films, lectures, and panel discussions produced a rich and vivid profile of the composer and his world.  In one of the more theatrical presentations, MTT became an onstage bird watcher.  Field glasses to his eyes, he surveyed the territory.  First a hawk in flight on one of the video screens, then his fellow actor/musicians, then the audience.  His watching made me think about John Cage's powers of observation that are so evident in all forms of his artistic expression.  The music, theatre, dance, written word, and painting--all things Cage--had a strong impact on our Fellows and audiences.  Mark Swed's review in the Los Angeles Times portrays the unique and transformative aspects of our festival: 
Click here to read Mark Swed's review.
In his design for the festival, MTT capitalized on the flexibility of the performance hall and the range of our technology.  The fluidity of our stage accommodated a dozen distinct sets for combined music, dance, and theater.  The relationship between audiences and performers was redefined thanks to a variety of seating deployments.  With small ensembles in three positions outside the hall while still within its sonic envelope, we expanded the idea of integrating onstage and offstage music.  Video projection played a major role in evoking the social and political context for Cage's music.  Television clips from the Miss America pageant, Marlboro and Heinz advertisements, and an enormous Uncle Sam pointing his index finger at the viewer; these images established the high contrast between commercial America of the mid-20th century and Cage's artistic statements.   A gallery of performance images is available at https://www.nws.edu/johncage/index.html.
In the festival program book we quoted Alberto Ibargüen, president of the John S. and James L. Knight Foundation, "the first time I heard John Cage's music, I realized anything was possible."  That sensibility is an essential part of the way the New World Symphony understands its responsibilities and opportunities.  Look for more blending of genres in the future, starting with New Work on April 20.
Posted in: Brave New World
---