News
March 26, 2013
Brave New World: Learning to Play the Technology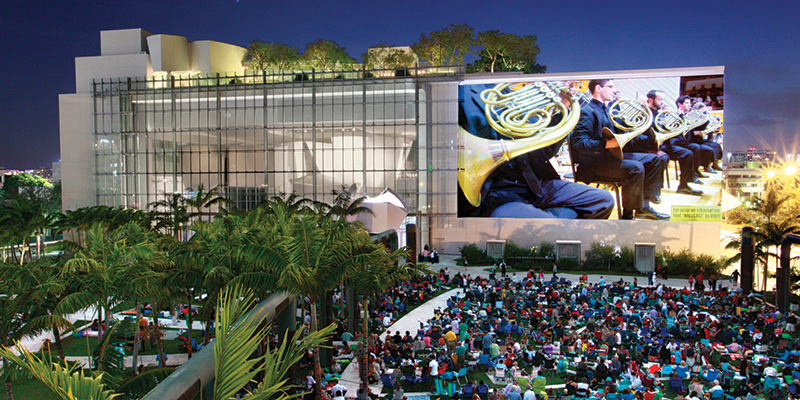 Ten years ago, The Washington Post offered up an assessment of technological impact on the arts. On Sunday, March 17, they returned to this subject by considering the effects of digital media over the past decade. Anne Midgette's musical overview included a section about New World.
Click here to view the article.
In preparation for my interview with Anne, I stepped back in time to the 2002-03 season. Based on our mission and vision, MTT and New World staff were imagining a digitally enhanced experiential curriculum. Frank Gehry was eager to design a building that was about the future of music. Yasu Toyota was puzzling over the acoustic challenge of a performance hall ideal for unamplified orchestra and amplified sound coming through fiber optic cable from remote locations. New World Fellows were beginning to explore online learning, both as mentors and mentees. Our relationship with local governments was being defined by a placemaking strategy that has become digital Wallcasting.
Ten years ago our primary goal was to ask the right questions. In designing our new campus, we tried to maintain as much programmatic, technological, and physical flexibility as possible. The rate of change, driven by digital media, filled our lives with a terrifying mix of anxiety and promise.
In talking with Anne, I recounted our arc of development, then described our current digital deployments. Given space limitations, her overview is a fine summary of our current position. Going a bit deeper, digital connectivity for teaching is part of our daily life. Fellows are studying abroad without leaving the campus. They are also the visiting faculty in a pilot partnership with the Academia Filarmónica de Medellín, Colombia. All living composers (26 this season) join our rehearsals and greet our audiences. The majority of them come to New World virtually. Digital capture, tagging, and distribution of essential teaching moments is becoming a library-like point of reference for future generations of musicians and audiences no matter where they live and work. All New World presentations include some form of digitally based expression. We are reimagining the relationship between visual and aural stimulation by commissioning video artists and composers to integrate their work. For them an essential tool is our digital projection system that delivers images based on the pace of performances. Last week, a New World app invited our audience to register their emotional reaction to the music, triggering changes in the color and intensity of the performance lighting. WALLCAST™ Concerts use our digital infrastructure to turn the building inside out, offering our concerts to a new and expanding audience in the adjacent city park.
In her article, Anne Midgette reaches perceptive conclusions that are in line with our findings. Digital technology has expanded, I might say radically expanded, our capacity for collaboration. We think this has only just begun. She talks about the contrast between the wild speculation of 10 years ago and the realities of today – flying cars vs. iPhones. History tells us that each fundamental shift in media results in a misalignment of expectations and outcomes. One primary area left unaddressed is the relationship between media on content. Author Marshall McLuhan gave us new perspective, unfairly reduced to his familiar quote, "the medium is the message." If you accept his premise that media tools extend our senses, then it follows that the introduction of a powerful new media disturbs our intellectual and emotional balance points. Living in these early days of digital reality is full confirmation of the truth behind his observation. Going one step further, he posited that the user of media is the content. This can be a mystifying concept for those of us who are dedicated to crafting a strong and secure future for classical music.
As we finish our 25th anniversary season and in support of our Fellows' development, we continue to search for the right questions, preserve our flexibility, and make the most of our technological capabilities. In the digital time scheme, we dare not wait 10 years for our next assessment. Let's see where we are in 10 days.
Posted in: Brave New World
---