News
October 2, 2013
Brave New World: NEA and NWS -- Thinking Nationally, Acting Locally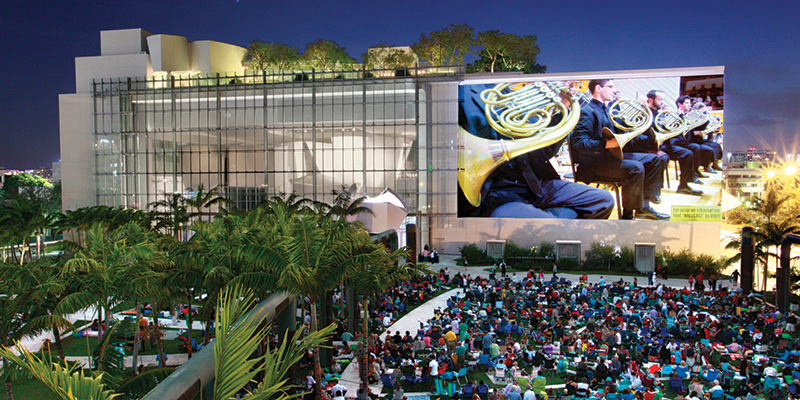 You may have read The New York Times' piece on the National Endowment for the Arts (NEA) Survey of Public Participation in the Arts (SPPA). Since 1982, in conjunction with the national census, the NEA has given us a data-rich snapshot of national attendance and engagement patterns across all artistic disciplines. The press often reacts quickly and negatively, but such treatment does the report a disservice. If you would like to review the SPPA conclusions, click here.
Last Thursday, the latest SPPA was released in a public presentation at the University of Massachusetts Amherst. I represented the New World Symphony as one of three panelists invited to react to the SPPA's findings. Sunil Iyengar, Research & Analysis Director at the NEA, asked me to bring our audience research results into the discussion, juxtaposing local insight and the NEA's national overview.
The New World Symphony began serious research in 2009 as part of our new audience initiative. Over these past four years, we have crafted three alternate performance formats designed to attract and engage a broader patron base; Mini-Concerts, Encounters, and Pulse: Late Night at the New World Symphony. To measure the impact of these formats, we have used an aggressive audience survey strategy. In fact, we have structured a development cycle that identifies a target audience, designs content and marketing for that group, stages concert experiences, surveys attendees, combines intuition with survey analysis, reconfigures content and marketing, then repeats the cycle. My presentation is available here.
Alan Brown, one of the most respected arts researchers, has been advising us throughout the process. I invite you to review his summary here and the supporting technical document here.
I can summarize our new audience initiative accomplishments in the following way.
Alternate performance formats are winning new audiences at high percentage rates.


Prospective audiences are at the center of our strategy.


Concert experiences are crafted based on the pace and lifestyle choices of these audiences.


Uncompromised performance of classical music is a given.


Building new audiences takes time and patience, but an alternate format development cycle can accelerate the process.


Return on investment for new audience initiatives can be measured in ticket sales, fundraising successes, and greater institutional presence within a community.
We thank the funders of our experimentation who have been willing to take a risk on us and this strategy; Don Randel, Susan Feder, and the staff at the Andrew W. Mellon Foundation, Alberto Ibargüen and Dennis Scholl at the John S. and James L. Knight Foundation, and Suzie and Bruce Kovner as well as Diane Morrison at the Kovner Foundation.
I am eager to get your thoughts on our work, and I look forward to sharing results with you as we move through the coming season.
Posted in: Brave New World
---