News
February 28, 2012
Brave New World: Now, We Know What Is Possible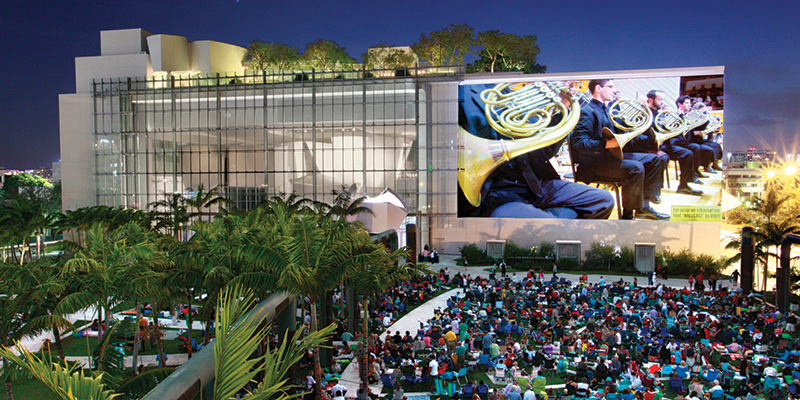 It has been just over a year since we opened the new campus. In that time, over 140 individuals from 53 American and international arts organizations have toured the New World Center. The last two weeks have been especially busy with visits from a group of presidents and deans of leading music schools (Curtis, Oberlin, Eastman, Juilliard, and the Universities of Southern California, Illinois and Michigan) and facility planning committees from the Atlanta and San Francisco Symphony Orchestras. In the case of both Atlanta and San Francisco, the committees included trustees, musicians, and staff.
Our guests report gaining perspective on the future. They rave about our architecture of engagement, flexibility of the performance space, and connectivity in every room. They are enthusiastic about our programs: Fellows in the community, WALLCAST™ Concerts, new performance formats, virtual library, video commissions, etc.
But fear colors the conversations. The pace of change in the digital world is antithetical to the tried and true techniques of program and/or facility development. What is beneficial in the near term may lose value quickly with disturbing financial and institutional consequences. On a more profound level, there is a concern that digital representations of artistic expression may separate musicians and audiences, threatening the basic premise of concert life.
There are reasons to be apprehensive. But reflecting on the scores of conversations of this past year, I realize that our new campus and developing programs are turning insecurity into confidence.
We have confirmed the importance of defining a unique institutional program based on mission and vision. People are surprised to learn of the length of time we committed to planning and the detail of our process. We have emphasized the singular bond between an orchestra and its city. Our building is an expression of New World as an integrated South Florida asset. Every orchestra facility needs to reflect the aspirations of its musicians and community.
Those who visit New World are struck by newly defined relationships between our musicians and audiences, our institution and the larger public, Fellows and their mentors, video and music, and public and private funding sources. They begin to imagine how they might realign their program and facility to enhance the lives of their musicians, engage new audiences, and motivate funders.
Everyone is intrigued by our simultaneous local and global presence. We talk about MTT's life-long understanding of and commitment to leveraging media by preserving the personal.
It is clear that New World has become a point of reference for those who are committed to a lively future for classical music. The following underscores this phenomenon. During the San Francisco Symphony group's tour, we made certain they had time with our Fellows, in this case a panel of four. During that dialogue, they asked our Fellows to reflect on aspects of their New World experience that would be applied in the real world. Tony Parce, a first-year Viola Fellow, spoke of the challenges he anticipates as a musician and his gratitude for his New World training. But for him, it goes deeper. Reflecting on his experience and speaking for his colleagues, he told the San Francisco contingent "thanks to New World, now, we know what is possible."
For musicians, trustees, patrons, audiences, students, institutional leaders and the larger public, we have redefined what is possible. It is our job to make the most of this opportunity.
Posted in: Brave New World
---