News
September 20, 2012
Brave New World: NWS and the Creative Economy of Miami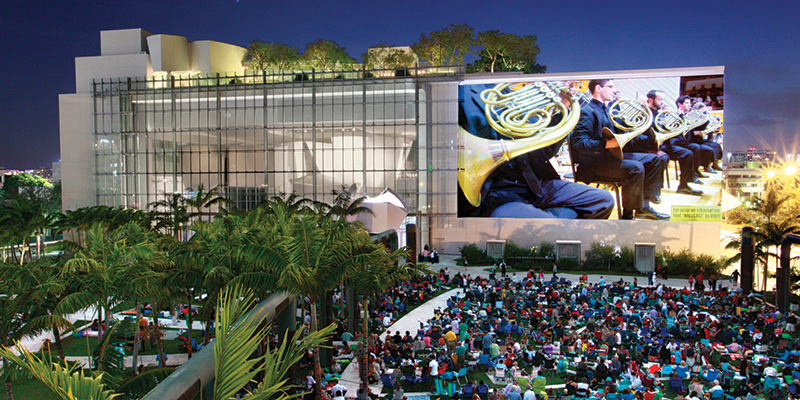 Urban development is not my field. However, I have grown to love Miami and the New World Symphony's stake in its future. By listening carefully, I am becoming aware of growing enthusiasm from Miami natives and people from other American cities who see us as a 21st century model. Here are few indicators.
Last week the Miami Foundation launched a new initiative, Our Miami–Soul of the City. This call to action was based in part on the findings of the John S. and James L. Knight Foundation "Soul of the Community" project. Just a few weeks ago, the social scientist Richard Florida was featured in a Miami Herald piece about the future of our city. This prompted me to review the Knight study and Richard Florida's book, The Rise of the Creative Class. These documents underscore what I have been observing - Miami is changing rapidly and for the better. Artists and arts organizations are contributing to this positive trend, and the New World Symphony is a leader in this enterprise.
Numbers tell part of the story. In a ten year period from 2006 through 2016, public and private capital investment in new arts facilities in Miami Dade County will top $1 billion. Including the New World Center, Miami Beach SoundScape and adjacent garage, we represent $200 million of that figure. Over the last five years, the John S. and James L. Knight Foundation has challenged Miami artists and arts organizations with one-to-one matches for $40 million of funding. The Miami-Dade Department of Cultural Affairs provides $30 million each year for the ongoing operation of professional artistic activity from fledgling to established companies and individual artists.  For every public dollar invested in the arts, $31 private dollars are leveraged for annual program development.  And what are the returns on those investments?  The recently completed Americans for the Arts study tells us that arts performances and presentations generated over $1 billion in local economic activity last year.  In that same year, more than 13.5 million people attended arts events in the County.
Here at the New World Symphony, we have our own impressive statistics. Since we opened the building, 236 arts and civic leaders representing 104 organizations from around the world have chosen to visit New World hoping to gain perspective on their own futures by studying our facility and program. WALLCAST™ Concerts have boosted our total annual audience by 30%. The Concerts for Kids had an audience of 3,000 students when live performance was the only vehicle. Now through live performances and webcasts to Miami-Dade County Schools and beyond, this number has reached 10,000 and is climbing. Our alternate performance formats are attracting new audiences at startlingly high percentages; 40% of the Pulse and 60% of the Mini-Concert audiences are new to our database.
The arts in general and the New World Symphony in particular are gaining new prominence in Miami, but growth statistics don't reveal the impact of our initiatives. Families are coming to our performances in the hall having been introduced through WALLCAST™ Concerts. We are supporting Miami-Dade County Schools Superintendent Alberto Carvalho with video footage of our distance learning work in the education infrastructure bond issue that comes to vote November 6.  Individuals in our extraordinary advocacy group, Friends of New World Symphony, are building their careers and businesses based on their conviction that the arts are an essential part of the future of the community.
New World is part of the new Miami. In a certain sense, Miami is a New World. Now it falls to us to make the most of this opportunity.
Posted in: Brave New World
---