News
January 24, 2013
Brave New World: NWS Has a Little Brother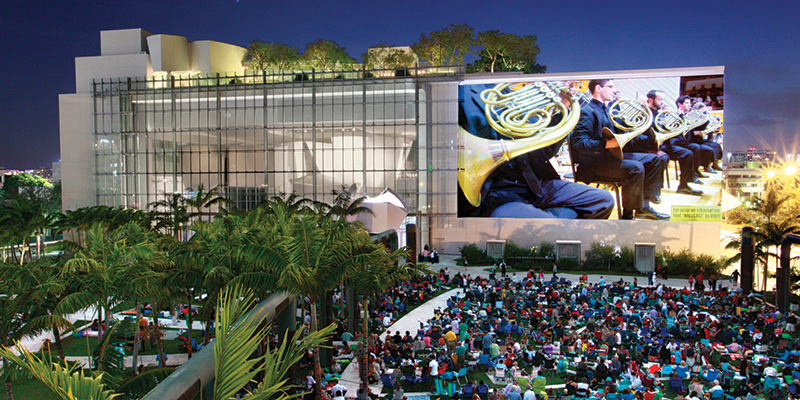 On the heels of my participation in the Stanford University Art in the Digital Age conference last November, I was invited to attend the opening of the University's new Bing Concert Hall earlier this month.  It is a magnificent 850-seat space with many similarities to New World.  Seating is vineyard style with steeply pitched galleries behind and to the immediate right and left of the stage, in addition to the primary seating area.  Like New World, there is disarming intimacy created by the proximity of audience and musicians.  To accommodate orchestral performances, a soaring acoustic envelop allows the sound to rise and then be distributed across the seating area by a series of acoustic baffles. These baffles resemble our sails, with the difference being that Bing is symmetrical.  While there is no projection in the hall now, the infrastructure is in place.  I encouraged my colleagues at Stanford to move forward with installation of projectors.  New World and Bing are quite similar in size, shape and purpose.  We are both programming for our primary constituents–Stanford students and New World Fellows.  The flexibility of our spaces gives us the chance to ask fundamental questions about concert presentation and audience experience.  Digital technology is an essential tool for our program development.  Yasu Toyota, acoustician for both Bing and New World, had a whimsical description of our relationship.  He sees the Bing as our new little brother. 
We have captured the attention of faculty at another major American institution of higher learning, the University of Chicago. Carroll Joynes (Cultural Policy Center, Harris School of Public Policy) and Joanna Woronkowicz (Program Analysis Officer) have released a study of American performing arts centers built between 1994-2008. You can find this important study here. They are extending their research by writing a book that will help organizations and governmental agencies understand the lengthy and complex process of creating a performing arts space. Joanna was with us this past weekend to talk with New World staff and Trustees about our journey from concept to program definition, architectural design, construction, and now, program realization. Joanna experienced Pulse: Late Night at the New World Symphony and a Concert for Kids. Based on our conversations with Carroll and Joanna, New World will be one of the case studies in their book.
Reflecting on the recent conversations with Stanford and University of Chicago faculty, as well as ongoing dialogue with the 330 individuals from 120 arts organizations who have visited New World since we opened two years ago, it seems clear that we have captured the imaginations of arts leaders around the world. We may have more little brothers and sisters soon, each one a potential partner in defining the future of the art form.
Posted in: Brave New World
---