News
November 5, 2012
Brave New World: NWS Presentation at Stanford University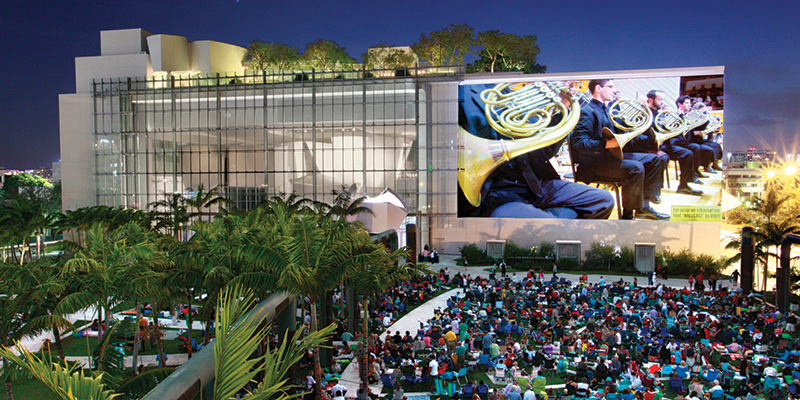 The New World Symphony's experimentation in this digital age continues to gain national attention. On Friday, I was one of several presenters at a Stanford University conference on Art in a Digital Age. Each of us, representing specific artistic disciplines, explained our applications of digital technology, reflected on the results, and described our next steps. We discussed theatrical use of motion capture, art objects conceived in virtual reality subsequently realized in the physical world, computer programmers as artists, and the conversion of the written word to multi-media statements. My statement (available here) focused on three New World experimental programs:
The integration of concert music and video, what Alex Ross of The New Yorker has called a new genre,


The search for new audiences through alternate performance formats that exploit digital artistic expression and marketing, and


The capture, tagging, and distribution of teaching moments in a virtual library.
The discussion following my presentation was led by Srinija Srinivasan, a Stanford graduate, former Yahoo entrepreneur, and now chairman of SFJazz and developer of her own recording studio in Brooklyn. Srinija spoke of an ever-shifting equilibrium between technology, commerce, and culture. In her opinion, culture had more prominence in the early days of the internet, but is losing its influence to commerce. She is optimistic about the future and feels that digital technology, applied wisely, will bring culture back to a position of prominence because of its innate power to reach a critical mass of people quickly and efficiently. To support her position, she pointed to the results of our work, the audience response to our music/video experimentation and the engagement of new audiences.
There was a good bit of discussion about maintaining the primacy of artistic expression as it is captured, organized, and distributed through digital media. I reminded the group of Michael Tilson Thomas' charge to all of us at the New World Symphony - make it personal. If you reflect on Michael's achievements in electronic media, you will see they are always the result of direct personal statements about subjects of great interest to him.
I know that the future of classical music is important to you. If you take a moment to read my Stanford conference statement, you will see why the New World Symphony envisions a strong, secure future for this music. We are uniquely positioned to reimage, reaffirm, express, and share its traditions with as many people as possible.
Over the course of this 25th anniversary season, I will continue to share our perspective with you.
Posted in: Brave New World
---