News
January 27, 2012
Brave New World: Pulse: Late Night at NWS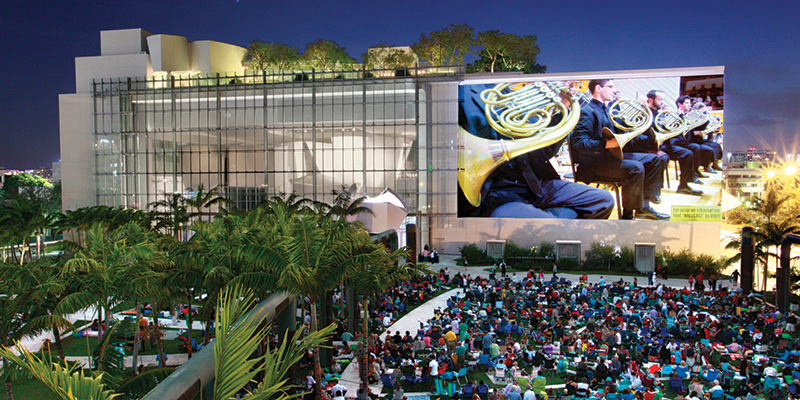 "The future is already here. It's just not evenly distributed."
This is a quote attributed to the science fiction writer William Gibson who has been described as someone who can see just around the corner of time. You might apply Mr. Gibson's understanding to last weekend's Pulse concert.
During the new campus planning and design phases, New World Fellows and staff began to explore innovative approaches to concert presentation, based on MTT's vision and a shared institutional conviction that people outside the traditional audience can be touched by classical music.
Now we are fully engaged in new performance format experimentation; Mini-Concerts, Symphony with a Splash, Journey, and Pulse.
Last week, we staged our third Pulse event. For those who have not attended Pulse, we use the flexibility of the hall to create an informal gathering space and to promote a closer relationship between performers and audience. Concert music alternates with DJ spun electronica, giving a fresh perspective to both musical expressions. Pulse changes the social and aesthetic balance points of the concert experience.
We are committed to finding new audiences. Our intuition guides design, but audience research is equally important. Here's what we are learning about the Pulse audience:
The majority of Pulse patrons are younger than 40 and attend few classical music concerts. They use their smart phones to capture some aspect of the evening then share it with others who are not present. When asked to define the experience, they can't quite find the words. But, they are adamant about bringing their friends next time. Nearly half of attendees report intense conversations about the experience, during or after. Young, digitally connected, curious, passionate ambassadors - it is possible that we are beginning to attract an enthusiastic new audience.
Meanwhile, our Fellows are gaining a broader perspective. For Jay Ferree, now principal horn of the Richmond Symphony, Pulse was his last concert as a New World Fellow. His evaluation: "When I play the Pulse concerts, I feel like I'm part of the community."
Pulse is high energy and high impact. Ticket demand exceeds capacity. The audience erupts at the end of each concert set, and then becomes our sales force. Fellows feel a direct connection with those in attendance. The exuberance of Pulse can be exhilarating, maybe even daunting.
For me, distributing the future is a comforting idea. Our new formats are a departure from tradition, Pulse being the most radical. Knowing that orchestras and arts leaders around the country are looking to us to produce and test new approaches, I often worry. Are we making smart choices, using our intuition and audience survey work wisely? If we can understand this experimental work in the context of distribution, and if we can apply the thoughtful principals of laboratory work, we will always be a relevant, productive contributor to the future of the art form.
Posted in: Brave New World
---