News
September 7, 2012
Brave New World: The Arrival of the Optimists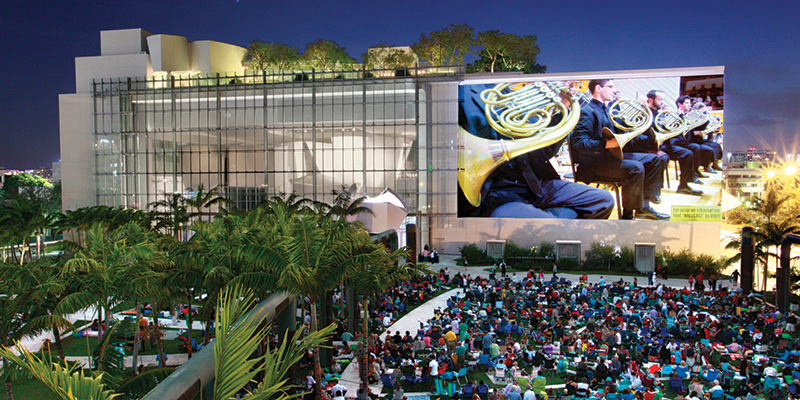 The season has begun, and we are 25 years old! It was touch and go back in the days when rehearsals were in the Miami Beach Recreation Center, but our achievements in these first 25 years indicate the strength of MTT's vision and concept, the need for this sort of educational experience, and the promise of our future.
There is always a sense of optimism at the New World Symphony and it is especially vivid with this class of first-year Fellows. For the past several seasons, our Fellows' aspirations were tainted by economic instability and the threats of digital reality. We have seen a significant reduction in the number of professional orchestral jobs thanks to the downturn. The relevance of live classical music performance, especially in traditional formats, has been called into question. In the face of this, our Fellows have relied on their personal commitment and their belief in innovation, but there has been a pervasive sense of uncertainly.
This year, we are seeing a new attitude in the incoming Fellows. For them, the digital world is not a threat, it is an advantage. Many have already stepped off the stage and embraced their communities, locally in person and digitally via the internet. They are ready to expand this aspect of their careers. Personal encounters and digital tools are part of their world view, and they expect success.
As always, the New World Symphony story is best told by the Fellows, so here are statements that reflect their self-reliance and optimism.
"If audiences have a connection with their orchestra – even just one musician – it can open the door."
– Sarah Silver, Violin
"There is an equally important world outside of concert halls where great music and musicians can find a home. It is our responsibility to bring music to those who need it most."
- Clara Lee, Violin
"I would love to play in an orchestra that is willing to expand its horizons and recognizes the importance of community involvement. New World Symphony is that kind of orchestra."
– Annie Daigle, Violin
"New World Fellows have an obligation to proactively engage audiences in a personal way through technology."
– Eve Tang, Viola
"The future of classical music is in the hands of our generation."
– Nate Lutz, Bass
Performance excellence, commitment to community, and confidence in the advantages of technology - a powerful combination.
Posted in: Brave New World
---