News
March 9, 2018
Brave New World: The Birth of a Symphonic Documentary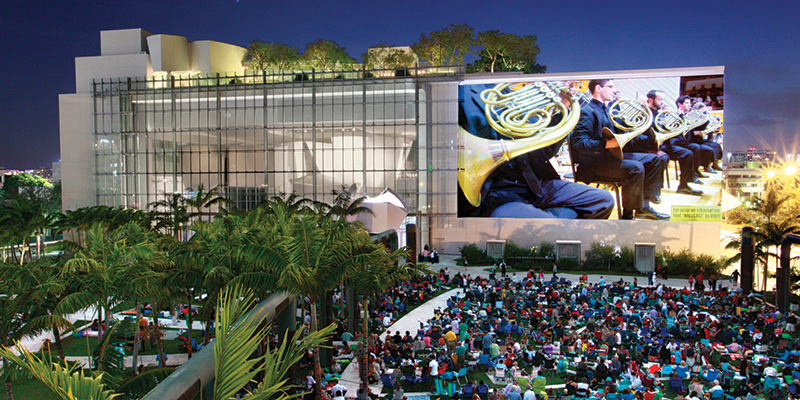 The New World Symphony is always experimenting. Last month, we took another step into the digital future, a performance that was one in a series of culminations of Project 305, and a new and deeper form of community engagement. For those of you who live outside Miami, 305 is our area code. The John S. and James L. Knight Foundation was the primary funder of this work, which was developed in our Knight New Media Center.
In the pre-digital era, composers and filmmakers relied on their experiences and observations for inspiration. For Project 305, we invited our fellow citizens to capture and upload digital audio and video samples of their Miami. These submissions formed the source material that fueled the imaginations of filmmaker Jonathan David Kane and composer Ted Hearne. Integrating music and film, the result was intended to be a symphonic video. In fact, it is a symphonic documentary. Performed under the title Miami in Movements, it is an authentic representation of our city.
Miami in Movements is an artistic work, but it goes well beyond an aesthetic statement.  It embraces issues of race, class, ethnicity, wealth disbursement, sea level rise, natural disasters and community well-being. You can view selected clips here:
Now, New World Symphony finds itself thrust into the middle of the conversation about the future of Miami. We have arrived at a new level of relevance.
This project has legs. In April, Fellows will stage projects in coordination with some of the 87 civic organizations that helped us encourage the capture and upload of the sights and sounds of the city. Because Miami in Movements was conceived for our five-screen performance hall, Jonathan David Kane will edit the images into a one-screen version for distribution across the city. School rooms, art museums, neighborhood centers and movie theaters can become new venues. With this symphonic documentary in hand, we can take a more central place in the evolution of Miami.
Let me know what you think about Miami in Movements.
Posted in: Brave New World
---