News
March 9, 2015
Brave New World: The Global Music Meetinghouse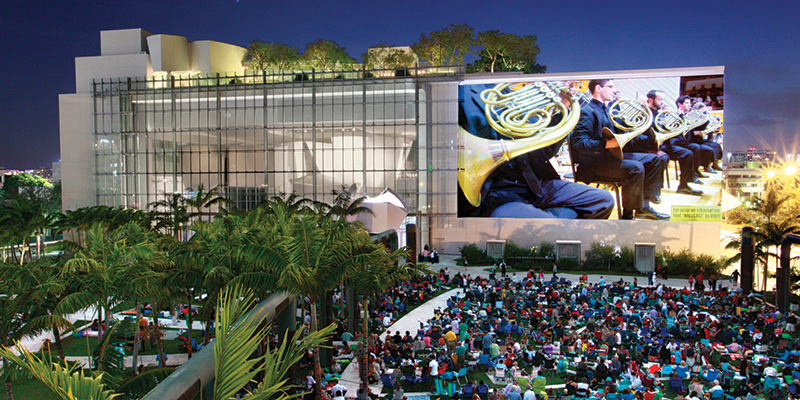 In 2004 the New World Symphony team arrived on Frank Gehry's doorstep with a well-defined program that included several significant and unproven ideas about the future of online music education. Deployment of internet connectivity in support of higher musical education was barely a concept (MOOCs were still several years away.) MTT was imagining a communal, virtual gathering place where like-minded music students might support one another. As Frank took us from concept to physical design, MTT coined a phrase that continues to guide us. We were creating a global music meetinghouse.
In the global music meetinghouse, there is a new understanding of time and space. In the period between formal lessons or rehearsals, students can seek mentors. Uploaded instructional videos are available 24/7 and supported by online hangouts. These vehicles become day-to-day tools that set high standards and encourage self-exploration for each student. Like-minded students from disparate geographical locations can join one another in the "third room" of cyperspace. During rehearsals, experts are available in the moment via the internet. The global music meetinghouse is an exciting place.
Earlier this month New World staged a master class/side-by-side experience that was our most complex and inventive global educational gathering to date. MTT coached two high school players, one from the Academia Filarmónica de Medellín (AFMed), the other from South Florida. Both were on stage at New World, but there was a watch party in Medellín with 80 members of AFMed attending the master class virtually.
A second exercise allowed MTT to conduct the Atlanta Symphony Youth Orchestra using Internet2's low latency technology. With only a 20-25 millisecond roundtrip signal speed, the Atlanta students were able to respond to MTT in real time. He coached them in Mahler passages, becoming a visiting expert as they prepared for an upcoming concert (available at the above link). After intermission MTT led a side-by-side orchestra composed of selected high school students and New World Fellows. The high school players were chosen by audition and most live locally. In October they joined a New World online learning community. A good bit of preparation for their auditions, and then rehearsals, were led virtually by New World Fellows. The entire evening was webcast with listeners coming to us from multiple countries.
With each new experiment we bring ourselves into a virtual world where musicians have greater access to the conversations that serve their learning needs and inspire their creative spirits.
I invite your thoughts on this laboratory work.
Posted in: Brave New World
---