News
January 22, 2014
Brave New World: The Impulse to Share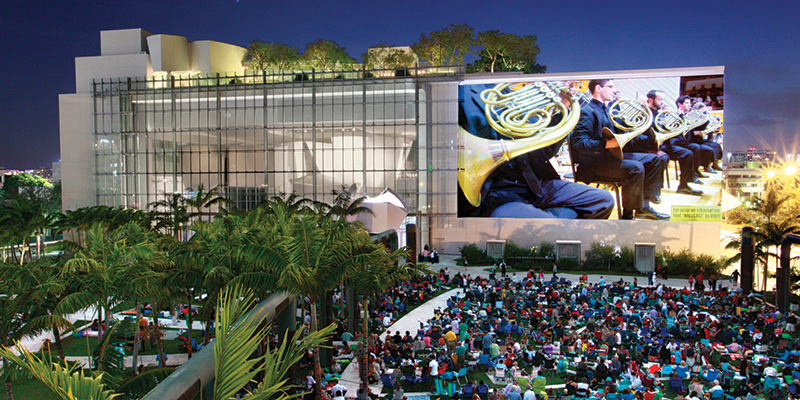 This week marks the third anniversary of New World Center's opening. Our new campus continues to be a musical laboratory unlike any other.
During the planning period, we turned educational and artistic concepts into architectural design. Frank Gehry and his team challenged us to articulate the essence of our future program. Dream became reality. Language took on three-dimensional form. The result is our unique architecture of invitation.
We also went through a similar internal exercise. New World leadership decided it would be wise to add dimension to our mission statement by crafting a vision statement. After a long period of introspection and wordsmithing, our founder and artistic director Michael Tilson Thomas brought the language together.
The New World Symphony sees a strong and secure future for classical music and will redefine, reaffirm, express, and share it with as many people as possible.
This impulse to share informed our architectural design and now drives our new audience initiative.
In the winter issue of Symphony Magazine, Heidi Waleson describes our work. Like so many other New World programs, our new audience initiative is having local and national impact. Our Fellows are gaining engagement skills, applicable now and throughout their careers. Our audience is expanding as new listeners in Miami respond to our strategy. As an orchestral laboratory, we are heading a consortium of eight professional orchestras. Working together, we are creating an audience acquisition framework that blends presentational design with artistic intuition and community leadership. The results of our work help other orchestras take informed risk as they build their constituencies.
For us the motivation is the simple belief that this music can be meaningful to far more people than those who are currently in our audience. This is an experiment that will benefit from collective wisdom and the impulse to share.
I welcome your thoughts.
Posted in: Brave New World
---