News
January 13, 2012
Brave New World: Venture Philanthropy, the Future of NWS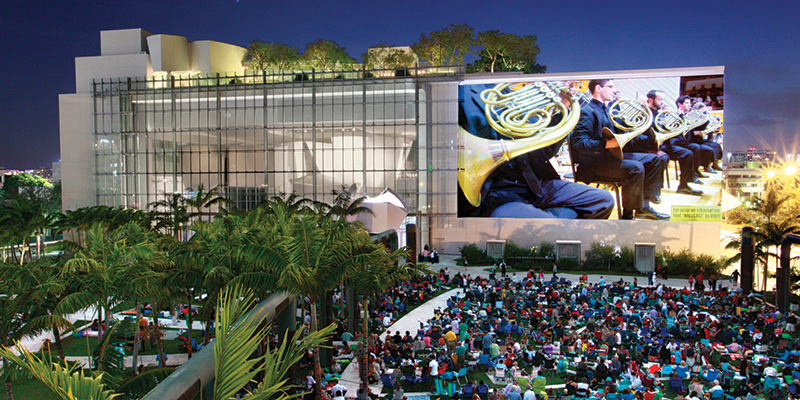 The New World Symphony is a laboratory for generating new ideas about the way music is taught, presented, and experienced. Last month, you saw the Virtual Library demonstration at our Trustee meeting. (If you were unable to attend that meeting, we will provide a second look prior to the February 29th Trustee meeting.) I'm sure the majority of you have experienced one of our new performance formats – Mini, Splash, Journey, or Pulse Concerts. WALLCAST™ Concerts continue to win new audiences. Our mobile site invites patrons in the park to use their smart phones to text New World Symphony staff for concert information and to ask direct questions about the performance. Online teaching, the least visible but perhaps the most powerful of our experiments, is creating a community between Fellows and music students locally and overseas – from Ruth K. Broad K-8 and Northwestern High School here in Miami to the Orquestra Filarmonica de Medellín/Universidad EAFIT in Colombia.
These experiments grow directly from our experiential curriculum designed to prepare our Fellows for leadership in the orchestras and communities where they will work and live. MTT's vision and the sensibilities of our Fellows and staff are coming together as we re-imagine the future of classical music. The expression of these programs will inform cultural and educational life locally and globally.
Like all laboratory work, results are not easy to predict. So, to sustain this work, we need funders who are willing to make major multi-year grants toward early-stage, high-potential startup ideas. It is no surprise that these phrases are drawn from the vocabulary of venture capital. Angel and venture investors know that money directed to the right place at the right time can bring concept to reality. The difference between our world and theirs is the return on investment. We replace financial gain with increased creativity of our Fellows and alumni and a new vitality in the classical music field. So, we are looking for venture philanthropists to carry us forward, and we need to find more of them if we are to make the most of our opportunities.
As of this email, we have three venture philanthropists who have made six figure multi-year commitments to our laboratory work; Bruce Kovner, Tanya Brillembourg, and the Andrew W. Mellon Foundation. They fit the profile – a blend of interests in music, education, and the digital future. There are many more, here in Miami and around the U.S. They are probably already generous to orchestras and music schools. They may have direct or indirect involvement with digital projects. They are optimistic about the future of music aided by new media expression. The most important connection is your relationship to them. Your enthusiasm for our future will captivate their interest.
We are prepared to make our case to these individuals. Our proposals and support material are convincing. Our partnerships with major music schools and symphony orchestras indicate the strength of our concepts. Our challenge is to find and follow the path to their door. I ask that you think about your friends, acquaintances and clients, here in Miami and beyond, who love music, appreciate education, and are intrigued by the digital future. Be ready to share your contacts with Adam Carlin, Victoria Rogers, and myself as we talk with you in the coming weeks. Call or email us when a name comes to mind. And, trust that their excitement about our programs will equal yours when they imagine the impact of these programs here in Miami and beyond.
Posted in: Brave New World
---