News
January 29, 2016
Brave New World: WALLCAST™ Concert Park Audience Study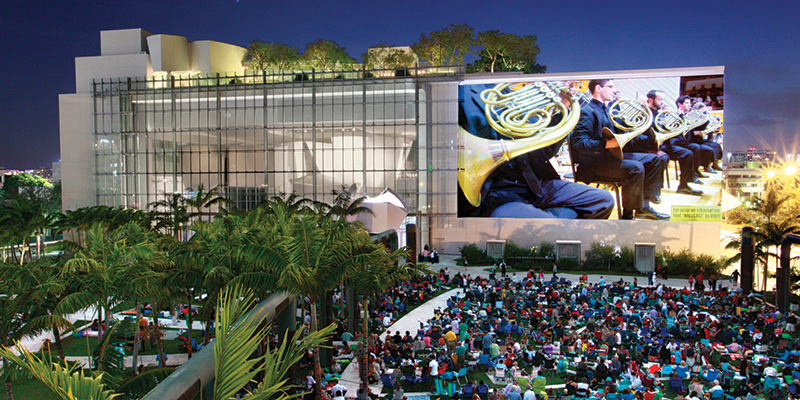 From the days of the American revolution through the Jacksonian era, theater audiences in this country were known as "the town." This was in keeping with the egalitarian spirit of the time. Audience members addressed actors and one another with no concern for the sanctity of quiet concentration. Over the course of the 19th century, actors and managers squelched the outspoken individuals. In the 20th century, radio and television transformed the voiceless public audience into private, at home consumers of entertainment. The silence was deafening.
Enter Wallcasting.
Digital capture and distribution of live performances has moved from the private to the public realm. "The town" has returned. You can find them in SoundScape Park on the evening of a WALLCAST™.
Intuitively, we acknowledge the power of WALLCAST™s. Since imitation is the sincerest form of flattery, it is satisfying to see producers and presenters of classical music following our lead, starting with the Kennedy Center. Citi sponsorship confirms the value of Wallcasts for brand enhancement. Now, for the first time, we have data to explain the Wallcast phenomenon – a substantial audience survey report conducted by WolfBrown. It is attached, along with a 2-page infographic from our December Trustee meeting.
This data will strengthen our case for New World as a laboratory for generating new ideas about the way music is taught, presented, and experienced. As you review the report, imagine how leaders of professional orchestras and performing arts centers are going to find this data helpful and inspiring. With the creation of WALLCAST™ concerts and the collection and distribution of this data, we are making another contribution to the future of classical music.
Harry Hersh, Craig Hall, and the New World staff leadership are making the most of this report. We will keep you up to date on decisions and initiatives that spring from their discussions. And, we welcome your thoughts.  
Posted in: Brave New World
---