News
September 24, 2015
Brave New World: What Madness Prompts and Reason Writes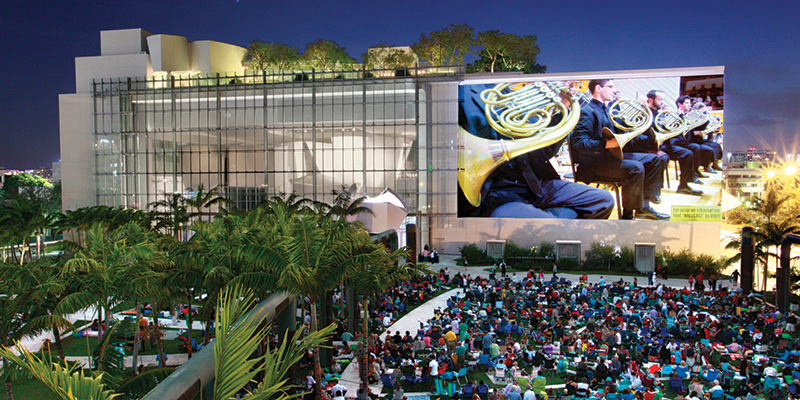 At the beginning of each academic season, I deliver an opening-day statement to our Fellows. They found it helpful; perhaps it will have meaning for you as well.
-----------------
Fellows,
Welcome back! All of us who spend the summer at the New World Symphony wait for the moment when your energy fills this space again.
My comments this morning are inspired by the September 2015 Poetry magazine. The focus of this edition is young Irish poets. After the presentation of the poems, Thomas McCarthy, an established Irish author, provides an overview of the work and an insightful reflection that has application to all of us. He says, "the best education in the poetic art must oscillate between the need to dream fiercely and the need to communicate." To nail his point he quotes Andre Gide in a passage from his Journal which he wrote at age 25. "The most beautiful things are those that madness prompts and reason writes. It is essential to remain between the two, close to madness when you dream and close to reason when you write."
Here's how I understand your individual journeys within the context of the statements by Thomas McCarthy and Andre Gide.
You are all dreamers. I know this because you imagined yourselves as artists then pursued that vision, becoming such fine players that you won a New World Symphony fellowship. But I also know that you have greater aspirations, an inborn drive to share yourselves and this music with others, what McCarthy describes as the need to communicate.
New World Symphony is a laboratory for generating new ideas about the way music is taught, presented and experienced. Through a variety of community-based fellowship experiences, you will be expanding your capacity for rational thought and the audience will take on new meaning for you.
Two data points.
In 1980, the U.S. Census began asking respondents if they attended at least one classical music concert in the last year. 13% said yes.
Same question in 2010, but only 8.8% of respondents said yes.
Extrapolating the numbers, 13% of the U.S. population in 1980 was 22 million people. 8.8% in 2010 was 20.5 million people.
This reduction in audience has been steady from 1980 to 2010. Things are going in the wrong direction.
Fifteen years ago, the Knight Foundation surveyed audiences in 12 U.S. cities as part of the Magic of Music project. This study determined that 27% of the population was predisposed to attend a classical music concert, even if they were not currently doing so.
The 2012 Survey of Public Participation in the Arts, a report that builds on the 2010 census statistics, shows that 26.3% of U.S. adults reported that they enjoyed listening to classical music.
How can we address the gap between current audiences and those who are predisposed?
I think all of us in this room agree that live performance remains the essential source of musical transformation that defines us and our art form.
Great playing based on fierce dreaming is essential. But staying close to reason in the act of engaging communities has equal importance. At the New World Symphony, you are now in an environment that fully embraces the rational platform for dreaming.
I'll finish with a story about Frank Gehry, the architect of New World Center. Responding to MTT's vision and a clearly articulated educational program, he designed this building. Then it came time to convince the Miami Beach City Commission of the worth of this project. We needed them to give over the two square blocks of valuable land, where we are sitting today. We needed funding from the City of Miami Beach. We needed them to not just approve but become enthusiastic about this project. At one inflection point, Frank had to win over each of seven Commissioners. I watched him work his magic seven times over the course of a day. Then, I understood why he gets his buildings built—ferocious dreams and the need to communicate.
So let's get started on your dreams, the ones that madness prompts and reason will write.
Posted in: Brave New World
---