News
December 10, 2015
Buskerfest Miami Hits Downtown on Friday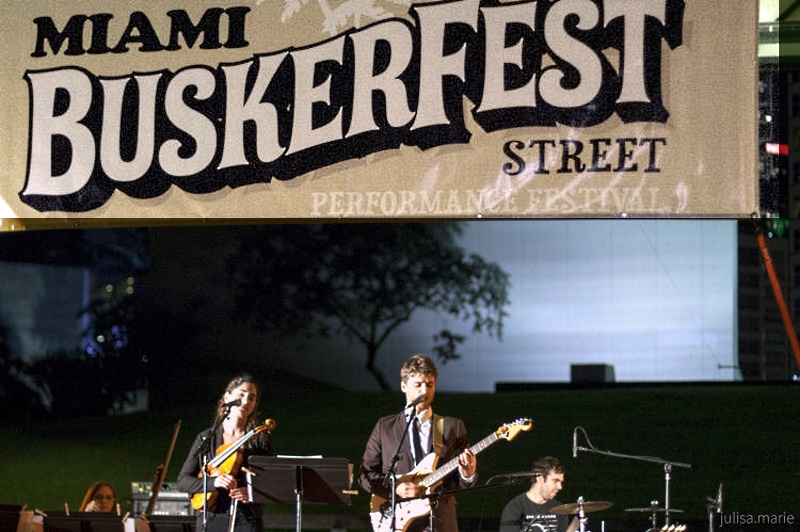 The third annual Buskerfest Miami Street Performance Festival 2015 is a one-of-a-kind event showcasing some four dozen local performers and groups on the streets of Downtown Miami. On Friday, December 11th from 4-8pm, musicians, acrobats, comedians, dancers and more will be performing 45-minute sets just outside the stations at each of the Inner Loop stops of the Metromover, and select satellite locations. By enlist­ing local musi­cians and performers to share their art in pub­lic spaces, Busker­fest hopes to expose Miami­ans to other parts of the city via free pub­lic transportation.
Justin Trieger, the New World Symphony's Director of New Media and Distance Education is one of the co-founders of Buskerfest and its current Board Vice-President. A few months ago, on Fresh Talk, the audio pod­cast series of Fresh Art Inter­na­tional, Justin spoke about Buskerfest, whose goal is to "to improve civic life through pub­lic street per­for­mance" and "to cre­ate a con­nected, thriv­ing urban core for Miami."
Click here to lis­ten to the podcast
One of the performers this year is Amy Pikler, a first-year Viola Fellow at the New World Symphony. At Buskerfest, Amy, also a virtuoso recorder player, will be joined by her colleagues from the New World Symphony. NWS is an in-kind partnering sponsor of Buskerfest.
---
On Friday evening, ask any of the volunteers (in bright yellow Buskerfest Miami t-shirts) for a free passport and collect 'stamps' at each location you visit. Guests who collect five or more stamps can enter their passport in a free raffle by dropping it in the collection box at Buskerfest HQ in Bayfront Park. The passport also allows you to vote for your favorite performer and offers discounts at nearby partnering restaurants, bars and retailers. At 8pm, gather with the performers and attendees at the Tina Hills Pavilion in Bayfront Park in downtown Miami for a featured high-energy performance by Miami's post-blues, harmonica rockin' band JUke. Buskerfest is free and caters to all audiences.
For more information, visit Buskerfest's website or follow (@BuskerfestMiami) on Instagram, Twitter and Facebook.

For information about and a map of the downtown Miami Metromover, click here
The Buskerfest Miami Street Performance Festival 2015 is generously supported by the Knight Foundation, the Miami Downtown Development Authority and Tiliarts, part of the Tilia Family of Companies.
Posted in: Community Engagement, Events, Fellows, Staff
---