News
May 11, 2016
Celebrate Miami-Dade Student Musicians Friday - Bravo!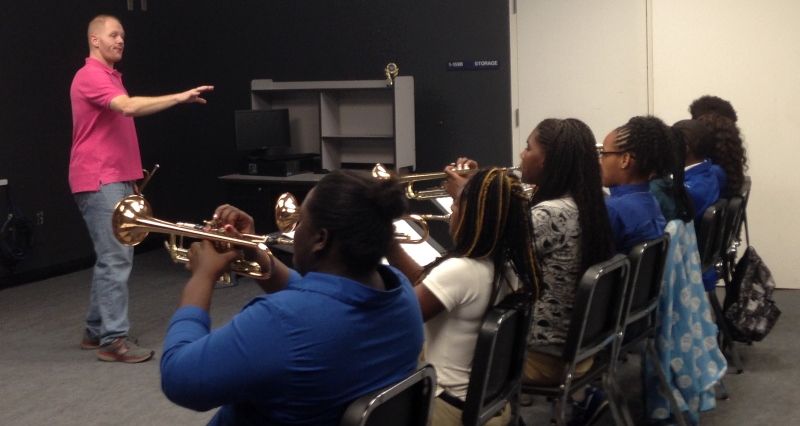 Friday, May 13, 2016 is the culmination of the sixth season of New World Symphony's MusicLab program. With the goal of enriching the school-age instrumental programs of Miami-Dade, NWS Fellows work with students in grades 5-12 in their own classrooms. This season featured work with students at Miami Beach Senior High (MBSH), Miami Northwestern Senior High School (MNWSH), Ruth K. Broad Bay Harbor K-8 Center (RKB), and Miami Music Project (MMP).

To better prepare for the project, at the beginning of the season Fellows worked with visiting Faculty Member Isabel Trautwein - NWS alumna and violinist at The Cleveland Orchestra - to work on basic pedagogy and classroom management. More than two dozen Fellows have participated in MusicLab throughout this season, and they chose it as their main Community Engagement focus for the year. On average, Fellows visited each MusicLab site two times per month.
It can be a challenge to help as many students as possible in 1-2 hours, so Fellows typically work with the section of their own instrument. Sometimes they give classes on general technique or break down tricky passages in what the students are preparing for their band or orchestra concerts. Other times the band or orchestra teacher will ask the Fellows to sit in with their students as they rehearse, and work on challenges from within the section. Fellows answer students' questions on music, instrument care, college, and also what it takes to become a Fellow at NWS.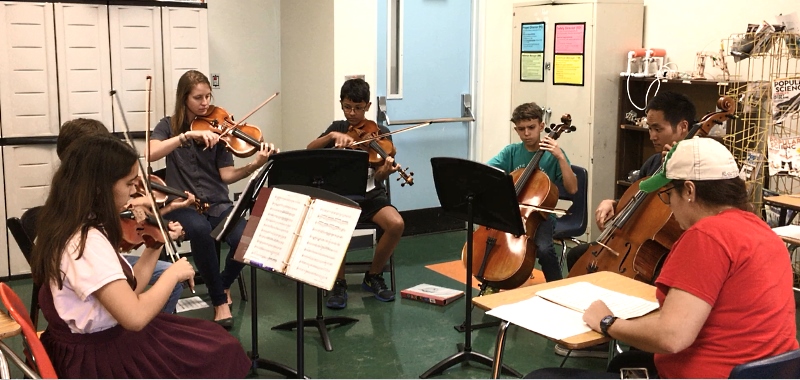 Besides Fellow visits to the schools, student musicians immersed themselves in a variety of classical music activities as part of the MusicLab program. Last fall, members of the Sphinx Virtuosi visited Miami Beach Senior High and gave a presentation to over 150 students in all the fine arts programs. Sphinx members also visited Miami Northwestern's band students and Ruth K. Broad's string orchestra. Members of Miami Music Project attended the Sphinx Virtuosi concert at New World Center in September, NWS' concert featuring Pinchas Zukerman at the Arsht Center in October, and the Side-by-Side concert in April. MMP student, Juan Rodriguez (double bass) was one of the students selected through audition to participate in the Side-by-Side. Students from MNWSH attended the Side-by-Side as well as the annual Education Concerts in February. RKB students joined them at the Education Concert. Students from MBSH visited NWC for a rehearsal observation to watch the Fellows and guest conductor in action.
For this MusicLab Finale Concert, each participating group will present their own selections followed by a piece presented by the combined forces of the upper level groups (MBSH, MNWSH, MMP) led by NWS Conducting Fellow Christian Reif. NWS has also created video profiles for a student from each group - just like we do for one Fellow per concert - that will be featured during the performance.

Join us, Friday, May 13 at 7:00pm, for this free concert at New World Center to celebrate with these students, their parents and teachers, and the South Florida community!


CLICK HERE TO GET TICKETS & FOR MORE INFORMATION
Posted in: Community Engagement, Concerts
---