News
March 5, 2021
Clarinet Fellow launches Shattering the Ceiling

After spending a summer together at Tanglewood Music Center, NWS Clarinet Fellow Kelsi Doolittle and friend, colleague and bassoonist Julianne Mulvey saw a need for a community where women in classical music can freely express their stories and connect. They wanted to create a space for conversations about common experiences and emotions that would foster a greater sense of unity. Together—and as part of this season's NWS BLUE Projects—they have launched Shattering the Ceiling—a series of interviews with women in classical music who have pursued different career paths and have diverse backgrounds.
"Navigating the music industry as a woman can be a challenge," said Kelsi. "I have had many experiences where I couldn't place why I felt isolated or why I was being treated differently. After many years of confusion and privately sharing these experiences with other woman musicians, I realized that we're all silently suffering with similar thoughts and feelings. I started imagining what it would be like to openly discuss these experiences with one another, especially with the generations of women above us who have already paved their own way. When Julianne and I became friends we quickly realized we shared this wish and started brainstorming a way for us to make this a reality."
Kelsi and Julianne found a mentor in Elizabeth Rowe—NWS alumna, advocate and Principal Flute of the Boston Symphony, who they say has been essential in exploring the project's ideas and goals: to share experiences of women in classical music to uncover their unique stories, normalize vulnerability, celebrate diversity, encourage support among women in the industry, and inspire a better culture of compassion and openness in classical music.
"From a young age, I have been drawn to music because of the community it creates," said Julianne. "At some point along the way, people stopped being vulnerable and honest about the challenges of having a career in music. Kelsi and I have found this to be particularly true among women. This culture can and should change. We hope by having conversations with women who have navigated unique careers, our audience will feel validated and empowered, and we can begin to shift the culture."

Shattering the Ceiling welcomed its first guests: Cindy Liu, General Manager and Artist Manager at Park Avenue Artists, and Tia Allen, Broadway Violist and Creative Director at Diverse Concert Artists. Cindy, whose senior thesis explored the occupational barriers to women in the classical music industry, shared her findings on internalized sexism and misogyny, image and self-presentation, motherhood and more in her three-part interview.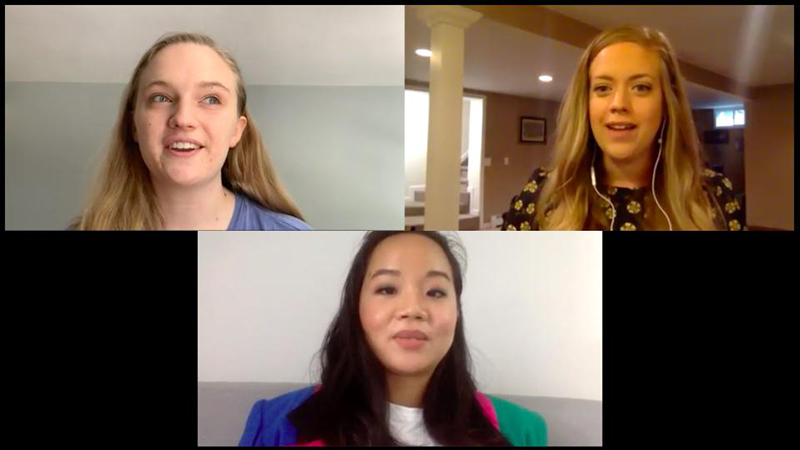 In the latest episode, Tia Allen talks opportunity and how to take charge in creating your career.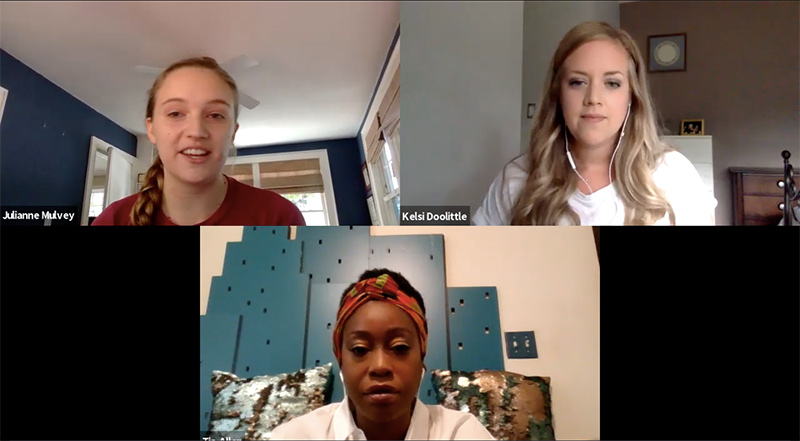 "The classical music industry is facing many challenges right now but in envisioning an ideal future that fosters community and connectedness, we can take this time of uncertainty to reflect and begin taking action in creating the culture we do want," said Kelsi. "My hope is that by providing examples of women who have persevered and lead by example, Shattering the Ceiling will inspire the current and future generations of women to connect with and support one another."
Follow Shattering the Ceiling on Facebook and Instagram. New episodes are released on Fridays via their YouTube Channel.
Shattering the Ceiling is an NWS BLUE project. Fellow-driven projects are sponsored in part by the Maxine and Stuart Frankel Foundation.
Posted in: Alumni, BLUE, Fellows
---