News
May 21, 2018
Congratulations to NWS Fellows and Alumni on 2017-18 Job Wins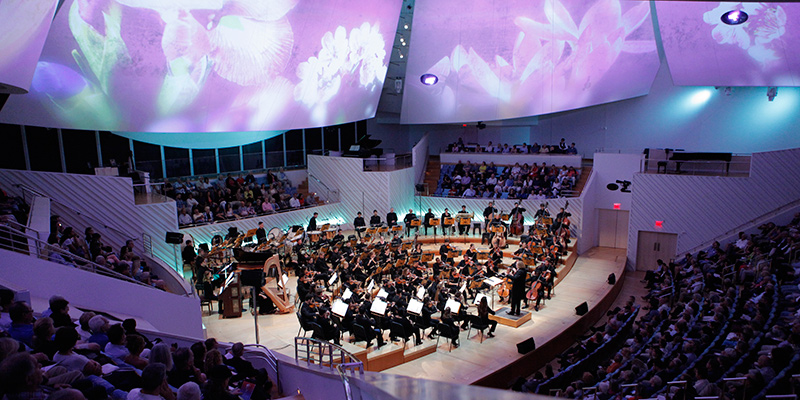 During the 2017-18 season the New World Symphony has welcomed prestigious collaborators, partnered with local, national and international educational institutions and experimented with new concert formats designed by our Fellows, who continue to perform a variety of challenging music at a distinguished level every week. Now many of our talented, bright Fellows and alumni are taking the skills they've developed during their time here and moving on to professional positions around the world. From San Francisco to Zurich, NWS Fellows will continue to make an impact among their colleagues and in their new communities as they have here in Miami Beach. Join us in congratulating all our Fellows!
Matthew Abramo – Bass, Nashville Symphony
Grace An – Cello, Dallas Symphony
Jill Arbetter – Executive Director, Elmar Oliveira International Violin Competition
Cecelia Belcher – Assistant Principal Second Violin, Minnesota Orchestra
Joanna Blendulf – Associate Professor of Music, Indiana University
Kathryn Brooks – Acting Principal Bassoon, Winnepeg Symphony
Grace Browning – Principal Harp, Rochester Philharmonic
Adèle-Marie Buis – Evaluator, National Association of Schools of Music
Jennifer Choi – Cello, Colorado Symphony
Maya Cohon – Violin, San Francisco Opera
Josh Cote – Horn, Sarasota Orchestra
Evan Epifanio – Principal Bassoon, Metropolitan Opera Orchestra
James Ferree – Principal Horn, Saint Paul Chamber Orchestra
Brenton Foster – Second Bassoon, Winnipeg Symphony
Andrew François – Viola, Los Angeles Philharmonic Resident Fellow
Michael Fuller – Bass, Los Angeles Philharmonic Resident Fellow
Patti Garvey – Cello, Grand Rapids Symphony
Caroline Gilbert – Principal Viola, Buffalo Philharmonic
Gary Ginstling – Executive Director, National Symphony
Dr. Hilary Glen -- Cello, University of Alabama
Kevin Gobetz – Bass, Los Angeles Philharmonic (one-year)
Christopher Hamlen – Bass, Detroit Symphony
Sarah Harball – Associate Principal Viola, Fort Worth Symphony
Christopher Hernacki – Bass Trombone, San Antonio Symphony (one-year)
Helen Hess – Viola, Baltimore Symphony
Darren Hicks – Assistant Principal Bassoon, Toronto Symphony
Jennifer Hsieh – Violin, San Francisco Opera
Jennise Hwang – Assistant Principal Second Violin, Pacific Symphony
Steven Jarvi – Interim Artistic Director, Charlottesville Opera
Andrew Johnson – Principal Percussion, Orchestre Symphonique de Quebec
Ran Kampel – Principal Clarinet, Jacksonville Symphony
Kerry Kavalo – Viola, Edmonton Symphony
Stephen Kehner – Percussion, Utah Symphony (one-year)
Joseph Kelly –  Assistant Timpani/Section Percussion, Toronto Symphony
Kelton Koch – Trombone, Zurich Opera Praktikant
Natsuki Kumagai – Violin, Minnesota Orchestra
Melanie Lançon – Guest Principal Flute, Auckland Philharmonia
Peiming Lin – Assistant Principal Second Violin, Indianapolis Symphony
Bradley Loudis – Percussion, Rochester Philharmonic
Sean Maree – Bassoon, U.S. Coast Guard Band
Michael McCarthy – Violin, Milwaukee Symphony (one-year)
Jarrett McCourt – Tuba, Winnipeg Symphony (one-year) and Civic Orchestra of Chicago
Emerson Millar – Co-Concertmaster, Naples Philharmonic
Daniel Morris – Assistant Principal Percussion, Kansas City Symphony (one-year)
Seth Morris – Principal Flute, Metropolitan Opera Orchestra
Elizabeth Oka – Assistant Principal Viola, Washington National Opera Orchestra
Alex Orfaly – Timpani, California Symphony
Joseph Peters – Associate Principal Oboe, North Carolina Symphony
Sarah Peters – Violin, Kansas City Symphony (one-year)
Joseph Petresek – Principal Percussion, Atlanta Symphony
Elizabeth Phelps – Violin, Seattle Symphony
Rajesh Prasad – Assistant Principal Percussion, North Carolina Symphony
David Raschella – Principal Horn, Toledo Symphony
Rebecca Reale – Violin, Los Angeles Philharmonic
Jonathan Reed – Bass, Grand Rapids Symphony
Mary Reed – Bass, St. Louis Symphony (18-month)
Jessica Ryou – Violin, North Carolina Symphony (one-year)
Kyle Sanborn – Bass, Calgary Philharmonic
Rachel Sandman – Violin, Kansas City Symphony
Benjamin Scott – Violin, National Symphony
Matthew Searing – Assistant Orchestra Librarian, Sarasota Orchestra (one-year)
Clare Semes – Violin, Toronto Symphony
Abhijit Sengupta – Director of Artistic Planning, Baltimore Symphony
Ju Hyung Shin – Violin, Utah Symphony
Kathryn Sievers – Viola, Boston Symphony
Jessica Slais – Vice President of Artistic Administration, Nashville Symphony
Lora Tchekoratova – Artistic Director, Salon de Virtuosi
Kurt Tseng – Viola, Alabama Symphony
Matthew Way – Development and Special Events Manager, American Classical Orchestra
John Wilson – Substitute Keyboard, Milwaukee Symphony and San Diego Symphony 
Roman Yearian – Violin, Florida Orchestra

Fellows and Alumni: If we have inadvertently omitted your name, please contact Tom Hadley and Marci Falvey.

Posted in: Alumni, Fellows, News
---