News
May 25, 2023
Congratulations to NWS Fellows and Alumni on 2022-23 Job Wins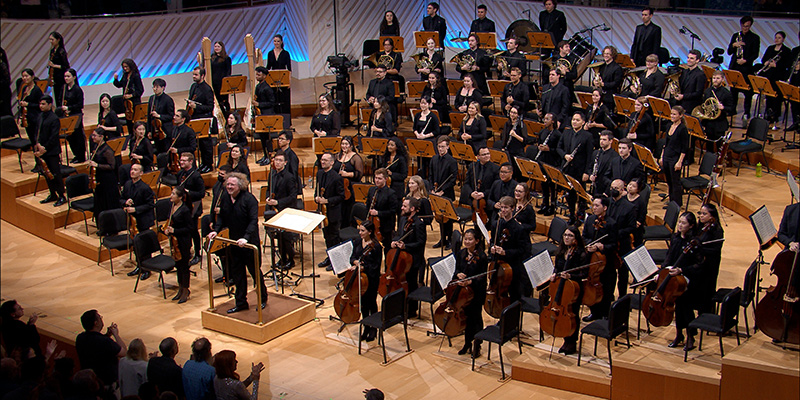 Stéphane Denève makes his NWS Artistic Director debut at the New World Center, April 2023
The New World Symphony envisions a strong and secure future for orchestral music. Over the past 35 years, NWS has prepared over 1,200 Fellows for careers in performance, education, innovation, advocacy and administration. These talented musicians take with them skills they've developed during their time with NWS to professional positions around the globe.
We congratulate the following Fellows and alumni who won positions during the 2022-23 season. With over 60 placements, this season's wins are among the highest recorded in NWS history. These Fellows and alumni will continue to make an impact among their colleagues, students and in their new communities as they have here in Miami Beach. Join us in celebrating their accomplishments.
Fellows and Alumni: If we have inadvertently omitted your name, please contact Tom Hadley and Marci Falvey.
Chava Appiah, Cello, Quapaw Quartet and Arkansas Symphony
Pascal Archer, Principal Clarinet, New Jersey Symphony (one-year)
** Hyunjae Bae, Viola, Singapore Symphony
Drew Banzhaf, Associate Principal Bass, Malmö Symphony 
** Camila Berg, Viola, Sarasota Orchestra
Sophia Bernitz, Second Violin, New Bedford Symphony
Stephanie Block, Principal Viola, Sarasota Orchestra
Clare Bradford, Cello, Calgary Philharmonic
Sheila Browne, Associate Professor of Viola, Lynn University
** Daniel Carson, Bass, Chicago Symphony
Andrew Chilcote, Bass, Pacific Symphony
** Christina Choi, Violin, Toronto Symphony
Victoria Chung, Adjunct Faculty (Oboe), University of Richmond
** Mark Debski, Principal Oboe, The Florida Orchestra
** Amelia del Caño, Second Bassoon, Louisiana Philharmonic (one-year)
** Guangwei Fan, Associate Principal/Second Trombone, North Carolina Symphony (one-year)
** Carolyn Farnand, Viola, Symphony Nova Scotia
Roy Femenella, Horn, Metropolitan Opera Orchestra
Steven Franklin, Principal Trumpet, St. Louis Symphony
Michael Franz, Bass, The Philadelphia Orchestra
Erica Gailing, Viola, Baltimore Symphony
George Goad, Trumpet, Kansas City Symphony
** Chad Goodman, Music Director, Elgin Symphony
Ian Greenberg, Assistant Principal Cello, New Zealand Symphony
Darren Hicks, Principal Bassoon, National Arts Centre Orchestra (Ontario)
** Victor Huls, Assistant Principal Cello, Florida Orchestra
Jessica (Pasternak) Ingersoll, Viola, Columbus Symphony
** Julia Karstens, Principal Librarian, Virginia Symphony
Jesse Kasinger, Violin, Nashville Symphony (one-year)
** Amy Sunyoung Lee, Cello, Charlotte Symphony
** Natalie Lee, Violin, Naples Philharmonic
Elizabeth Lu, Part-time Marketing Associate, New World Symphony
Margeaux Maloney, Acting Section Violin, San Diego Symphony (one-year)
** Carson Marshall, Sales, Reuning and Son Violins
Aspen McArthur, Director of Artistic Administration, Boulder Philharmonic
Jesse McCandless, Principal Clarinet, Atlanta Symphony Orchestra
Jarrett McCourt, Assistant Professor of Tuba/Euphonium, University of Missouri – Kansas City
Emilia Mettenbrink, Equity, Diversity and Inclusion Coordinator, Minnesota Opera
Emerson Millar, Second Assistant Concertmaster, Seattle Symphony
Ansel Norris, Associate Principal Trumpet, Florida Orchestra
Alan Ohkubo, Cello, Louisville Orchestra (interim)
** Bradley Parrimore, Acting Principal Viola, Jacksonville Symphony
Nick Platoff, Faculty (Trombone), Stanford University (one-year)
** Phoebe Powell, Principal Harp, Calgary Philharmonic
Christian Reif, Chief Conductor, Gävle Symphony (Sweden)
Yuki Numata Resnick, Director of Arts and Culture, Community Foundation for Greater Buffalo
Megan McClendon Rios, Violin, Jacksonville Symphony (one-year)
Kevin Ritenauer, Associate Principal Timpani/Section Percussion, St. Louis Symphony
Matthew Roitstein, Principal Flute, St. Louis Symphony
** Noah Roper, Bass Trombone, Central City Opera
Douglas Rosenthal, Trombone, Pittsburgh Symphony
**  Nash Ryder, Instructor (Violin), University of Northern Iowa
Carrie Schafer, Assistant Principal/Second Trumpet, Grand Rapids Symphony
Courtney Sedgwick Filner, Viola, Naples Philharmonic (one-year)
Clare Semes, Associate Concertmaster, Toronto Symphony
** Marlea Simpson, Viola, Minnesota Orchestra
Lisa Stoneham, Bass Trombone, Bozeman Symphony; Bass Trombone, Hawaii Symphony (one-year)
** Natsuko Takashima, Principal Second Violin, Louisville Orchestra (interim)
Michael Turkell, Acting Principal Second Violin, Sarasota Orchestra (one-year)
Bee Ungar, Acting Associate Principal Bassoon, Phoenix Symphony (one-year)
** Chase Waterbury, Second Trombone, Monterey Symphony
Dillon Welch, Violin, Louisville Orchestra
Teddy Wiggins, Violin, New Jersey Symphony (one-year)
Audrey Wright, Violin, New York Philharmonic
Julia Yang, Faculty (Cello), College of the Holy Cross
Roman Yearian, Associate Principal Second Violin, Naples Philharmonic
Joo Bin Yi, Principal Oboe, Vancouver Symphony (one-year)
Evan Zegiel, Patron Services Coordinator, Interlochen Center for the Arts;
   Lecturer (Tuba and Euphonium), Purdue University Fort Wayne
** Started 2022-23 season as a Fellow
---