News
April 8, 2020
Curiosity Fueled the Art: Part III
Mark Grisez goes by many titles: Former NWS Trumpet Fellow (2016-19), Principal Trumpet of the Columbus Symphony, SDCC Trumpet Guy and The Curious Musician – a platform he created while at NWS. In this blog series, he shares how his curiosity has allowed him to connect with his music, his mentors and his audiences.
Read the entire Curiosity Fueled the Art Series: Part I, Part II
Connect with Mark on Facebook, Instagram and using #TheCuriousMusician.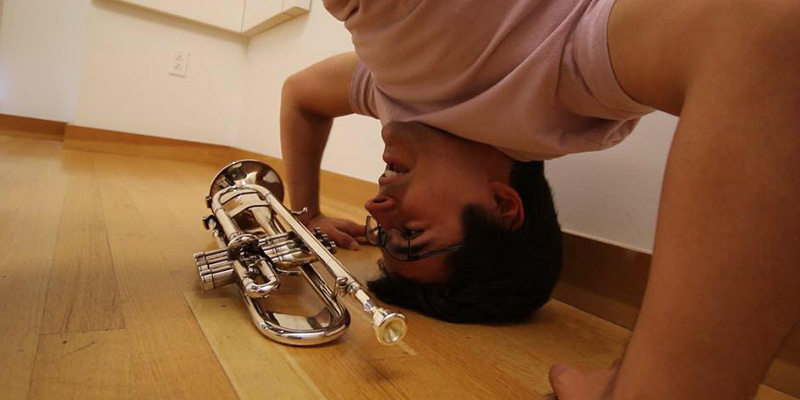 My first trumpet teacher at the San Francisco Conservatory of Music was David Burkhart. There are so many things he told me that were formative of my musical personality, but one in particular comes to mind right now: "When we play, we don't want to sound careful. We don't want to sound careless. We do want to sound carefree." I'm reflecting on this lesson as the world feels more and more frightening. In daily life, we need to be careful right now—careful with our own health, the health of others and the health of our communities. To be careless can mean the difference between life and death, if not for ourselves then possibly for others. And to be carefree? What on earth does that mean anymore, as we remain locked inside our homes with our thoughts and anxieties, not knowing when we'll be able to safely go out again?
When were we last carefree? Maybe when we were kids? Taxes, insurance claims and orchestral auditions wear down most of us eventually. But as kids, we were forces of nature; we built cities in the sandbox, put the Louvre to shame with our finger-paintings and guzzled glue from the bottle because why not. Who is more carefree than a child at play? For an adult with compounding responsibilities, it's not always easy to let oneself simply play again, even if it's as simple as making cross-stitch patterns, plinking some notes on the piano or dancing to an old favorite album. Against the world weighing heavy on our shoulders, isn't all of that just an empty distraction? Far from it. I'll explain why, and I'll share how I think artists can invite people into that space.
A Space to Play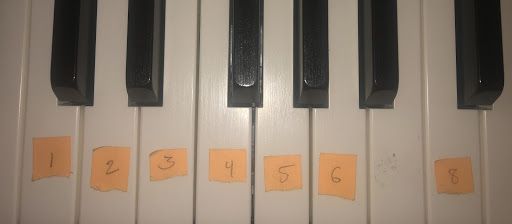 With the help of NWS staff and Board of Trustees member Tracey Robertson Carter, Fellow Tara Lynn Ramsey and I started a partnership with a South Florida juvenile justice organization during my last season in Miami Beach. The organization's main offerings were education and vocational training for court-involved young people, but over the course of our partnership, we designed a series of musical activities for small groups of students to supplement their day. During weekly visits, we brought instruments for the students to play, improvised songs with them, taught them to conduct one another, and helped them write their own musical compositions. I remember one visit in which the group created a lovely four-phrase melody that I can still sing today. They were jumping up and down, whooping with excitement, and congratulating one another on what they had accomplished together. When Tara Lynn and I played something they had written, they would stop us if it wasn't quite right: "No, it should go like this" or "you should play it like that." Once in that space, they took immediate ownership of their creativity and let their true selves play.
Our goal with this project was not to give music lessons, though music certainly played a central part. We wanted to give them space to play, to be kids, to be carefree and find the simple joy of sharing a song with others. Nadya Tolokonnikova, one of the founding members of the Russian punk band Pussy Riot, says that art is our chance to "revisit that feeling of raw freedom, bare courage, and naïveté that allows us to dare, along with the unrefined creativity and mischievous investigation that we used to have when we were kids." Far from being a distraction or childishness, this carefree "unrefined creativity" is a necessity, a vital part of who we are that we neglect at our own peril. I believe that nurturing this part of ourselves is what making art is all about.
Being Together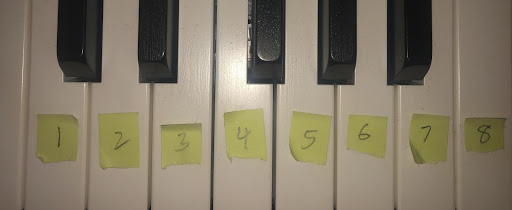 I'll emphasize this again, because I think it's important: we weren't trying to convince these young people of the importance of music. We had no goal other than to be with them, to be in a playspace with them. Sure, we were teaching them about music, but the music was more of a medium for that relationship to blossom than an end goal itself.
As I reflect on this, I'm beginning to think more and more that this is the true value of all art. If there's anything this pandemic is teaching us, it's that human contact and togetherness, especially physical connection, is not something we should take for granted. I know that I'm certainly appreciating the value of simply being with other people more and more as it becomes ever rarer. With that in mind, I am also reflecting on how we musicians can best serve people, inside and outside of quarantine. Are we simply performing and displaying great works of art? Or are we creating a playspace in which to be with people? And if it is the latter, how do we measure the success of a performance? Audience retention? New friends? Smiles?
I don't believe, for instance, that tickets sold, donations received and followers gained are one-to-one indicators of the value of "musicking." If they were, then the songs of the young people that I mentioned before meant very little indeed. I don't accept that. Should artists cast off their professions and donate their music freely to others? If they so wish, but I don't think that's necessary. Secure income is important, especially now; artists need to eat, have a place to live, and support their families. I think it's vital that we advocate for and support the many musicians whose livelihoods have been cut off during this crisis. At the same time, I don't believe that free concerts, livestreams and community outreach devalue music in the public eye, or that they necessarily make it harder to make a living as a musician. If anything, they double down on what I think should be the beating heart of every musical experience: being together.
Coda
Fred Rogers considered the space between a television screen and its viewer to be very holy ground. "A lot happens—a lot happens there," he said. The quiet space between a violinist and a listener is no less potent, whether that space rests in a concert hall, a subway or a Skype window. To be carefree and to make-believe with others in that space is not to ignore the hurt of the world, but to console the crying child at the center of that wound. Right now, in the midst of this disruption, we musicians have a chance to become intimate with that space again and lead our listeners through it in ways that represent, enrich and soothe the playful, creative child in all of us.
Posted in: Alumni
---