News
August 25, 2020
Fellows host Virtual Inclusion Artist summer academy


This summer marked the launch of VIA, a tuition-free virtual summer music academy founded by NWS Fellow Christopher Robinson and supported by NWS as part of its NWS BLUE projects. VIA, which stands for Virtual Inclusion Artists, engaged over 160 young musicians from communities underrepresented in classical music through Zoom-based individual lessons and group classes over the course of two week-long sessions. VIA's 2020 sessions were generously supported by Dorothy Terrell as part of a gift to create NWS's College Track Mentorship Program.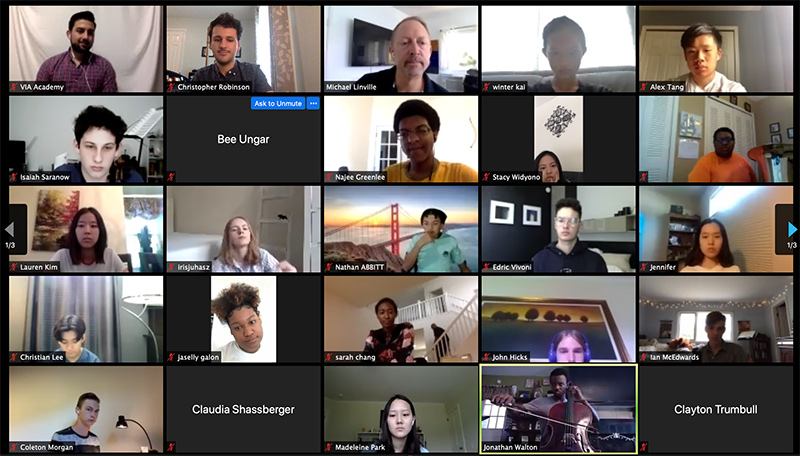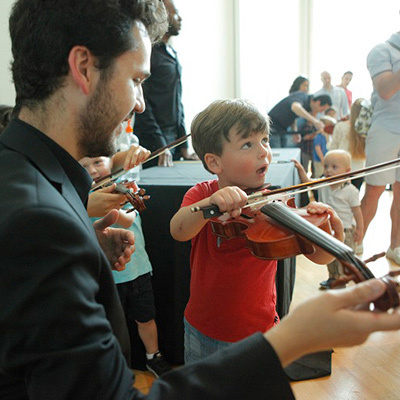 Christopher Robinson, VIA Founder/Co-Artistic Director and NWS Fellow:
"Music education in our country often excludes youth of all levels from the very beginning. These systemic issues often reflect upon the classical music profession in negative ways. VIA strives to create an inclusive music education program that provides accessible high-quality instruction that truly empowers youth to reach their dreams. By doing so, we hope to show young music students that career paths are limitless and not bound by stereotypical norms that often get portrayed in higher education. In future summers, we hope VIA will continue to create opportunities for classical music to evolve as a profession that reflects the genre's core purpose and values."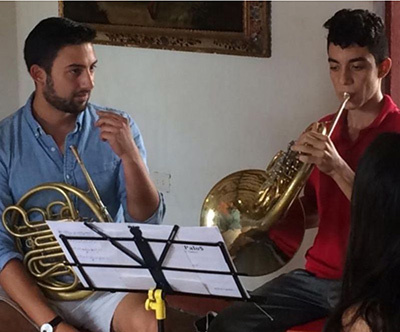 Corbin Castro, VIA Co-Artistic Director and NWS Fellow:
"We have come to believe that for many, the arts represent a pinnacle in human achievement and that access to a quality music education should be a basic right for everyone. Yet, we realize that many students around the country lack such access, and that these limitations are only exacerbated by the coronavirus shutdowns. VIA was created to empower students from remote and underrepresented communities to have access to a classical music education program that is both comprehensive and unique in its vision and scope—one that provides a path for students to realize their ambitions under the mentorship of professionals in the field."

Howard Herring, NWS President and CEO:
"At NWS, a key part of our curriculum is empowering Fellows to be innovators and musical activists themselves. To that end we support numerous Fellow-led initiatives every year financially, logistically, and in terms of providing expertise and guidance. I am proud of NWS Fellows Chris Robinson and Corbin Castro, who conceived this project based on their fellowship experience and in response to a real need for greater access to music education, especially in these isolated times. I expect this pilot project to foreshadow a more inclusive, equitable distribution of high-level music education."
VIA Classes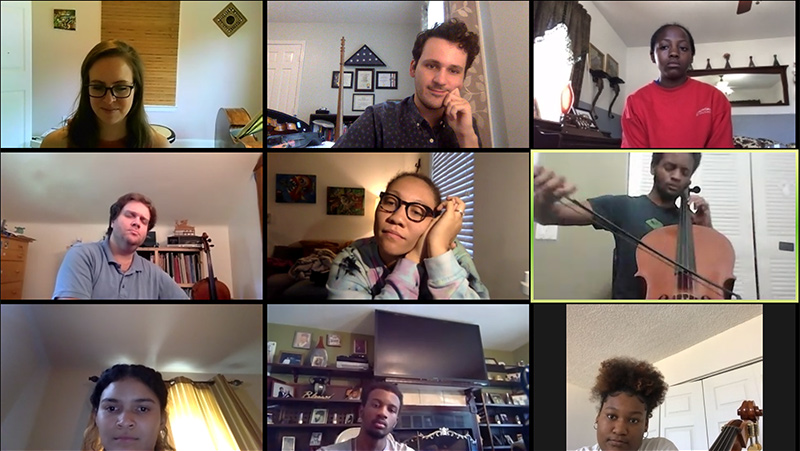 VIA class on Zoom
VIA's 2020 sessions (June 20-25 and June 27-July 2) were tailored to string, woodwind, and brass instrumentalists (grades 7–12) through one-on-one discussions about goals and aspirations with VIA's Teaching Artists. Participants also enjoyed classes designed for developing the whole musician that were led by VIA's Guest Speakers. Topics included how to find the right college, how to prepare for college, ensemble playing and stage presence, yoga for musicians, optimal performance training, creativity in your career, and seeking financial support and equality in classical music careers.
VIA Faculty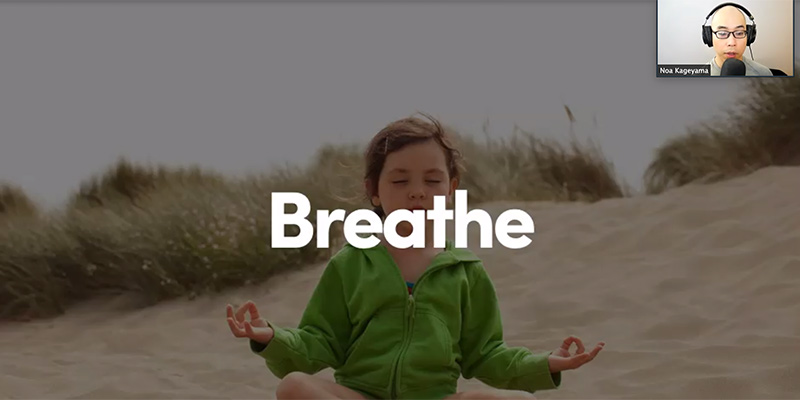 VIA's Optimal Performance Training with Dr. Noa Kageyama
VIA's faculty of Teaching Artists consisted of all NWS Fellows, including Christopher Robinson (violin), Marlea Simpson (viola), Benjamin Fryxell (cello), Andrea Beyer (bass), Johanna Gruskin (flute), Emily Beare (oboe), Angelo Quail (clarinet), Bee Ungar (bassoon), Corbin Castro (horn), Aaron Ney (trumpet), Lisa Stoneham (trombone) and Andrew Abel (tuba).
VIA's roster of Guest Speakers included NWS Dean of Chamber Music and Fellow Development Michael Linville, NWS alumni Alex Gonzalez (violin) and Rebekah Heller (bassoon), performance psychologist and frequent NWS visiting faculty member Noa Kageyama, Yoga for the Arts founder Nicole Newman, and Angelica Hairston—founder of Challenge the Stats, a concert series dedicated to empowering high-caliber artists of color, and sparking dialogue about diversity, inclusion, and equity, both on and off the concert stage.
Conductor and cellist Eric Jacobsen gave the academy's closing addresses.  
VIA Students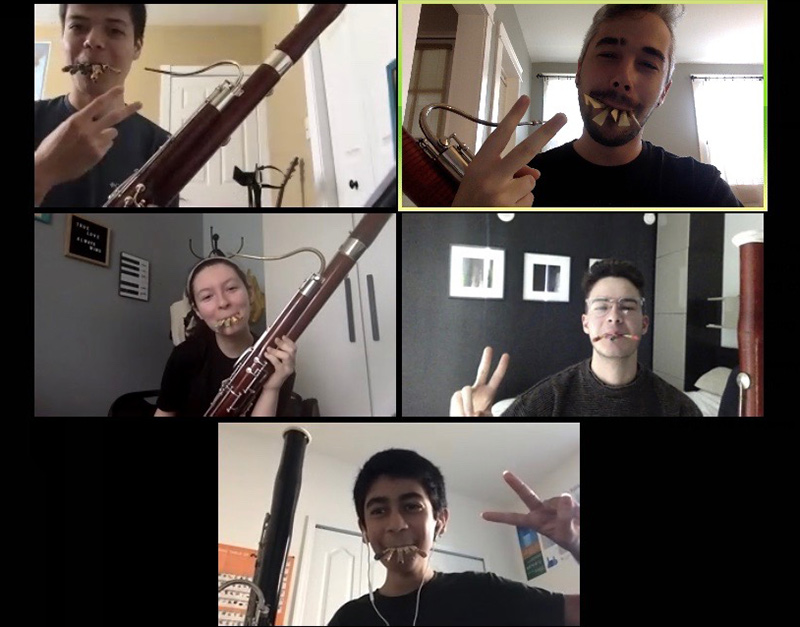 VIA bassoon students pose for a funny group photo with Teaching Artist Bee Ungar
VIA hosted 161 students over the course of the two sessions, which were free of charge for all participants and auditors. Each session was limited to 17 participants but was available to any student who wished to audit the classes. Twenty-eight of VIA's students were from Florida, with the remaining 133 coming from 35 states across the country (including Hawaii!), as well as Washington, D.C., Puerto Rico and Canada. Students self-identified as White (27.95%), Asian (27.95%), Black (13.7%), Latinx (12.4%), Undisclosed (17.4%) and Native Hawaiian (0.6%).
Participant Testimonials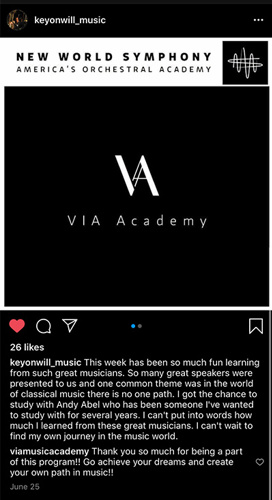 "The 2020 VIA Academy allowed me to learn from and develop positive relationships with the New World Symphony Fellows, who are all most certainly destined to be bright lights in the world of classical music. I gained experience playing in front of my peers, and receiving and giving constructive feedback, for which I am very grateful. It was an excellent first year for the program, and I cannot wait to see how it expands in the future. Thank you for the opportunity to participate in such an invigorating and educational experience." 
"Thank you so much for this amazing experience!  I got so much out of the week and loved every second of it!" 
"Thank you so much for the opportunity to be an auditor for this amazing program!! It was so much fun and I learned so much. I hope you have a great rest of your summer!" 
"Thank you, Dorothy Terrell, for making this week possible for us. Although so many new ideas and concepts were thrown at me in such a short time, I will be taking all of them into consideration throughout my music career. Once again, thank you so much!" .
"Thank you again for such an amazing highlight to my summer!! I really enjoyed every moment of this program and everything it gave me. This is a WONDERFUL AND SUPER AMAZING FREE PROGRAM that has so much more to offer than most music camps. I am so honored to have been able to have been a part of their first year, not only because I got to experience so many new and super helpful things that will help me in my career as a musician, but also because I had the chance to really experience what it was like to have a music family who I know is going to be there to support me. They showed us many times throughout the week that they care about us as individuals. And not just during the week, but they let us know that they will look forward to the day where we can meet again. It was an amazing experience and I really recommend this program to anyone who is looking to expand their music horizons not only in their knowledge, but also in support groups and connections. I really hope to see you again next year!" 
Posted in: Alumni, BLUE, Community Engagement, Fellows
---