News
August 19, 2021
Fellows' VIA Academy flourishes in second year

This summer NWS violin alumnus Christopher Robinson and current Horn Fellow Corbin Castro hosted the second season of VIA Academy, a tuition-free virtual summer music academy they founded in 2020. VIA, which stands for Virtual Inclusion Artists, engages young musicians (grades 9-12) from remote and underrepresented communities in classical music access to instrumental skill training and broader outlooks on their future career decisions, while focusing on the purpose of classical music in culture and community.
"VIA Academy 2021 was an inspiring three weeks full of incredible young artists who were eager to use their talents to have a positive impact on the world around them," said Corbin. "Working with these students was a privilege, and I'm so excited to be part of their network beyond their time in the program. As we told the students during the program, no matter where their creative interests take them, all the teaching artists will be ready to help in any way we can."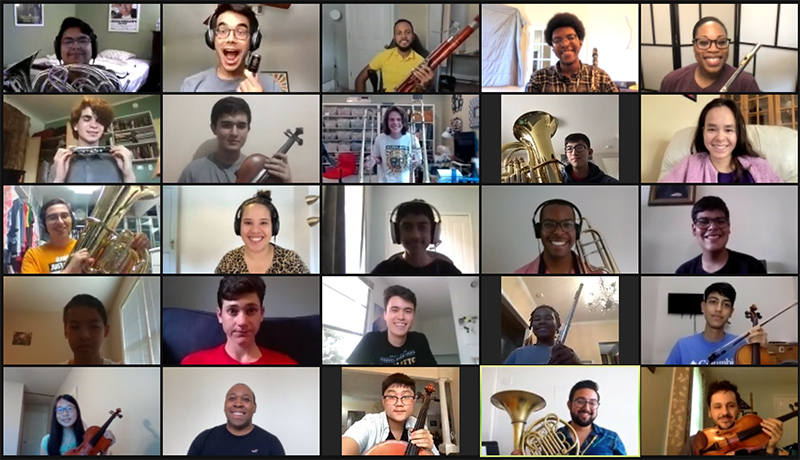 Academy Expansion and Acclaim
Since launching its inaugural season in 2020, VIA Academy has garnered national attention and furthered its impact, specifically in NWS's Miami community. VIA was featured on PBS News Hour as part of a spotlight on NWS Co-Founder and Artistic Director Michael Tilson Thomas (click here to watch), featured on The Daily Skimm and Corbin received a Sphinx Tank Grant—awarded to emerging arts and cultural entrepreneurs of color and their innovative projects—to support VIA's second season.
VIA Academy also continued its impact throughout the calendar year in partnering with New World Symphony's Epstein Family Foundation MusicLab program. They provided students at Miami Music Project access to master classes with industry-leading guest artists, including MTT, to demonstrate how to create passion-filled careers in the music profession.
Second Season Success
In its second year, VIA Academy expanded in many ways: from offering three one-week sessions instead of two, a broader international reach for applicants and added curriculum to focus on students' community impact.
Sixty-two students participated across VIA's three 2021 sessions, joining remotely from 24 U.S. states, Puerto Rico, Guatemala, Mexico, Canada, Bolivia, Serbia and Chile. They self-identified as Latinx (29.1%), Asian (23.6%), Black (16.4%), White (16.4%) and Undisclosed (14.5%).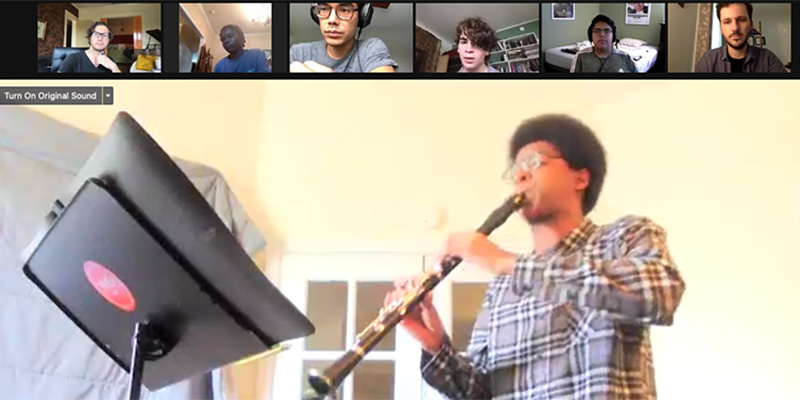 The addition of the curriculum's community project proposal initiative encouraged VIA students to dream big and explore how they can use music to help any needs in their communities. Each student created their own project idea and submitted a proposal. VIA will select one student's proposal from each session to receive a $500 award and continued mentorship from VIA Academy to help make the project a success.
"I'm continually inspired by our students and their willingness to take on anything we throw their way," said Chris. "For many, it was the first time they have thought about how music can be used to impact their communities. With the tools they gained during VIA Academy coupled with their enormous talent and creativity, our students are sure to achieve on any path in front of them while impacting their communities in positive ways. I'm so proud of everything they've accomplished this summer and hope it propels them towards continued success for years to come."
NWS Connections
Teaching Artists are the heart of VIA's mission to provide one-on-one mentorship tailored to each student's unique ambitions. The 2021 Teaching Artists included current NWS Fellows Michael Martin, Kelsi Doolittle, Corbin Castro and Andrew Abel, as well as NWS alumni who teach and perform across North America: Christopher Robinson, Andrew François, Drew Comstock, Andrea Beyer, Ebonee Thomas, Francisco Joubert, Rebecca Oliverio and Myles Blakemore.
In addition to the individual instrument classes, VIA also hosts a guest speaker series for deep dives into topics around health and wellness, entrepreneurial skills, finding support, career pathways and networking. Conducting alumnus Teddy Abrams (shown below) served as one of VIA's 2021 guest artists. In addition to Co-Artistic Directors Christopher and Corbin, NWS bass alumna Andrea Beyer also joined VIA's administration as Program Manager.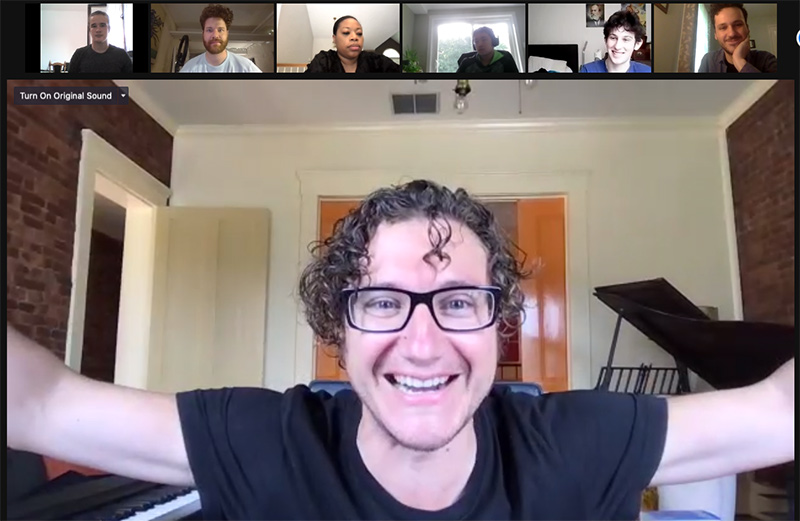 NWS Curriculum in Action
Chris and Corbin created VIA Academy while both NWS Fellows as an NWS BLUE Project with support from NWS Trustee Dorothy Terrell. Standing for Build, Learn, Understand and Experiment, the NWS BLUE Project program is a combination of leadership and entrepreneurship training and hands-on experimentation that provides NWS Fellows with a comprehensive skill set to complement their musical training. "Our success with VIA is directly related to our gained experience from previous NWS BLUE Projects during our fellowship," said Corbin. "This experience equipped us with the necessary skills to design and implement the program. Our first year being sponsored by NWS allowed us to fine tune an effective and engaging online educational curriculum."
Since then, Chris and Corbin have fostered a supportive community they call the VIA Family, who made the 2021 VIA Academy sessions possible. "We jumped on the phone and told everyone who would listen about who we are, what we've accomplished, and what our vision is for the future," said Chris. "Ultimately, we built an incredibly supportive community who made VIA possible this summer. We are so grateful for all their support and guidance as we continue to develop what we started at the New World Symphony."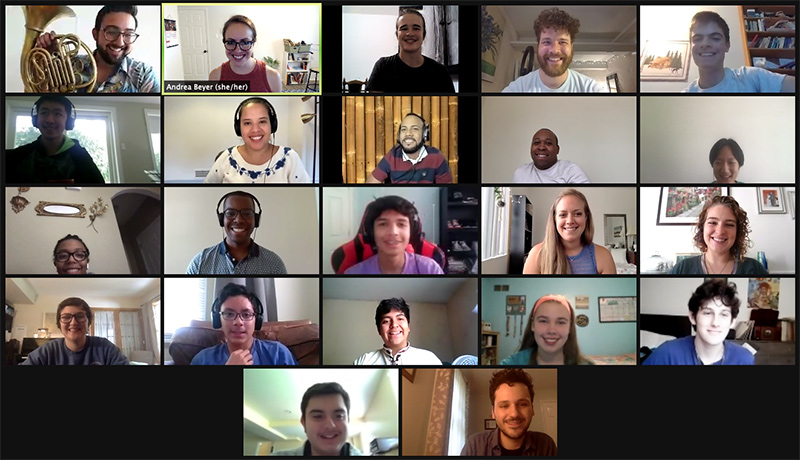 Photos provided by VIA Academy. NWS BLUE Projects are made possible with support from the Maxine and Stuart Frankel Foundation.
Posted in: Alumni, BLUE, Community Engagement, Fellows
---