News
February 8, 2021
Florence Price: Portrait of an Artist
Portrait of Florence Price Later in Life Looking at the Camera. Florence Beatrice Smith Price papers Addendum (MC 988a), Box 2, Folder 1, Item 5. Special Collections, University of Arkansas Libraries, Fayetteville

On the February 13, 2021 concert Heart Strings, NWS Fellows will perform African American composer Florence B. Price's Second String Quartet and Piano Quintet—the latter receiving its virtual premiere. Dr. Samantha Ege, a leading interpreter and scholar of Ms. Price, provided the following portrait.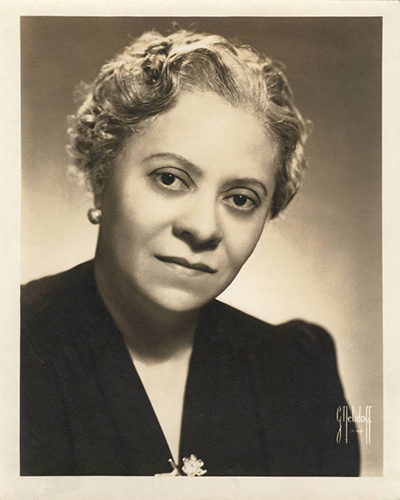 Portrait of Florence Price taken by G. Niledoff.  Florence Beatrice Smith Price (MC 988) Box 1, Folder 12, Item 1.  Special Collections, University of Arkansas Libraries, Fayetteville
The date was April 9, 1887. The place was Little Rock, Arkansas. And the era was that of racially segregated Jim Crow. As Florence Beatrice Price (née Smith) entered the world, her parents, Dr. James H. Smith and Florence Irene Smith, could not have imagined that their light honey-hued daughter would go on to become the first African American woman composer of eminent distinction. But it was certainly their hope that she would flourish, as they had, beyond the constraints of a highly prejudiced social climate. The Smiths belonged to Little Rock's black bourgeoisie and creativity flowed through the household. By the age of four, Price was already playing the piano and composing. Her gift was incontrovertible.
Price graduated from the New England Conservatory, aged 19, with two degrees: one in piano teaching and one in organ performance. While studying under George Whitefield Chadwick, she began to explore African American folk music in her compositions. Even though she embraced her African American heritage musically, her mother worried that anything pertaining to a black racial identity could preclude her daughter's success. As a result, Mrs. Smith encouraged Price to blur racial lines and present herself as Mexican. Price was, in fact, of mixed racial heritage: African, European and Native American. But with the dominant culture so fixated on viewing the world as black and white, Price would always be classified as a black woman. Although she was never ashamed of her African heritage, her mother feared the consequences it could bring in such a society. Mrs. Smith's decision to falsely state her daughter's nationality no doubt shielded Price from some of the racism that might have beset her otherwise. But Price could not be shielded forever.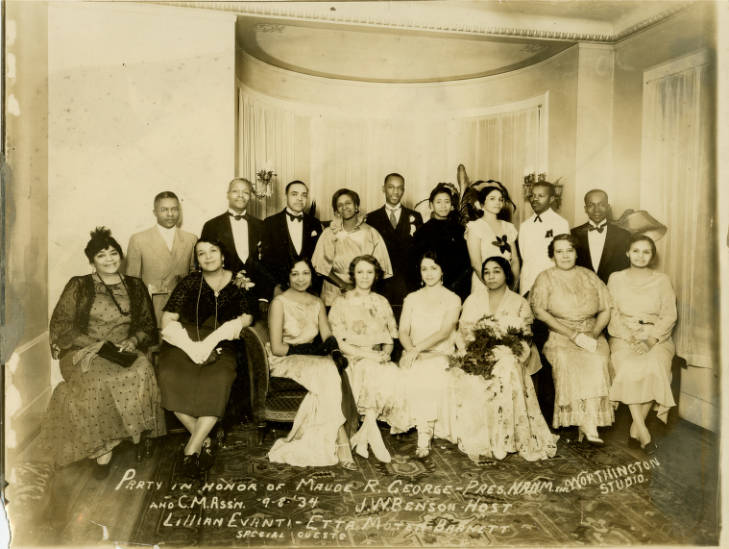 Portrait of Florence Price with Sixteen Other People at 1934 Party in Honor of Maude R. George taken by Worthington Studios.  Florence Price Addendum Papers (MC 988a) Box 2, Folder 1, Item 2.  Special Collections, University of Arkansas Libraries, Fayetteville
Returning to the South soon after her studies, Price eventually started a family of her own. However, race riots and routine lynchings forced the family to uproot and head northward to Chicago. There, she found a vibrant community of African American musicians, composers, critics, and sponsors. Where music groups in Arkansas had shunned her because of her race, associations in Chicago warmly accepted her knowing that she had the potential to become one of the most significant voices in American music.
This encouragement led Price to return to composition with a real sense of drive and purpose. And it paid off, literally. In 1932 she was awarded two first-place Rodman Wanamaker Music Awards: one for her Piano Sonata in E minor and one for her Symphony in E minor, winning $750 in prize money. 1933 saw the Chicago Symphony Orchestra premiere her symphony. Price's colleague, an African American woman called Maude Roberts George, entered a contract with conductor Frederick Stock to ensure that this historic performance would come to fruition. White critics raved about the premiere as African American critics hoped that this would bring about a new era, one where the concert hall would finally welcome black classical artists.
Sadly, Price continued to face the barriers of race and gender. Some influential figures in classical music underestimated her expertise and declined (or outright ignored) her requests for performance opportunities. Still, she gained champions in numerous African American women like Maude Roberts George, as well as fellow composer-performer Margaret Bonds, who debuted many of Price's piano works, and Marian Anderson, who rendered Price's art songs on the world stage. Price was celebrated during her time, particularly in African American communities of classical music-making. She belonged to a long legacy of black composers who channeled their African heritage into classical forms. Here, she was never forgotten.
The classical mainstream must now work to realize the future that Price no doubt hoped to see, one where the concert hall welcomes black classical artists, not only posthumously.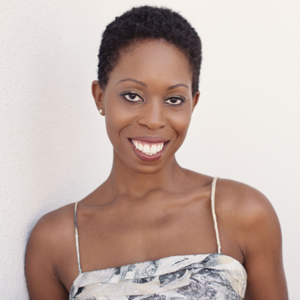 Dr. Samantha Ege is the Lord Crewe Junior Research Fellow in Music at Lincoln College, University of Oxford. She received the Society for American Music's Eileen Southern Fellowship (2019) and a Newberry Library Short-Term Residential Fellowship (2019) for her work on women's contributions to concert life in interwar Chicago. She has written for Women and Music and the Kapralova Society Journal. She released Four Women: Music for Solo Piano by Price, Kaprálová, Bilsland and Bonds with Wave Theory Records in 2018. Her next release with Lorelt (Lontano Records Ltd.) focuses on Price's repertoire.
---