News
October 4, 2019
From the Archives: 100 WALLCAST® concerts with NWS
With one concert on Oct. 12, NWS will open its 32nd season with Artistic Director Michael Tilson Thomas (MTT), celebrate its 100th WALLCAST® concert in SoundScape Park, and unveil its new 4K Ultra-High-Definition (UHD) technology.
Recently named a Critic's Choice for 2019-20 by the South Florida Classical Review, the performance marks the debut of global sensation Daniil Trifonov, a Russian pianist who catapulted to fame after winning the Grand Prix prize at the International Tchaikovsky Competition and was recently named Musical America's 2019 Artist of the Year. Audiences who gather in SoundScape Park to witness his performance will be the first to experience a WALLCAST® concert in end-to-end 4K. Arrive early to secure your spot and enjoy a special pre-concert chat in SoundScape Park with NWS Horn Fellow Scott Leger as moderator and NWS Director of Video Production/Resident Projection Designer Clyde Scott, City Manager of Miami Beach Jimmy Morales and NWS Audio Engineer Fellow Johnathan Smith as panelists.
Click here for more information about the 100th WALLCAST® concert and share your favorite WALLCAST® concert moments from the past eight years by using #WALLCAST on social media.  
The Evolution of WALLCAST® Concerts
Since the New World Center opened in 2011, NWS has presented the world's leading classical artists, musical works, and cultural content for free to the South Florida community via cutting-edge sound and video technology. One of the dreams of MTT and architect Frank Gehry when creating the New World Center was to turn the building inside out and bring the New World Symphony's music to the community via the 7,000-square-foot projection wall, but the idea of live streaming concerts had been brewing for years before that. In fact, NWS's first concert telecast happened in January 1996, right on Lincoln Road outside the NWS's former home, the Lincoln Theatre.
Now, thousands gather yearly in SoundScape Park to witness concerts and events. Working within the Knight New Media Center and guided by MTT, NWS staff and partners have followed their imaginations into the digital future. Always forward-facing, they have created multi-genre artistic content, education dialogue and distribution concepts that are only possible in a digital environment.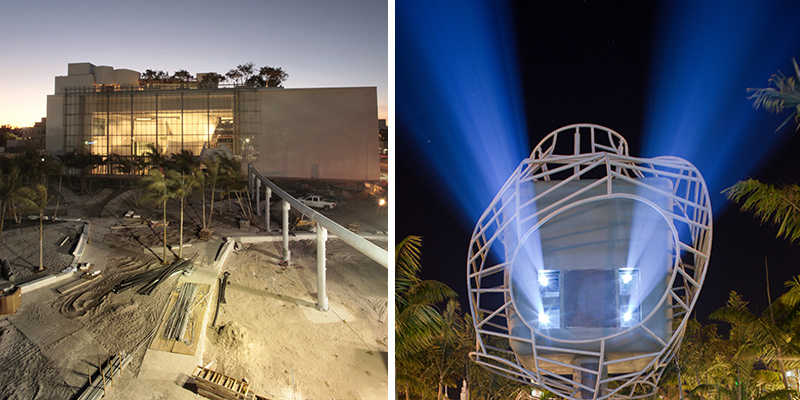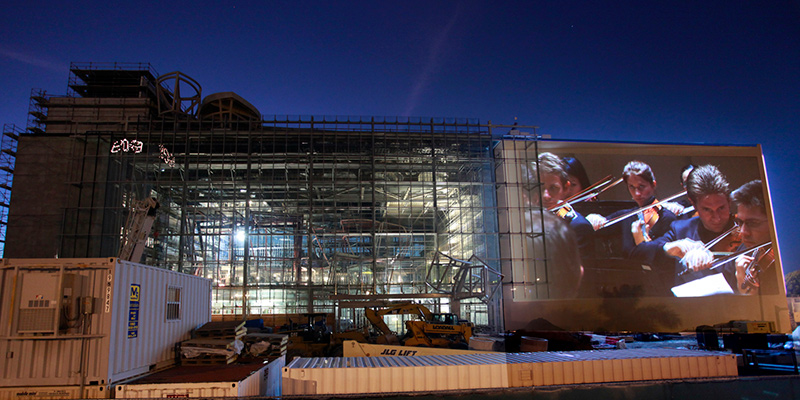 First WALLCAST® concert test during the New World Center's construction in 2010.
Excerpted from the Miami New Times:
Howard Herring, NWS President and CEO, believes this 100th WALLCAST® concert milestone isn't a finite goal, but the beginning of an exciting new chapter for the organization. The installation of a 4K screen, for example, represents a tremendous leap forward that places the Symphony at the forefront of technological development in Miami Beach. "The quality of that image says about New World Symphony that we intend to stay out on the edge of technological breakthroughs," Herring says.
Serving the South Florida community has always been at the center of New World Symphony's mission, and WALLCAST® concerts have been one of its most successful tools in reaching new audiences that otherwise might never be exposed to symphonic classical music.
"When you can bring sophisticated art to a community with no barrier, no ticket admission, and everything out in the open, it's going to make a huge difference to everyone in the community."
Click here to read more about NWS's 100th WALLCAST® concert in the Miami New Times.
The Upgrade Undertaking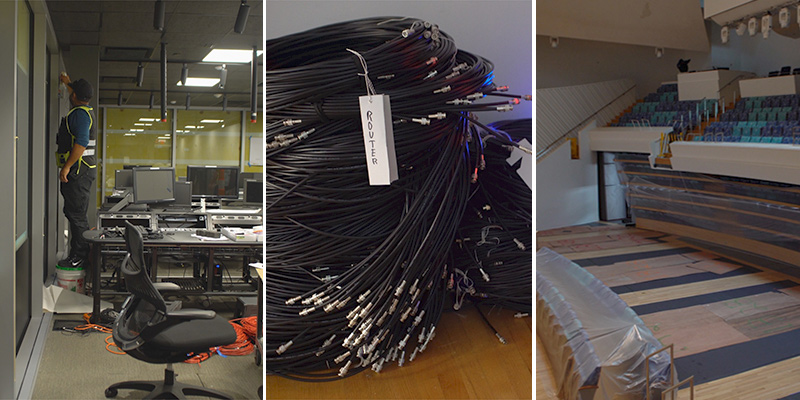 Moments after the last concert of the 2018-19 season, NWS commenced the second—and by far the most complicated—phase of the multi-year upgrade of its video technology to 4K UHD. New 4K cameras and a new robotics system were purchased and installed three summers ago, and the 4K upgrade will conclude with the replacement of all projectors in the performance hall in the summer of 2020. 
This year's work required a highly choreographed physical enlargement of the video tech core (aka server room) within the main control room, while still accommodating scheduled major events. This was followed by the installation of three new racks of video equipment and miles of new state of the art 12G cabling to connect the cameras and projectors. When the infrastructure upgrade is complete, the NWC will have the largest 4K UHD, entirely 12G production facility in the United States.  
For the Community, By the Community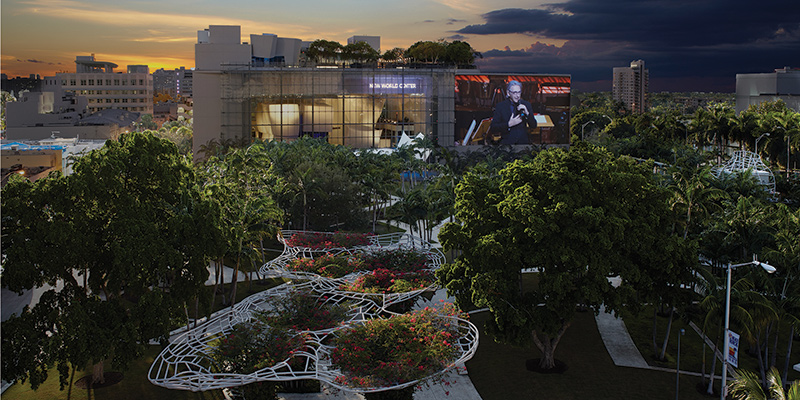 The upgrade to 4K UHD was made possible with support from the City of Miami Beach's $439 million General Obligation (G.O.) Bond Program, which was approved by voters in 2018 with an overwhelming 70% support rate. SoundScape Park, a 2.5-acre public space located in the heart of the city's Entertainment District, provides incredible events that are free-of-charge for both residents and tourists alike. Home to one of the city's most beloved outdoor event spaces for the innovative New World Symphony WALLCAST® concerts, SoundScape Park was identified as one of the 30 parks projects to receive funding from the G.O. Bond Program. With $4.5 million dedicated to SoundScape Park improvements overall, $3.8 million has been used to fund the upgrade of the New World Center's 7,000-square-foot projection wall, cameras and control boards to project incredible images with the latest 4K technology.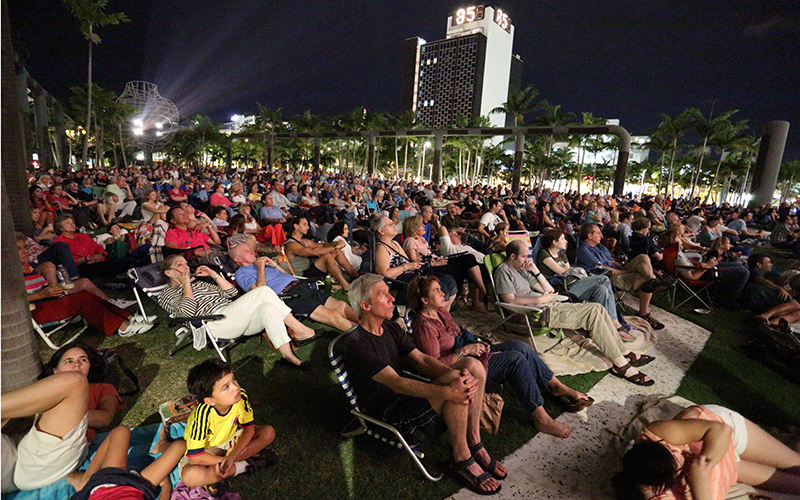 "Arts and culture are a huge part of our community and our brand …it is why our city is both fun and sophisticated," said Miami Beach City Manager Jimmy Morales. "In this day and age, it is essential for our city to keep up with the latest technology trends. SoundScape Park has evolved into an incredible community gathering place where residents can watch world-class performances with the whole family, for free! The 4K upgrades to NWS WALLCAST® concerts ensure that our residents and visitors have the best viewer experience with the most cutting-edge technology."  
WALLCAST® Concert Sponsors
WALLCAST® concerts are made possible with support from Hitachi, Knight Foundation, Sarah Arison and Thomas Wilhelm, Chanin and Adam Carlin, Susan D. Kronick and Edward Manno Shumsky, Will Osborne and Karen Bechtel, and William Strong. Knight Foundation and New World Symphony: Reimagining Classical Music in the Digital Age.
Posted in: Alumni, Concerts, Events, From The Archives, Innovation, Knight, MTT, Technology, Wallcast Concerts
---