News
January 8, 2021
From the Archives: A Percussion Fellowship History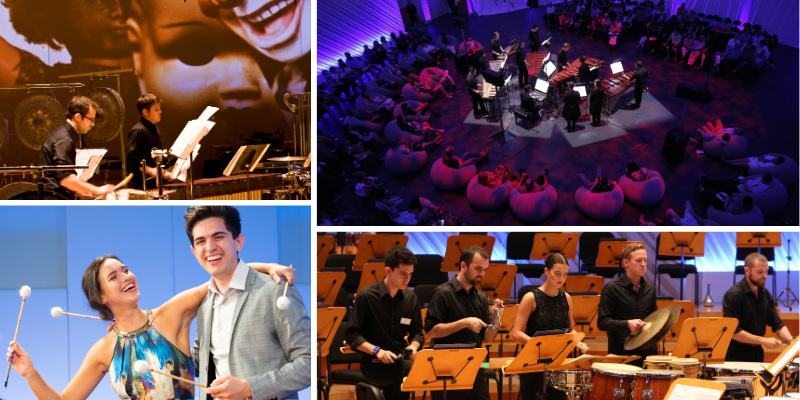 NWS Percussion Fellows over the years in performances at the New World Center and Lincoln Theatre

Over recent years NWS's Percussion Fellows and alumni have enjoyed much success, winning many of the available auditions and joining the ranks of symphonies in Atlanta, Milwaukee, Kansas City, New York, North Carolina, Utah, Rochester, Seattle, Vancouver, Quebec and Toronto. NWS percussion alumni also hold principal positions in Los Angeles, San Francisco, Chicago, Cleveland, Atlanta, Pittsburgh, Cincinnati, Saint Louis, Dallas, Toronto, Stuttgart and Sweden.
While at NWS, Percussion Fellows perfect their craft within their own studio that is filled with an array of fine equipment, most of it carefully curated by one of NWS's first Percussion Fellows, John Kapenekas. Now the Principal Timpani of the Royal Swedish Opera and Ballet and owner of Kapenekas Percussion Restoration Services, John reflects on those early years and how he built NWS's percussion collection.




John Kapenekas: As an NWS Fellow, with David Fishlock, and now

David Fishlock, a very close colleague and friend of mine from the Cleveland Institute of Music, and I were probably the very first Fellows of the new orchestra to arrive January 1988. I remember very vividly driving into Miami to where we were to meet the office staff. Shortly after I was invited to join NWS, they asked me to curate its percussion instrument collection.
NWS was starting completely from nothing at that point and it was an incredible challenge to try to anticipate what the needs of the orchestra would be. I started immediately making lists and looking over the standard orchestral repertoire to get an idea of a basic inventory. During the first season I quickly realized that my preliminary ideas were simply not going to be comprehensive enough to handle MTT's ambitious programming. From that point on, and for the next seven years (I was asked to stay on and start a percussion ensemble after my four-year fellowship with the orchestra ended) I did everything I could to make the inventory of the section capable of handling most any repertoire that we might be asked to play, and to avoid having to rent any instruments from companies in other cities. I looked everywhere for older instruments that could be refurbished and, even constructed a few of the more unusual instruments myself.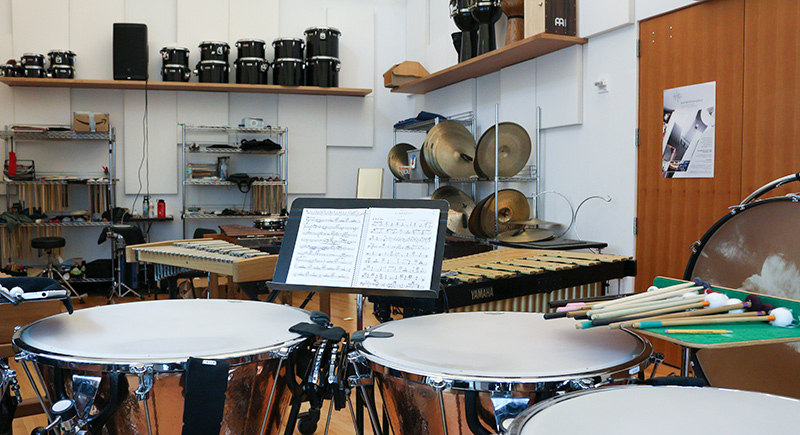 NWS's Merle and Michael Orlove Percussion Studio in the New World Center

I would estimate from the time I started in 1988 to when I left in 1995, the orchestra had acquired about $500,000 worth of equipment. I very strongly felt from the very beginning that it was necessary to create an inventory environment for percussionists at NWS that was professional, and the very best quality that could be achieved. My reasoning was simply that young players coming out of, often poorly equipped, conservatories to NWS should be able to experience being in a section of not only great players, but also the very best and most complete instrument inventory possible. My long-term hope was that they would take that experience to their final jobs and raise the level of awareness and interest in percussion, and not simply accept being in a situation that was unprofessional or inadequate. Fortunately, largely because of the support from former NWS President Jeff Babcock and MTT in those early years, we were able to acquire a fantastic collection of instruments that very few orchestras could ever achieve, including very large and established orchestras around the world.
"John Kapenekas is a legend of NWS's history. The instrument and hardware resources amassed during his time at New World rival those of any professional orchestra. This is critical for percussionists who don't own the majority of the large instruments on which they play. Because of our access to such high quality equipment, it made the adjustment both at auditions and in our respective orchestras much easier."
                   — Jacob Nissly, Principal Percussion, San Francisco Symphony and NWS Alumnus (2008-10)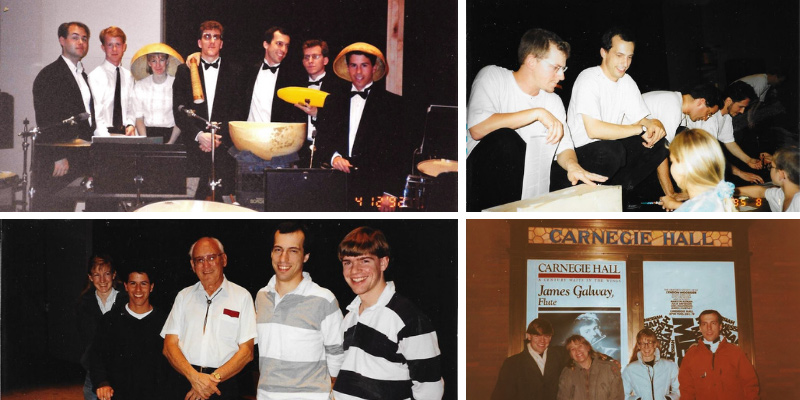 NWS's Percussion Fellows during the organization's early years

The early years were very interesting in a lot of ways. We weren't really "Fellows" yet, the orchestra was still trying to find its identity. Everything was new and most of us were having the time of our musical lives playing in such a great orchestra with some fantastic conductors. Everything was possible, and I personally felt like I was a part of something really important and lasting.
NWS was a place of idealism. We could be uncompromising in our playing, programming, our personal relationships and our preparations for auditions. I have worked to keep that idealism throughout my career, as I'm sure many of my colleagues have done as well. It was exactly what I needed at that point in my life, and without it, I wouldn't be where I am now.
Posted in: Alumni, Fellows, Percussion Perspectives
---