News
September 27, 2019
From the Archives: MTT and the San Francisco Symphony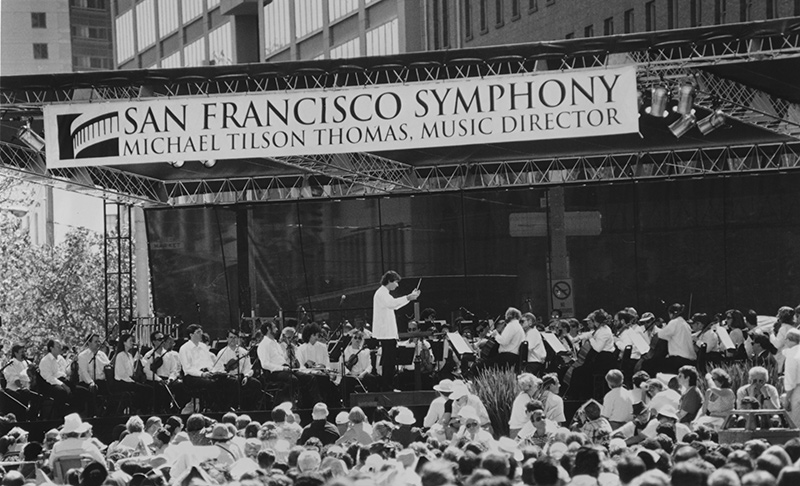 MTT leads SFS in 1995 as its new Music Director, courtesy of NWS Archives
This month has been a busy one for NWS's Co-Founder and Artistic Director, Michael Tilson Thomas (MTT), who in the last few weeks launched his 25th and final season as Music Director of the San Francisco Symphony (SFS) with a blockbuster gala and collaboration with Metallica, alongside concerts of Mahler, Rachmaninoff and Stravinsky. Before his anticipated return to South Beach, we reflect on MTT's time in San Francisco, the many NWS alumni who have joined its ranks and celebrate the legacy he will leave behind when his tenure concludes this spring.
Rewind to 1995
Five years after MTT co-founded NWS with Ted and Lin Arison, he was named Music Director of SFS in June 1993 after a seven-month search for a successor to Herbert Blomstedt.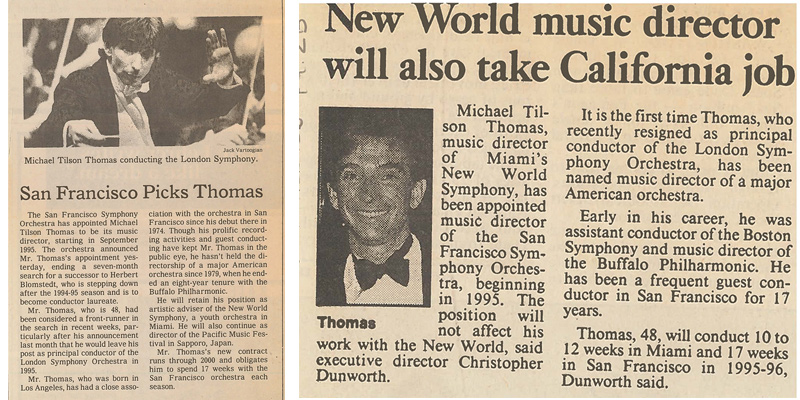 June 1993 press clippings from The New York Times (left) and Miami Herald, courtesy of NWS Archives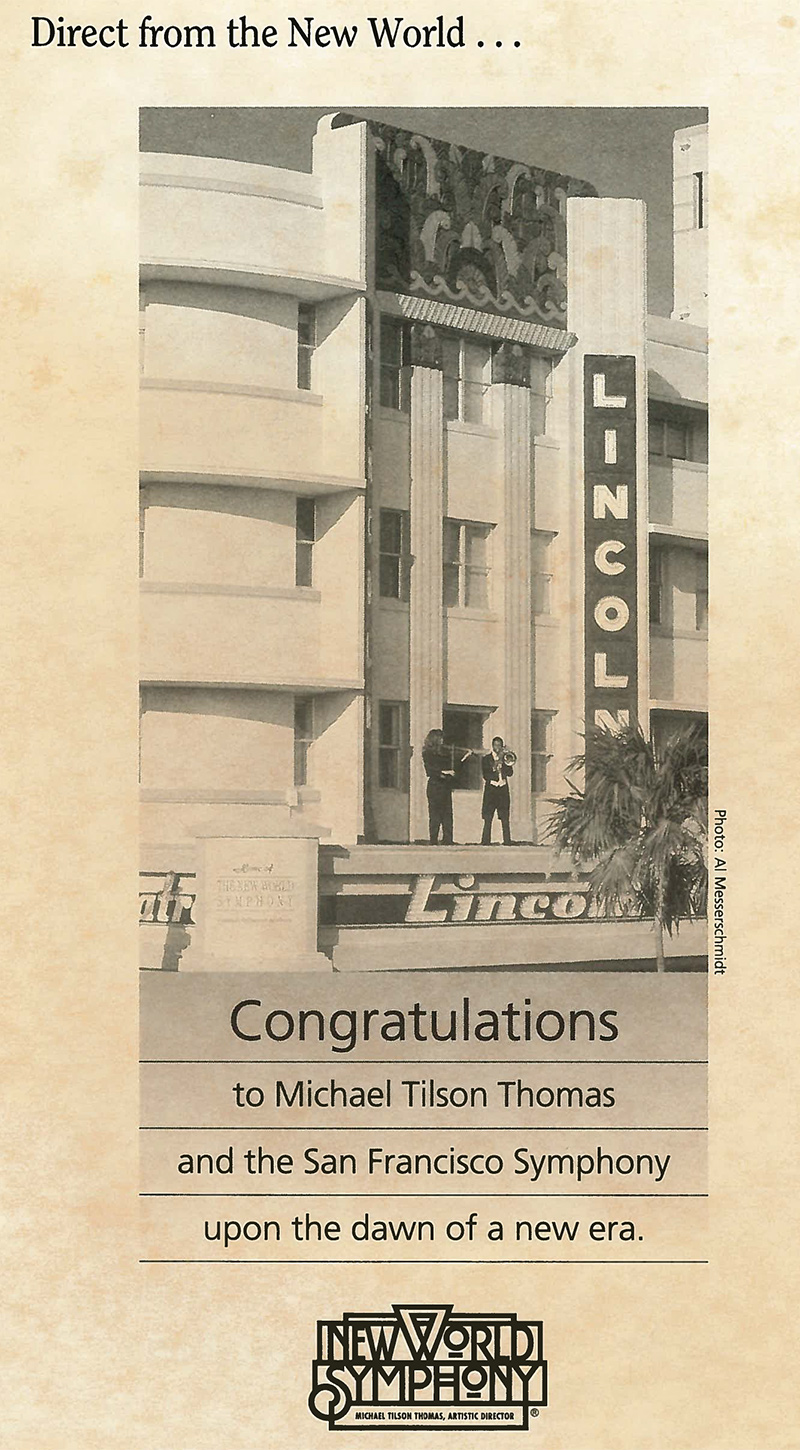 1995 NWS flyer, courtesy of NWS Archives
He started the position in 1995 as the first American to hold the post in 80 years. MTT was vocal with his excitement, saying "This is an orchestra that takes chances. There's an electricity in this town and in this audience that has always brought me back. Being here has always been a secret dream and it is an honor to be entrusted with leading this great ensemble into the 21st century."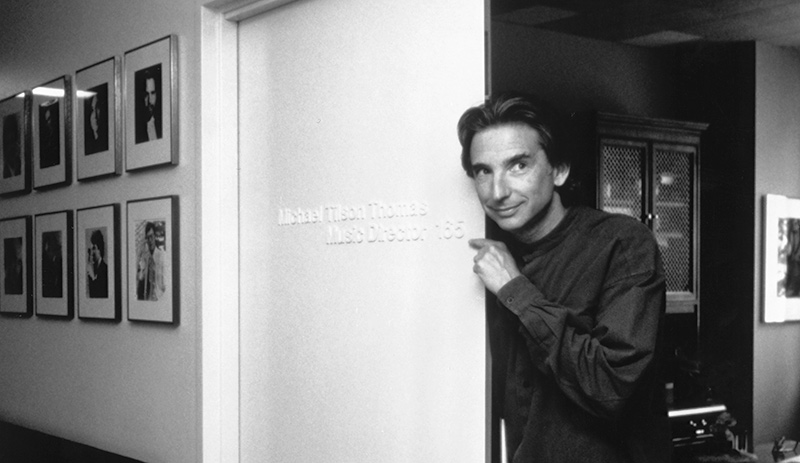 MTT peeks out of new SFS office in 1995, photo by Terrence McCarthy, courtesy of NWS Archives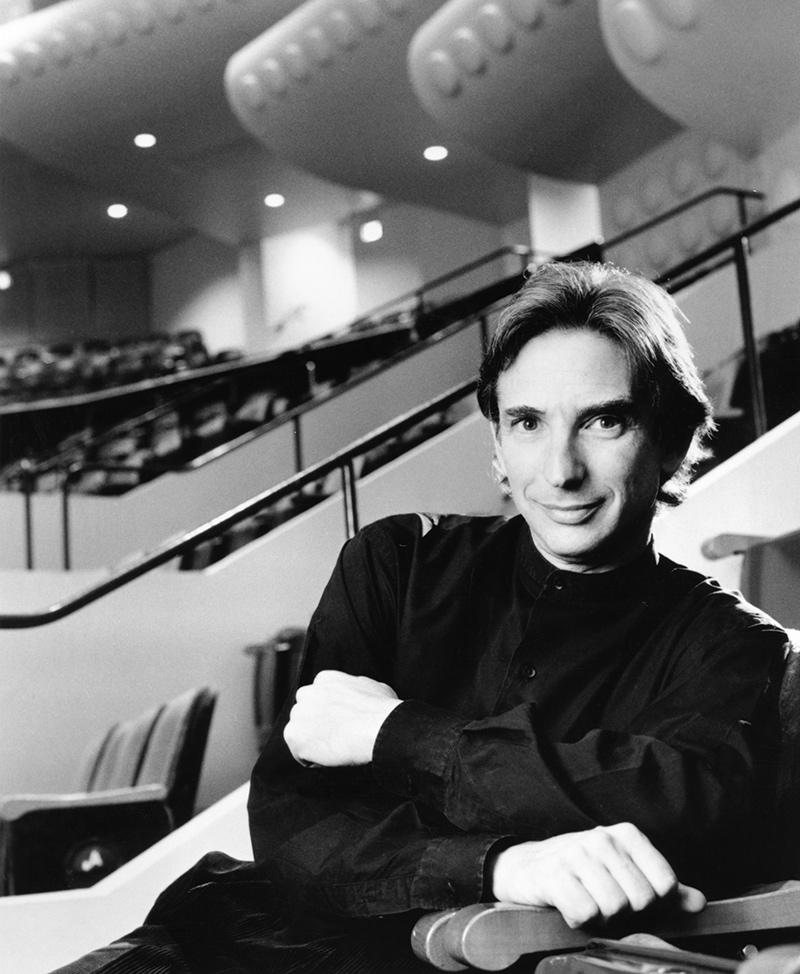 MTT at SFS's Davies Hall in 1995, photo by Terrence McCarthy, courtesy of NWS Archives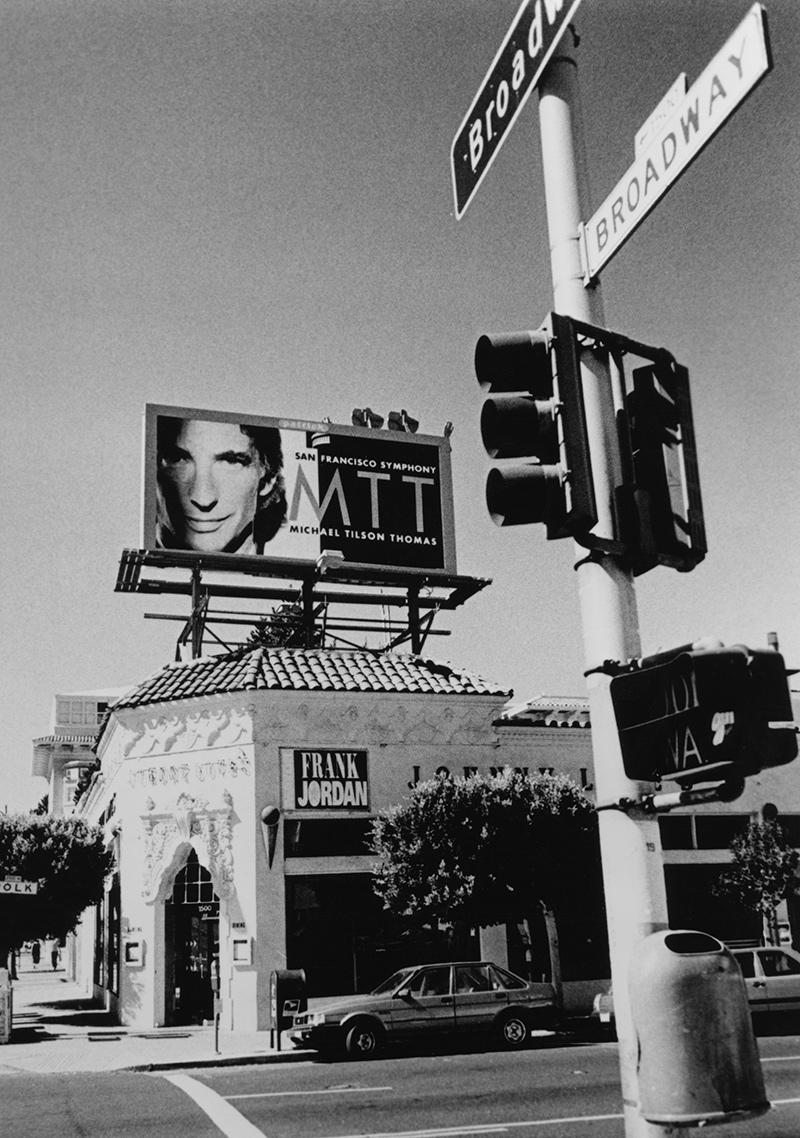 San Francisco billboard in 1995, photo by Russ Langford, courtesy of NWS Archives
The Final Season
Throughout more than two decades, Michael Tilson Thomas' leadership of the San Francisco Symphony has been recognized worldwide for building an orchestra that consistently displays artistry of the highest level in its home of Davies Symphony Hall, on over two dozen national and international tours, and through media and recording projects.
"Looking back over these decades I am filled with gratitude for the extraordinary artistic partnership I have had with the members of the Orchestra and for the warm and generous style of music making we have shared with all of our audiences," said MTT.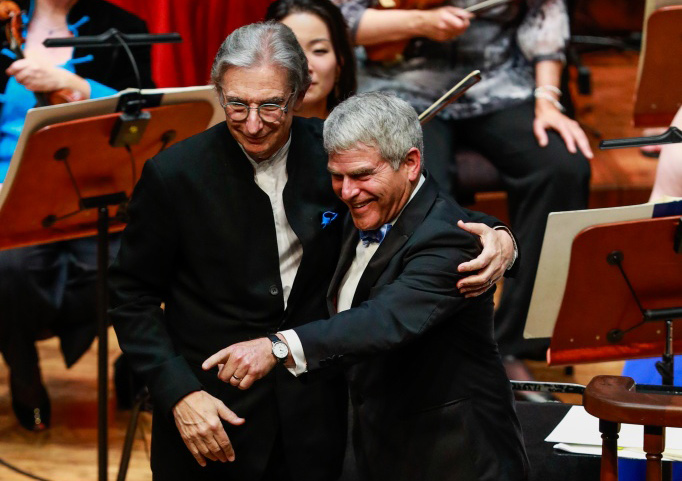 MTT and Joshua Robison at 2019 SFS Gala, photo by Gabrielle Lurie, The San Francisco Chronicle
MTT kicked off his final season with a gala honoring him and his husband Joshua Robison.

"The joy of Wednesday's event seemed to have spilled over from the accumulated exuberance of all the past seasons these musicians have spent working and playing as one." (Joshua Kosman, San Francisco Chronicle)
"When MTT exits San Francisco, so does his secret weapon Joshua Robison…the couple have been partners for over 40 years. And many friends see Robison as an indispensable part of Thomas's success, which includes 11 Grammy Awards, a forthcoming American Masters documentary on PBS, and the Kennedy Center Honors in December." (Tony Bravo, San Francisco Chronicle)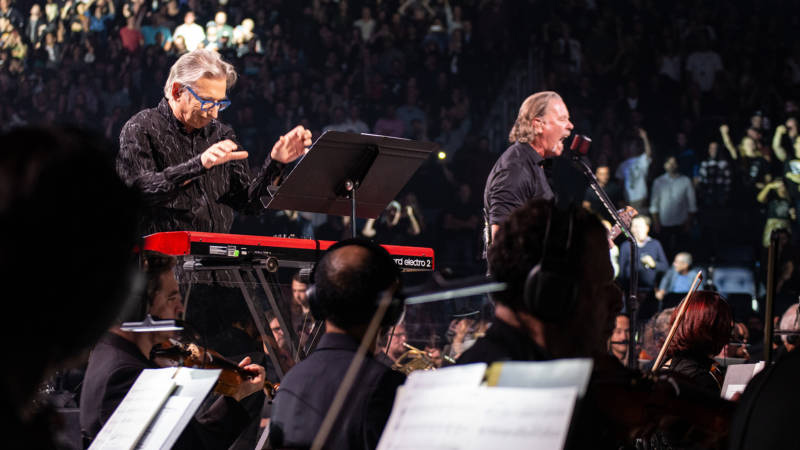 MTT and SFS with Metallica, photo by Dan Nykolayko
That same week, MTT led the grand opening of Chase Center, the new home of the Golden State Warriors, alongside Metallica, marking the 20th anniversary of the famous rock band's first performance with the Symphony in 1999. The collaboration was hailed an epic meeting of the minds and featured a set list of the band's hits and an opportunity for NWS alumnus and SFS Principal Bass Scott Pingel to rock out with Lars Ulrich.
NWS Alumni in San Francisco Symphony
During his 25-year tenure at SFS, over 50 musicians have joined the orchestra. Fifteen NWS alumni now call the SFS home, including Raushan Akhmedyarova (violin), Jeff Biancalana (trumpet), James Button (oboe), Daniel Carlson (violin), Sébastian Gingras (cello), Mark Inouye (trumpet), Eugene Izotov (oboe), In Sun Jang (violin), Naomi Kazama Hull (violin), Eliot Lev (violin), Jacob Nissly (percussion), Scott Pingel (bass), Nick Platoff (trombone), Jerome Simas (clarinet) and Chen Zhao (violin).
Here is a recent photo of several NWS alumni backstage before their performance of Gustav Mahler's Sixth Symphony with MTT: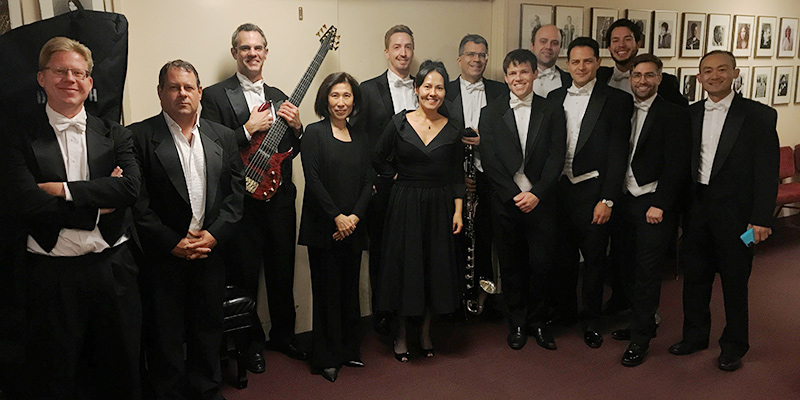 From left to right: Daniel Carlson, Jeff Biancalana, Scott Pingel, Naomi Kazama Hull, James Button, Raushan Akhmedyarova, Jerome Simas, Jacob Nissly, Sébastian Gingras, Eugene Izotov, Nick Platoff, Robert Klieger (one-year percussion position) and Chen Zhao.
"When Michael made his debut with the Orchestra in 1974, it was clear that his passion for the music was matched by his ability to communicate it profoundly with our audiences," said SFS cellist Margaret Tait. "His creative, personal approach to music making and the broadening of the repertoire have been embraced by the Orchestra and made these two decades exciting, rewarding, and inspiring."
"Working with Michael has been one of the most joyful and meaningful collaborations of my life," said Eugene Izotov, SFS Principal Oboe and NWS alumnus. "His inspiration, guidance and spirit have raised the artistic level of this orchestra and shaped the San Francisco Symphony into the kind of ensemble it has never been before. Although he leaves his post as Music Director, I know that his passion, youthful energy, and endless musical curiosity are here to stay with us."
MTT's Season Opener at NWS
MTT will launch NWS's 32nd season on October 12 and 13 in a concert featuring the NWS debut of Musical America's 2019 Artist of the Year, pianist Daniil Trifonov. Join us in welcoming MTT back to South Beach! Click here for more information.  
Posted in: Alumni, From The Archives, MTT
---