News
April 18, 2019
From the Archives: NWS and MTT at Carnegie Hall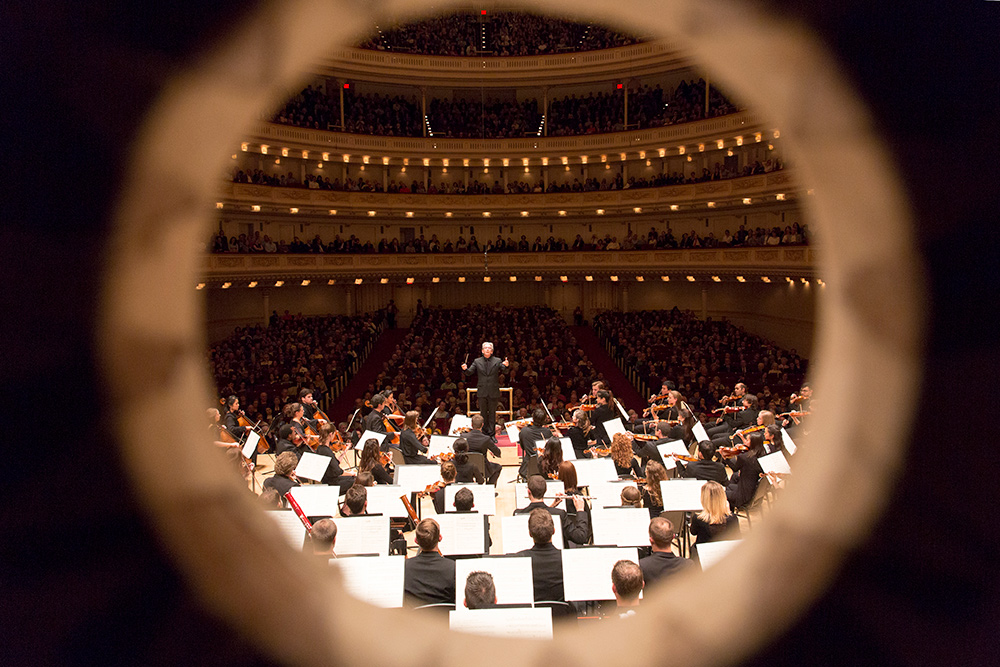 Following its Season Finale performances on April 26 and 27, the New World Symphony will travel to New York City for two performances at Carnegie Hall on May 1 (Stern Auditorium) and May 2 (Zankel Hall). NWS's return to arguably the nation's most famous home for classical music will serve as a benchmark in the blossoming careers of its talented young musicians and will reaffirm the organization as a cultural ambassador and its mission to honor the past and shape the future of classical music.
Helping Fellows mark this defining milestone are 16 NWS alumni from top orchestras across the U.S., including The Philadelphia Orchestra, Los Angeles Philharmonic and Cleveland Orchestra, who will join the Fellows on stage for the two performances.  
The upcoming performances also commemorate the finale of NWS Co-Founder and Artistic Director Michael Tilson Thomas' season-long Perspectives series, in which he has appeared at Carnegie Hall with the San Francisco Symphony, Vienna Philharmonic, National Youth Orchestra and, now, New World Symphony. This is MTT's second time to be selected by Carnegie Hall as a Perspectives artist, an honor bestowed on acclaimed artists, inviting them to explore their own musical individuality and create their own personal concert series through collaborations with other musicians and ensembles.
As we look forward to the tour, here's how NWS's friends and family in South Florida can join the excitement in person and online:
NWS is performing two preview concerts of its upcoming Carnegie Hall performances at the New World Center:
   Saturday, April 20 at 2:00 PM : MTT's Playthings of the Wind
   Friday, April 26 at 7:30 PM and Saturday, April 27 at 8:00 PM: Season Finale with MTT and Yuja Wang
NWS's May 1 performance at Carnegie Hall will be webcast live on medici.tv and available for free replay for three months.
NWS at Carnegie Hall
The May 2019 performances mark NWS's fifth visit to Carnegie Hall over the last 20 years. It was the first Florida orchestra to perform in the historic cultural landmark when NWS made its Carnegie Hall debut in 1989. Before the performance, former NWS Executive Director Jeffrey Babcock said, "Playing at Carnegie Hall makes a statement about the level of the orchestra and the confidence we have in it. It's also the kind of experience every musician looks toward as a milestone in their career."
December 14, 1989: NWS's Debut
MTT leads NWS's Carnegie Hall debut in a performance featuring the New York premiere of Charles Wuorinen's Bamboula Beach – The Miami Bamboula (NWS commission), the first New York performance of Copland's complete symphonic score of Appalachian Spring, and Beethoven's Seventh Symphony.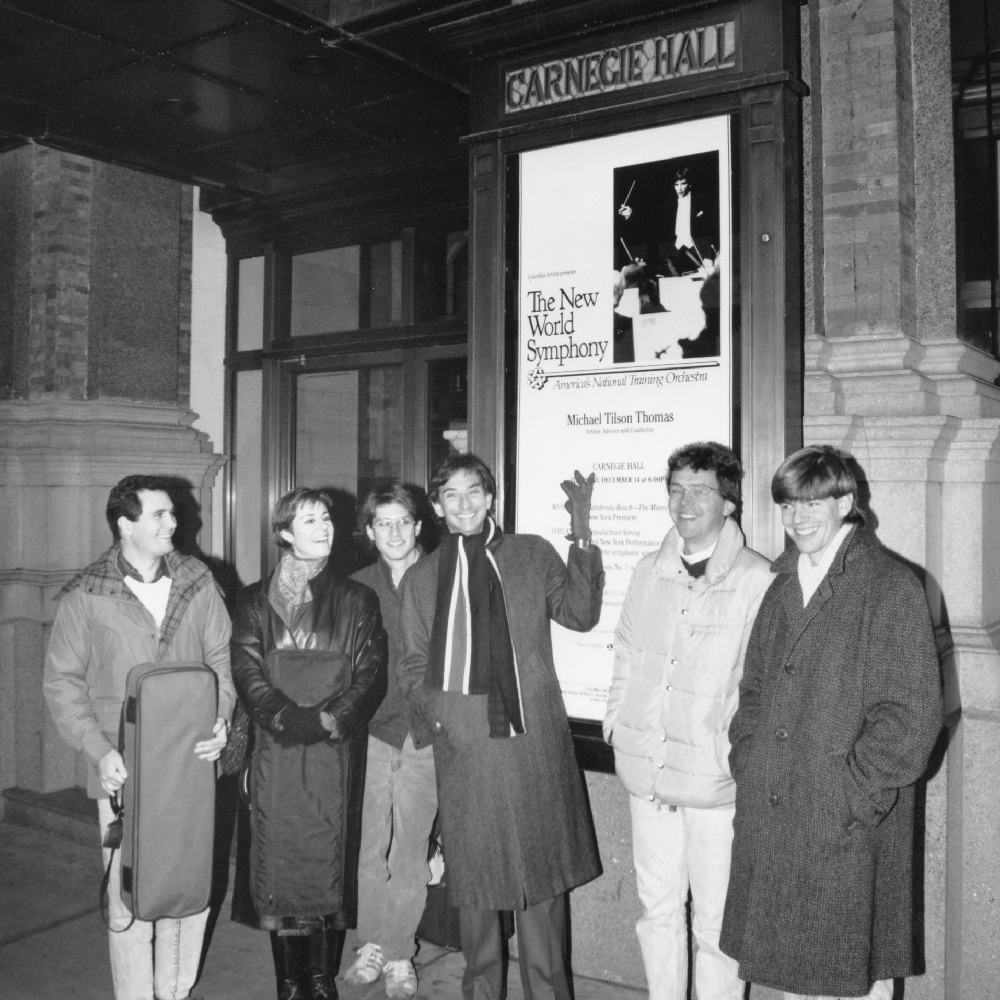 © Steve J. Sherman

© Steve J. Sherman
 "The New World Symphony is a first-rate ensemble that's superseded only by America's 'top 10' [orchestras]. Tilson Thomas, of course, knows no superior among conductors of his generation, and therefore it was a foregone conclusion that the performance would be outstanding in every way."
                -- Bill Zakariasen, N.Y. Daily News
"The [debut performance] was…good enough to give hope for the future – both for musical life in Miami and for this ensemble's function as a conduit for other orchestras."
                -- John Rockwell, The New York Times
April 22-24, 2004: MTT's first Perspectives Series
MTT hosts his first Perspectives series with performances of his own Island Music (NY premiere), Beethoven's Fifth Symphony, and other works by Stravinsky, Berio and more. MTT also held two public­­ Conducting Workshops with NWS that featured a young 16-year-old Teddy Abrams (2008-11 NWS Conducting Fellow alumnus, now Music Director of the Louisville Orchestra).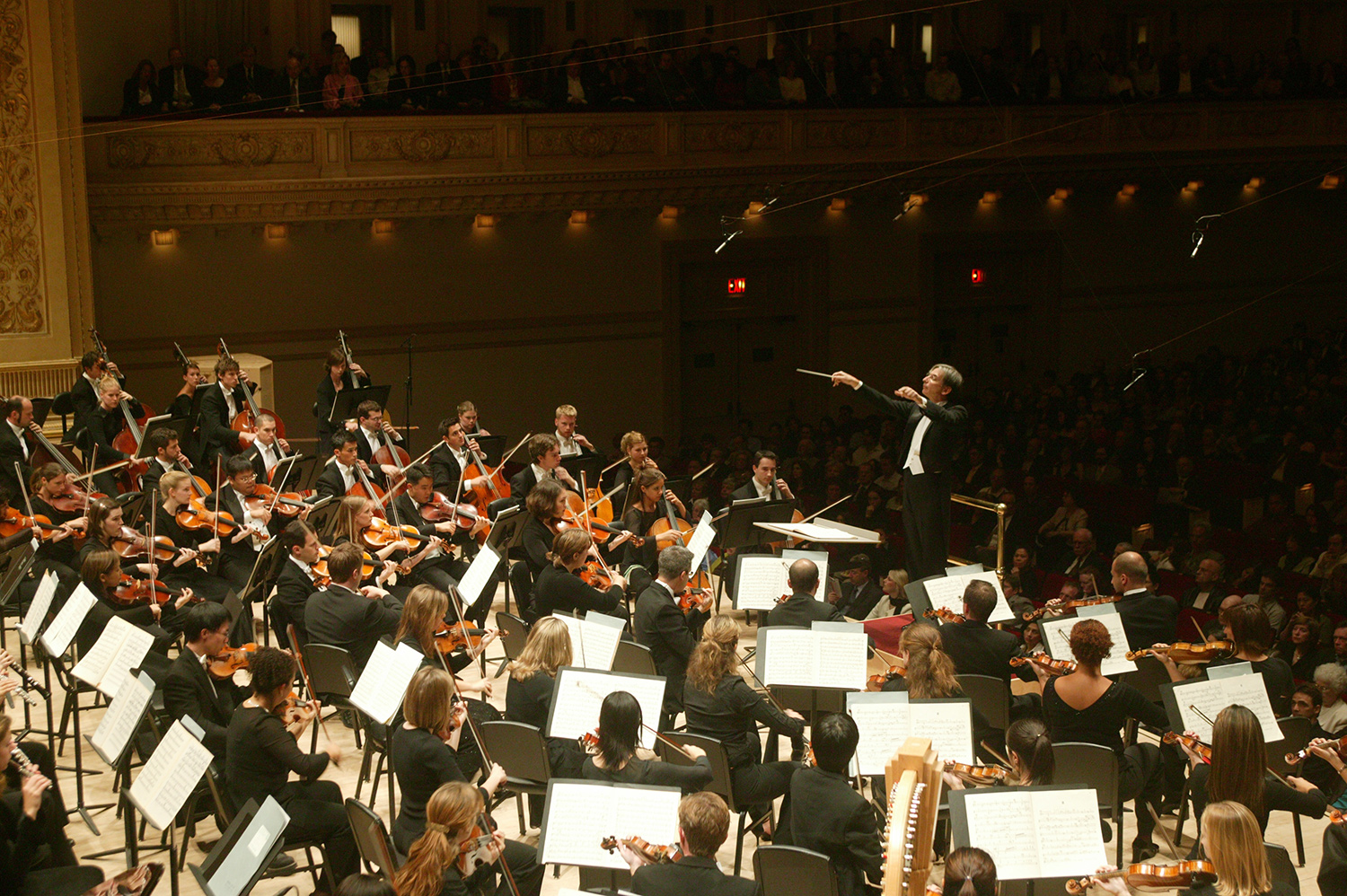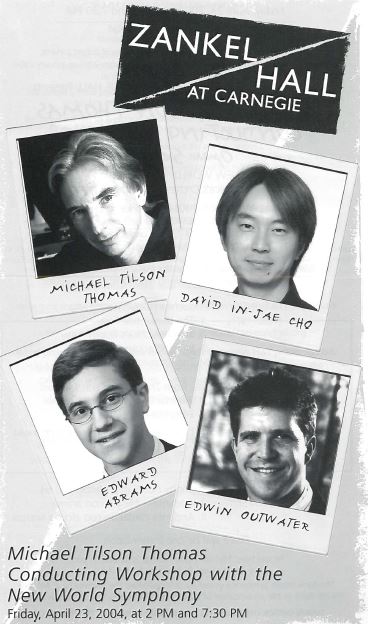 February 27-28, 2007 with Yo-Yo Ma
NWS returned to Carnegie Hall in 2007 with cellist Yo-Yo Ma for an all-Shostakovich performance, followed by a performance on Carnegie Hall's Sound Insights series, where MTT discussed Shostakovich's Fifth Symphony in a presentation illustrated with musical examples by the orchestra and elaborate visual projections. He then led the orchestra in a complete performance of the work.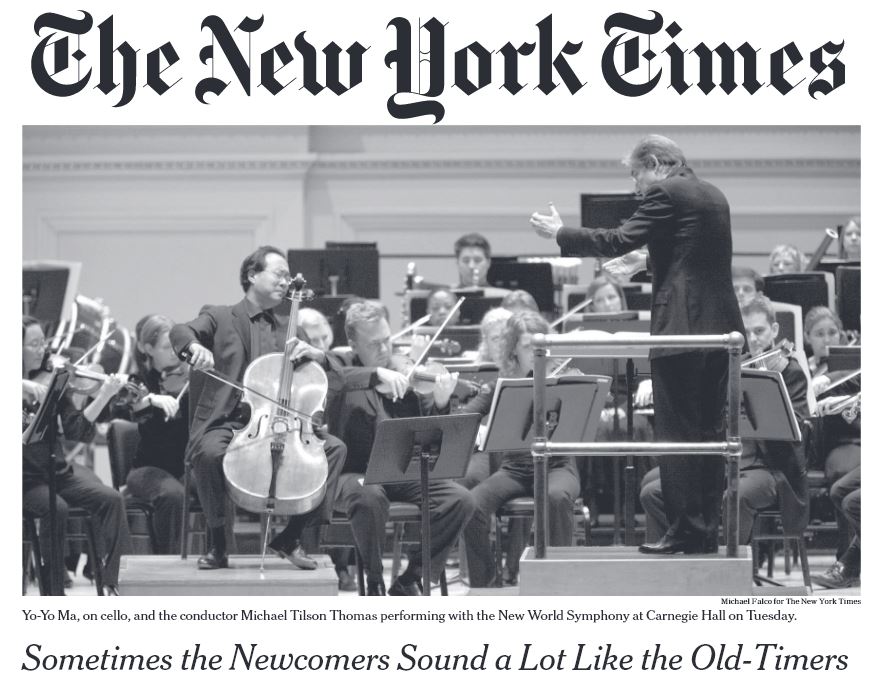 "The orchestra's performance here showed what can be accomplished expediently when ambitious, unjaded and highly gifted young musicians work with a dynamic conductor who is also a born teacher."
                -- Anthony Tommasini, The New York Times
April 28, 2015 with Anne-Sophie Mutter
NWS toured to Carnegie Hall and the John F. Kennedy Center for the Performing Arts with violinist Anne-Sophie Mutter, that season's Carnegie Hall Perspectives artist. Ms. Mutter, in "an inspiring statement, as well as a smart artistic choice" chose to conclude her series with MTT and NWS in a program that included the U.S. premiere of Norbert Moret's En Rêve, Berg's Violin Concerto, Debussy's La Mer and Schubert's Incidental Music to Rosamunde.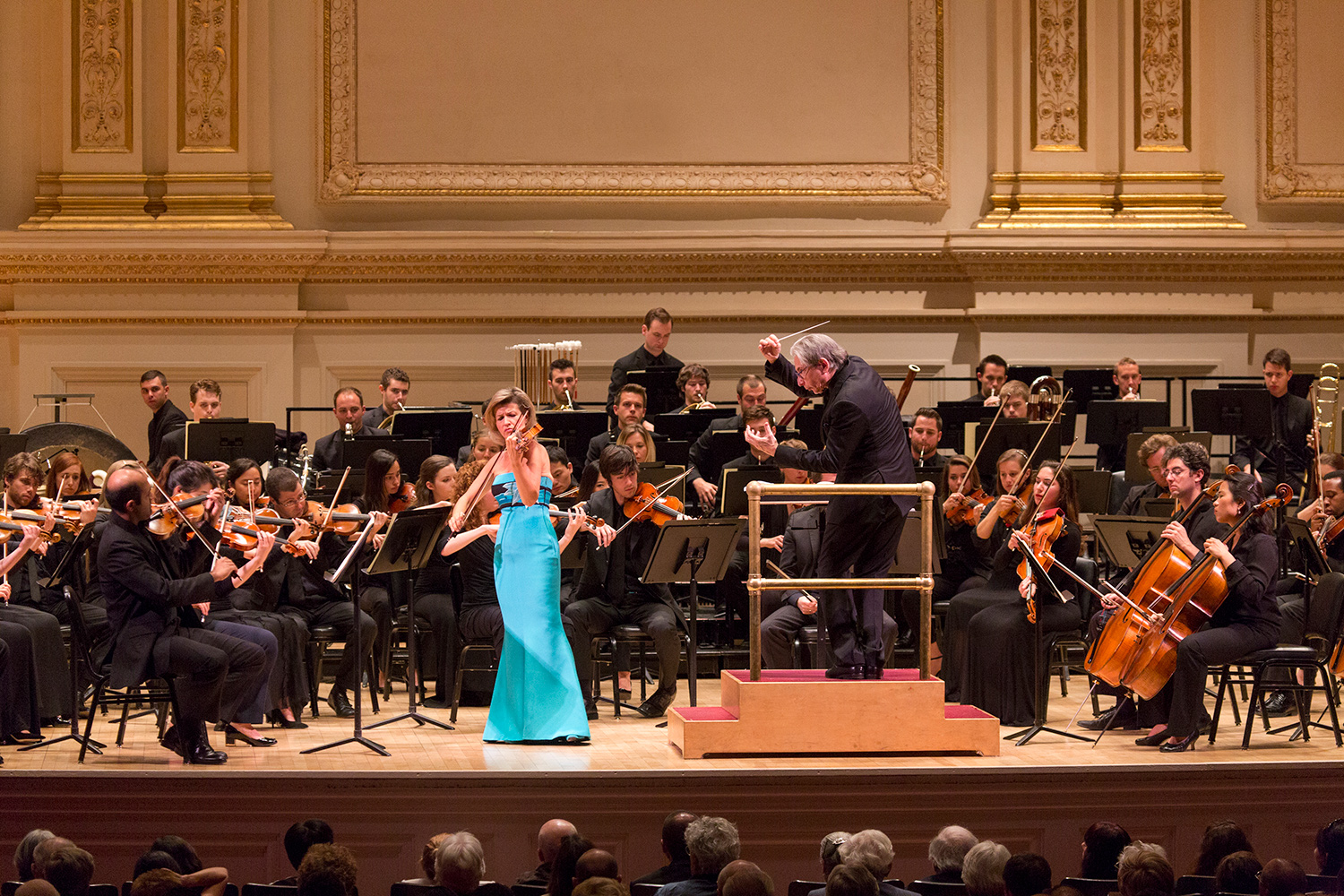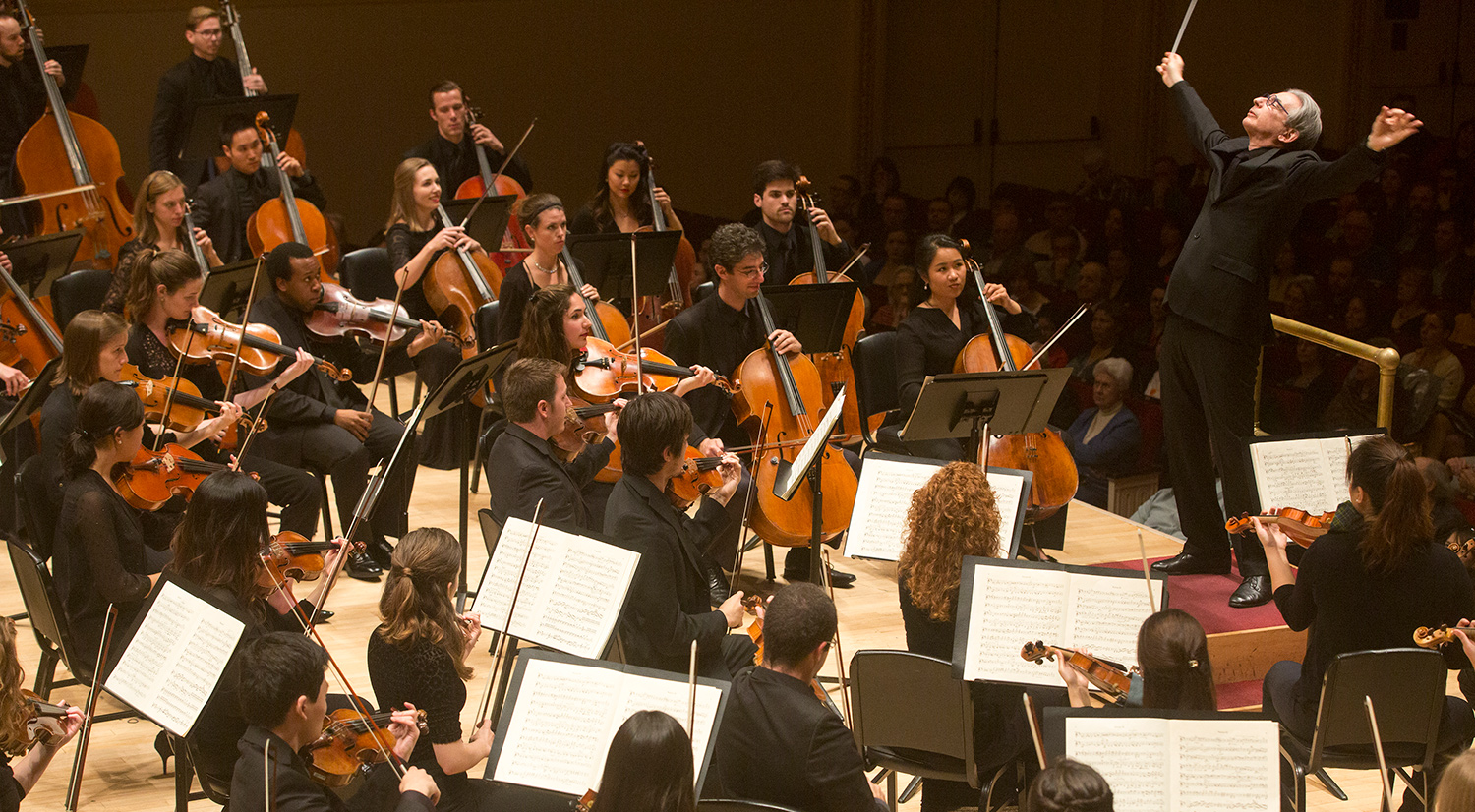 2015 photos © Richard Termine
"No orchestra in Carnegie Hall over the past few years has sounded better than this one, and few have sounded as good." 
     -- George Grella, New York Classical Review
"As usual, the New World Symphony on Tuesday sounded terrific, playing with impressive skill and confidence."  
     -- Anthony Tommasini, The New York Times
NWS + Coregami
While on the legendary stages of Carnegie Hall's Stern Auditorium and Zankel Hall, NWS Fellows will remain cool under the spotlight thanks to a partnership with Coregami, a new technical formal wear company for performing artists. Coregami was founded in 2015 by Kevin Yu, a violinist once frustrated by uncomfortable formalwear options musicians wore to perform. "I was playing Berlioz' Symphonie fantastique and had drenched my tuxedo while on stage. I saw a problem and was determined to find a solution." Kevin studied the advancing technology of fabric design and the rising popularity of athleisure wear to create the world's first moisture-wicking tuxedo shirt. "Once you go comfortable, it's hard to go back to uncomfortable." Currently used in every major symphony orchestra in the United States, Coregami now offers five different shirt options—what Kevin calls "solutions"—all named after inspiring musicians.
On May 1 and 2, NWS's male Fellows will wear Coregami's The Coltrane – a sleek all-black dress shirt made from four-way stretching, moisture-wicking fabric.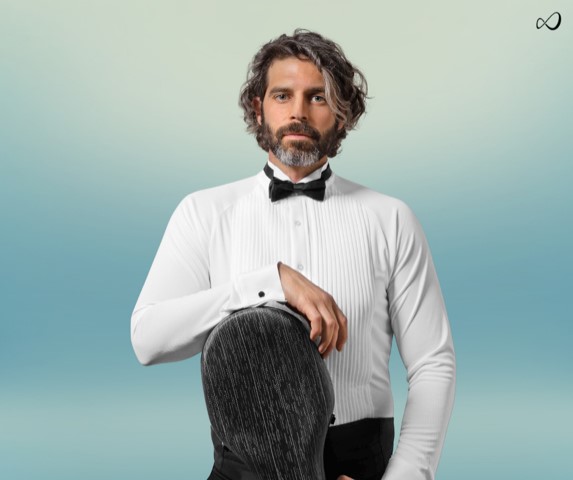 "I am drawn to the New World Symphony," says Kevin. "As the most elite musical incubator in the world, NWS is the best fit for a Coregami partnership. The Fellows are amazingly gifted and understand the importance of functionality on stage. They understand that anything is possible and are used to experimenting. Coregami is similar in that it's not afraid to fail its way to a solution. We want to help foster NWS's mission of educating and nurturing the next generation. Most importantly, we want Fellows to join the design process and dream of new solutions."
For more on Coregami, visit coregami.org. 
2019 Carnegie Tour Sponsors
The New World Symphony would like to recognize the following donors for their support of its 2019 Carnegie Hall performances: Bruce and Suzie Kovner / The Kovner Foundation, The Wilhelmina Harrell Fund, Bruce and Martha Clinton / The Clinton Family Fund, Susan and David Edelstein, Mr. and Mrs. Louis K. Meisel, Melanie and David Niemiec, Stuart Subotnick, Mr. and Mrs. Jeffrey Akin, Alan and Jayusia Bernstein, The Andrea & Charles Bronfman Philanthropies, Dr. Matthew Budd and Ms. Rosalind E. Gorin, Jim and Jean Crystal, Peter and Sue Gottsegen, The Hite Foundation, Jorge and Amanda Mejia, Jerry and Adrianne Cohen, Betty and Joseph Z. Fleming, Susan and John Freund, Saul and Jane Gross, The Jeffrey Solomon Fund of the Jewish Community Foundation, Janet Shein, Koniver Stern Group, Mr. and Mrs. Robert Hertzberg, David J. Phillips and Denis J. Jacobs, and Coregami.
Posted in: 2019 Carnegie Tour, Alumni, Concerts, Events, Fellows
---