News
March 10, 2020
From the Fellows: 2020 Travel Journal from Colombia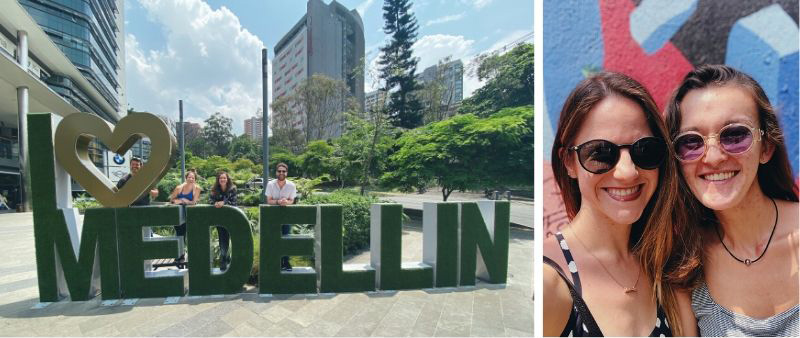 On February 24, four New World Symphony Fellows traveled to Medellín, Colombia as part of a unique cultural and musical collaboration between Colombia's Iberacademy and New World Symphony. Two of the Fellows on this trip, third-year Violin Fellow Margeaux Maloney and second-year Viola Fellow Stephanie Block journaled daily to share the cultural, artistic and musical immersive experiences they shared throughout the week as part of the program.
Monday, February 24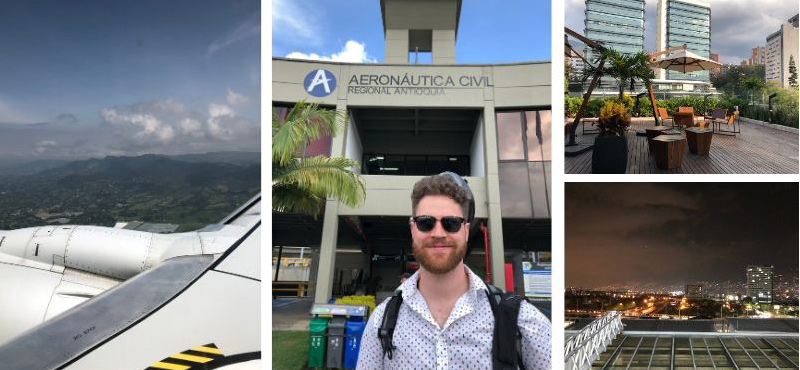 Margeaux: Our travel day to Medellín was finally here! I had been looking forward to this trip for so long that I could barely sleep the night before from excitement. That morning, it was a little tough to find Lyfts due to the SOBE Wine and Food Festival crowd but once they arrived, it was smooth sailing to MIA.  The terminal was pretty empty so we were able to check in and go through security quickly.  I don't remember much of the flight because I quickly fell asleep once we were airborne.
We landed at MDE around 2:15 PM and after going through the long immigration and customs lines, we met up with our driver, loaded up our bags and headed down into the city.  As we were going down, I could feel my ears pop from the altitude and the air was much cooler than in Miami. Once we reached the hotel, we had about an hour to freshen up, eat some snacks and warm up before we would be driven to our first orchestra rehearsal. I might have gone a little overboard with the amount of snacks I brought but better safe than sorry!
At 5:30 PM, we were greeted by Andres, a cellist at Iberacademy and who has played with NWS before.  He gave each of us a canvas bag full of Iberacademy merch, a bag of Colombian coffee grounds and chocolate. Best welcome gift ever! We were then driven to Mayorca Mall where the Iberacademy is located. The week's program is Prokofiev's Third Piano Concerto and Rachmaninoff's Second Symphony as a side-by-side with the Filarmed and conductor Roberto González-Monjas. I have always wanted to work with Roberto, so I was very excited to finally meet him! My stand partner was Gonzalo Ospina, the concertmaster of the Filarmed.  We started the rehearsal by reading through the whole symphony and then began working on details from the beginning.  Since we had not eaten a real meal yet, Drew, Stephanie and I went down to the food court during the break and ordered juices from Frisby.  I somehow ordered two mango juices (my Spanish was very rusty) and it became a running joke for the rest of the week with the employees.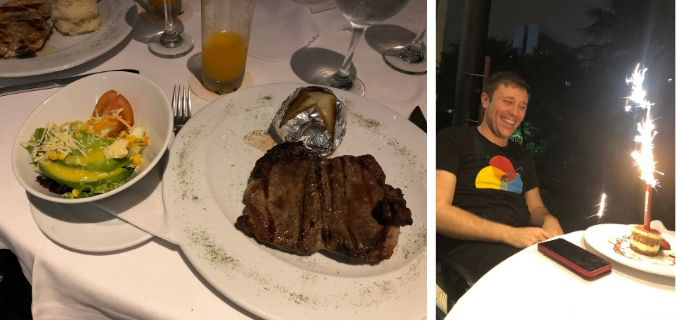 The rehearsal ended at 9:30 PM and Roberto invited us over to his hotel's restaurant. I ordered a Churrasco steak and fresh mandarin orange juice. They were both amazing. The restaurant staff surprised Roberto with a tiramisu cake and a sparkler candle for his birthday!
Tuesday, February 25

Margeaux: We left the hotel around 9:00 AM for Iberacademy to give our first lessons. One of my lessons was with Andrés and he played the first movement of Mendelssohn's Violin Concerto. We spent a good part of the lesson talking about how to deal with nerves and fear and also our admiration for the violinist Janine Jansen. She has such a command over the violin which is something we both love. In the last few minutes of the lesson, I asked Andrés to start from the beginning of the Concerto and to channel his "inner Janine." He started playing and BOOM it was like a whole different person playing! It was so cool to see and hear how one small change in the mind made all the difference. While the others were finishing up their lessons, I spent some time on the balcony enjoying the sunshine and view of the city.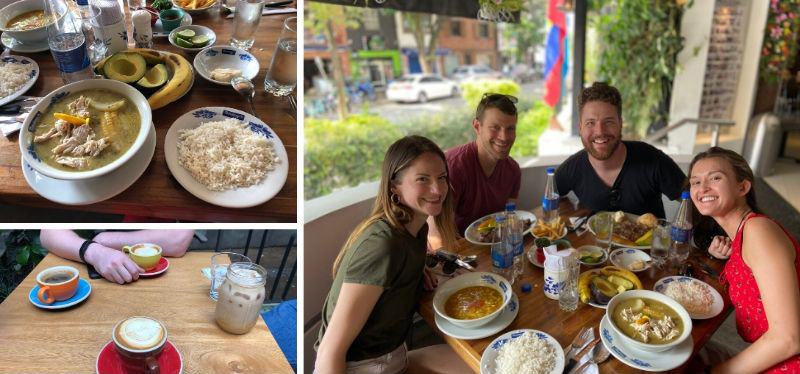 We ate lunch at Mondogo's in El Poblado. We had to climb a few steep hills to get there, but we were able to scope out the colorful streets along the way. I ordered the Ajiaco, a popular Colombian soup typically made with chicken, three varieties of potatoes, and herbs. It came with a side of rice, corn on the cob, bananas and the biggest avocados I had ever seen! Our next stop was Pergamino Coffee. I had heard so much about this place from many Fellows and it definitely lived up to the hype. This was the first of many trips to come :)
Wednesday, February 26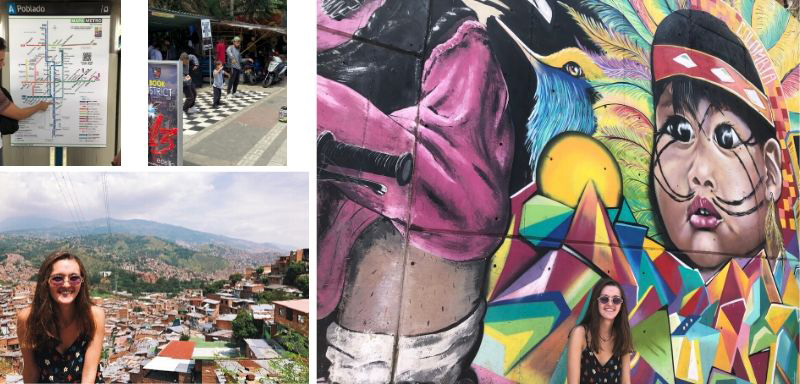 Margeaux: We started the morning by taking the metro to San Javier where we met our graffiti tour guide, Doc. He explained to us how hip hop is a culture that greatly influenced the neighborhood we were about to see and the history behind it all. We took the local bus to Comuna 13 and I was immediately blown away by the amazing views and variety of graffiti. Each wall had its own story. Doc led us to where the breakdance group Black and White C13 was about to begin their show. My favorite part of the performance was the little kid, Jordan's solo. He really knows how to groove! We explored more of the walls and took some time to take in the scenery. We also really soaked up some UV rays.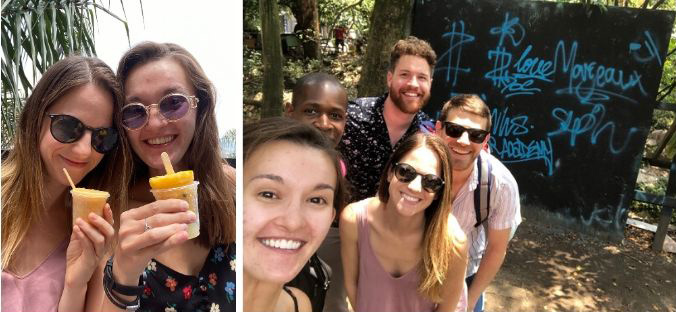 Afterwards, Doc took us to Cremas Doña Alba where we had their famous mango and passionfruit popsicles with lime juice. Mmmmm so good! We then took the bus to Casa Kolacho where Doc taught us how to create our own graffiti. Now everyone in Medellín knows who we are ;)
Thursday, February 27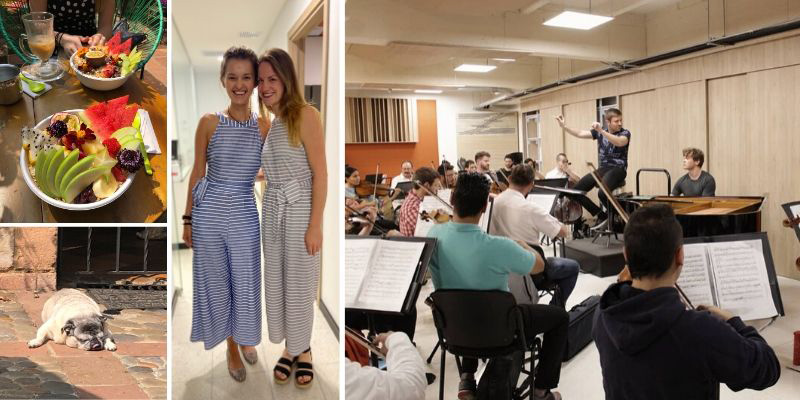 Stephanie: This was our first morning off to explore the city a bit before teaching in the afternoon. Margeaux and I walked up to El Poblado, a picturesque neighborhood with many amazing shops and restaurants. One place that matches the amazing aesthetic of this neighborhood is Betty's Bowls! This place has the most tasty and beautiful açaí bowls, smoothies and salads. It also has the cutest resident pug, named Emilia. After that, we explored the neighborhood and shopped a bit. That afternoon we went, in our matching jumpsuits ;), to teach and rehearse. It was our first rehearsal with the pianist performing the piano concerto. The soloist, Ivan Moschuk, was born in Russia but raised in Michigan. He has the most wonderful and humble presence, and his artistry was incredible.
Friday, February 28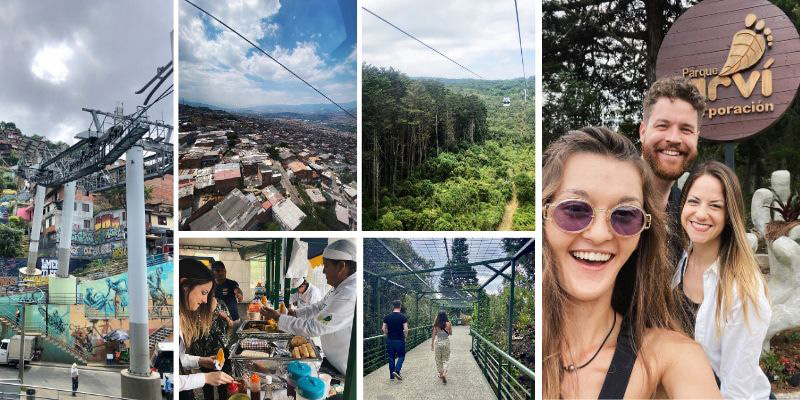 Stephanie: Margeaux, Drew and I wanted to get out and explore a bit more of Medellín and realized just how expansive the city is! We took a cab to nearby Acevedo and got on the cable car going up a mountain to get a better view of the city. The ride up the cable car was humbling in perspective as we passed through the neighborhoods on the way up the mountain. Per the recommendation of one of Margeaux's students, Walter, we ended up taking it all the way to Parque Arví. This is an ecological nature preserve and Pre-Hispanic archeological site on the eastern slopes of Aburrá Valley, in northeastern Medellín. When we arrived at the park, there was a small market with handmade goods and food. The crisp, cool air in the park was so refreshing and we only wish we had more hours to explore! In this "city of eternal spring," it was really amazing to see how an eight-minute cable car ride suddenly brought us into this quiet and peaceful environment. We had lunch at the café in the park and headed down to get ready to leave for teaching.
Concluding our evening rehearsal, we wanted to find a place to have a drink. Roberto suggested we try a "very Colombian" place called Andrés Carne de Res. We had no idea what to expect besides the fact that it was close to our hotel. When we got inside, we found it was this huge place with a live band playing and waiters who have choreographed dance routines that they perform about every hour! It turned into an evening of dancing, and Zach and I got to test out our hard-earned salsa skills from all the classes at NWS! That was probably my favorite night—the complete surprise of ending up somewhere with great music, drinks, food and dancing. I wish more American restaurants were like this!
Saturday, February 29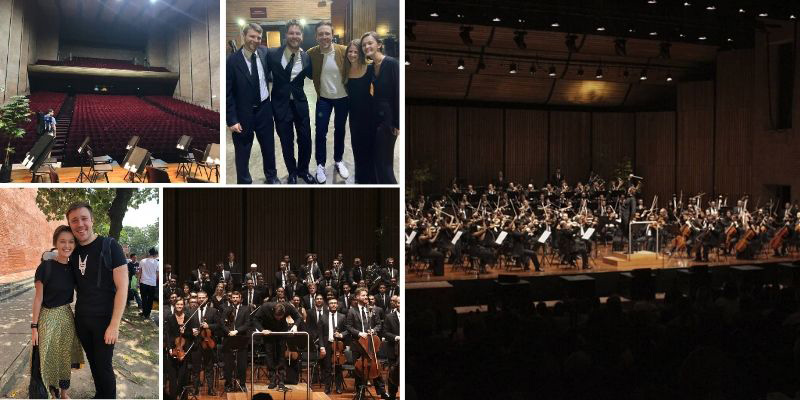 Stephanie: On this leap day, we enjoyed our last day in Medellín. We had our dress rehearsal that morning at the Teatro Metropolitano. This is the biggest and most prominent theater in Medellín, and is the headquarters of the Filarmed. That afternoon we made one last trip to Betty's Bowls; and to Pergamino to stock up on as much coffee as we could possibly fit in our luggage!
The energy of the concert that night was wonderful. I was really struck by all of the people hugging each other backstage, before and after the concert. It was an enthusiastic audience and I could really feel the energy that every musician brought to the performance. It was one of complete dedication, both from Roberto and from the orchestra.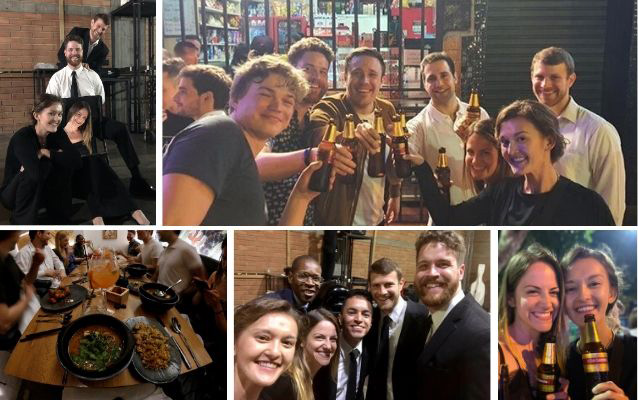 We celebrated afterwards with Roberto and the musicians from the Musikkollegium Winterthur at this amazing Japanese fusion restaurant in El Poblado called Moshi. Everything on the menu was incredible and creative, as were the drinks (mine came in a wooden box). We ended the night by walking to Parque Lleras and having one last beer together. That area has great nightlife and we really enjoyed being together outside in the always-perfect weather to celebrate an amazing week.
Sunday, March 1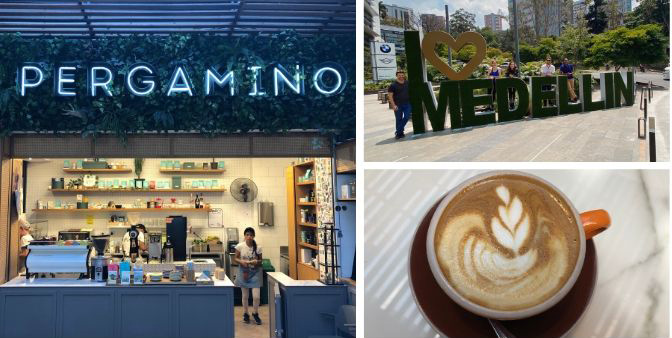 Wanting to use up the rest of our pesos, we headed to the nearby Oviedo mall to do some shopping (and have one last coffee at Pergamino, of course). Margeaux and I brought back some backpacks made locally in Medellin, and Drew and Zach came home with new shirts and sunglasses. We headed to the airport and prepared to get back to our lives in Miami.
Both times I've been to Medellín, I've never forgotten the impression that the city and the students have made on me. I've never gotten so much joy out of teaching the way that I do teaching the Iberacademy students. I found myself wanting to offer them as much as I possibly could in the span of one hour, and promised them all that I would send them as much information as I possibly could from teachers who have passed their incredible knowledge down to me. We have so much to learn from these students—their unwavering enthusiasm and kindness really reminded me what is most important about being a musician. I miss them already, and hope that we cross paths again.
Posted in: Community Engagement, Fellows, Travel Journal
---