News
March 11, 2020
From the Fellows: 2020 Travel Journal from Cuba


James Riggs, Bee Ungar, Thea Humphries and Angelo Quail in historic downtown Havana; Bee + Cuba, made of keys at La Fábrica de los Artes
On February 26, four NWS Fellows traveled to Havana, Cuba as Arts Delegates for the Cuban American Youth Orchestra. This five-day workshop provided an immersive cultural experience as Fellows presented a chamber music concert alongside young Cuban professionals led by Daiana García, director of the Chamber Orchestra of Havana. Fellows also had the opportunity to mentor and coach student Cuban musicians. Joining the Fellows as part of the Arts Delegation was violinist Milana Reiche, an NWS alumna (1992-93) who now plays in the Minnesota Orchestra.
Second-year Bassoon Fellow Bee Ungar journaled daily to share the cultural, artistic and musical immersive experiences they shared throughout the week as part of the program.
Wednesday, February 26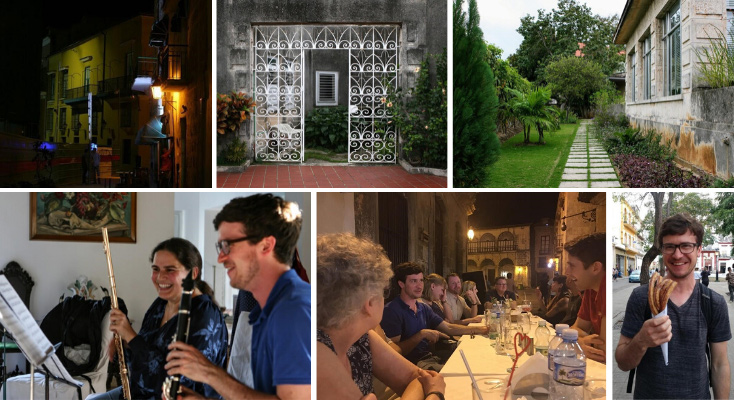 Top: Alleyway in Old Havana, gardens at the rehearsal site
Bottom: Angelo rehearses duet by Muczynski, group dinner and Angelo + Churro
After a quick 45-minute flight from Fort Lauderdale, we arrived in Havana around noon, met our U.S.-based collaborators (clarinetist Rena Kraut of CAYO administration, clarinetist Tim Zavadil of CAYO administration and Minnesota Orch, violist Sam Bergman of Minnesota Orchestra and violinist Milana Reiche of Minnesota Orchestra. We almost immediately got to work with our Cuban colleagues.
 Our rehearsal space is gorgeous, an old colonial house with Spanish artifacts everywhere and an expansive garden. We made fast friends with our new colleagues—even though there was a language barrier for some of us, music really is universal! But luckily one of us (me!) does speak Spanish and can lend a hand in translating.
After rehearsal, we headed out for dinner in Old Havana, where I had probably the best lobster of my life. Went early to bed so we can be early to rise tomorrow.
Thursday, February 27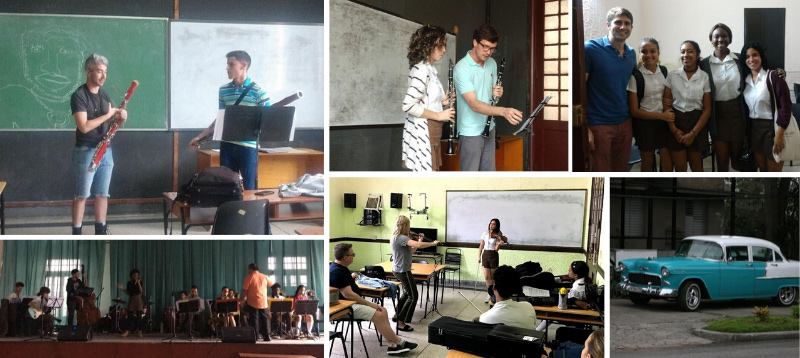 Top: Teaching at Conservatorio Amadeo Roldan (Not sure if that chalk drawing behind us is supposed to be me, but if it is I'm flattered - I wish my jawline was that strong!)
Bottom: Summertime and livin' is easy; Milana teaching violin students and amazing old cars around Havana
Wagner's Siegfried Idyll calls for 14 musicians, so with that as the staple of the program we're preparing, the rest of the concert will be chamber music that we'll play in various smaller groups. For the Wagner, we're being conducted by Daiana Garcia, who is a Cuban native and conductor of the Havana Chamber Orchestra.
After rehearsal, the NWS Fellows were taken to Conservatorio Amadeo Roldan, a specialized music high school. We enjoyed a performance by the school's jazz band, whose rendition of Summertime nearly had me in tears. Afterward, we divided up to give master classes with the students of our respective instruments. In my class, I saw a lot of talent and determination. Definitely building blocks of major league musicians.
Before leaving for Cuba, I filled a box full of about 50 bassoon reeds to bring to the students, as I'd been told that due to embargos and economic difficulties, it can be hard or impossible for student bassoonists here to get reeds. Each student got four, and they were super grateful. I was so happy I brought them something they'll be able to use for months to come.
Friday, February 28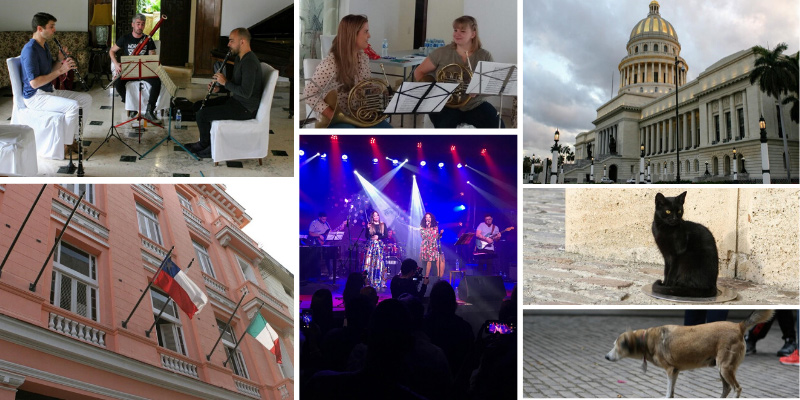 Chamber music rehearsals and scenes from Old Havana, including the Capital building (top right), Hotel Ambos Mundos (Hotel Both Worlds, bottom left), La Fábrica de los Artes (center bottom) and the street's wiggly dogs and photogenic cats
We're really starting to make some progress on our chamber music works. Fourth-year Oboe Fellow James Riggs and I, along with our Cuban clarinet colleague Alejandro, have been tasked with preparing the third movement of the Villa-Lobos Trio with just a few hours total of rehearsal. It's a tricky piece, but after today's rehearsal, I'm feeling confident that we'll pull it off. After a homemade lunch, we went to check out the Centro Historico, where we saw the capitol building, the hotel where Hemingway lived, and said hello to a lot of cats and dogs on the street.
Later we had dinner and drinks at this incredible place called La Fábrica de los Artes (Factory of the Arts). It's primarily an art gallery, but also houses a conglomeration of restaurants, bars, dance floors—all interspersed with contemporary, mostly Cuban, art. While there, I met up with a few musician friends of mine who are from Havana. I met them this past summer when I toured Mexico with the Orchestra of the Americas. It was so great to see them in their hometown, and we may or may not have stayed at La Fabrica dancing salsa until the place closed at 2:00 AM.
Saturday, February 29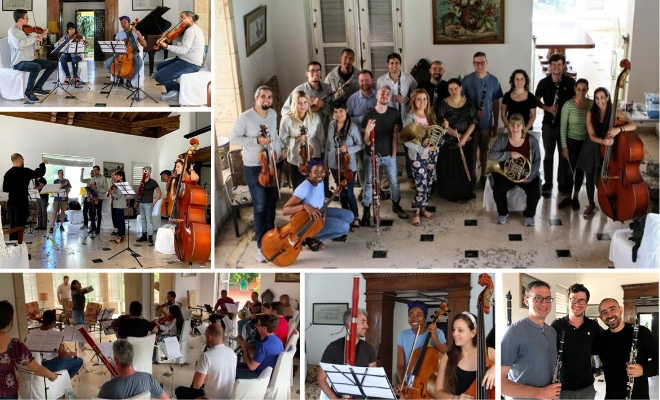 Rehearsals and jam sessions
Rehearsal today was super fun. After getting through our repertoire for tomorrow's concert, we read a transcription of a Cuban jazz tune, arranged by Alejandro. I think he just had us do it to show off his improvisational chops—dude can really jam. Olivia (bass), Denise (cello) and I held down the bass line pretty well too, though. We sort of naturally flowed into a good 10 minutes of improvisatory jamming and riffing after the piece had ended. Total blast.
Sunday, March 1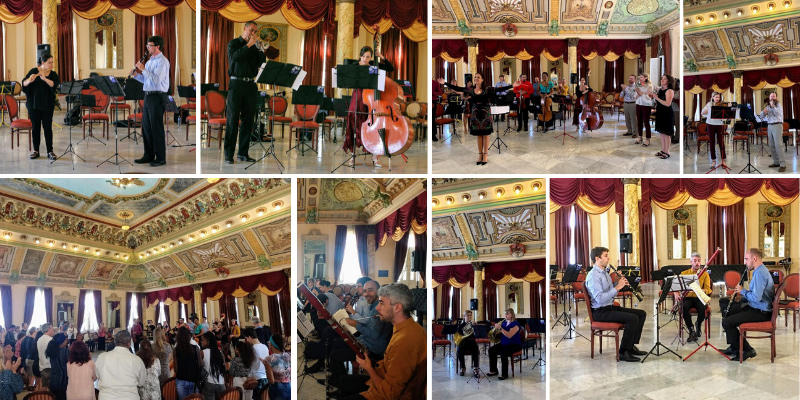 Concert at La Sala Ignacio Cervantes
Concert day! Got up bright and early to get to our morning dress rehearsal at the venue—a gorgeous old hall called La Sala Ignacio Cervantes. Totally awesome space. The concert went really well, and we had a super enthusiastic audience. We all got a bit emotional afterwards. It was the culmination of a very profound coming-together between us all.
In a short amount of time I'd gotten to feel a great sense of comradery with my new Cuban friends, and a real sense of Cuba as a beautiful place with incredibly resilient and warm people. I hope the relationships I made in Cuba will last a long time, and I hope to have inspired my new friends as much as they inspired me.
Posted in: Community Engagement, Fellows, Travel Journal
---