News
May 14, 2019
From the Fellows: First Impressions of Carnegie Hall
From Tuesday, May 1 through Saturday, May 4, NWS Fellows were in New York City, where they performed two concerts at Carnegie Hall. The tour marked the first time James Churchill, first-year Cello Fellow, performed at the legendary venue. He journaled daily to give a behind-the-scenes look at the impactful moments Fellows shared throughout the trip, both on and off the stage.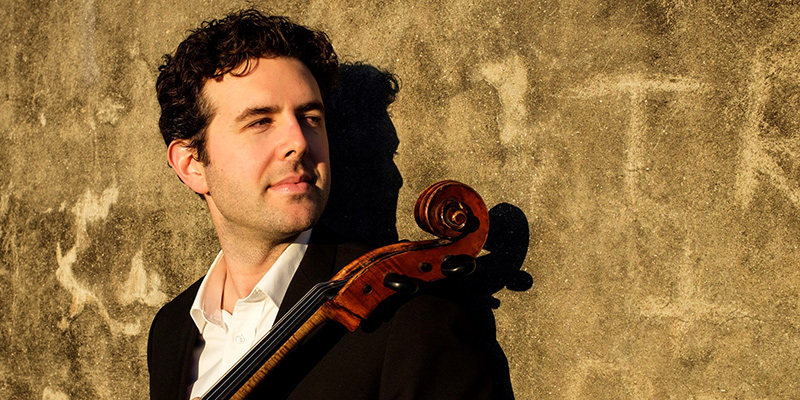 Monday, April 29
Our final day in Miami began with a quick rehearsal to polish a few corners in our tour programs. Later that afternoon we packed away our concert clothes and instruments in cargo trunks. A symphony orchestra does not travel lightly and there are cellos, double basses, harps, brass and percussion equipment that all need to be driven to New York. Our wonderful production crew helped us stow our instruments in protective trunks so they'll arrive safely!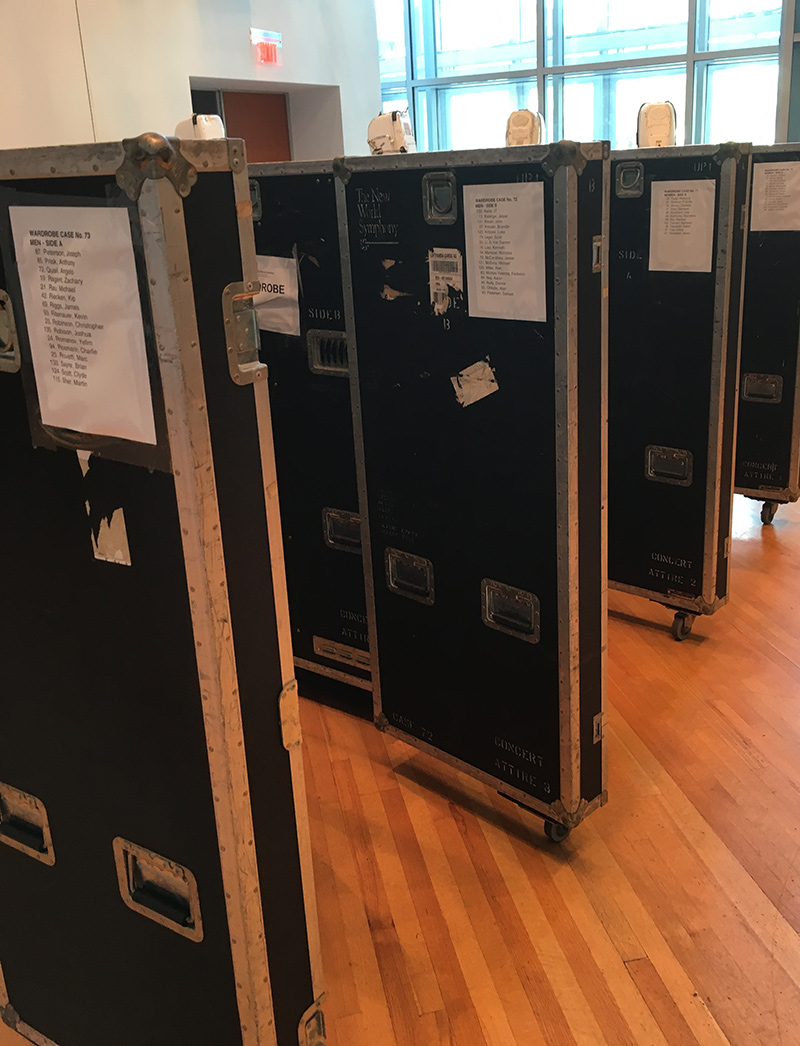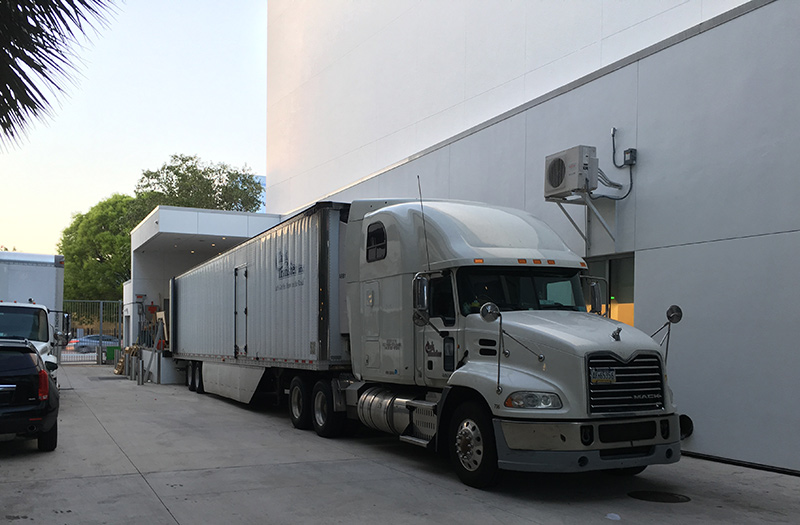 Tuesday, April 30
On Tuesday morning we eagerly departed Miami Beach for New York, anticipation had been building for weeks and we were all very excited to be on the road. The orchestra was abuzz with discussion of where to eat and find good coffee, thankfully NYC has no shortage of either!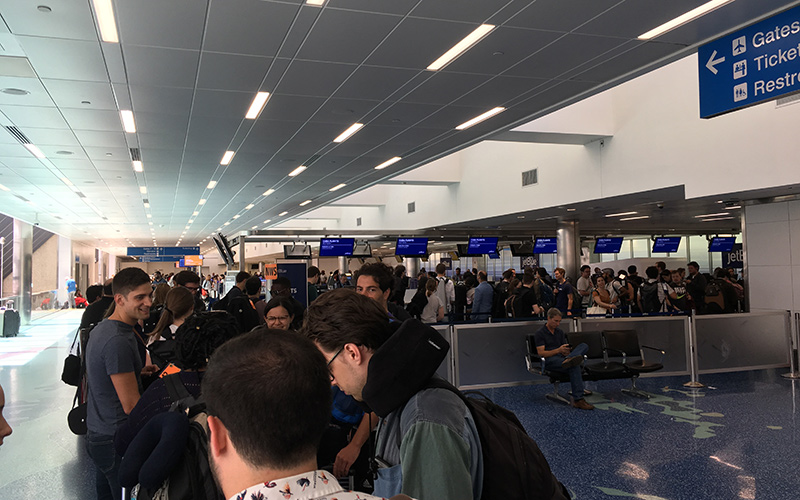 After a smooth flight and coach ride, we checked-in to the beautiful Parker Hotel, mere steps away from Carnegie Hall and with beautiful views of Central Park.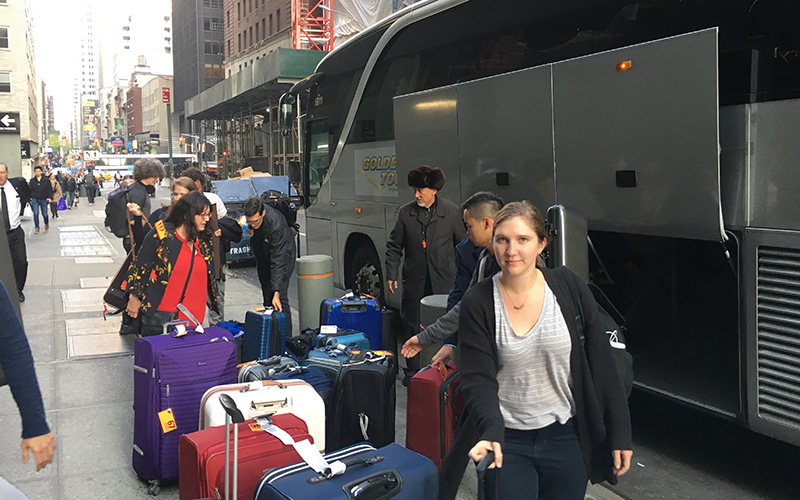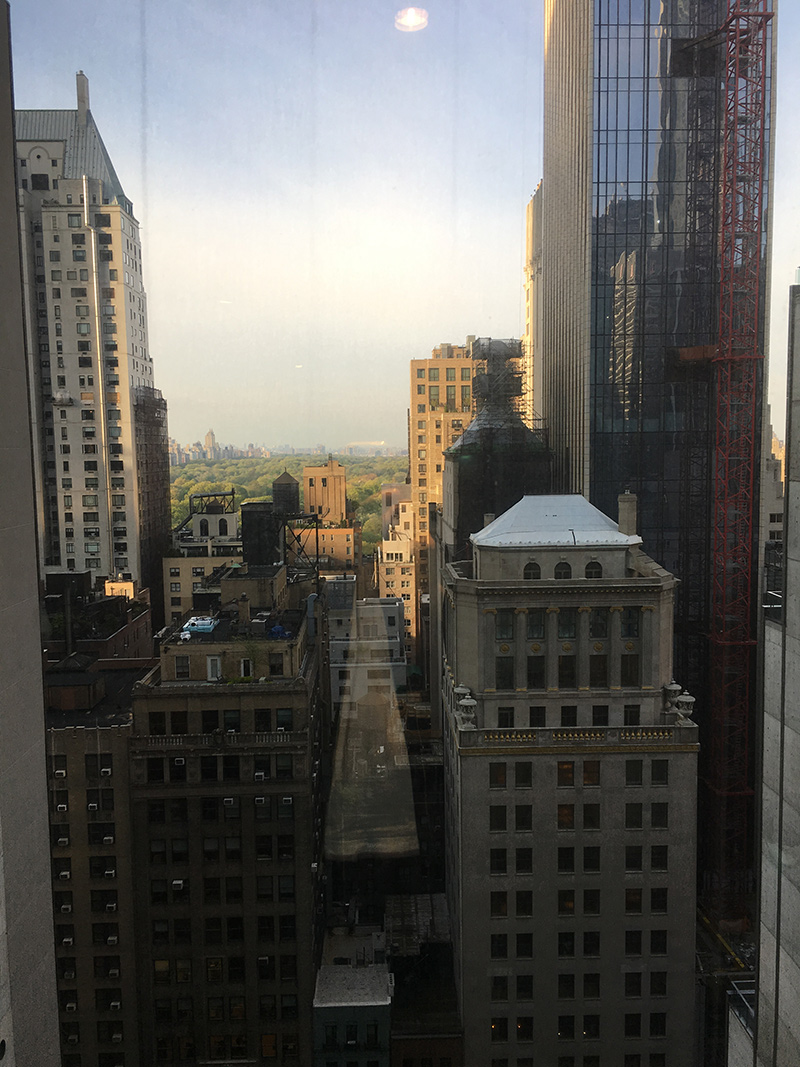 I immediately left the hotel to meet my sister, who along with other relatives, had made the long journey from all corners of the globe to see my first performance at Carnegie. We all walked down to the great food hall at Urbanspace Vanderbilt for a delicious meal at Roberta's pizza followed by walk back through the city.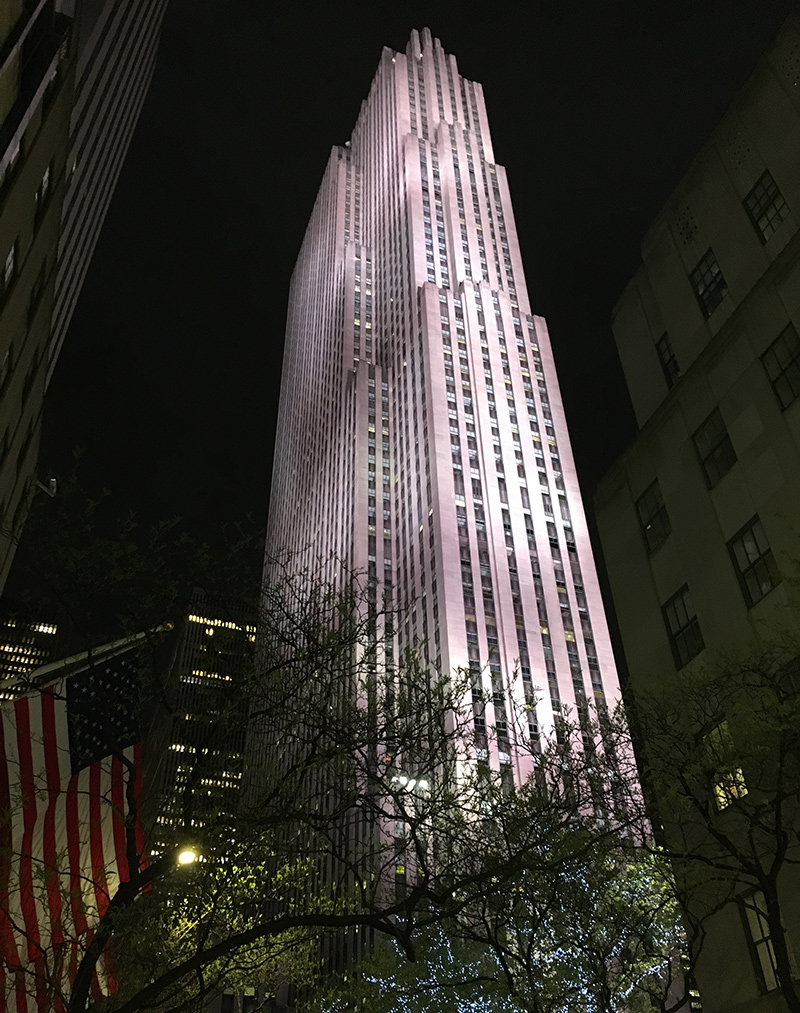 Wednesday, May 1
As my NWS colleagues will attest, Australians are pretty coffee obsessed--usually searching out the best places in any given city. This morning I decided to check out Little Collins, named after a street in downtown Melbourne.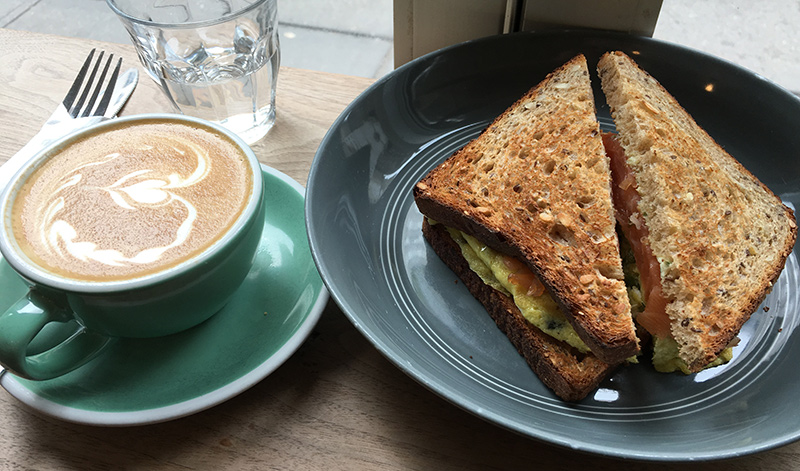 After a delicious breakfast, I met my sister for a walk through Central Park. Having only visited NYC in the wintertime, spring was a beautiful contrast with the park abloom and full of green. After our refreshing stroll, it was time to get to Carnegie as our instrument trunks had arrived.
The wealth of history at Carnegie hall is immense. Upon entering the backstage hallways you quickly notice the walls adorned with signed posters from classical music titans--Pablo Casals, Arturo Toscanini, Leonard Bernstein, etc. To play on this stage is a real privilege!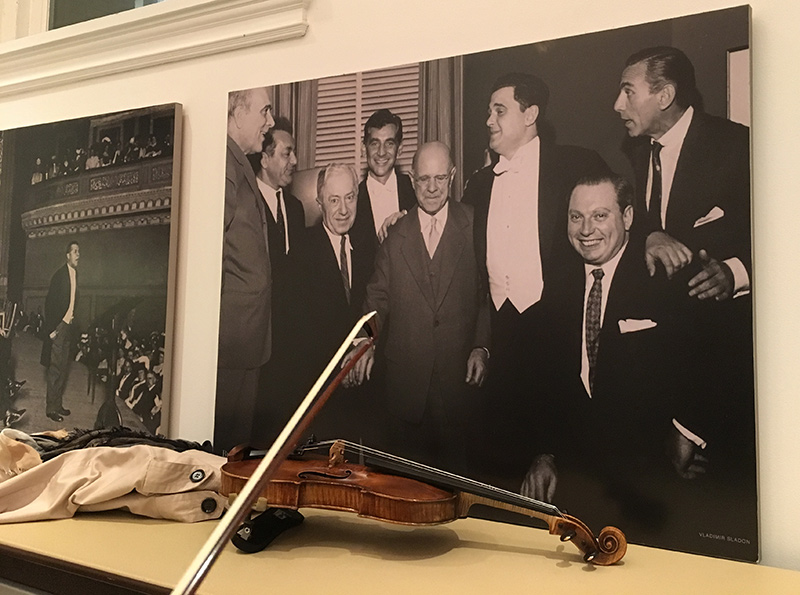 Stepping into Stern Auditorium for the first time, I was struck by the elegance of this beautifully gilded hall. The sound on stage is particularly warm and velvety. It takes a slightly different playing approach to what we were used to, but the orchestra quickly adapted over the course of the rehearsal.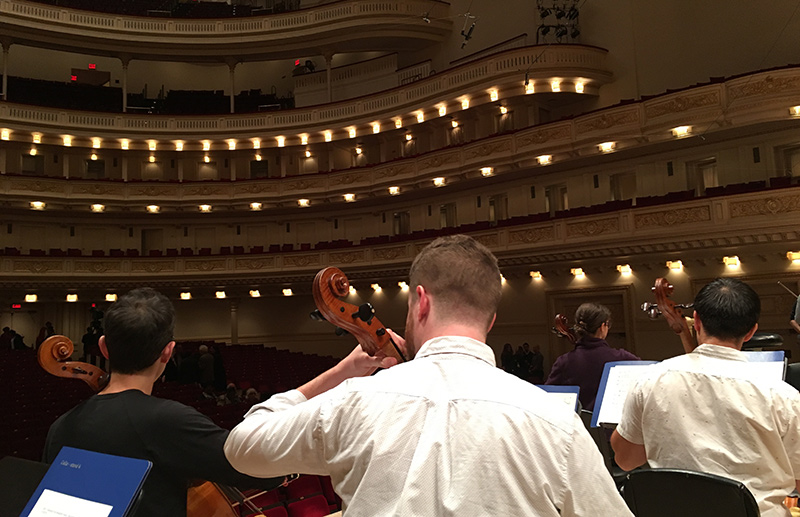 The concert that evening was quite an experience. Playing to a sold-out hall was very special and our audience was extremely receptive and enthusiastic. MTT masterfully led us to deliver an exciting and rousing performance!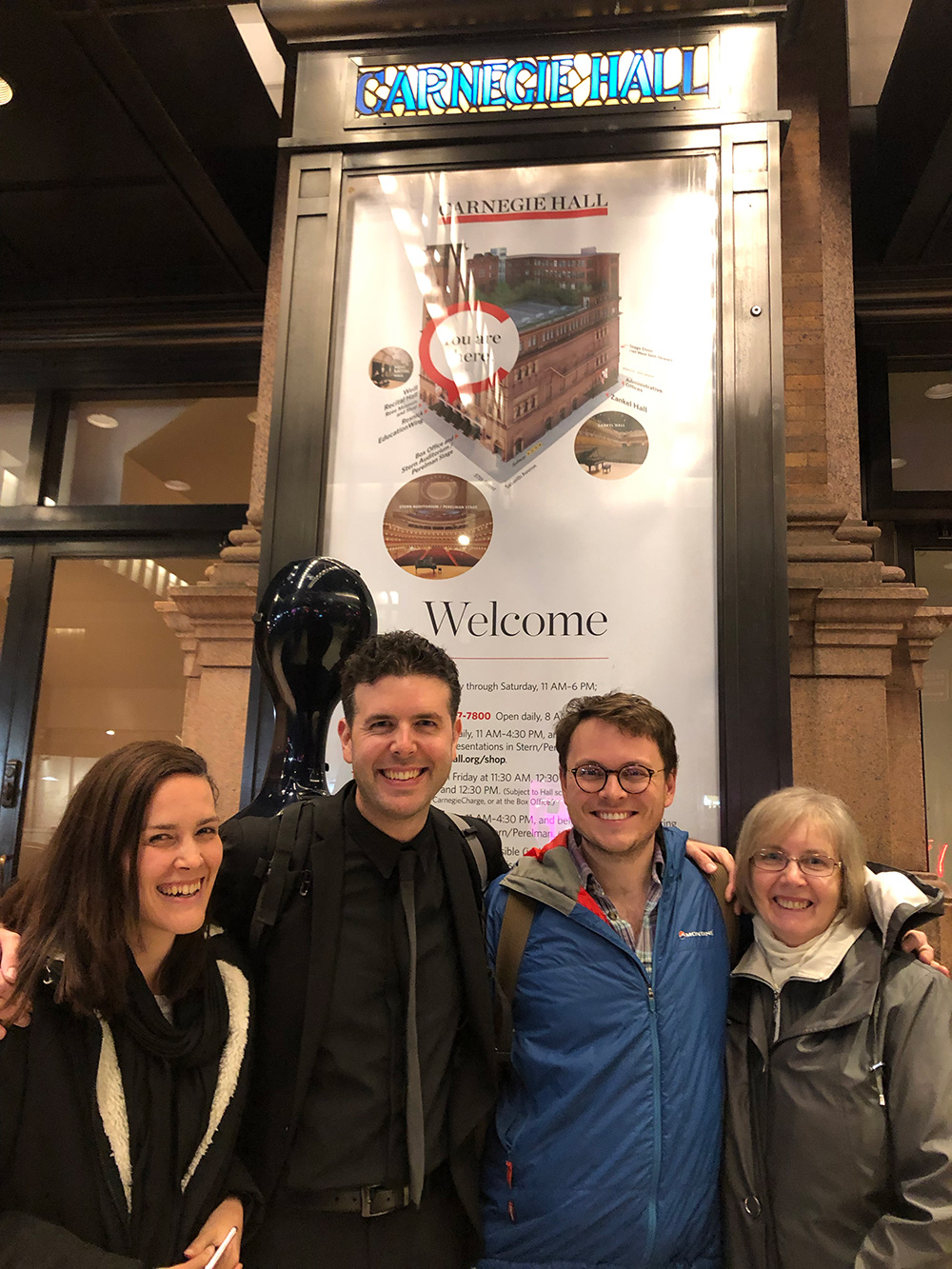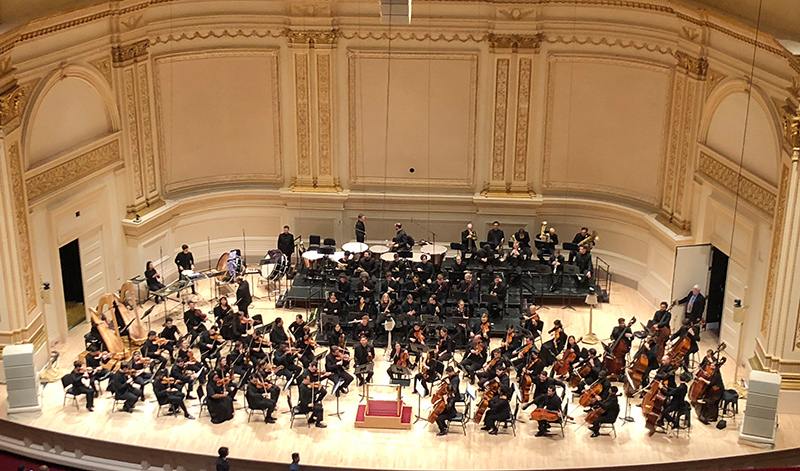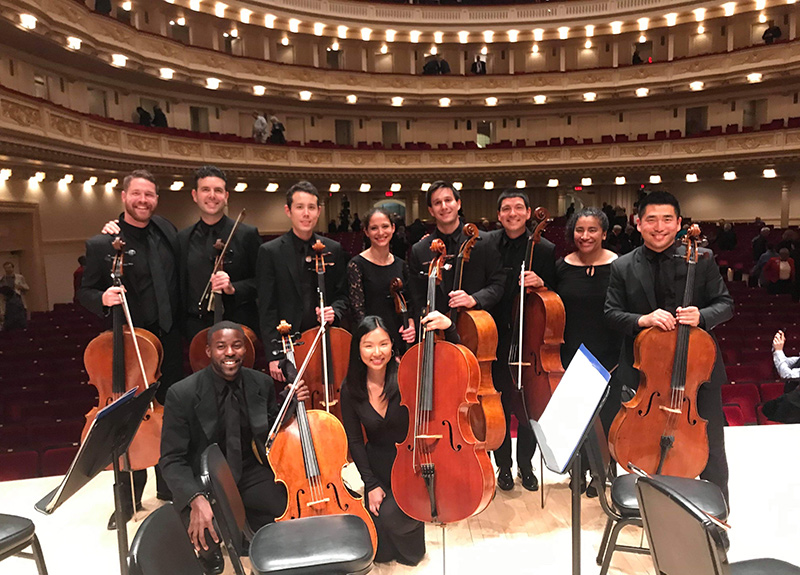 I must make a special note about the black performance shirts the gents wore for both concerts. They were supplied by Coregami and designed specifically for performing musicians. Made from a flexible stretch fabric, they were very comfortable and liberating to play in, and provided a much greater range of movement than regular dress shirts.
Thursday, May 2
Our second concert day began with a quick breakfast at Bluestone Lane, another Australian coffee shop selling cafe classics like avocado toast and lamingtons.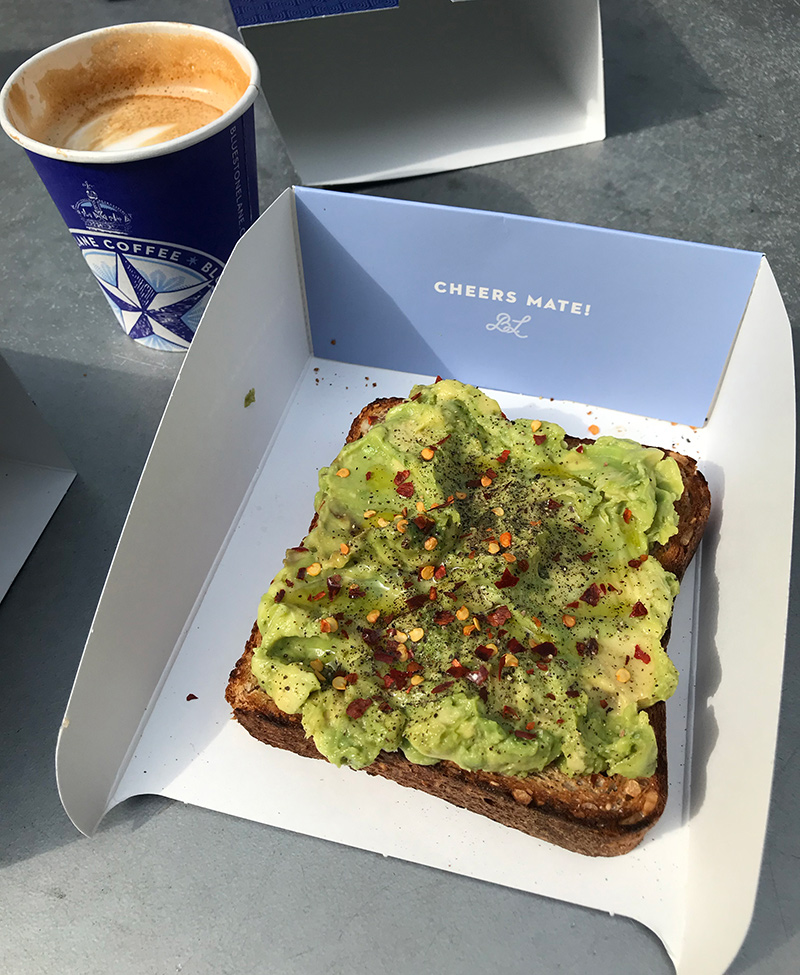 Once fueled for the day, we returned to Carnegie for our dress rehearsal in Zankel Hall, the medium-sized venue among the three halls at Carnegie.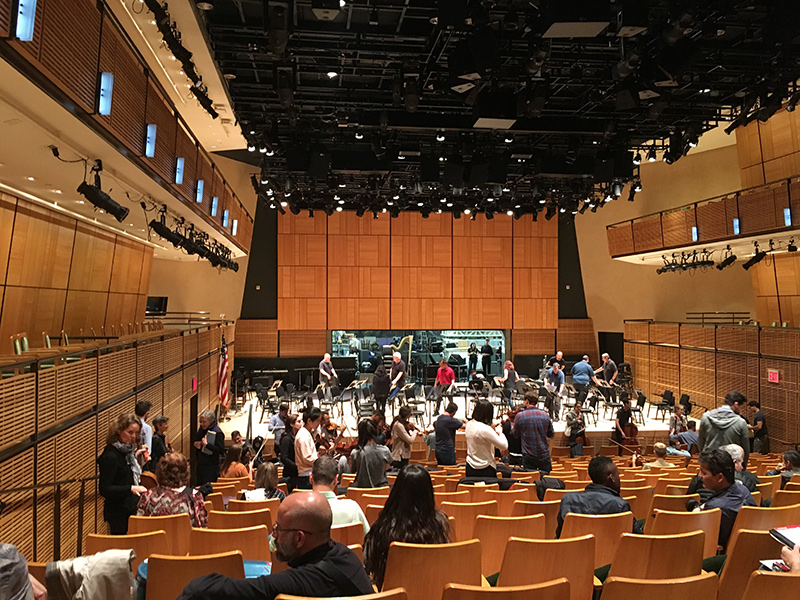 It was such a warm spring day that a long walk was definitely in order! I made my way to the West Village and explored the charming streets, ending up in Washington Square Park before meeting my family for a long lunch at the Union Square Cafe. Following an afternoon nap, it was time for a little practice then get ready for the concert.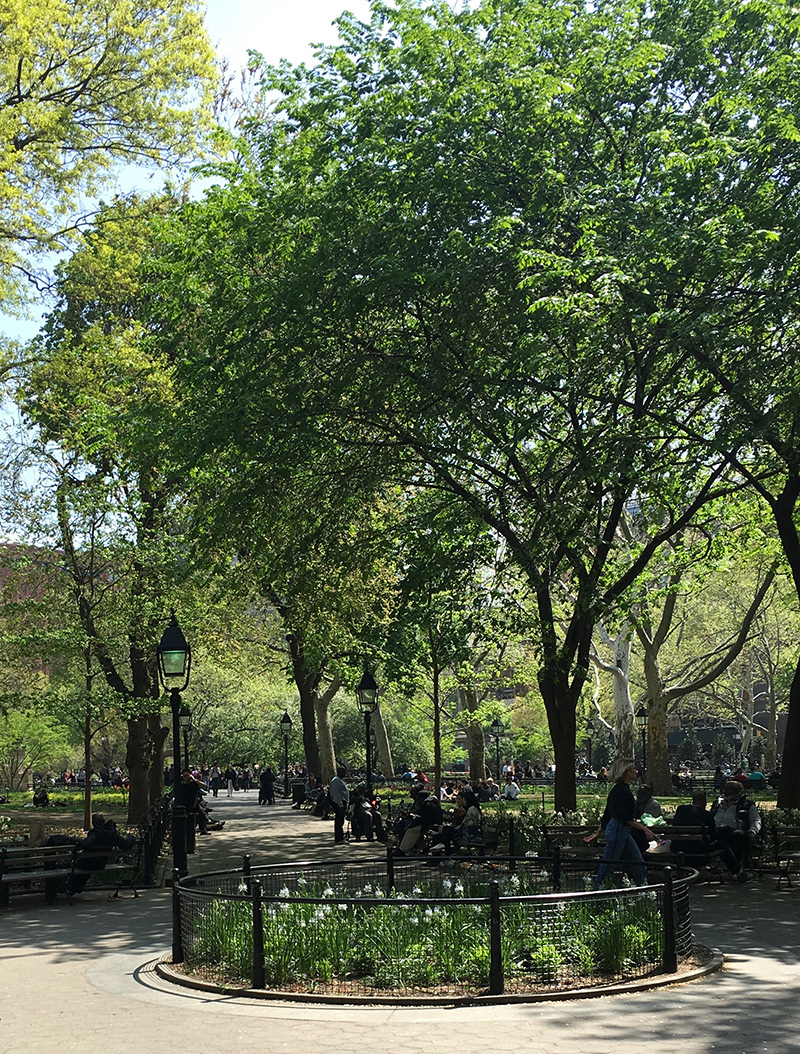 We played for yet another sold out audience, which included the esteemed American composer, Steve Reich. I know most of us have been playing his works for years so it was very exciting to have him in the audience for our concert.
Friday, May 3
Our last day in Manhattan began with one final walk through Central Park. After breakfast we said goodbye to most of the orchestra.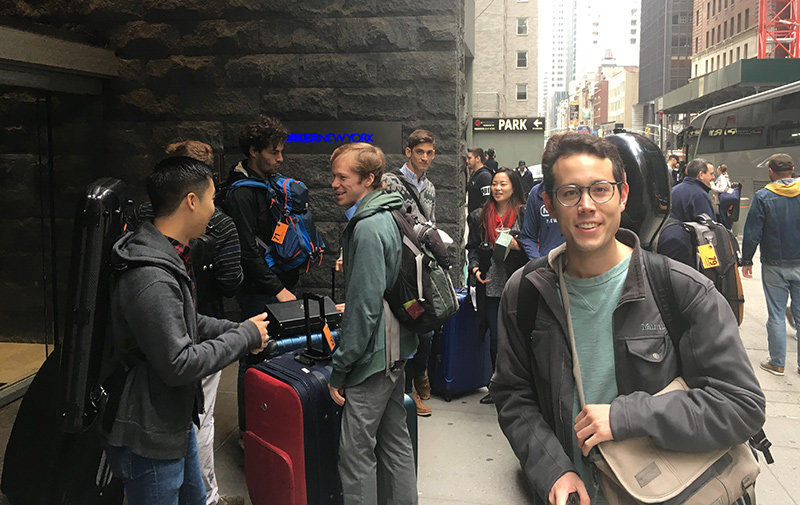 While they were returning to Miami, a small contingent consisting of myself and 11 other fellows made their way out to Southampton for a performance at the Parrish Art Museum.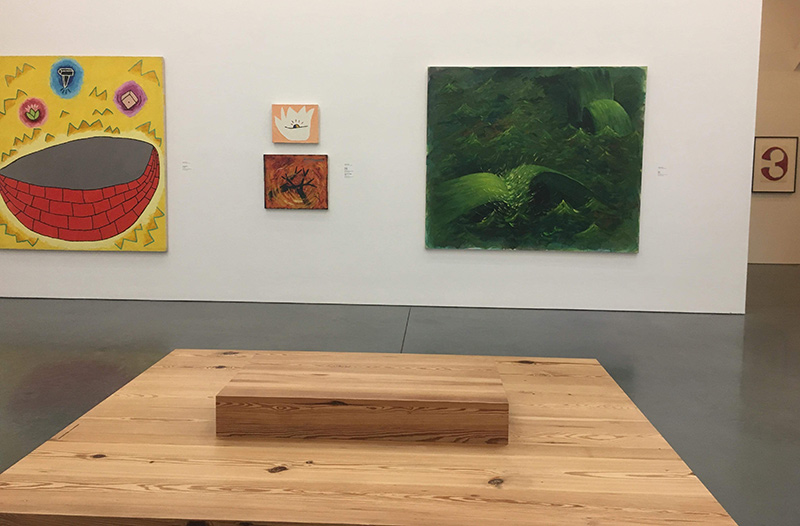 The Parrish is a brilliant space set in a beautiful meadow. Open since 2012, the building is incorporated naturally into the surrounding landscape. We performed an array of chamber music works in the Parrish's regular concert series, again to a wonderfully appreciative full-house.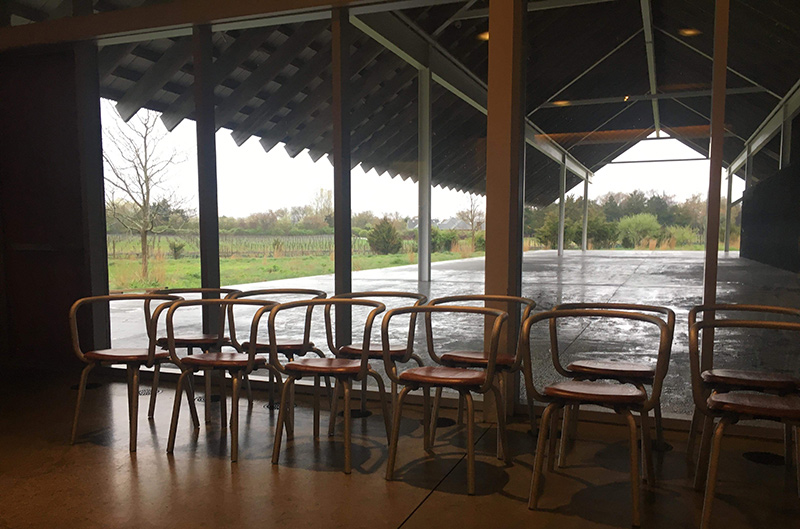 Following the performance, Louis and Susan Meisel, avid supporters of the NWS, generously hosted a reception at their home. Susan prepared a most incredible meal that included salmon, lamb, beef….safe to say, no one left hungry!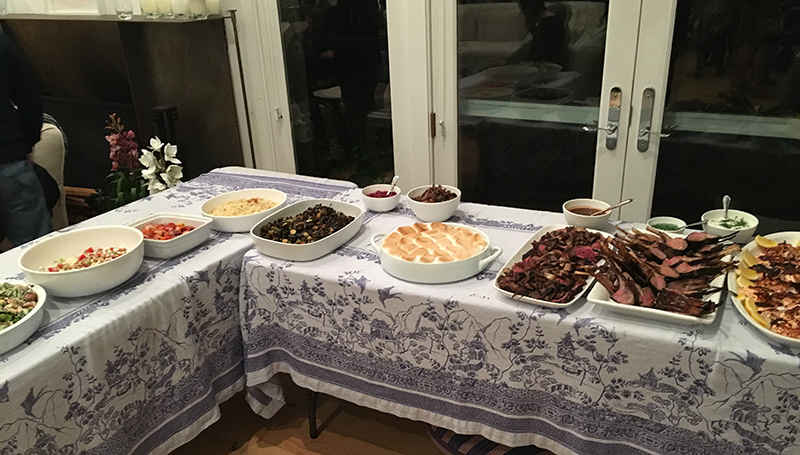 Saturday, May 4
The final morning in Southampton provided a chance to walk down to the ocean, admiring the grand homes along the way.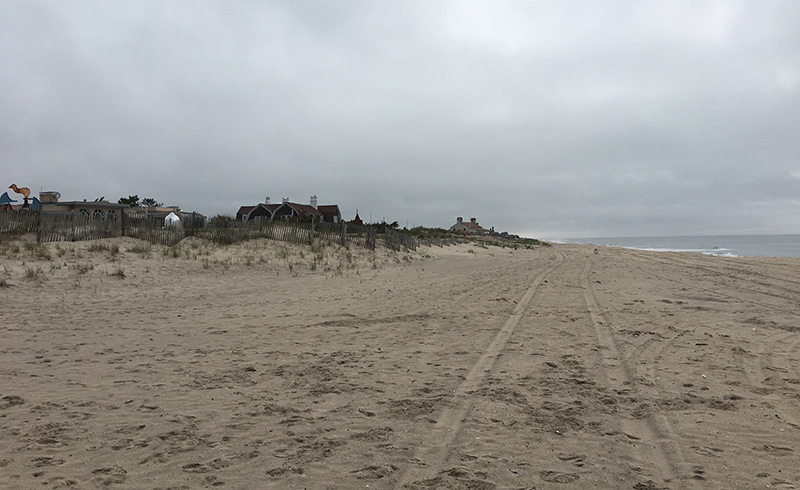 After breakfast, we headed back to JFK to catch our flight back home. Some unexpected traffic delays meant we wouldn't have much time to check in and make our flight, however any stress was immediately relieved upon arrival when we were greeted by our amazing tour manager, Kevin from TravTours, who had already checked us all in and was waiting with our boarding passes and baggage tags in hand.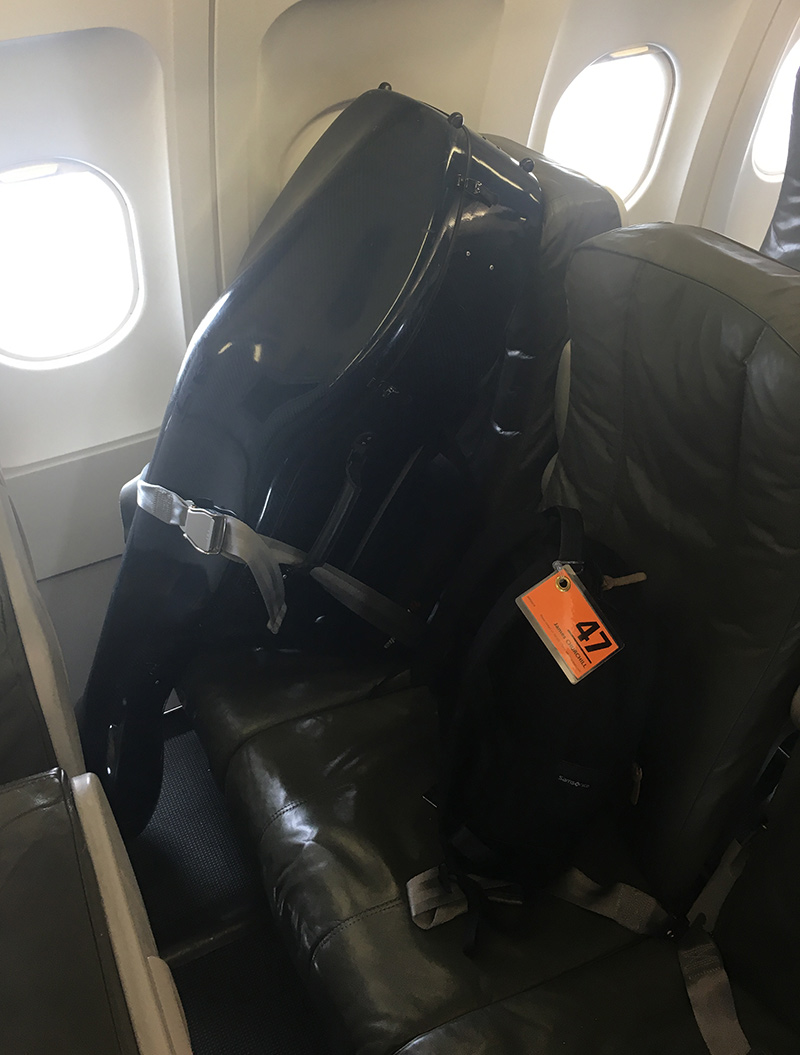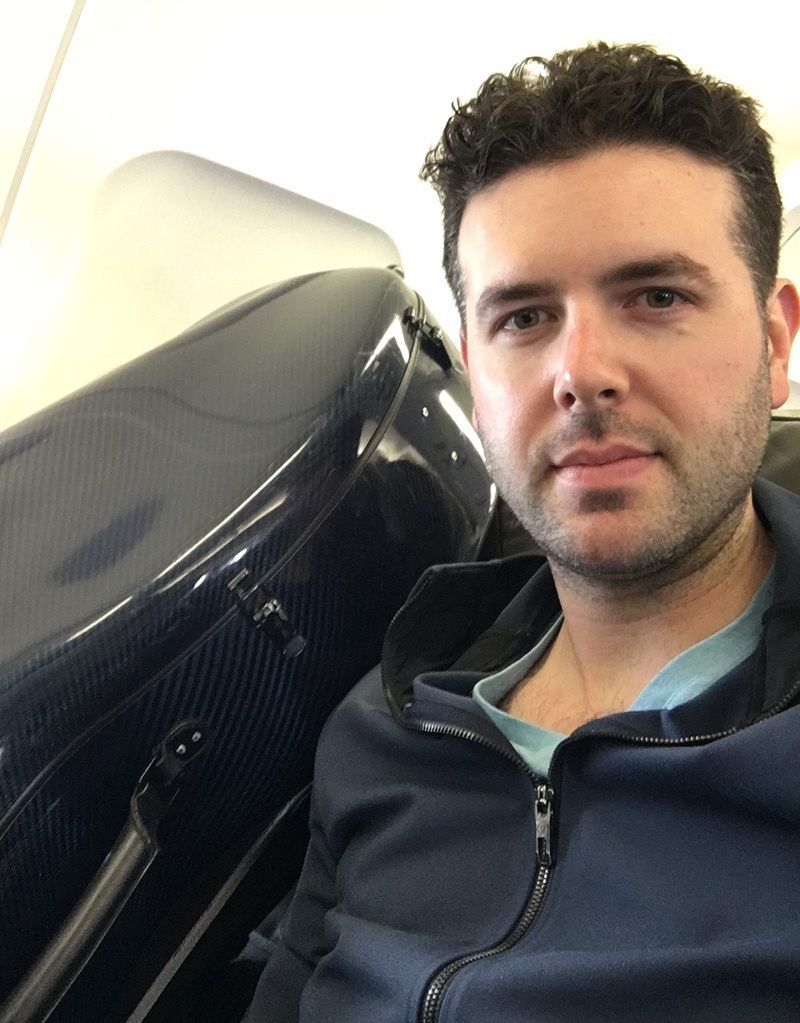 We flew home, exhausted but still on a high from the past few days. It was an experience I won't be forgetting soon.
Posted in: 2019 Carnegie Tour, Concerts, Fellows, Travel Journal
---