News
December 20, 2018
From the Fellows: Join us at Impromptu!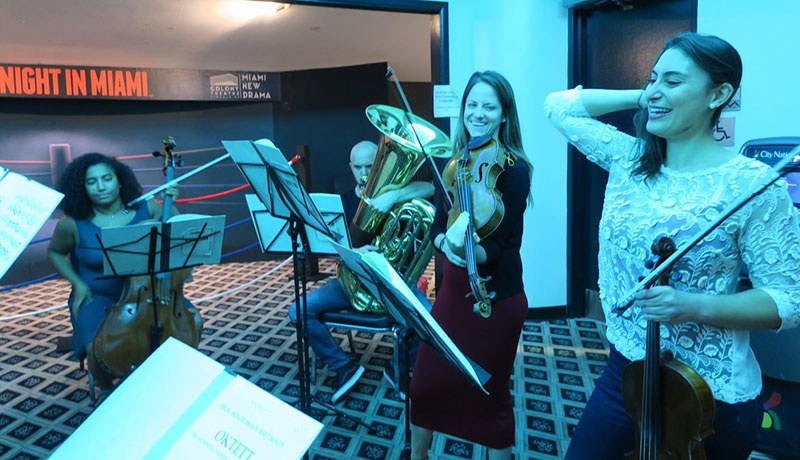 What do you get when you mix a bunch of musicians, an informal setting, wine and YOU the community? Why, you get Impromptu of course! Impromptu is a concert series very near and dear to my heart as it is our opportunity as musicians to ditch the formal setting of concerts, try out new and fun material that we don't normally get to play, and to really get to know you, our community and audience. Our night is divided into two sections, half pre-prepared performances of all types of music from various NWS Fellows, and the other half an anything-goes or "impromptu" (eh? Eh? Get it?) batch of performances. The second half is where you, the audience, come in! We invite YOU to pick up that trumpet, or bring that violin gathering dust in the corner of your closet (you know the one) and join along sight-reading, improvising, jamming right along with us! One Wednesday every month at 8:00 PM, we set up in the lobby of The Colony Theatre and proceed to see what happens!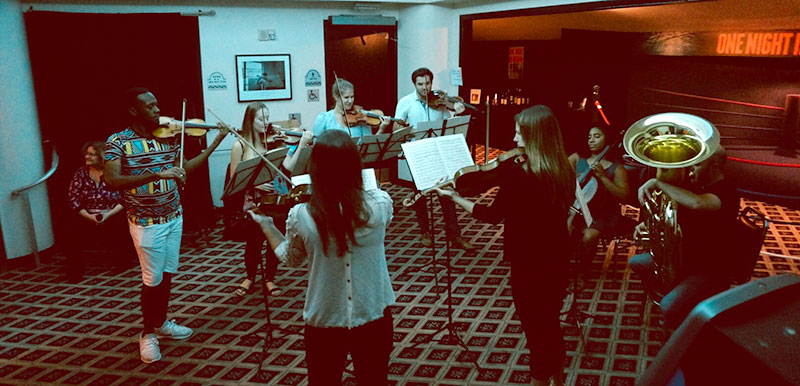 We've had two Impromptu performances so far this season and they both have been any absolute blast! Above are pictures from our first event. I myself performed a movement of the Mendelssohn Viola Quintet with Fellows Michael Turkell, Chava Appiah, Stephanie Block and Erica Gailing. We were then followed by our resident Tuba Fellow, Evan Zegiel, who performed a piece (HE WROTE) for electronics and tuba. The whole building was shaking! After the planned part of the night was done, other Fellows joined for some fun sight-reading, and because we were short a cellist, our amazing tubist stepped in to read the Mendelssohn Octet with us and killed it! This is just the type of thing that can happen at Impromptu!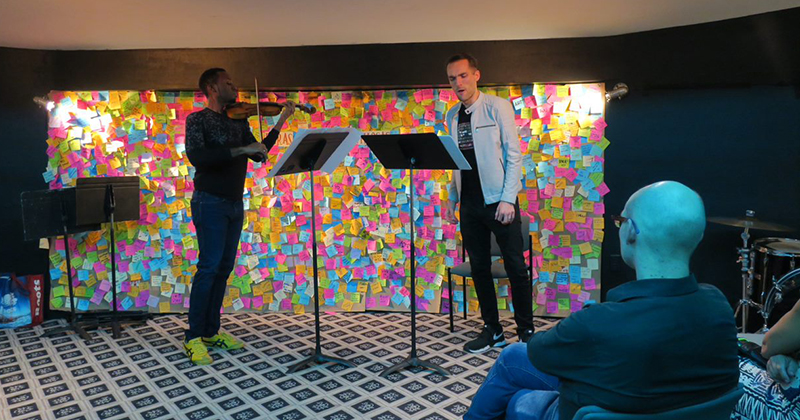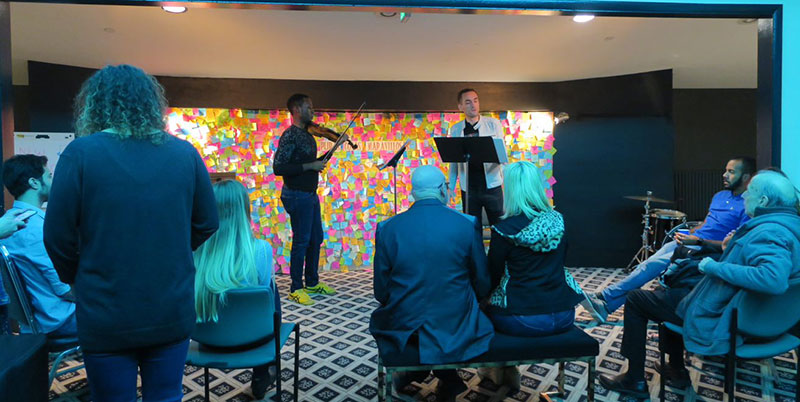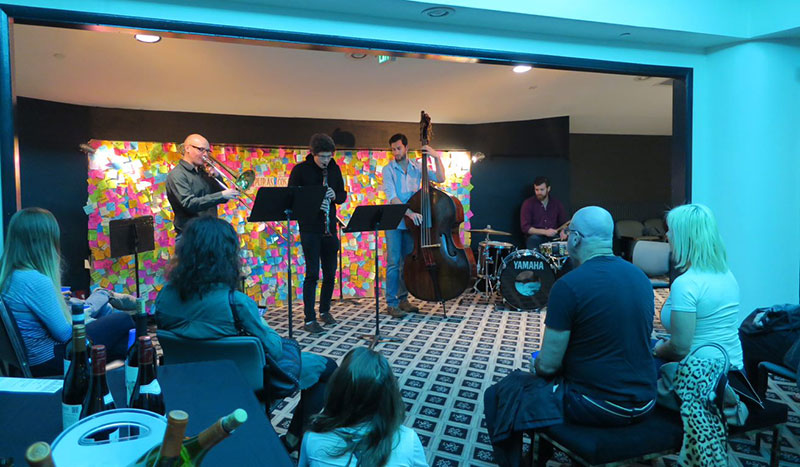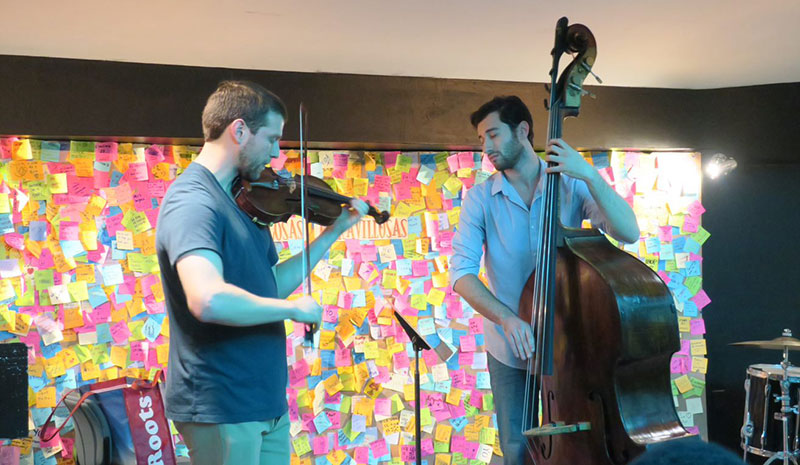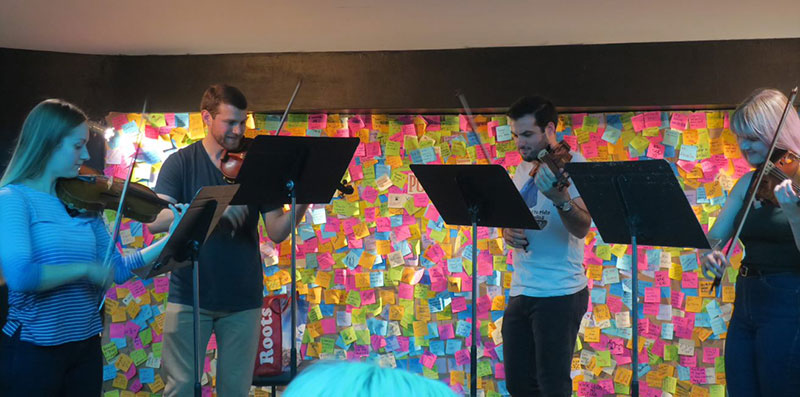 Our second night was just as fun! Violin Fellow Teddy Wiggins performed beautiful violin and voice duets with his husband, Nathaniel Voth. They were then followed by a jazz quartet comprised of Fellows Joe Peterson on trombone, Jesse McCandless on clarinet, Douglas Aliano on bass and Erich Rieppel on drum set. Normally these Fellows only have a chance to perform classical music, so it was a nice change of pace! Next up was the open portion of the night where Fellows joined in to improvise some Klezmer tunes and sight-read some classical quartets!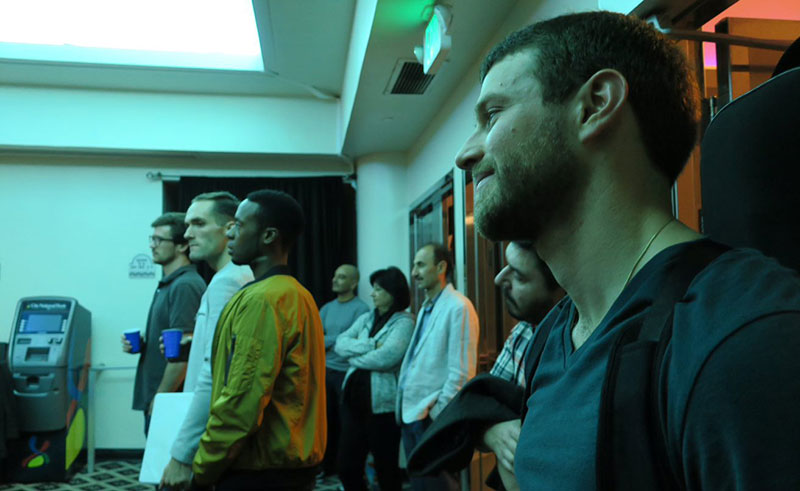 These nights are always full of fun, laughs and good music. Anything can happen, so make sure you don't miss it! Bring your instrument, bring your friends, bring your love of music, and we'll make a night to remember.
February 20 at 8:00 PM, The Colony Theatre
March 13 at 8:00 PM, The Colon Theatre
Click here to follow the Impromptu Facebook page!
Posted in: Community Engagement, Events, Fellows
---