News
January 4, 2019
From the Fellows: Tales from the Harp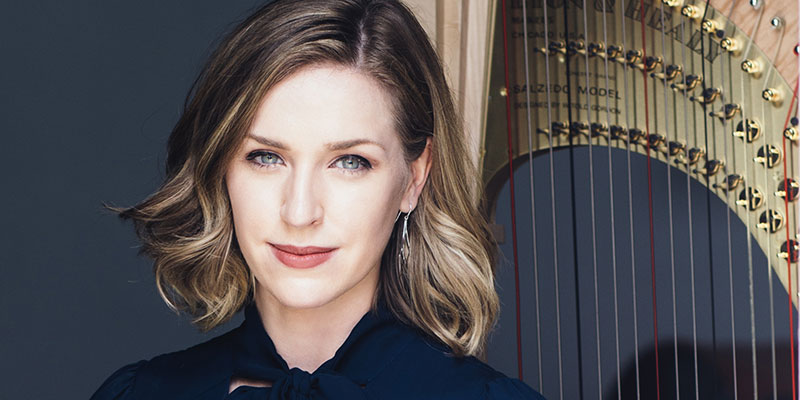 Photo by Ekaterina Juskowski
Harp Fellow Chloe Tula is bringing Tales from the Harp, an exciting yearlong recital series she created, to branches of the Miami-Dade Public Library. In each performance, Chloe presents a unique one-hour program for all ages, blending attention-grabbing harp solos and storytelling. Presented in an intimate environment, these programs offer a chance to get up close and personal with the harp. All concerts are free and open to the public, but a donation of a book or any monetary amount is encouraged and welcome. All proceeds go to the Miami-Dade Public Library System.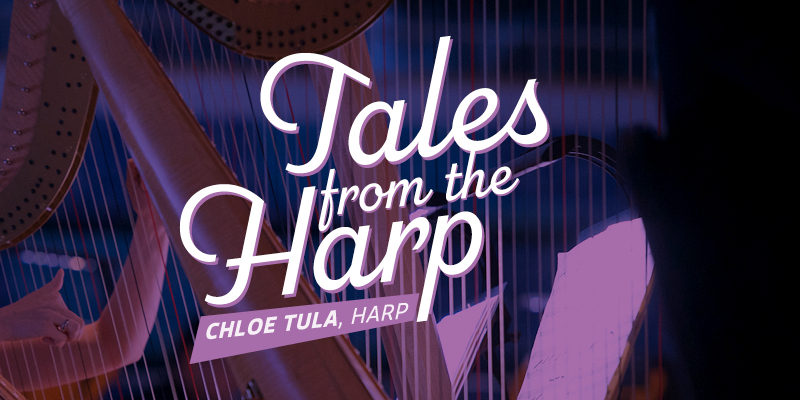 Sunday, January 6 at 2:00 PM
Miami Beach Regional Library
227 22nd St., Miami Beach, 33139
Sunday, March 3 at 2:00 PM
West Kendall Regional Library
10201 Hammocks Blvd., Miami, 33196
Sunday, March 10 at 1:30 PM
Lemon City Branch Library
430 NE 61st St., Miami, 33137
Sunday, April 28 at 2:00 PM
North Dade Regional Library
2455 NW 183rd St., Miami Gardens, 33056
Chloe shares her inspiration behind Tales from the Harp:
Despite going into orchestral music, I've always enjoyed performing solo; preparing for solo and studio recitals were always what propelled me forward in my studies. Conquering "the next big piece" always inspired me to practice more and absorb as much as I could in lessons with various teachers over the years. Playing the harp is such an exciting instrument; it's eye-catching, versatile, and really fun, and all of that translates well into solo work. In my path to becoming an orchestral musician, I've realized that the solo side of my playing has diminished.  At times over the last few years I've felt like I have had to choose between preparing for a rare orchestral audition (there are 1-2 harp job openings each year) or preparing for a solo competition or recital because the stakes have been that high. So much work goes into both types of music and preparing both concurrently is taxing… or so I thought.
Through coaching sessions, discussions with my incredible colleagues, and a lot of self-reflection during my first season at NWS, I realized all of the pressure was coming from myself. And if you had to choose between putting pressure on yourself and not, well, the answer is obvious! Let me back up and explain. All of these "high stakes" performances that I thought I had to throw myself into 100% to be successful are only "high stakes" if I think of them that way. That is to say, I was treating each audition, each performance as if my life depended on it. Which of course, is not true; the whole reason why most people go into music performance is because it's enjoyable and fun — not to constantly tell themselves that they'll never be good enough!
After this revelation, I decided to 'normalize' my performing, specifically some of the solo performing I have missed so much since getting more involved with orchestral playing. My goal this year was to make presenting a recital for 50-100 people feel like a normal, regular thing that I am perfectly comfortable doing. For me, part of that would be breaking down the barrier between myself and the audience and inviting them to be a part of my experience. It's far less nerve-wracking to casually present music to a group of friends for an hour than it is to stand up on a stage, look out into a dark abyss of an audience, and play a perfect recital. The same experience can be seen in two wildly different ways, depending on your frame of mind.
When I was looking back at my first year at New World Symphony, I realized one of my main frustrations was not getting to explore more of the city of Miami. Whether it was feeling restricted by a busy rehearsal schedule in South Beach, or perhaps being a bit intimidated by the thought of exploring a bustling city that I had only just moved to, I am not entirely sure. After countless performances with NWS in my first season, I was embarrassed to realize I knew hardly anything about Miami!
Now I had two ideas: an aspiration to create a solo recital series that was intimate as much as it was fun, and also bring my music to more of the city. So what was a consistent venue that would attract a large community audience? Libraries were the obvious answer.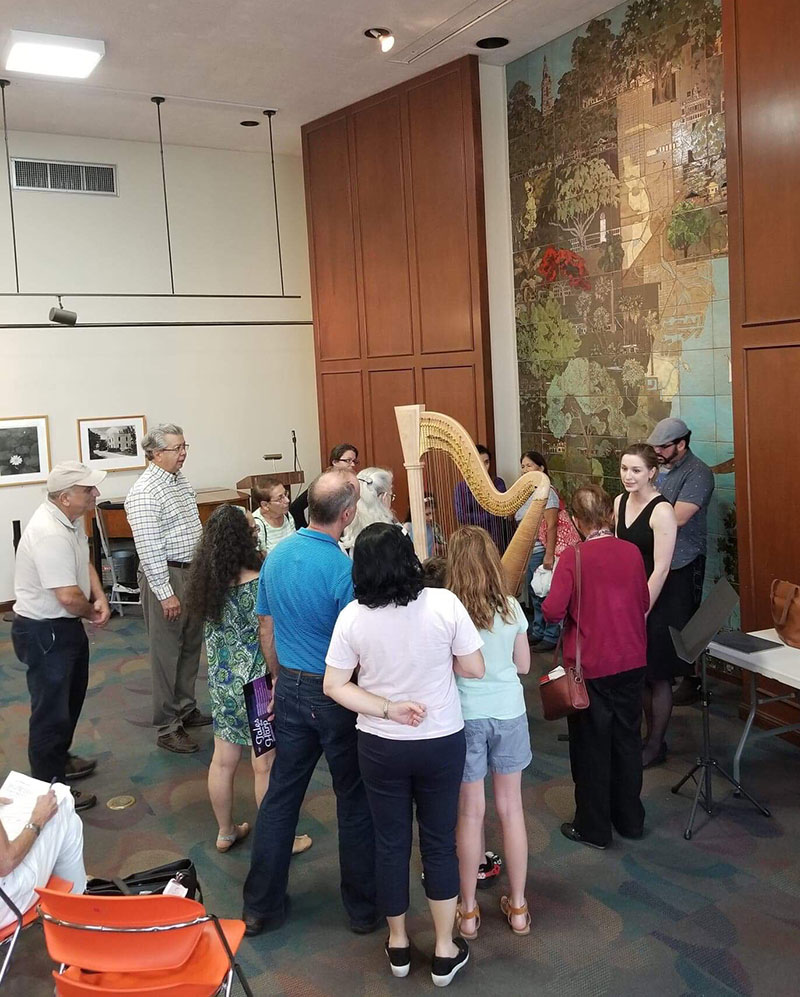 Miami-Dade County is so fortunate to have a thriving library system with over 50 (!) branches. Many of these branches have auditoriums or other large spaces to present lectures and recitals. I was so thrilled to find that the Miami-Dade Public Library System (MPDLS) was open to the idea of hosting my project this season, and I worked with them to select half a dozen branches that could host me between December and April, as well as a kick-off concert at Books & Books Coral Gables this past November. The repertoire for these concerts have all been different, as have the audiences. Some young, some old, some English-speaking, some not, but the consistent experience (so far at the first three) has been exploring awesome harp music together. Although I didn't design it this way, each concert has organically concluded with a Q&A session with the audience, where I answer questions about the harp and hear what people thought of the music I'd played.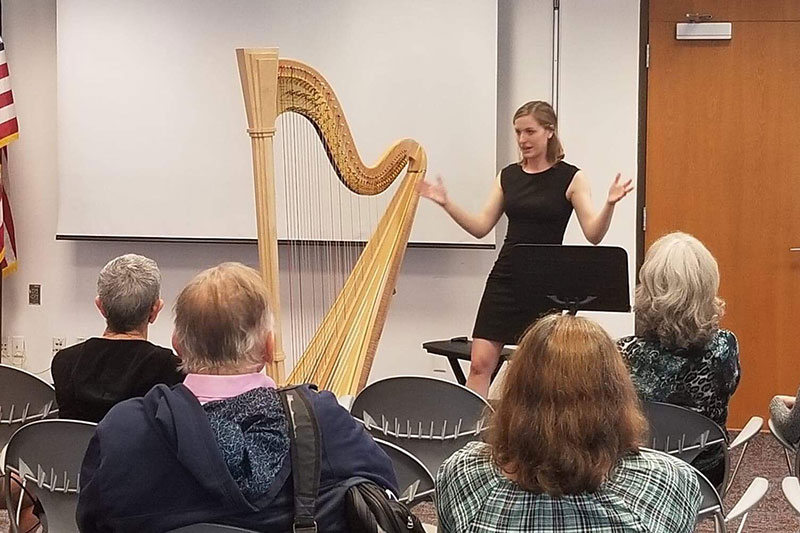 With four #TalesfromtheHarp concerts to go, I couldn't be happier or more excited. The staff at NWS has been terrific in helping me market and design my very first solo recital series. So far, I have reached over a hundred people, some of whom have never been to a NWS concert before. I started playing the harp because I saw someone playing it in a public space and they allowed me to get close and even play it; this has been something I've tried to carry on in these concerts by letting some of the younger audience members come up to my instrument. Seeing how the harp can spark imagination and musical ideas has really been the biggest reward from this, and in the meantime, all of the performance anxiety I imagined I'd felt has slipped away. I am speaking 100% honestly when I say these concerts have been a joy.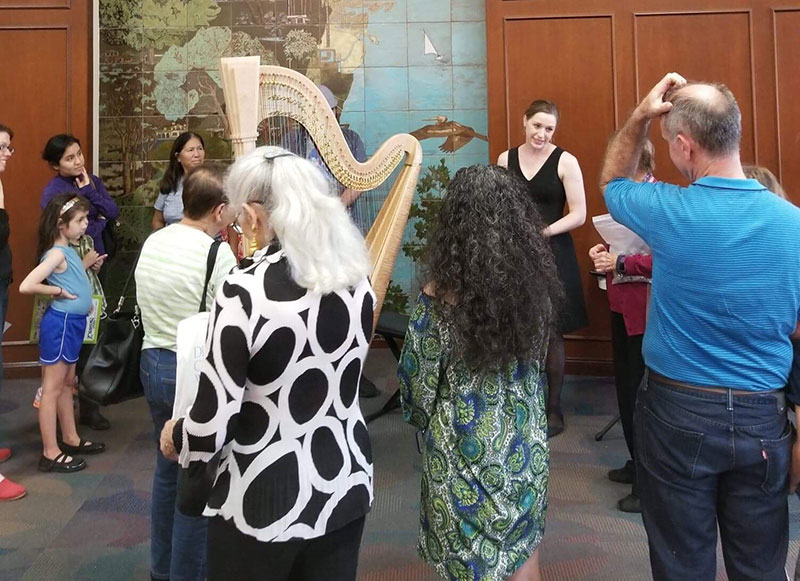 I hope to see you at one of the last four concerts of this series – the dates and locations are at the top of this post. Each recital is free and open to the public. If you have books at home you feel inclined to donate to MDPLS or a monetary donation for Friends of the Miami-Dade Public Library System, you are more than welcome to do so at each event.
Tales from the Harp is part of NWS BLUE. Standing for Build, Learn, Understand, and Experiment, NWS's BLUE program is a combination of leadership and entrepreneurship training and hands-on experimentation that provides NWS Fellows with a comprehensive skill set to complement their musical training.
NWS BLUE projects allow all Fellows to pursue musical activism based on their personal interests with their own original initiatives, from concept to execution. These special projects guide their continued development, while demonstrating music's ability to have a positive impact on the community, and benefiting South Florida programs and businesses.
NWS BLUE projects were made possible with support from the Maxine and Stuart Frankel Foundation and the American Orchestras' Futures Fund, a program of the League of American Orchestras made possible by funding from the Ann & Gordon Getty Foundation.
Posted in: BLUE, Community Engagement, Events, Fellows
---