News
November 27, 2018
From the Fellows: Travel Journal from Brazil
On November 5, Violin Fellow Autumn Chodorowski traveled to Brazil as part of a unique musical collaboration with the Bachiana Filarmonica Orchestra and NWS supporter Yara Perrotti. Autumn journaled daily to share the immersive cultural, artistic and musical experiences shared throughout the trip.
Monday, November 5
After a long eight-hour red eye, my plane touched down at the São Paulo International airport at 8:00 AM. Fueled by excitement and adrenaline (and maybe some coffee), I made it through customs to meet my amazing taxi driver, Vander. I spoke two words in Portuguese, and he spoke about the same in English, so we communicated with hand signals and over-enthusiastic nodding. After about an hour and a half of intense traffic, he delivered me safely to my hotel, and my trip had officially begun.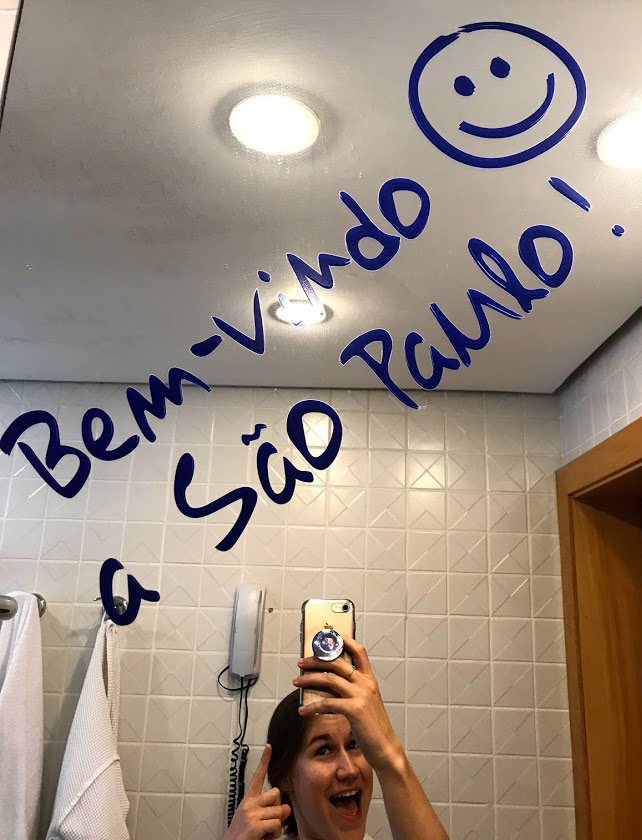 The next order of business was to practice. I was going to be preforming the first movement of Mozart's Violin Concerto No. 4 in about a week. The conductor of my piece, Sergei de Carvalho, met with me to discuss the score before we went to the first rehearsal with Bachiana Filarmonica Orchestra, which was created and is led by the legendary conductor and pianist Joao Carlos Martins!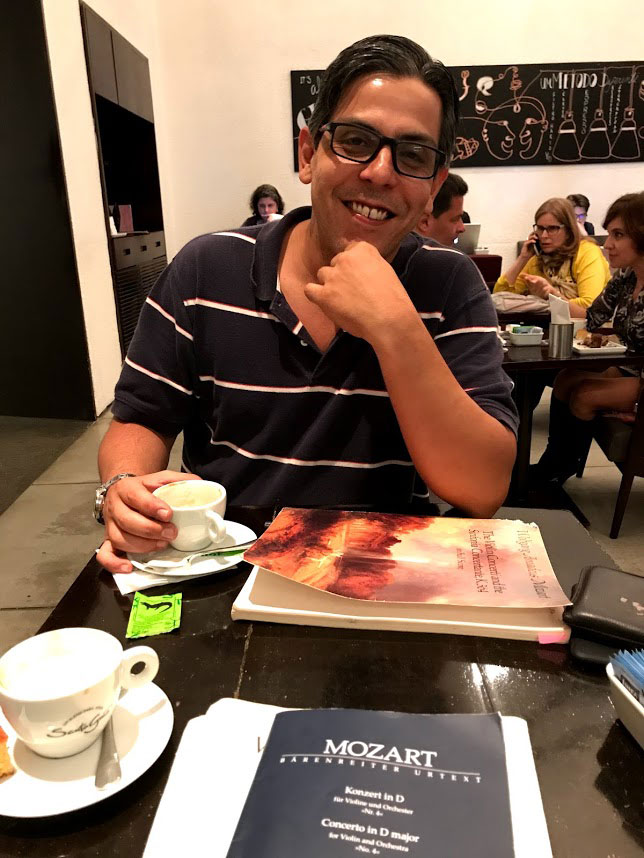 Everyone in the Bachiana was so friendly and the orchestra sounded great! (A theme of this trip: Incredibly warm, generous and amazing people!) I finally got to meet Matthew Thorpe, a New World Symphony violin alumnus who has been São Paulo State Orchestra's Assistant Principal Second Violin for the past 20 years.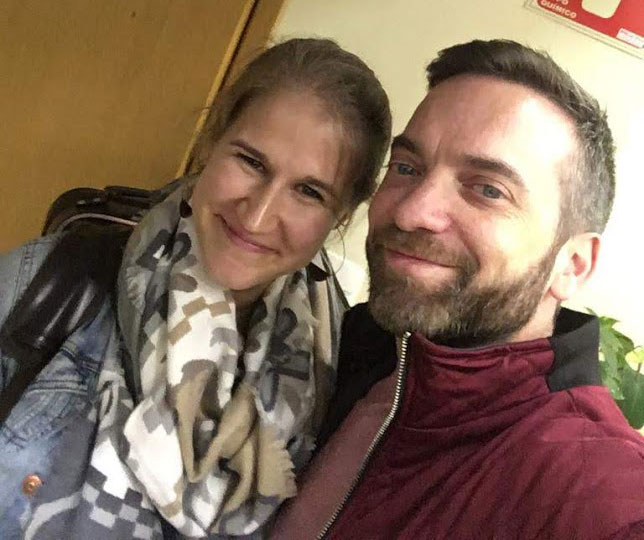 Tuesday, November 6 (Election Day!)  
I decided to take advantage of the neighborhood where I was staying and visit a nearby park that houses beautiful sculptures. Brazilian parks seemed to me to be almost mini rain forests. The trees are gigantic. It was impossible to capture the size and impressiveness of these trees in photos and believe me I tried.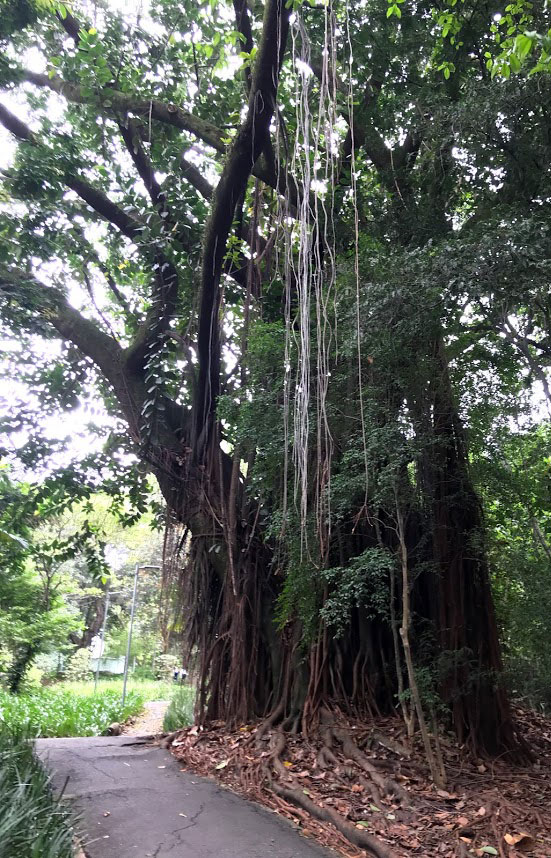 I walked only a little further to Café Colon, where the owner helped me pick out a coffee (all coffees come with something sweet on the side!) without milk and Brazilian cheese bread.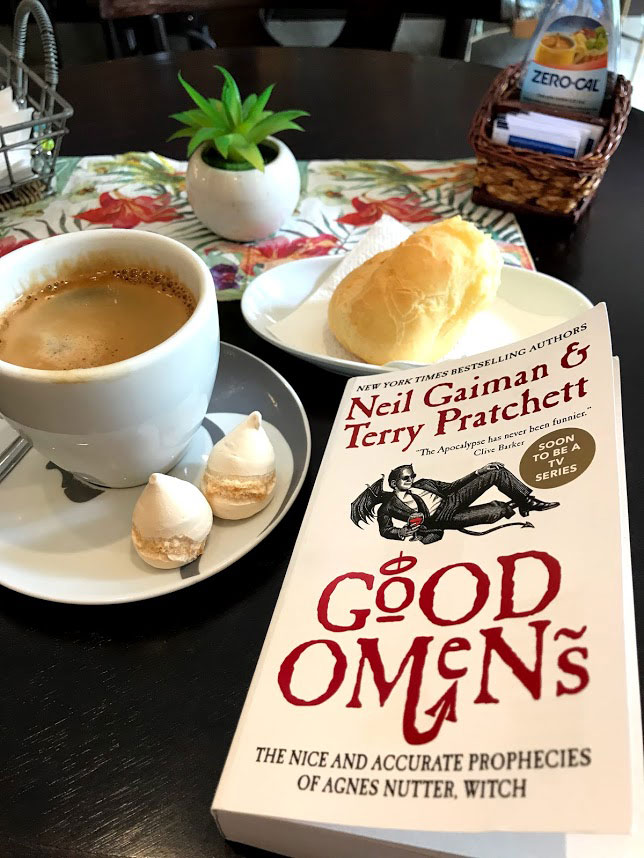 Did you know the New World Symphony Fellows have a book club? Here was our monthly pick: Good Omens by Neil Gaiman and Terry Pratchett. 
Wednesday, November 7  
Today I visited the Pinoteca do Estado, an art museum where the building itself was just as much of the art as the actual art it housed, which included modern, old-school, sculpture, paintings and video art. 

One of my favorite paintings, maybe because it reminded me of a certain piece of music, was Don Quixote e Sancho Panca by Jose Moreno Carbonero, 1911.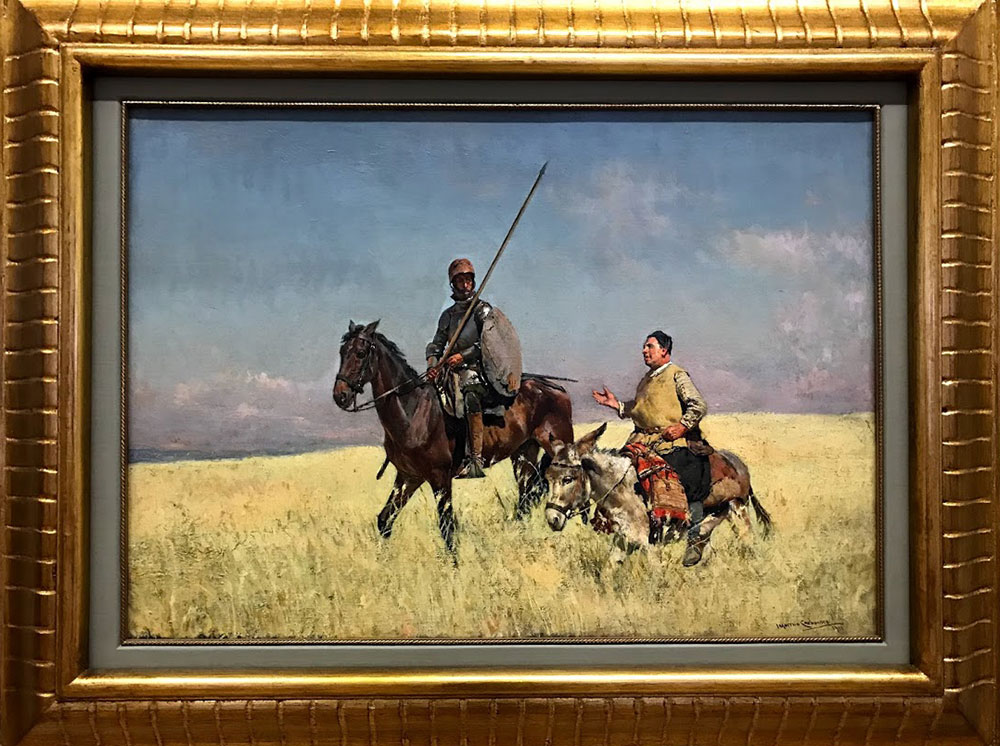 That night, Todd Huestess, NWS's Assistant Vice President of Development, arrived and we met Yara Perrotti, a generous supporter of NWS and head of the Conservatorio Beethoven, an after-school music program in São Paulo. Yara's late husband Miguel was a huge supporter of NWS and helped establish the connection between NWS and Brazil. The concert and my performance on Sunday not only served to make the connection between NWS and Brazil deeper, but was to also honor and remember Miguel and the love he had for this project.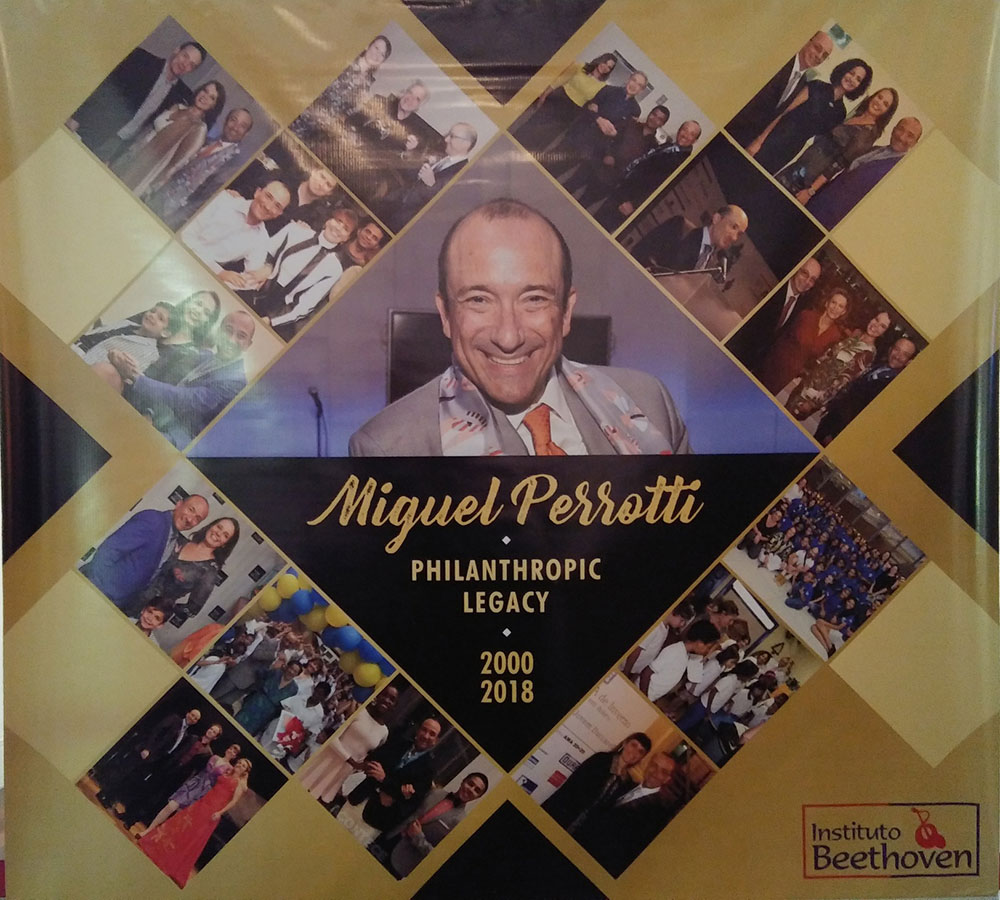 Yara invited Todd, Matt and I to dinner that night and we met at her home, where her six-year old son Victor took our picture (which for a six-year-old is not bad at all!) before we made our way to an amazing dinner.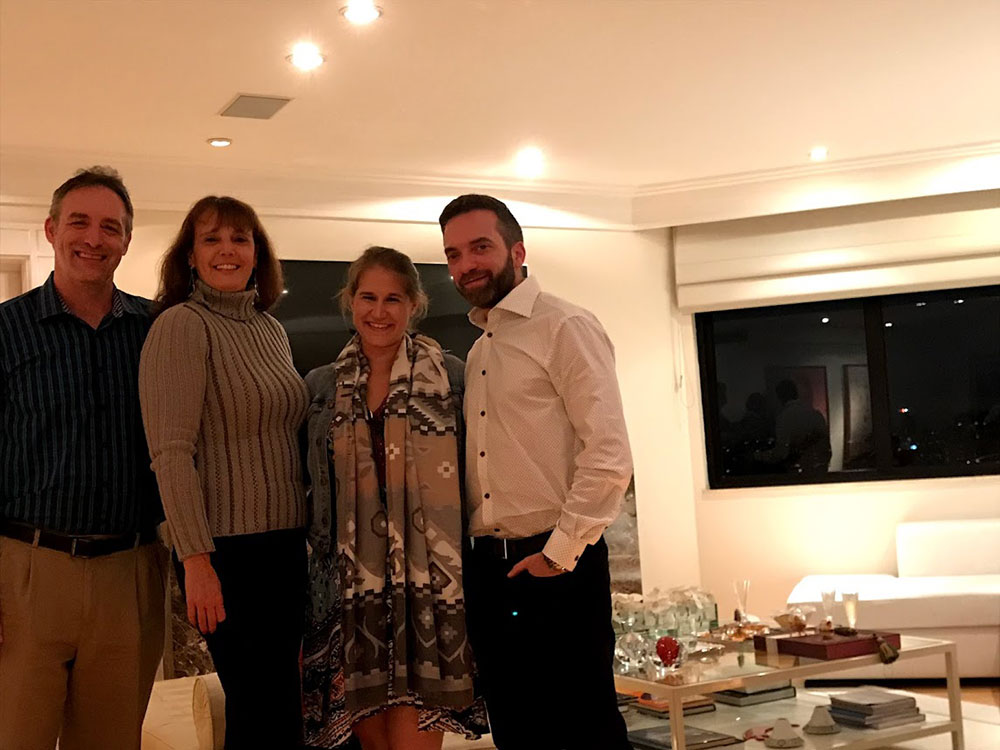 The restaurant she took us to was called "Mani Restaurant" and it was built around the biggest tree I had ever seen! It was a beautiful place, with delicious food and the company was incredible.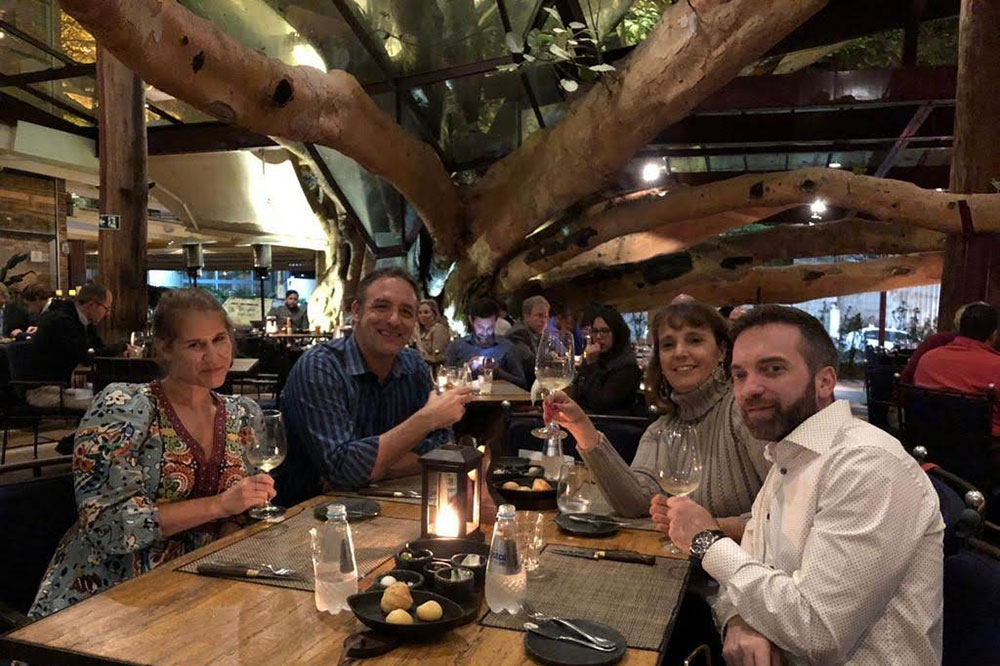 Thursday, November 8 
Today became a quick sight-seeing tour with my fearless leader and conductor, Sergei. He took me to lunch at the Club Athletico Paulistano, where I had some traditional Brazilian dishes, like cheese bread, Ensopado de Camarao (shrimp stew) and pineapple with lime shavings (the most refreshing thing I've ever tasted!).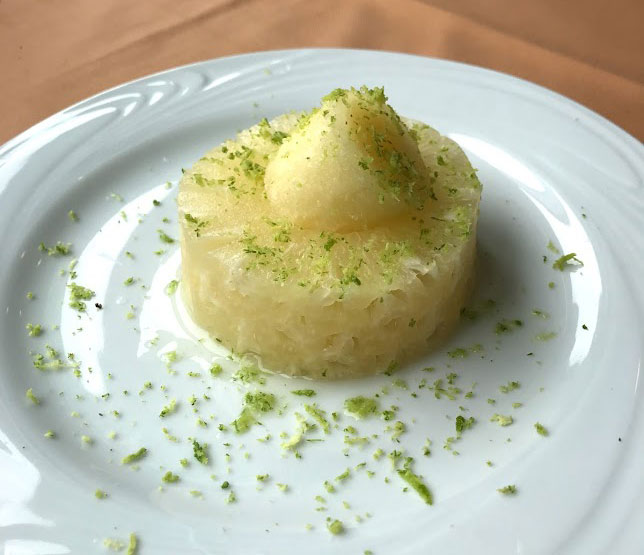 We also visited Boca Batman (Batman Alley), an alley-way over a mile long filled with street art.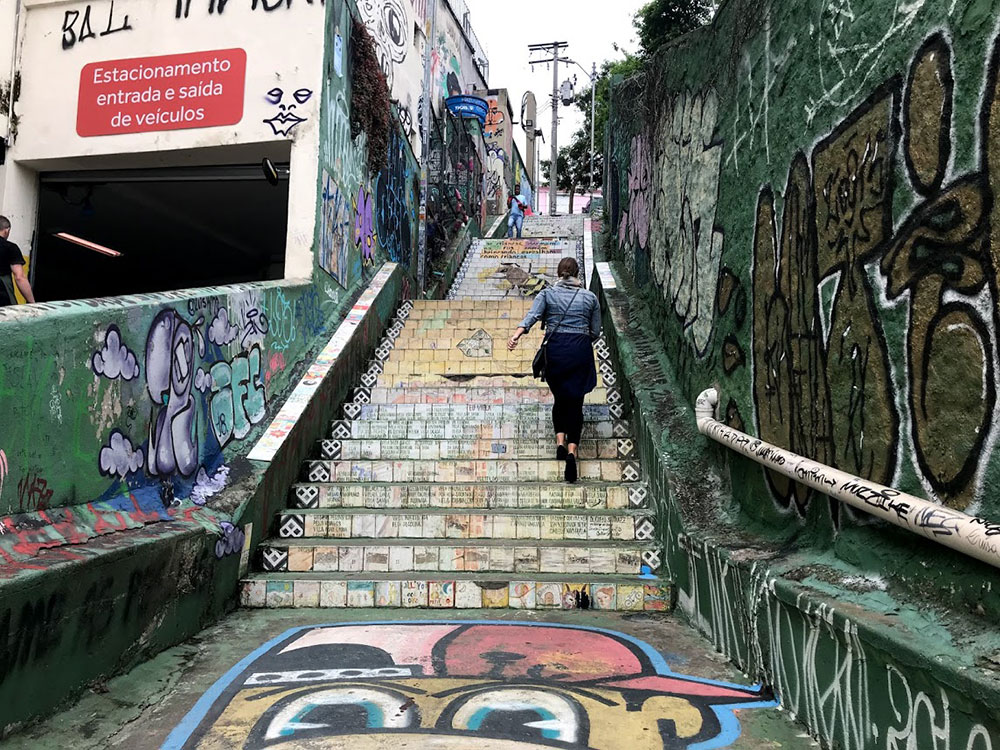 Somehow, we found ourselves in a small art studio watching the interview of violinist, Ricardo Herz. Ricardo not only gifted me three of his CDs but acted as our unofficial tour guide along the Boca Batman. Side note: His music is amazing, please look him up!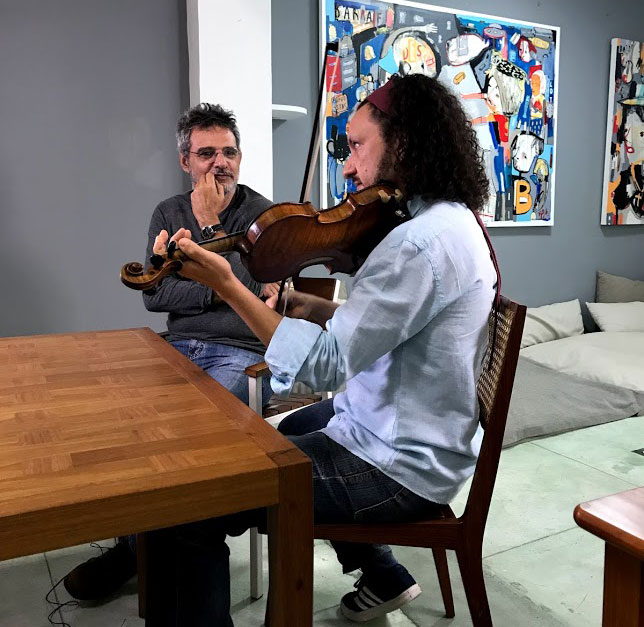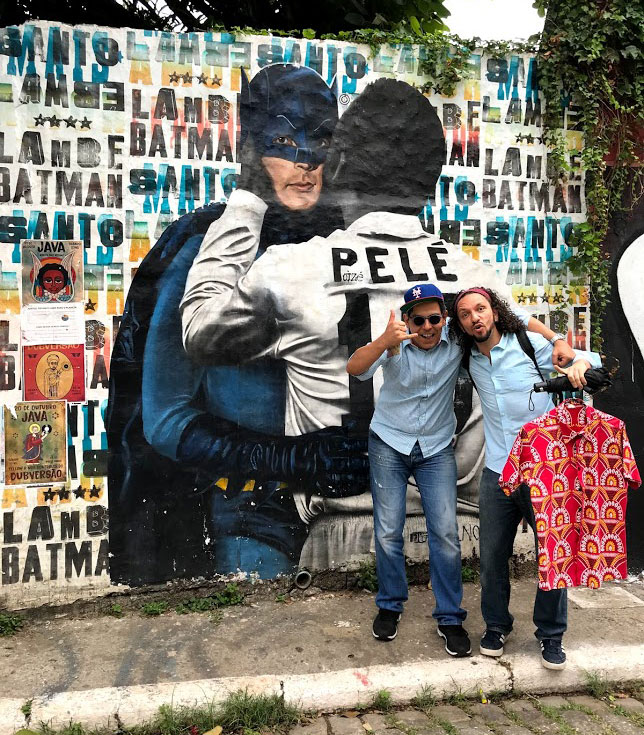 We also visited the largest park in São Paulo, Ibirapuera Park, which not only is a beautiful natural park, but houses many modern art museums and an outdoor concert venue.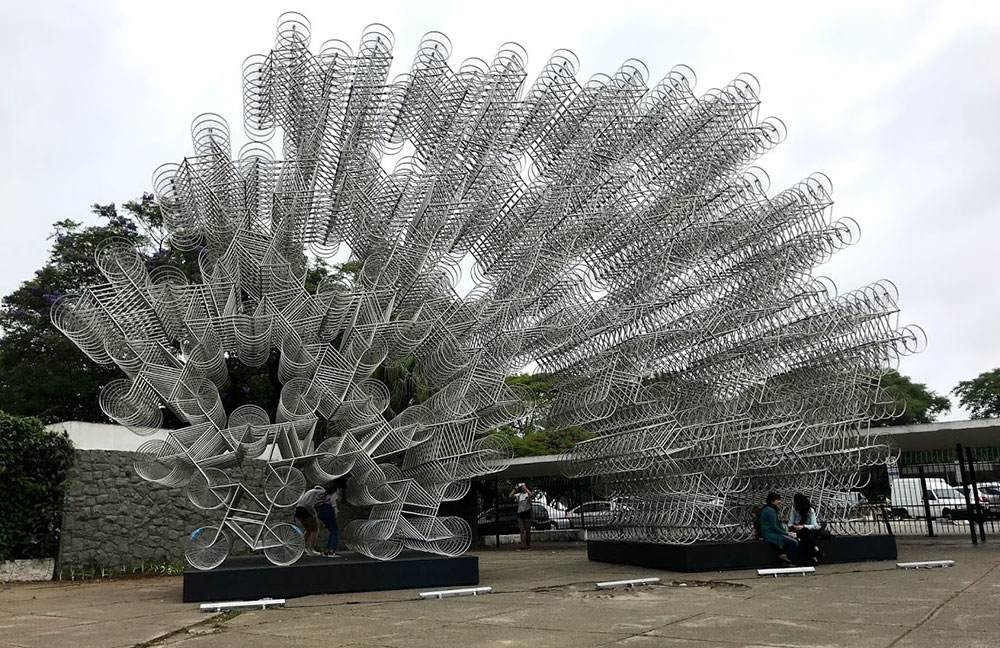 Our last stop of the day was the concert hall Sala São Paulo, an old train station converted into a concert hall to see Matt's orchestra, the São Paulo State Symphony. They had a man making a violin in the lobby and a private bar for the musician's backstage (after the concert of course). The concert, consisting of Mozart's Sinfonia concertante and Brahms' Symphony No. 1, was exciting and it was truly a wonderful experience to hear them and see Matt play!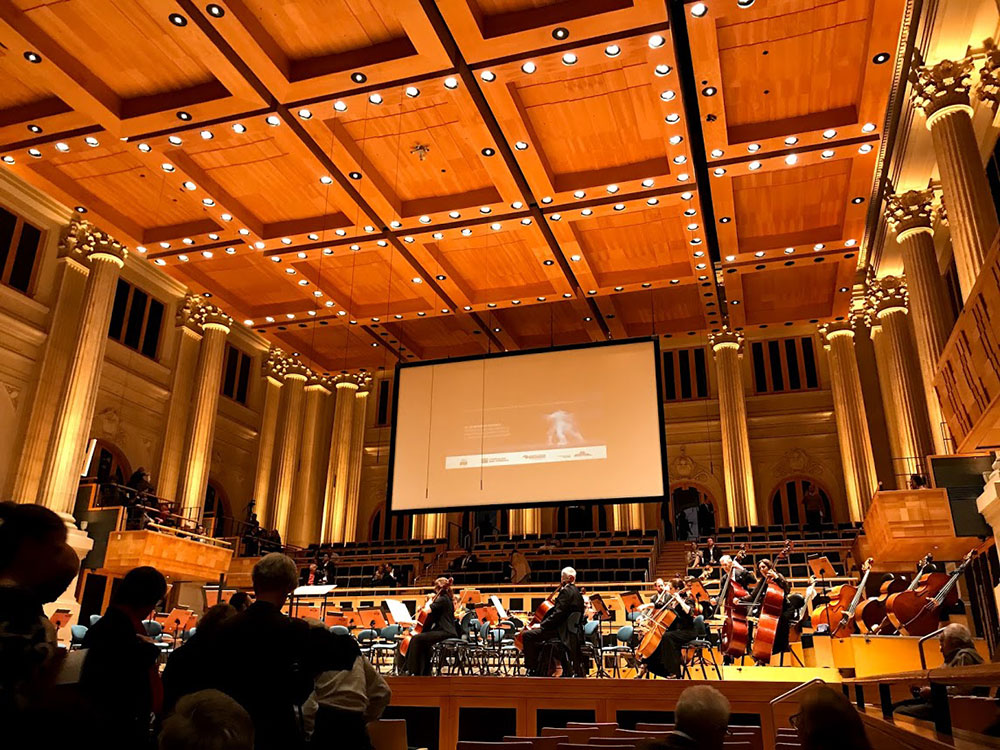 Friday November 9  
This was my favorite day of the trip. I woke up to sunny skies for the first time! Matt asked me to come to his school, Instituto Baccarelli, where he privately teaches violin to work with four of his students in a master class. I worked with these kids for about three hours, having Matt translate for me when needed and it was so much fun. These teens were amazingly talented and so eager to learn, it was an absolute dream to work with them.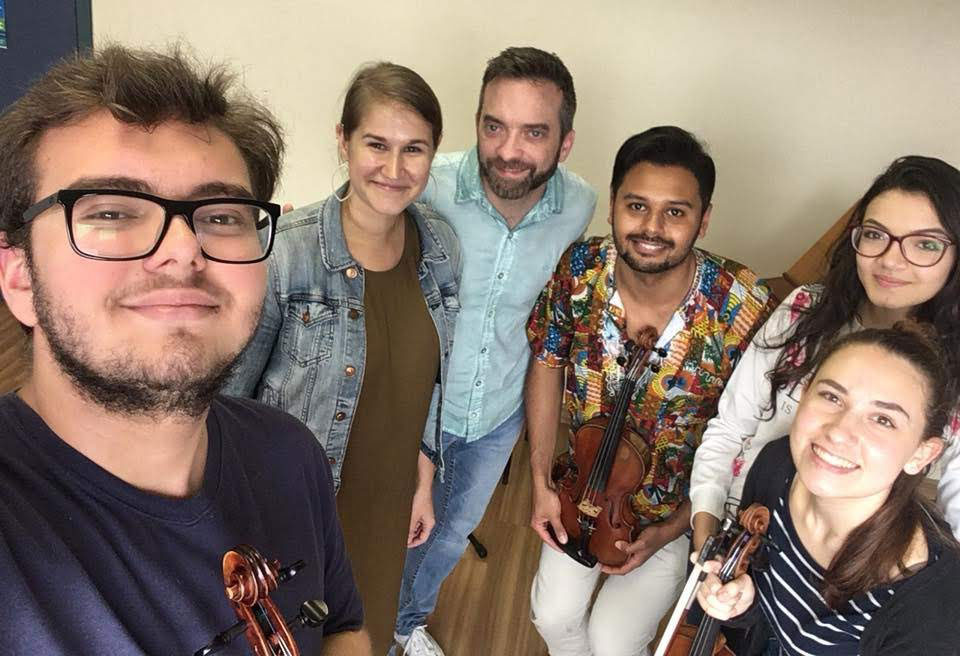 Saturday November 10  
I started my day with a rehearsal and then visited another coffee shop called "Coffee Lab" where they do coffee tastings. I ordered the best grilled cheese I've ever had (cheese, I noticed, is a staple at pretty much every meal) and what they called "Ritual 4" which was a taste test between the same coffee ground two different ways.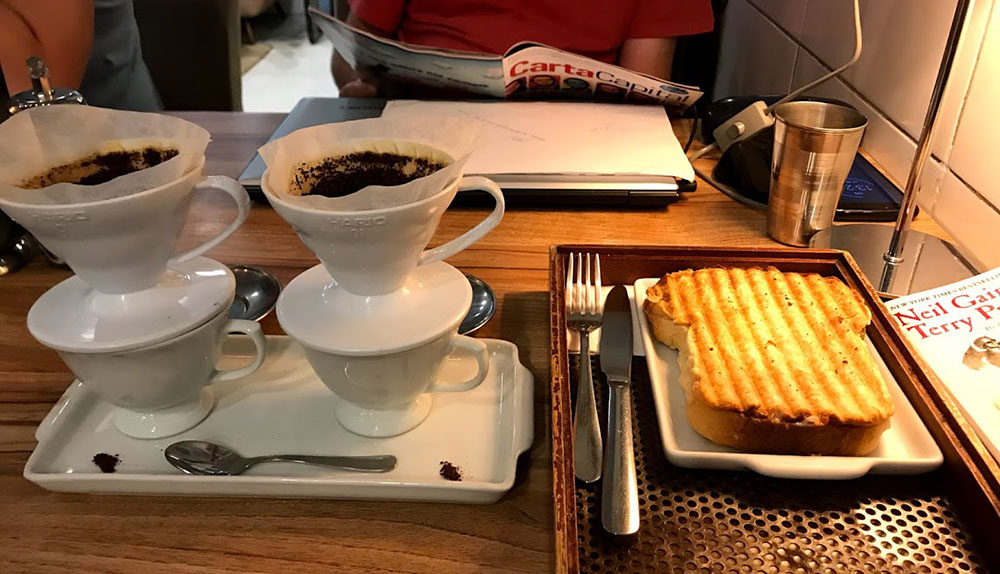 Earlier in the trip I had shared with Matt my love of up-close-and-personal chamber music, especially in people's homes and I mentioned it would be fun to do something like that here. Matt took the idea and ran with it, and four days later we were set to perform in the home of Yara's close friend, Junia. Matt found a two musicians to fill out our quartet and even a vocalist. We sight read and played together for over an hour for a crowd of almost 20 people.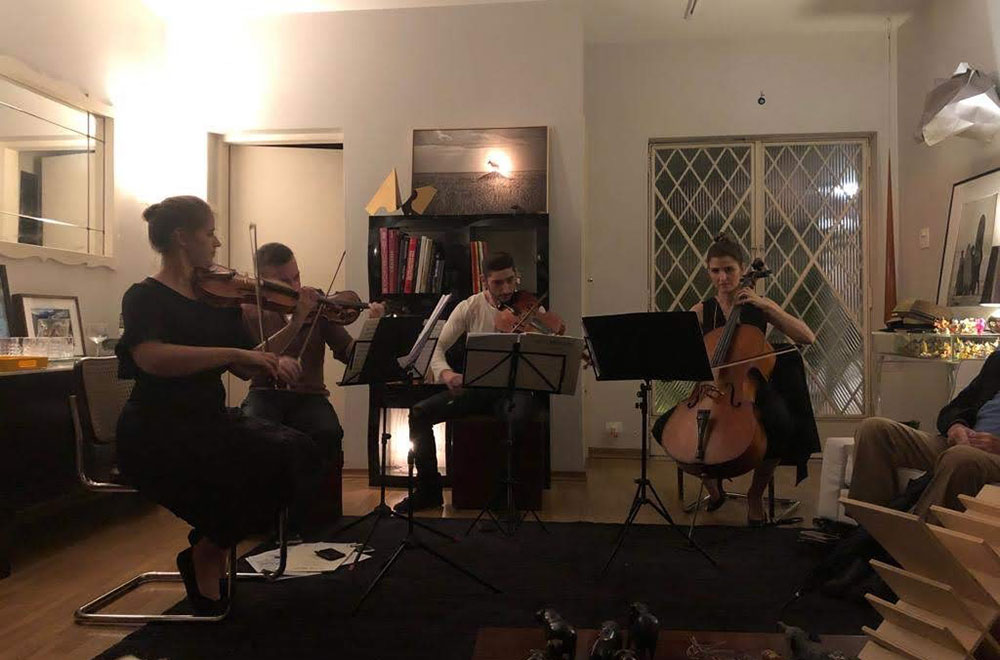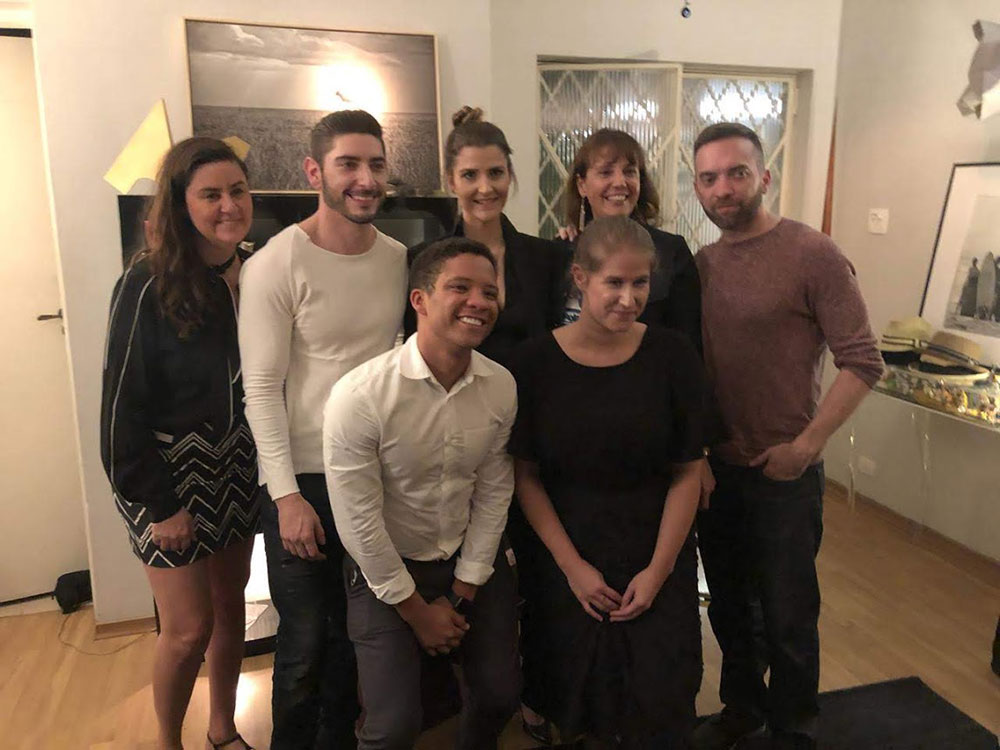 Sunday November 11 (Concert Day!)  
The concert was finally here! Once at the concert hall, the Teatro Municpal. I got ready for my dress rehearsal in my own private dressing room.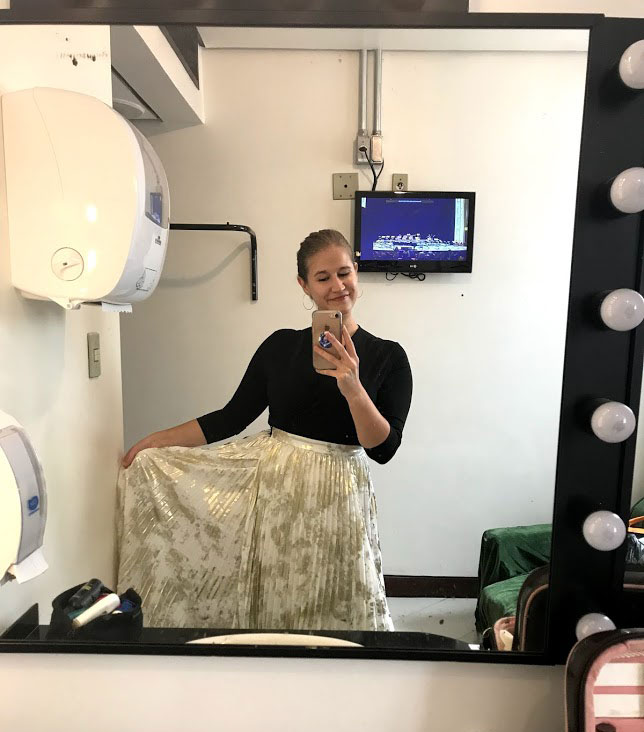 I was third on the program and felt the performance went really well and was super fun. Afterwards, I sat backstage and listened to the rest of the program, which featured bits of The Nutcracker, a soccer theme song and some popular Brazilian tunes. Maestro Joao Carlos Martins brought down the house and the concert seemed like a giant party.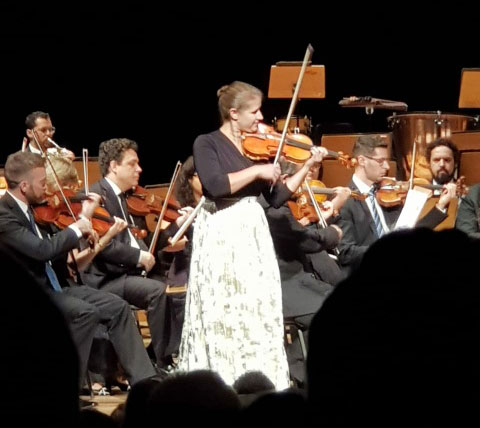 Afterwards there was a reception, in memory of Miguel hosted by Yara, and I got to meet Maestro Martins, who is incredibly kind and definitely a rock star!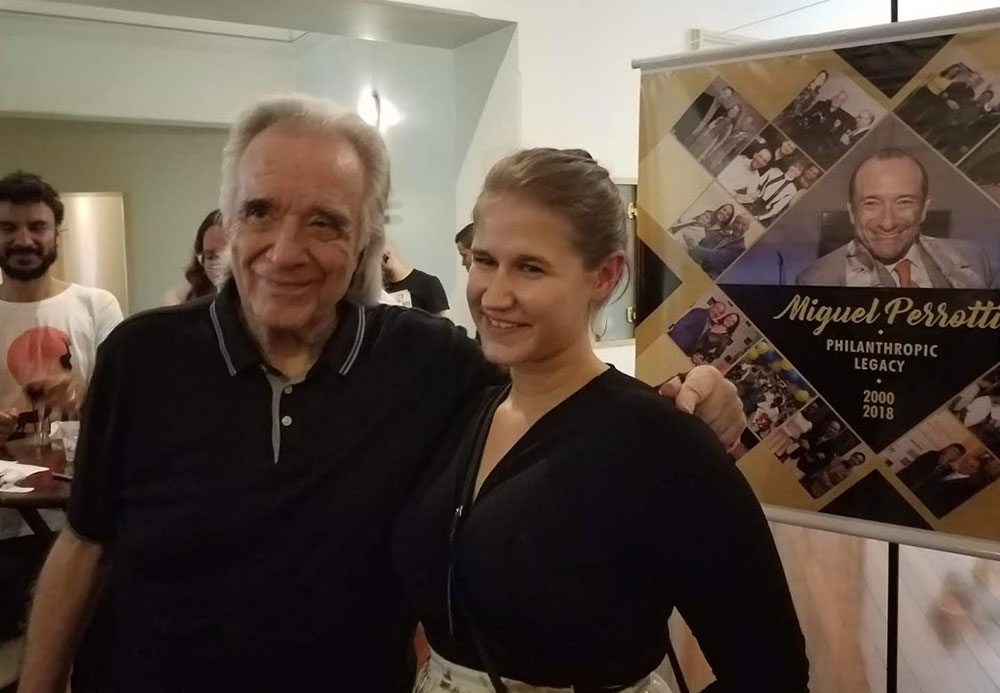 After the reception, Yara invited Matt, Todd and I to lunch with her and her friends, one of whom was our host from the night before. This trip was a life-changing experience and I cannot wait to see all of my São Paulo friends again. Until next time! Adeus!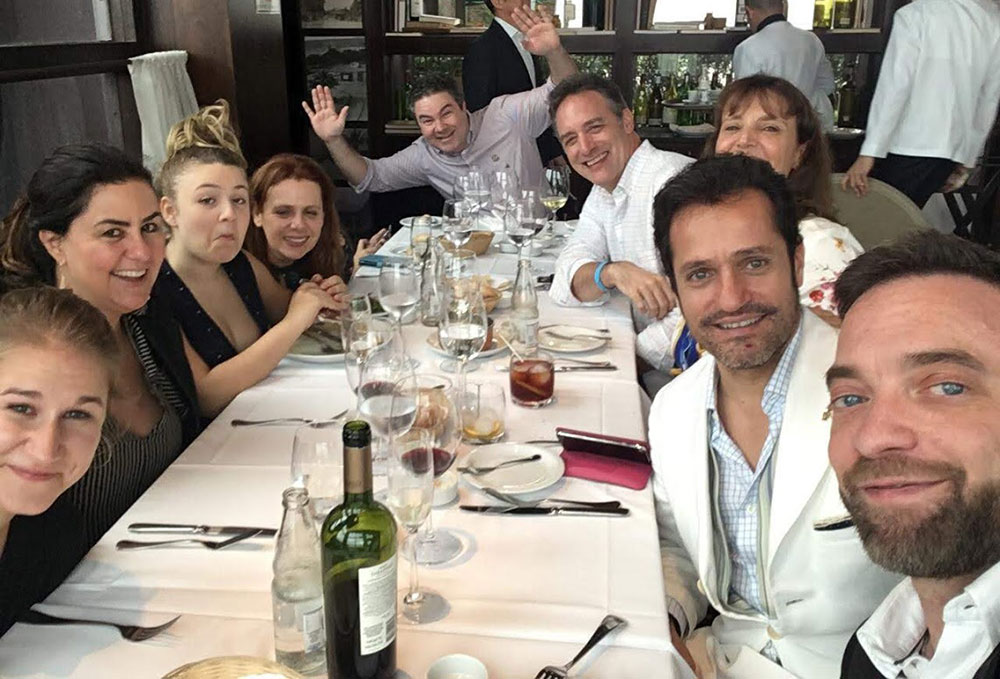 Posted in: Fellows, Travel Journal
---