News
May 13, 2019
From the Fellows: Travel Journal from Carnegie Hall Tour
From Tuesday, May 1 through Friday, May 3, NWS Fellows were in New York City, where they performed two concerts at Carnegie Hall. The tour capped fourth-year Cello Fellow Alexa Ciciretti's time with NWS. She journaled daily to give a behind-the-scenes look at the impactful moments Fellows shared throughout the trip on and off the stage.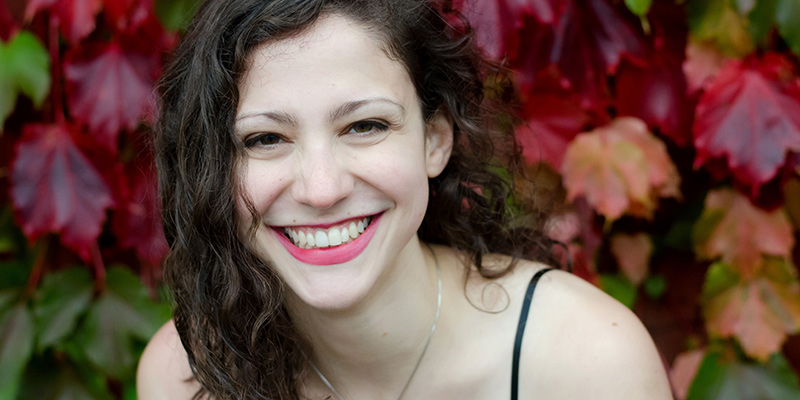 Monday, April 29
The pre-tour excitement is palpable! We are fresh off our highly successful Season Finale concerts with MTT and Yuja Wang, and we can't wait to get the chance to play the program again in Carnegie Hall. This morning, we did a touch-up rehearsal of Schubert's Death and the Maiden, arranged by Mahler and MTT.  We had played that program last weekend and will repeat it in Zankel Hall on the second night of our Carnegie concerts. This rehearsal was quite sentimental for me because it was my last ever orchestra rehearsal in the New World Center! After the rehearsal, everyone scrambled off to do their own pre-tour preparations. During the afternoon, I squeezed in some practicing because I had to pack my cello up in the evening for the trip to New York. Normally, I bring my cello on the plane and put it in a seat next to me, but for this trip, NWS is driving a truck to New York with all the big instruments and percussion equipment. Luckily, we had our amazing stage crew help us pack our cellos in the trunks to make sure they were nice and snug for the journey up the coast. We'll get access to our instruments again one hour before our dress rehearsal in Carnegie Hall on Wednesday. After that, I packed up my suitcase and made sure to get a good night's sleep in preparation for the journey tomorrow!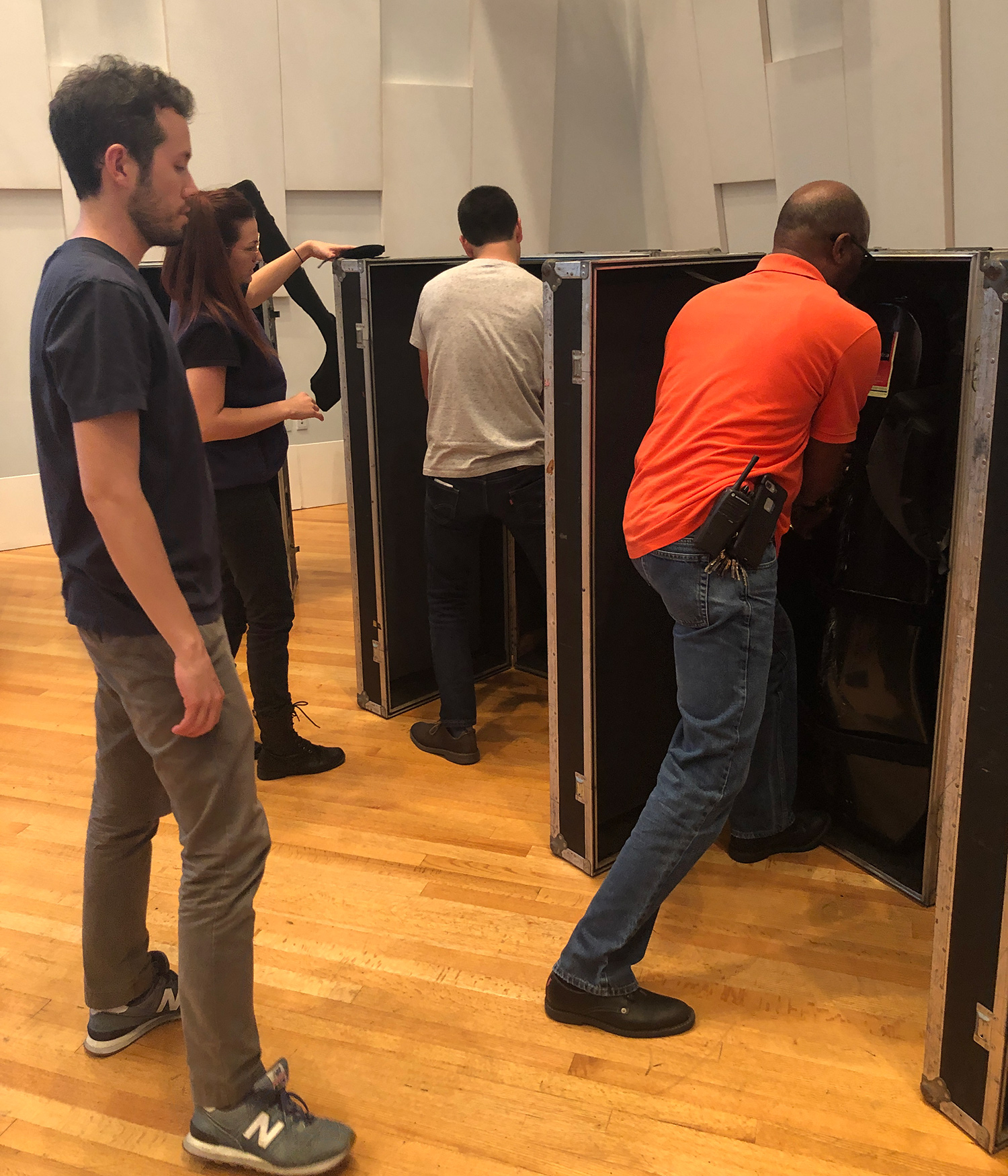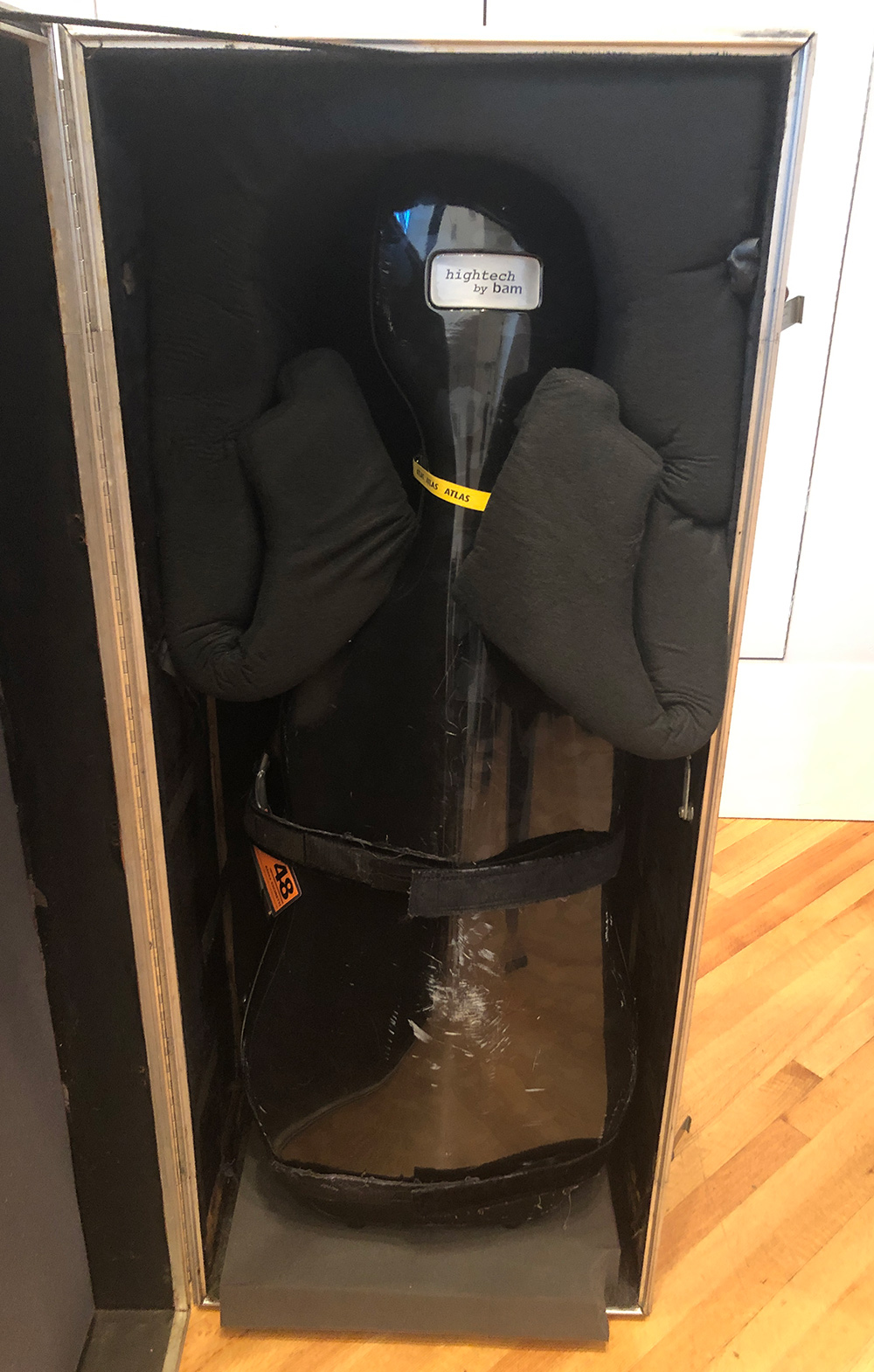 Tuesday, April 30
All our bags are packed and we're ready to go! Two buses picked us up this morning, and after piling our suitcases in the luggage hold, we drove to the Fort Lauderdale Airport. It felt very weird to travel without my cello—I alternated between feelings of lightness and freedom (not having to carry around a cello in an airport is quite liberating!) and panic because I felt like I was missing something very important. The New World Fellows and staff took up most of the space on the plane, and luckily there was enough room in the overhead bins for all the violins and smaller instruments! During the flight, I thought about one of the first things I was going to do when I got to the city—eat! What's better than eating good food in a city like New York?! After a bus ride to our hotel from JFK (which felt like it lasted almost as long as the flight from Florida, thanks to New York traffic), I immediately went out with my friend John Wilson to get some excellent Chinese food. We ran into a few other Fellows at the restaurant too! I guess they had the same idea we did….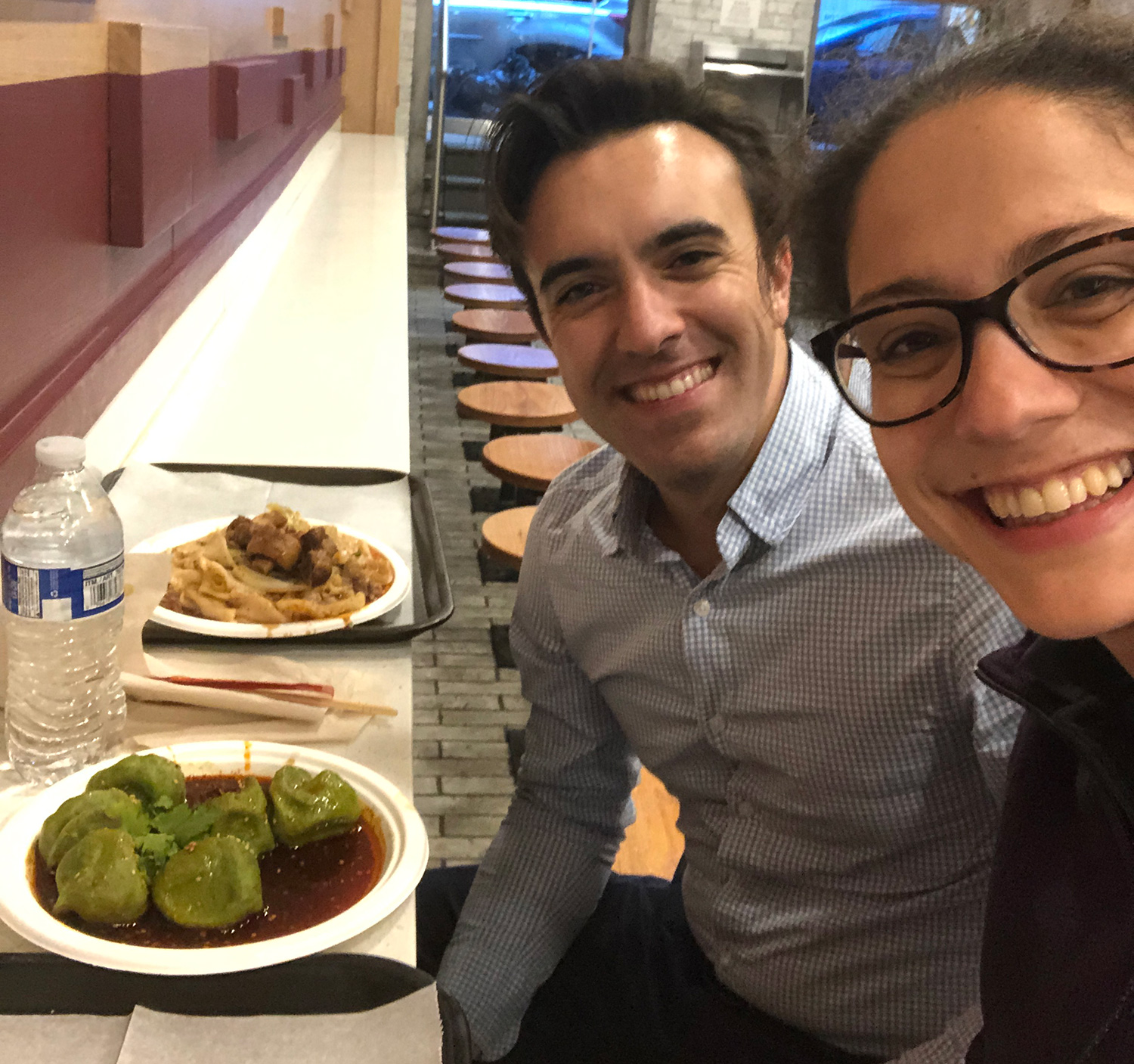 I met up with my parents after dinner for drinks! I'm so glad they're able to come and watch the concerts. They've always been two of my biggest supporters, and it means so incredibly much to me to have them cheering me on. I didn't stay out with them too late though…our first concert in Carnegie Hall is tomorrow!
Wednesday, May 1
Today's the big day!  I woke up in time to have a nice breakfast with my friend and roommate Sodam Lim—there's nothing like good coffee, fresh pastries and a walk in Central Park to start the day. I made sure to get to the hall early to be reunited with my cello and warm up with plenty of time to spare before our dress rehearsal.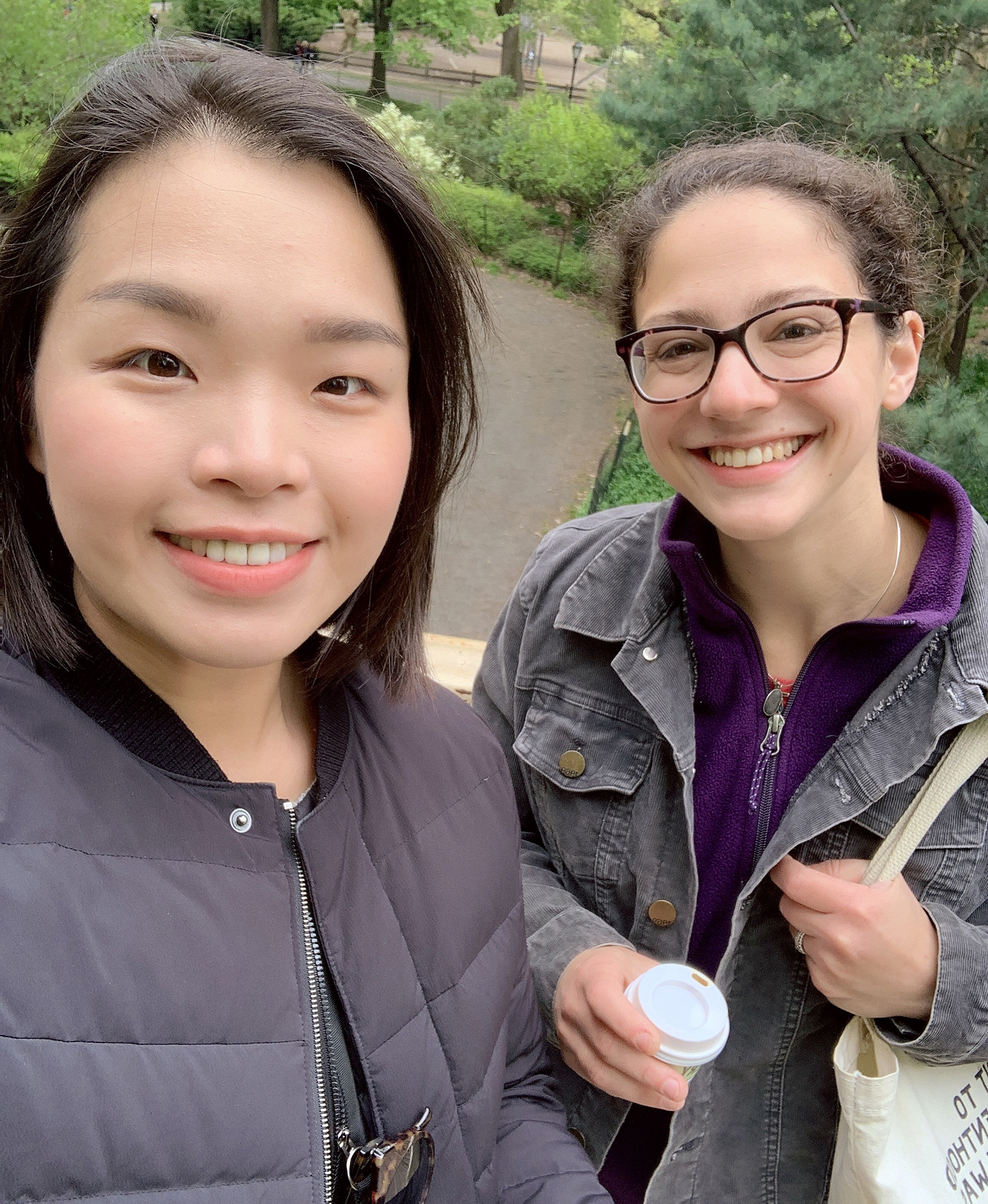 A word about stepping into the backstage entrance of Carnegie Hall…this was a seriously surreal feeling. I have played at Carnegie Hall two times before—once when I was in high school with the Longmeadow High School Symphony Orchestra and once in college with the Oberlin Conservatory Orchestra. Ironically, I've been fortunate enough to sit principal cello for part or all of each concert as well! Each time I've played at Carnegie Hall has been at a very distinctive point in my musical journey and has been incredibly meaningful in its own way. I am so excited to add tonight and tomorrow to the list of my Carnegie Hall experiences. Who knows what group I'll be playing with next time I play here!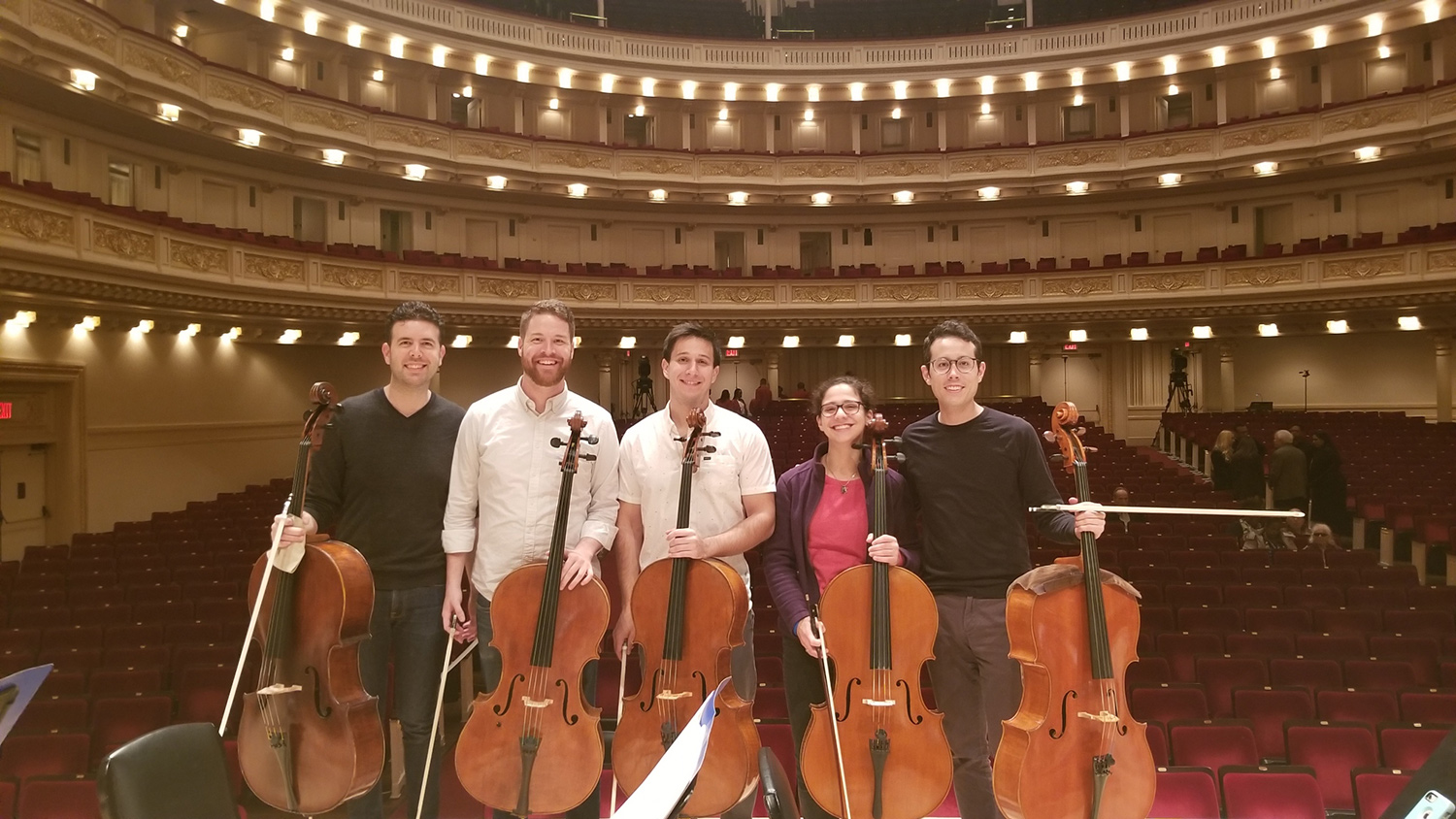 Today's dress rehearsal was open to patrons of Carnegie and family/friends of Fellows, so naturally my parents came to watch. I spotted them in the balcony in the middle of rehearsal and...my big sister was there too! She came to surprise me! She's also been a huge supporter of my musical career (I actually started playing cello because she used to play and I wanted to copy her).
We started the dress rehearsal with Berlioz's Symphonie fantastique, which is an absolute blast to play. We didn't run the entire piece because we didn't want to tire out our chops for tonight (or give away too much to the audience!), but we spent time getting used to the acoustic of Stern Auditorium and quickly adjusting how we listen and react to each other. Next up in the rehearsal was Prokofiev's 5th Piano Concerto with Yuja Wang. She sounded fantastic, as usual! We ended rehearsal with a run of Julia Wolfe's Fountain of Youth, which was commissioned by New World Symphony and received its world premiere in Miami at our Season Finale. I personally think it's going to be a surprising and exciting way to start the concert, because the piece begins with tutti strings making loud crunchy noises with our bows. It's pretty shocking if you're not expecting it!
After eating a delicious lunch of Thai food with some NWS Fellow friends, I relaxed during the afternoon then went back to Carnegie Hall to get changed and warm up for the concert.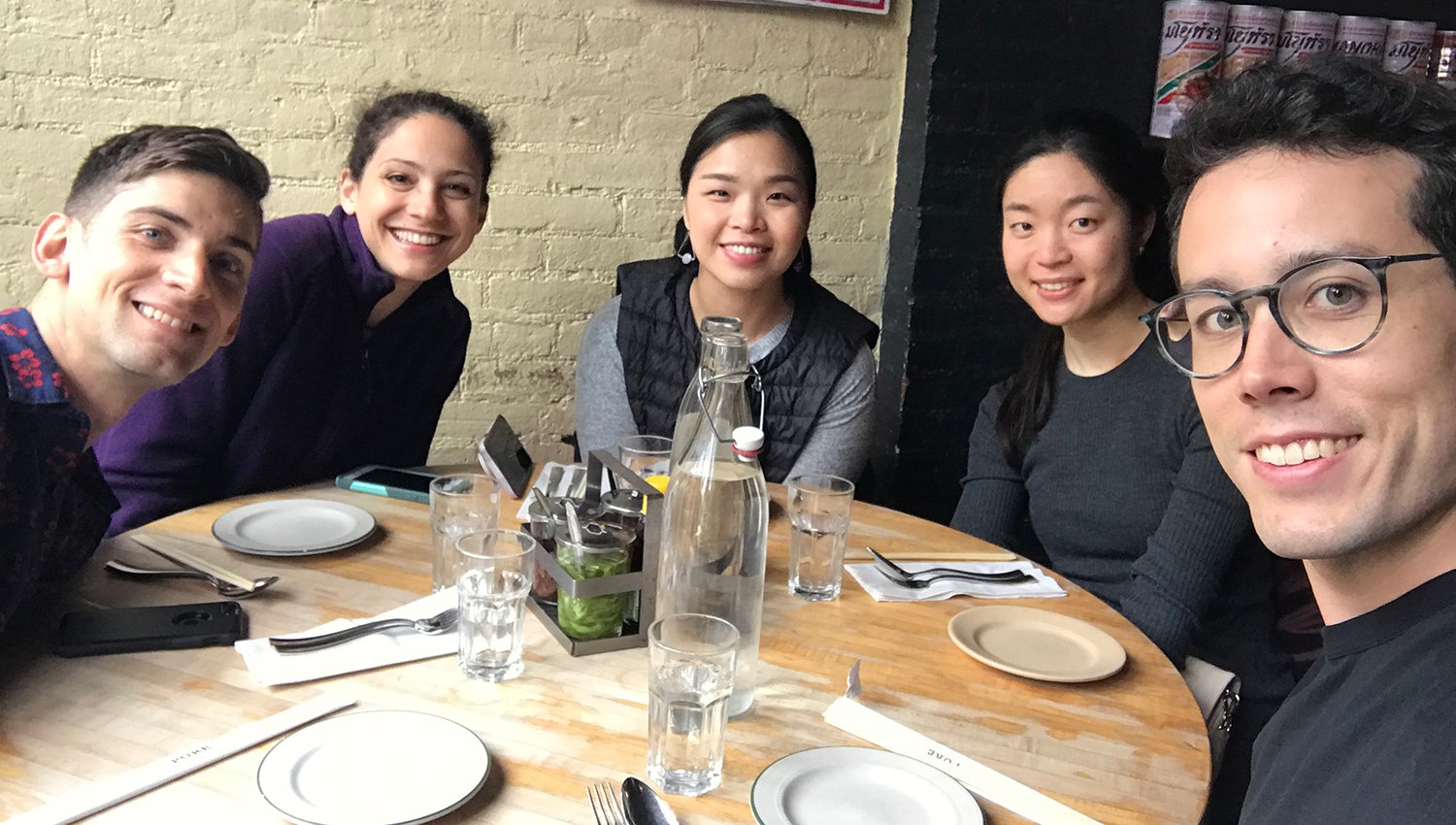 Walking onstage to a sold-out audience in Carnegie Hall is quite an exhilarating feeling! I was also thrilled that the concert was live streamed on Medici TV, so people around the world could watch it. The actual concert passed in a blur, but I had so much fun. Playing Symphonie fantastique feels like going on a journey through Berlioz's life, from its melancholic beginning to its diabolical ending. The audience roared and we had just enough energy left to blast through the Introduction to Act III of Wagner's Lohengrin, which I realized was the last full orchestra piece I would every play as a New World Fellow. My eyes may have misted over a bit…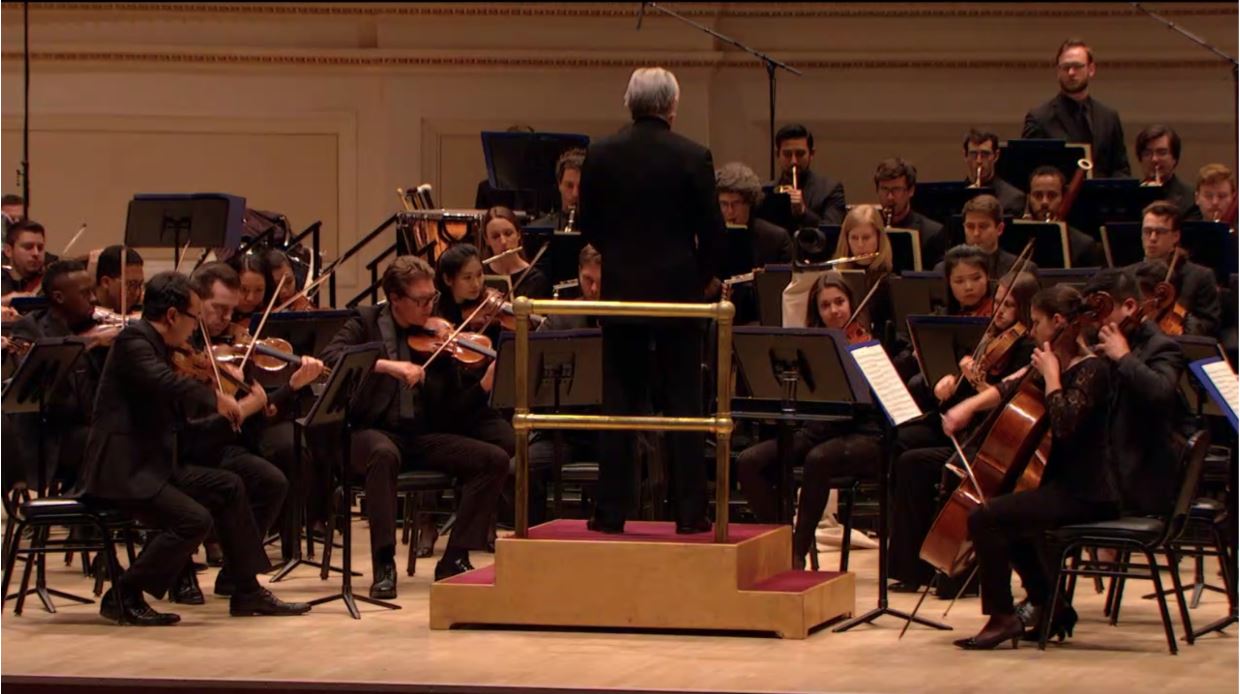 Then we obviously had a post-concert celebration, complete with excellent Japanese food and drinks! Since the concert wasn't over until after 10:30, I didn't get back to my room until after 1 am. Time to sleep before our dress rehearsal for the Zankel Concert tomorrow.
Thursday, May 2
Today is the day of my last concert as a New World Fellow! The dress rehearsal in Zankel Hall started with MTT's Four Preludes on Playthings of the Wind, which I wasn't playing on, but I went to watch anyway. I played the world premiere of this piece in 2016, at the end of my first year at New World. It was so neat to hear it again, as it brought back a lot of memories! Then it was time for us to squeeze on stage for the Death and the Maiden rehearsal. Playing in Zankel Hall is very different from playing in Stern Hall—it's much more intimate. I enjoyed it a lot! The arrangement of Death and the Maiden had a lot of material passing through various stands of each section, creating various echo effects. I had fun sitting in the back and working with the rest of the section to convey these effects convincingly.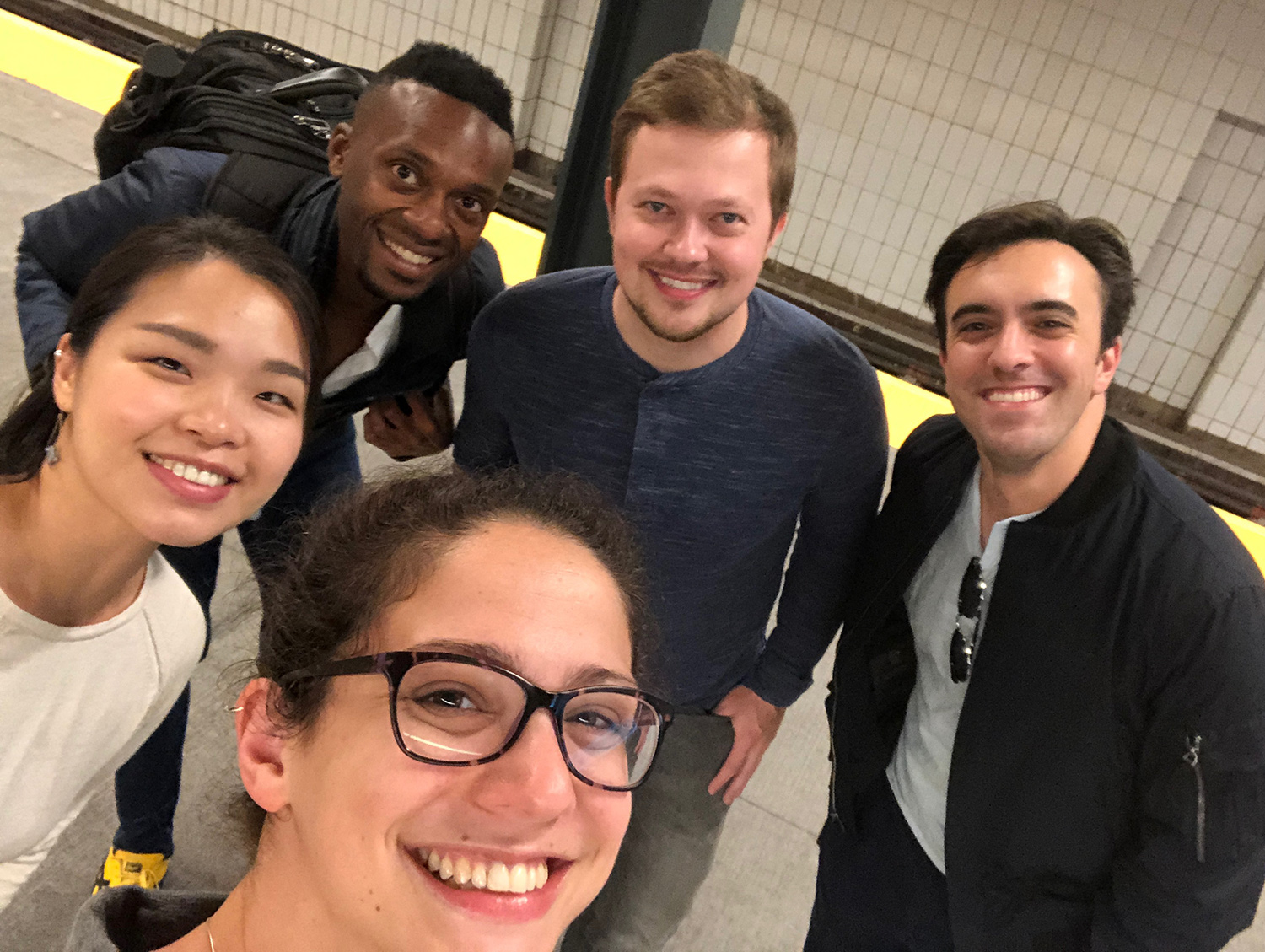 Then it was off to Korea Town for an amazing lunch, followed by Levain Cookies! (When in NYC, right?) Satisfied with my culinary adventures, I went back to my hotel room, where Sodam and I watched the Medici.tv video of our performance from last night. We sounded awesome! And it's always fun to see ourselves on camera.
We didn't actually play Death and the Maiden until the second half of the concert tonight—the first half was two solo piano pieces by MTT, performed by Yuja Wang, then MTT's Playthings of the Wind. Since the backstage area of Zankel Hall is so small, we had to wait in the dressing rooms or the large instrument storage area.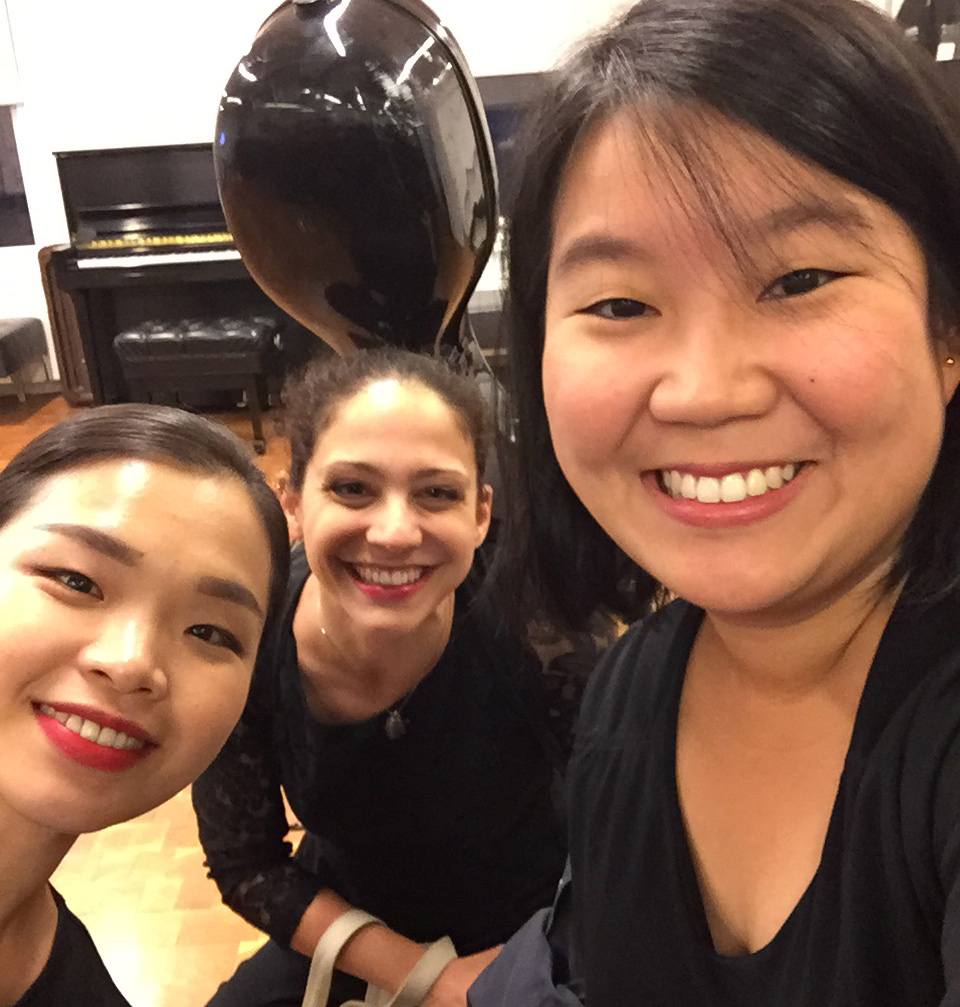 I was worried they had started without me because we had to wait so long! It was just a very involved stage change that caused the intermission to be so long. They finally called us and off we went to the stage…then it was over in a flash. My last concert as a New World Fellow was over.
Celebrations went late into the night, starting with drinks with my family then an impromptu orchestra celebration at a nearby bar. I'll be able to process my feelings better tomorrow…
Friday, May 3
Luckily, we didn't have to wake up too early this morning! After another coffee-pastry breakfast with Sodam, we went to a string instrument supply shop to buy new strings for our respective instruments. Even after big concerts at Carnegie Hall, we always have to think about maintenance and keeping our instruments sounding in the best condition. Then we were off on a bus to the airport, and back in Miami before we knew it (well, not mentioning our delay in landing due to a severe storm. Gotta love Florida weather!). My cello is en route back to Miami via truck once again, and we will be reunited tomorrow morning.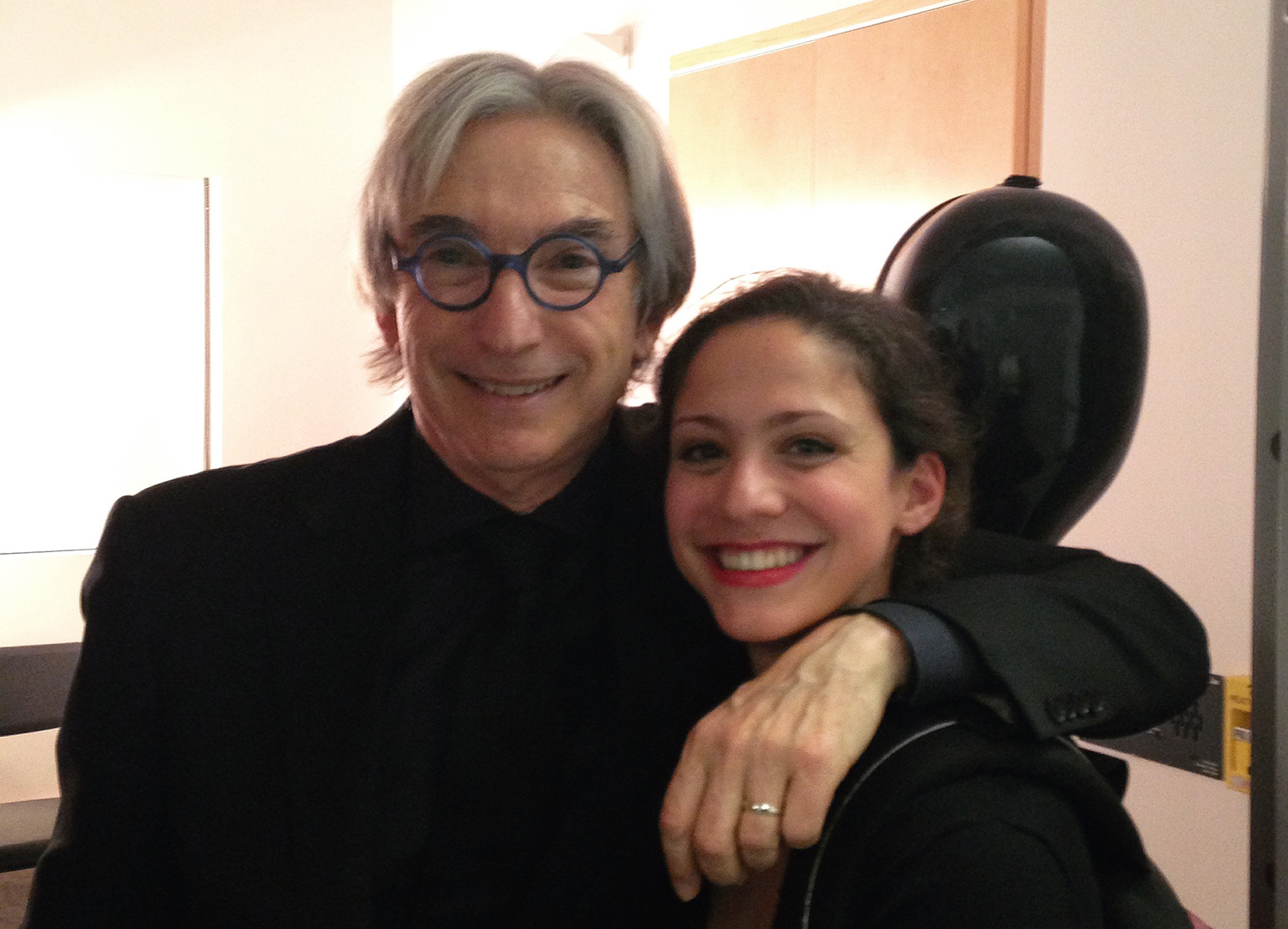 I can't believe my time as a New World Symphony Fellow has come to an end. These past four years have held some of the most enriching musical experiences of my life. I have had the incredible opportunity to work with like-minded peers and knowledgeable coaches, play fantastic repertoire, be guided by top-notch conductors, and explore other musical interests outside the classical orchestral world. As the Fellows scatter for the summer (and I leave Miami for good), I am reminded of the fleeting, yet enduring, nature of making music. I know I will see everyone again, in some capacity or another, wherever we all end up around the world. But more importantly, I know that the next musical experiences I have will continue to build upon what I have learned at New World. Carnegie Hall was like a bonus round—a cherry on top of four fantastic years.
More from Alexa: Inside the Music: Pathologically Modern – New Paths to New Sound Worlds
More on NWS's 2019 Carnegie Hall Tour. 
Posted in: 2019 Carnegie Tour, Fellows, Travel Journal
---