News
November 1, 2018
From the Fellows: Travel Journal from Cuba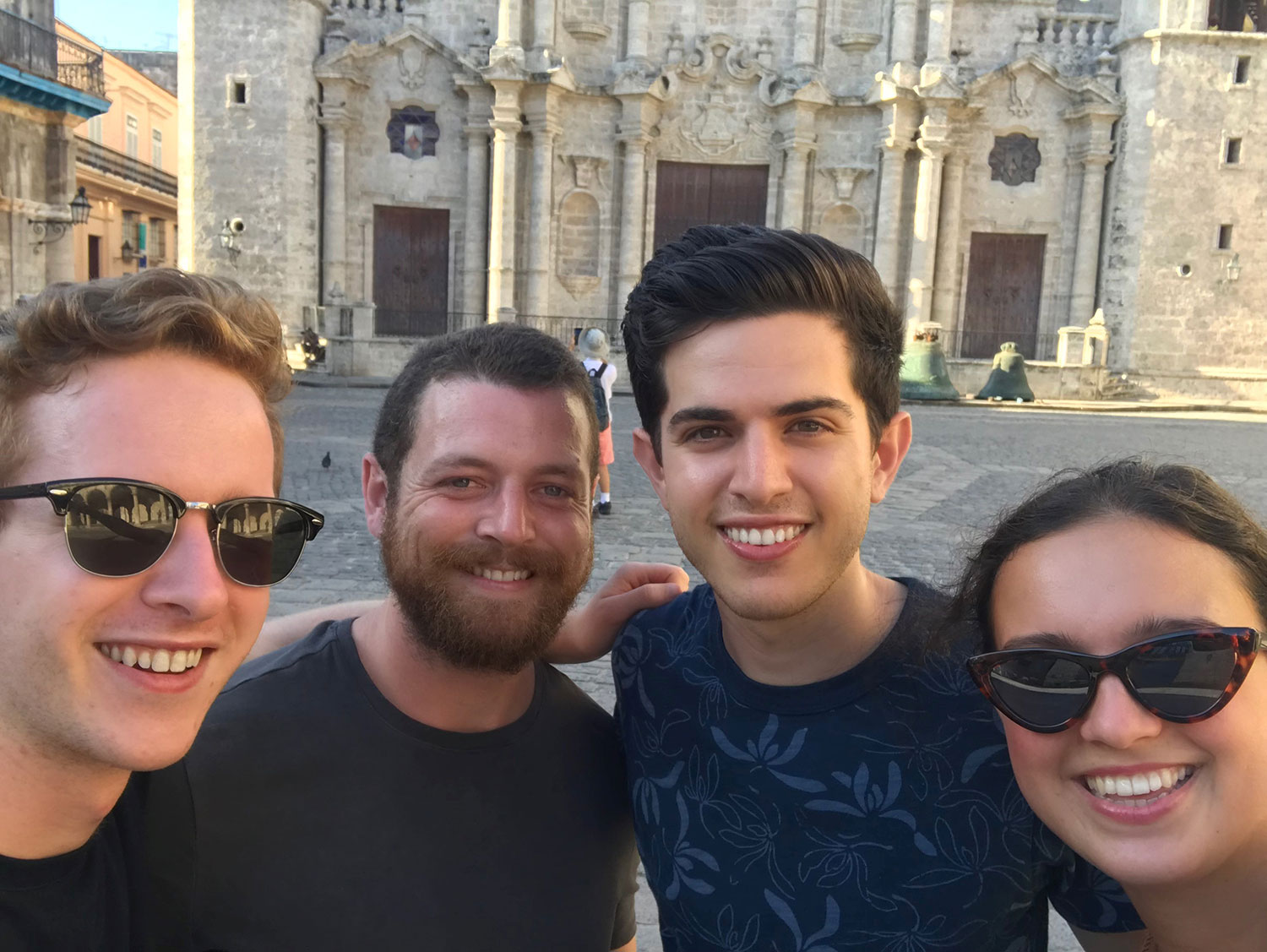 Percussion Fellows from left to right: Kevin Ritenauer, Michael Daley, Charlie Rosmarin and Marcelina Suchocka
On October 22, four New World Symphony Percussion Fellows traveled to Cuba as part of a unique musical collaboration with students from Havana's Universidad de las Artes, as well as from the Netherlands' Royal Conservatory of The Hague. Two of the Fellows on this trip, Charlie Rosmarin and Marcelina Suchocka, journaled daily to share the immersive cultural, artistic and musical experiences they shared throughout the program's four days.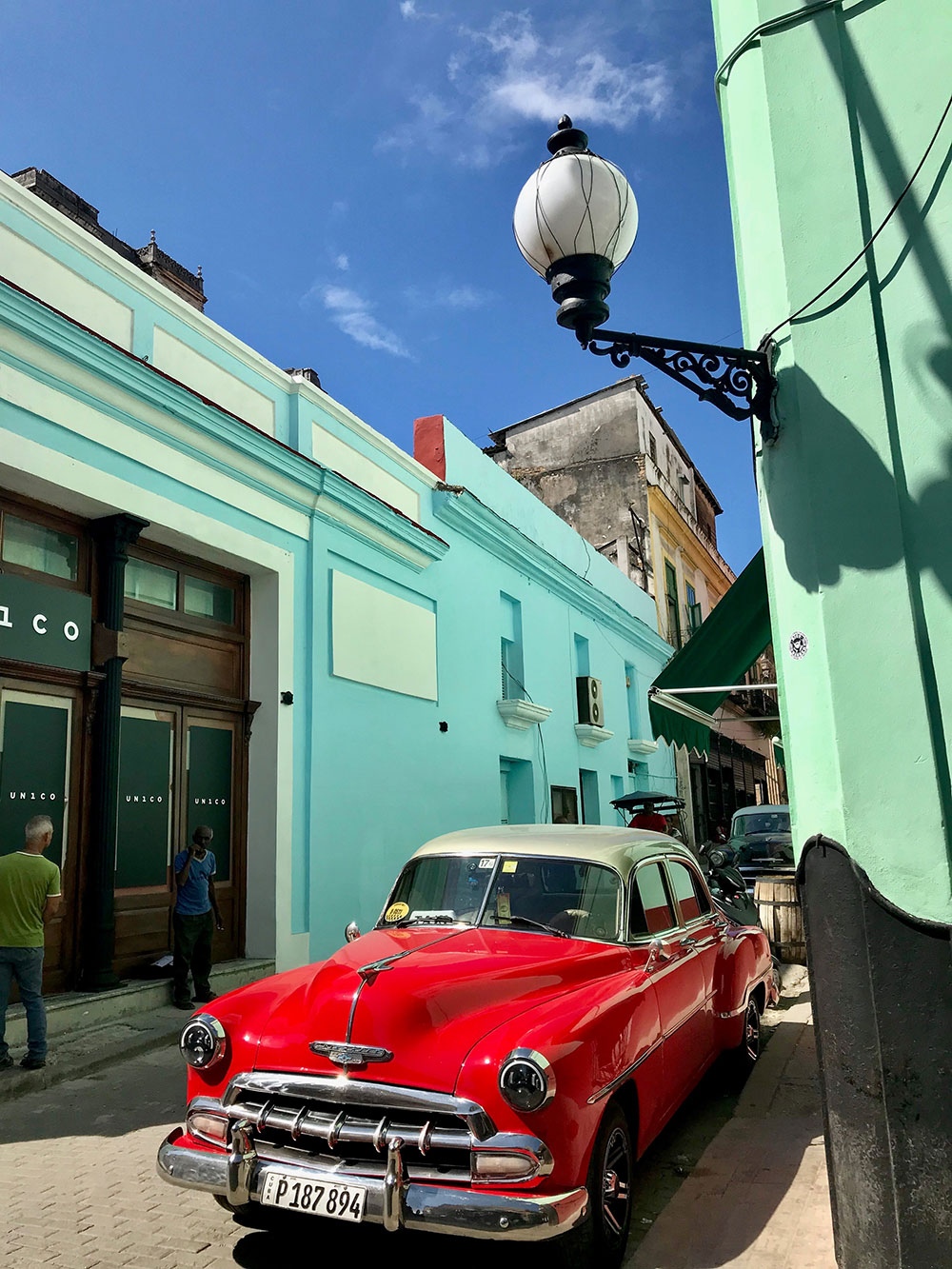 Monday, October 22:
We set off at the crack of dawn from our home. At the airport, we met with our fearless guides Michael Linville, NWS's Dean of Chamber Music and Fellow Development, and his husband Kiko. Kiko was invaluable to us, for his fluent Spanish, travel savvy and of course his great company.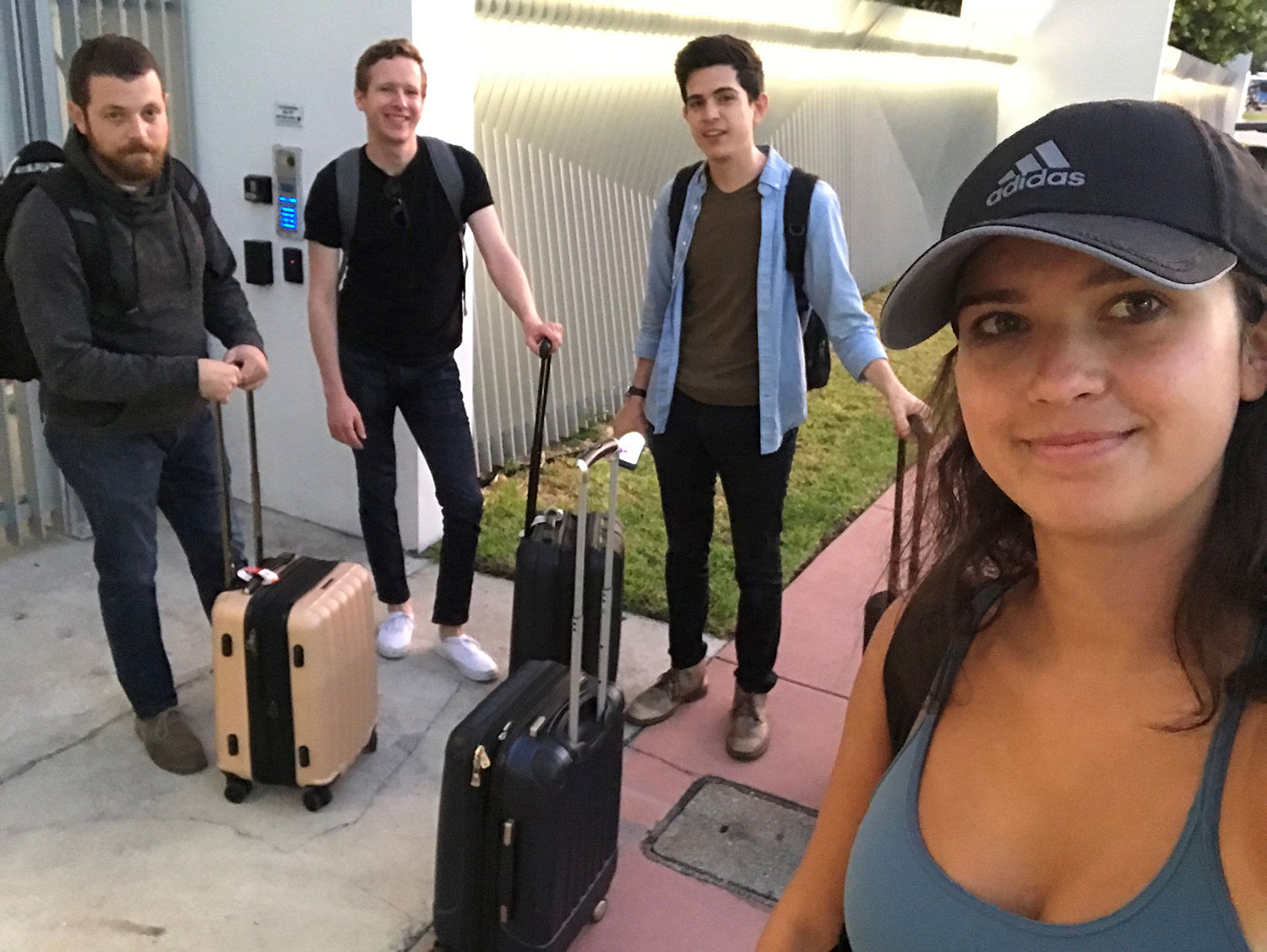 We had a gruelingly long flight (less than 45 minutes!), during which we had our first glimpse of Cuba. From overhead we saw a green, flat expanse of land, dotted with farms. Before we knew it, we were landing at Havana's Aeropuerto Internacional José Martí. We took two cabs into the city, going directly to downtown's Teatro Martí to meet Libia Hernandez, the exchange program's conductor and coordinator. Charlie sat passenger side in his taxi, sharing his foot room with several dozen eggs!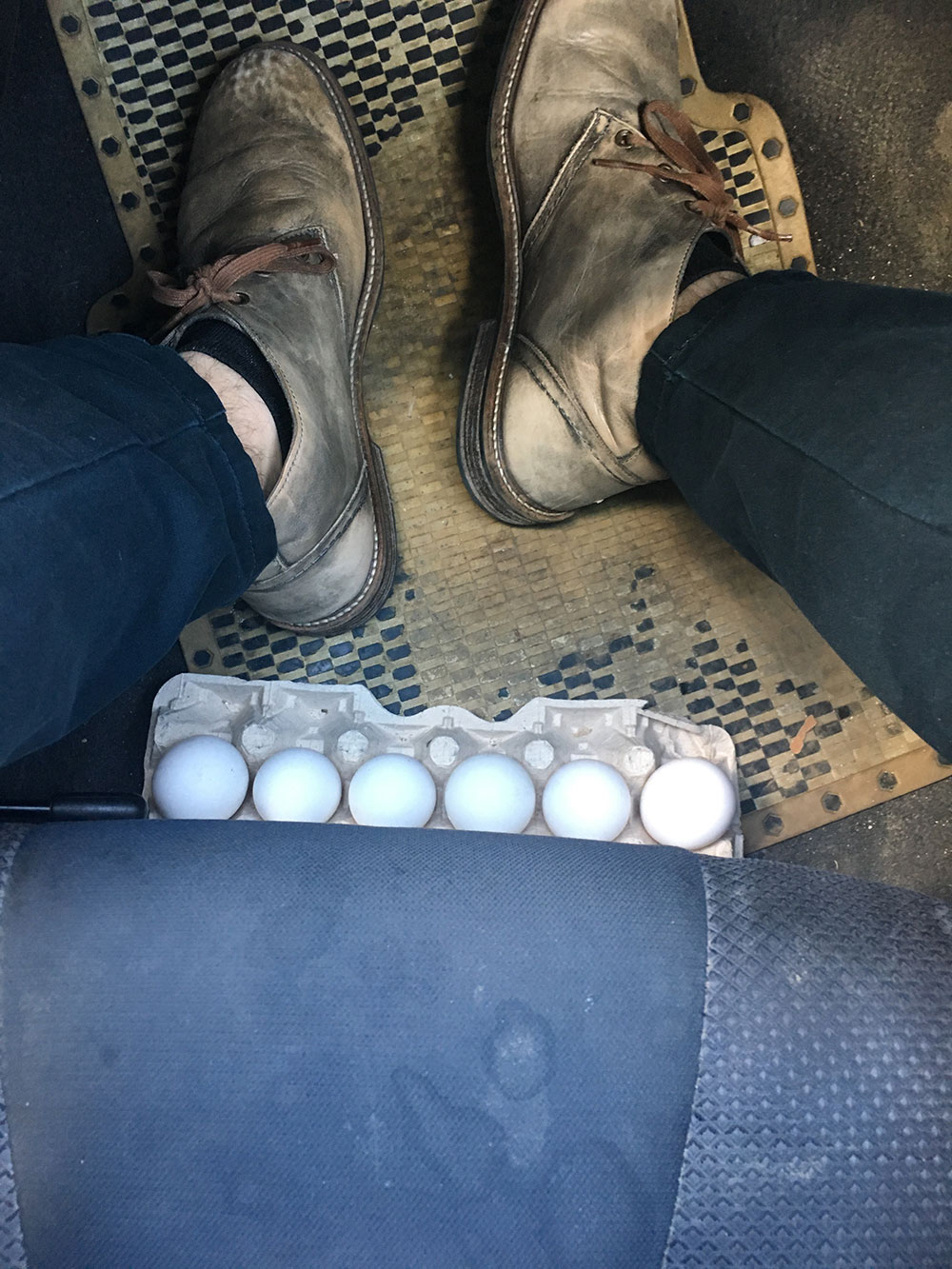 From the Teatro, we checked into our hotel rooms, where we found complimentary bottles of water and rum. Then it was off to the Universidad de las Artes, where we were greeted with a lunch of beans, rice, chicken and a papaya-flavored jelly for dessert. We then met the school's percussion students, teachers, and Pepe Garcia—a percussion instructor from the Netherland's Hague Conservatory, who led the week's rehearsals.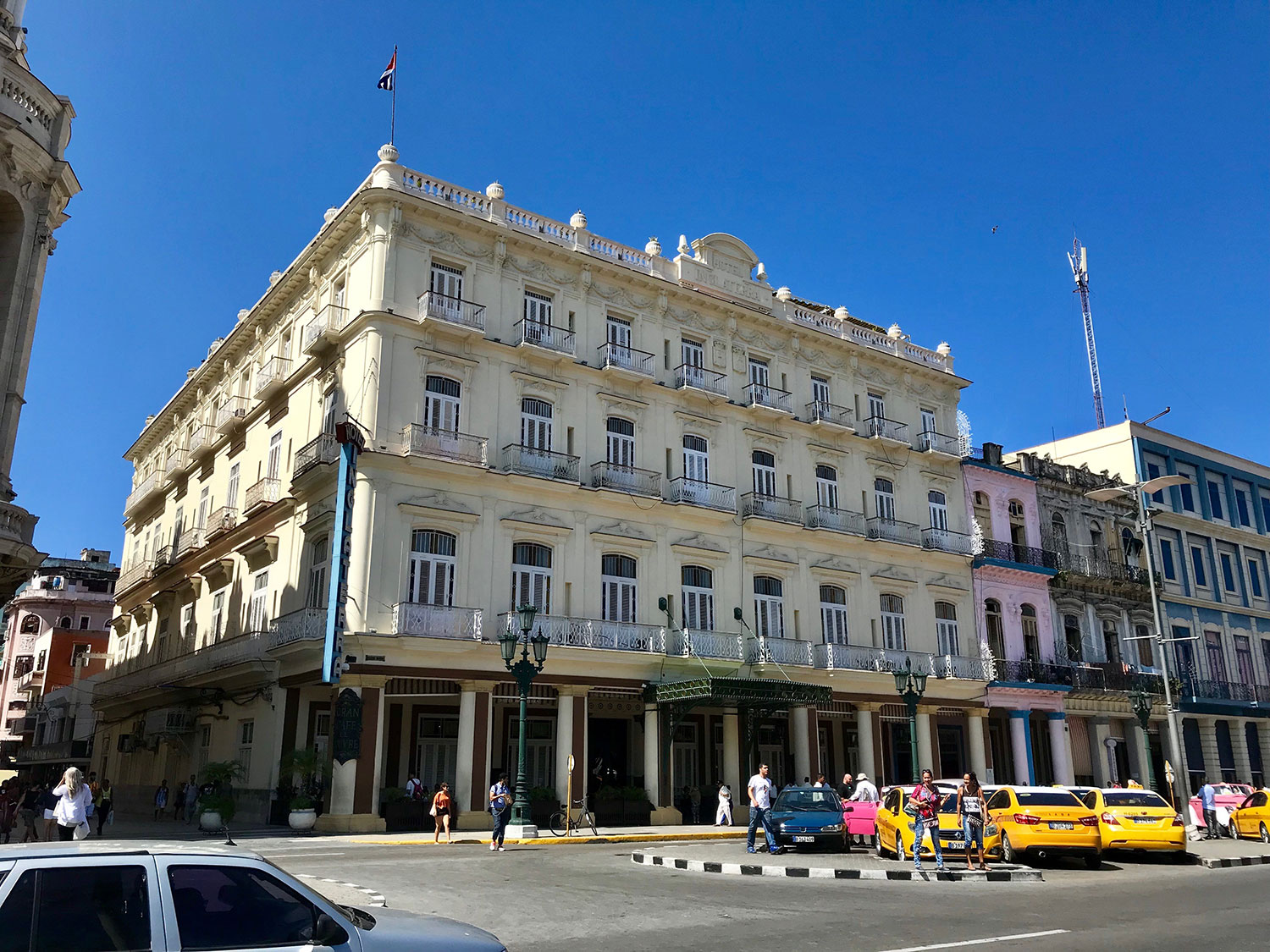 The Hotel Inglaterra, the oldest hotel in Havana, and our home for the week. Built in 1875, it famously hosted Winston Churchill when he visited Cuba.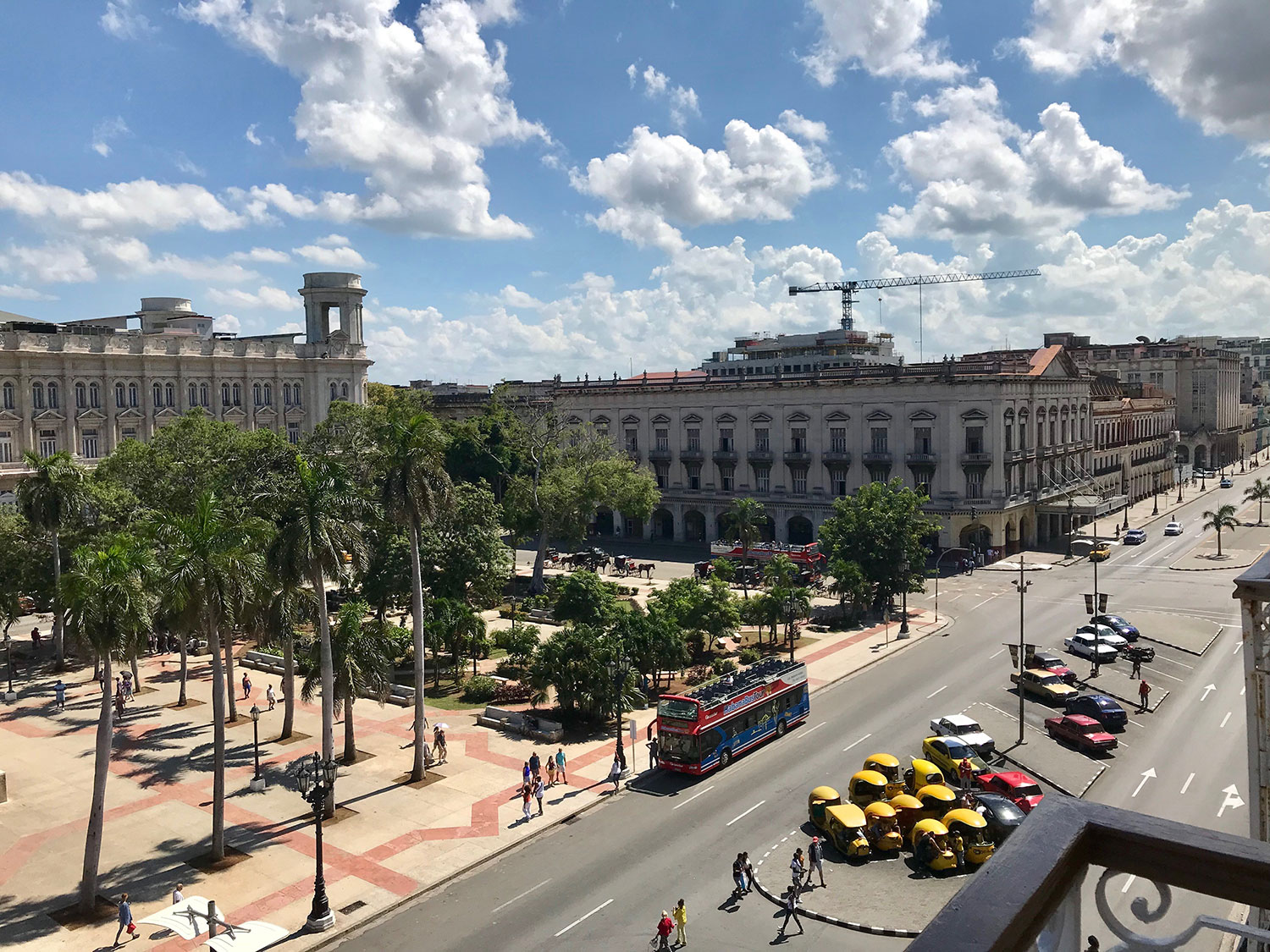 The view of Central Park from our hotel balcony.
Pepe broke the ice in our group with some wordless musical games. It did a lot to introduce us to each other's personalities, despite our language differences. While only half of the percussion studio had received English instruction, these games helped to ensure everyone met.
After our first rehearsal of Terry Riley's In C, we bussed back to Havana for dinner. Libia recommended Doña Eutimia—a quaint outdoor restaurant which sits adjacent to the Plaza de la Catedral, and at the end of the popular shopping street, Calle Mercaderes. We had another meal of rice, beans and a meat of our choosing. We were also introduced to plantain chips, a delicious and common side dish.
There was a lot of activity going on around the outdoor seating—we were entertained by a trio of local Cuban musicians, a magician and a nine-year-old caricaturist who drew a not-so-convincing, unsolicited portrait of Mike. We were also slipped an intriguing invitational card to a mysterious, unnamed bar. We couldn't tell if it the card was coming from a shady business, a tourist trap, or a cool, authentic speakeasy. In any case, we all agreed that it was masterful marketing.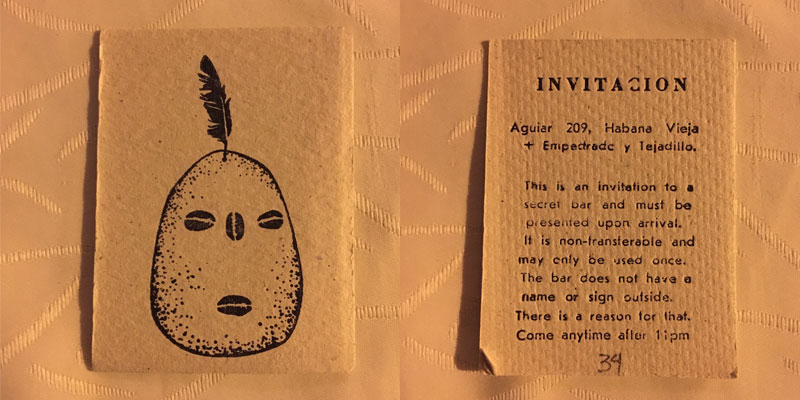 After dinner, Charlie and Mike set out for this bar and found it to be a hip, semi-cramped salsa club. It featured live music and some spectacular dancers. We also, coincidentally, ran into none other than one of the DJs from Dude Skywalker, who were the guest DJs for NWS's Pulse series last season! Small world!!
Tuesday, October 23:
The next morning, we exchanged some currency (we used CUCs throughout the trip, a type of peso specially devised for foreigners, worth roughly one euro). We also re-upped on our wifi cards; a cheap scratch-off ticket which granted one hour's access to the internet. These cards allowed for Kevin to stay informed on his sports news and for Marcelina to stay up-to-date with Instagram memes.
We spent nearly the full day at the Universidad de las Artes campus. The campus is a repurposed high-end golf course. It proved for some amazing views over a truly impressive, sprawling lawn. We rehearsed the remaining pieces on the concert program: Louis Andriessen's Worker's Union and Amadeo Roldán's Ritmica No. 5. The nationalities of Andriessen, Roldan and Riley align with the three nationalities of performers involved in the program—Dutch, Cuban and American.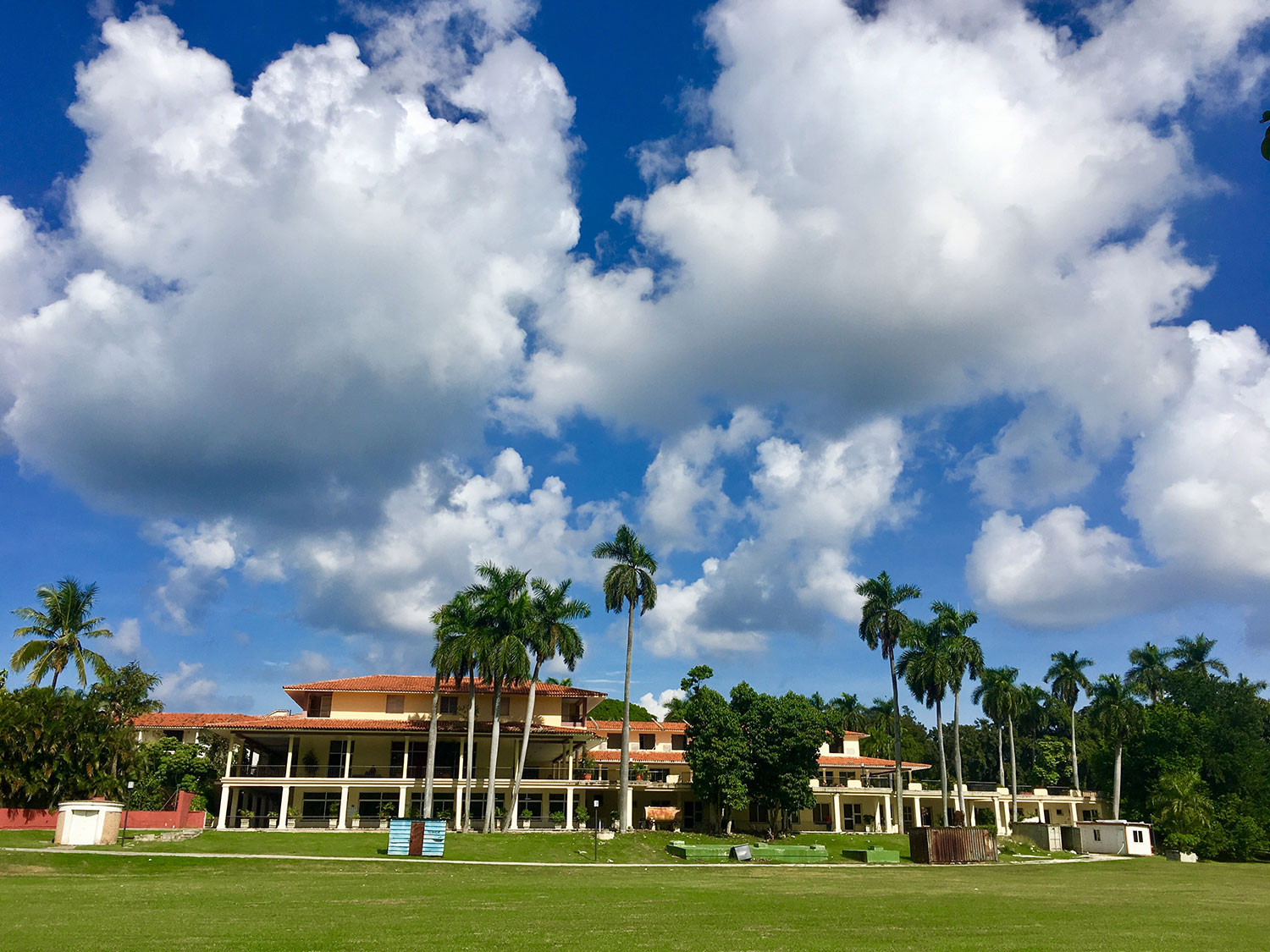 The view of the Universidad from the back lawn.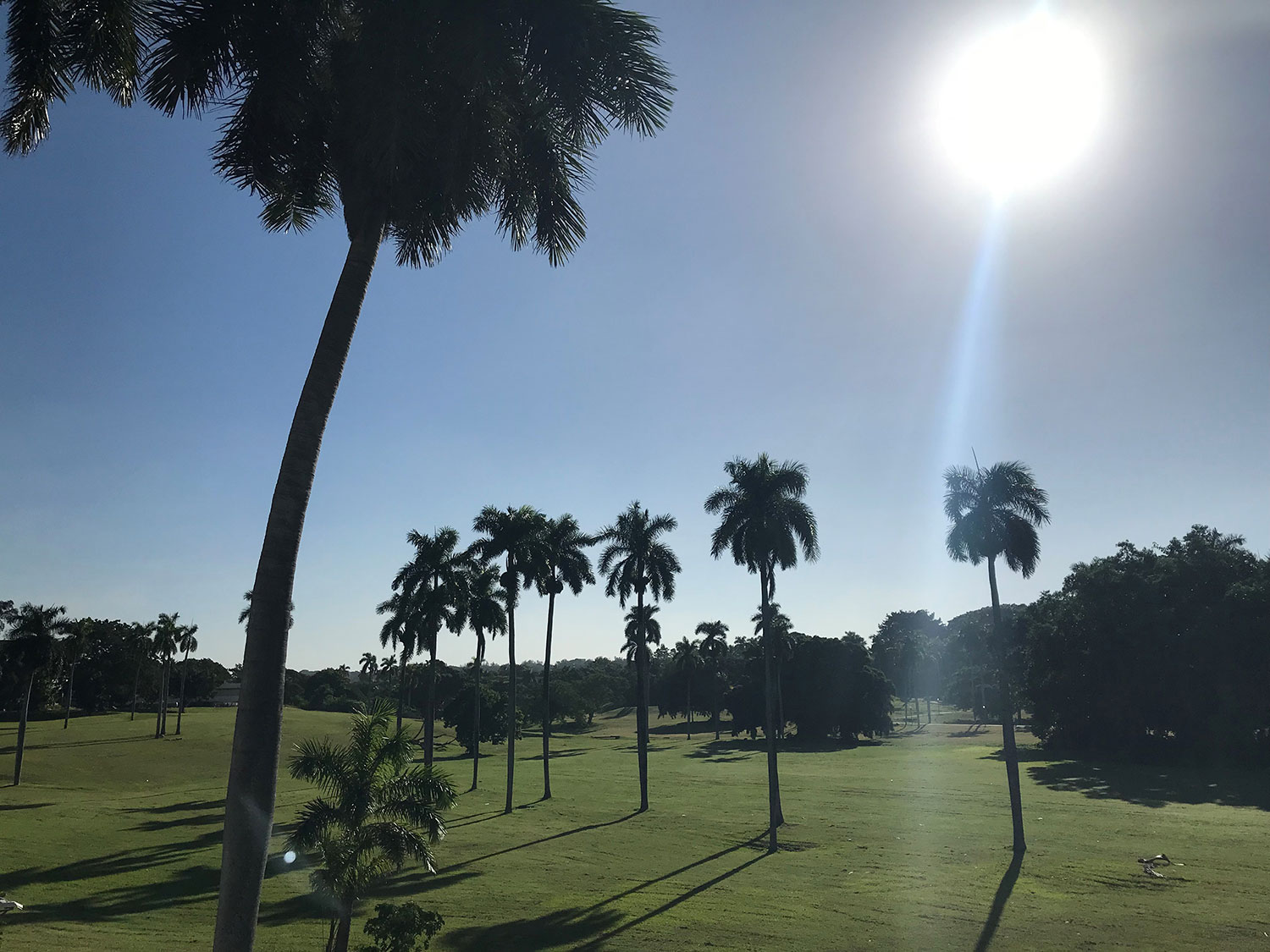 Two of the pieces, In C and Worker's Union bear a similarity due to their ensemble and compositional style. Their ensemble is 'open instrumentation,' meaning they can be performed on any instruments available and by as many or as few performers are on hand. Their compositional style is cellular; they're made up of short, repeatable snippets, rather than sequences of long phrases. The decision of how many times to repeat a snippet falls to the performer, meaning the length of the piece is never quite the same.
We had our dinner at the fabulous Paladar La Guarida. The word Paladar precedes the name of any privately-owned restaurants in Cuba, and is a good indicator of quality. We enjoyed a dish of shredded beef and pork called Ropa Vieja, which translates to 'old clothing' due to its tattered look.
Wednesday, October 24:
On our third day of rehearsals, we took to the outdoors to run through Worker's Union. We carried our instruments to the university's back lawn. Initially we settled in the shade of a large, ropy tree, but had to relocate because the shade was already claimed by a large ant colony! We brushed off our shoes and legs with leaves and moved on to a small paved road and bridge. From there, the rehearsal was only occasionally interrupted by passing cars, trucks and motorcycles. Mike played a steel pot between his legs; some students played empty washtubs, and our Dutch percussionist very enthusiastically smacked the shells of two congas.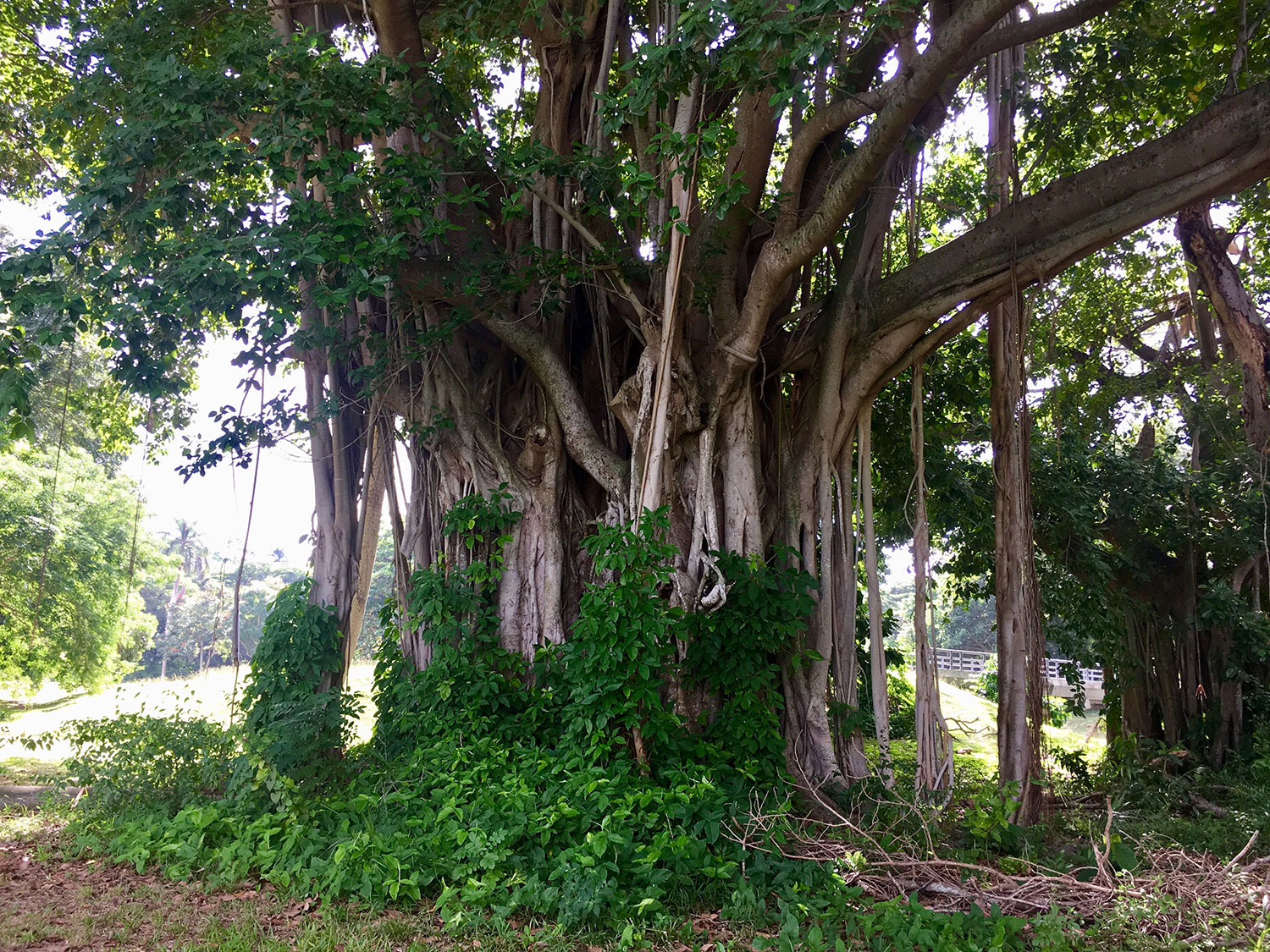 Ant Tree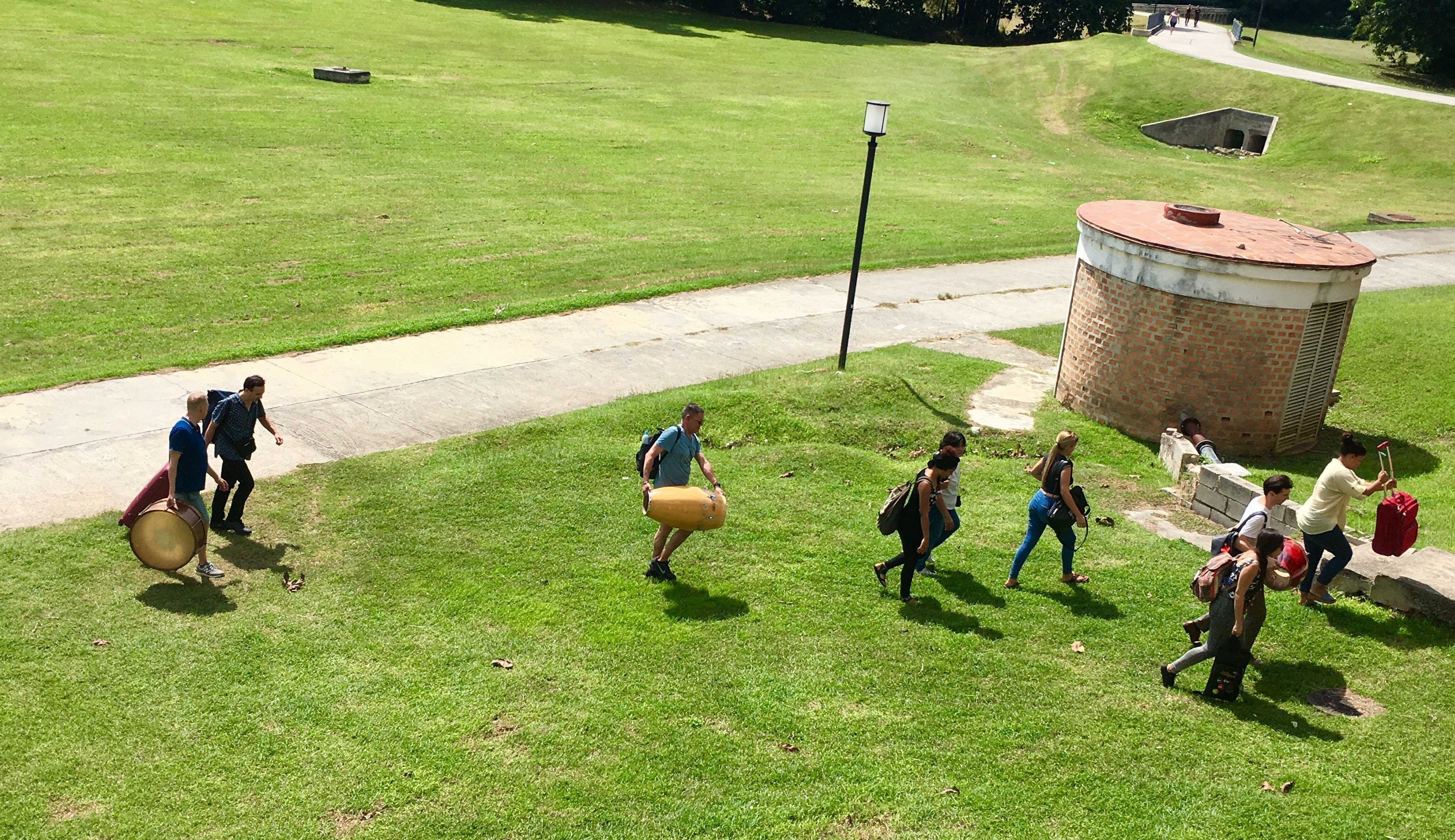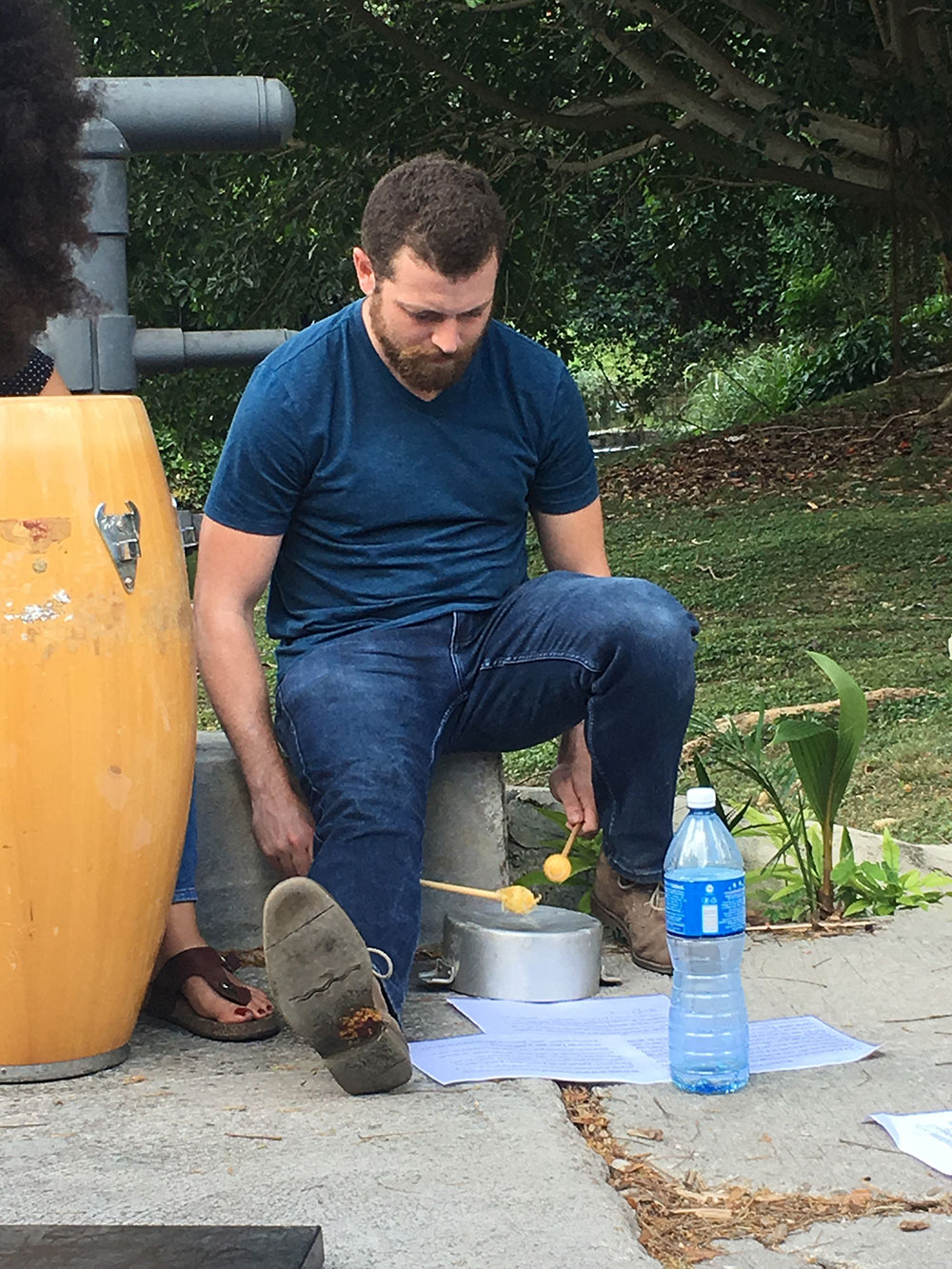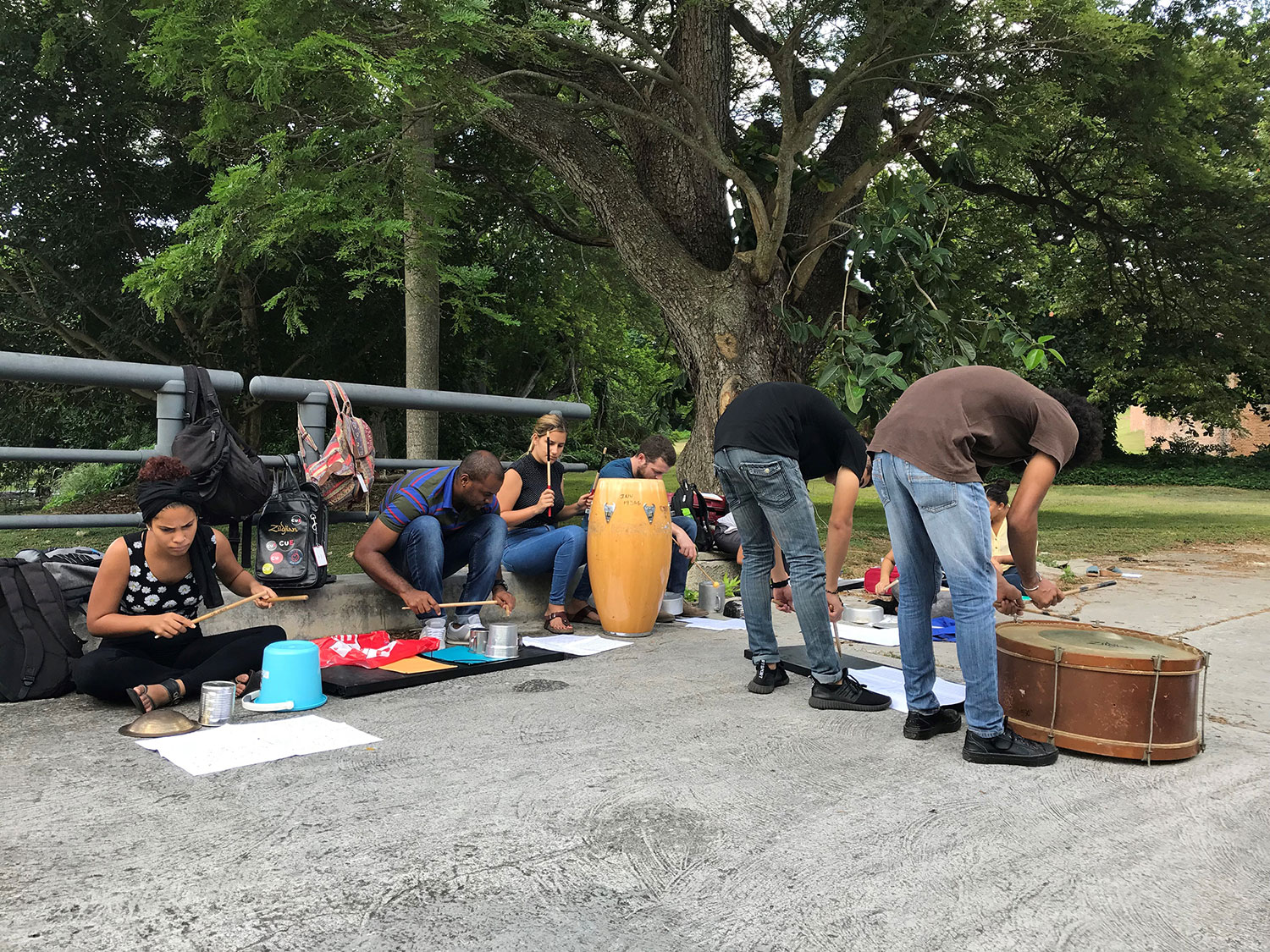 "My back hurts."
In the afternoon, the Cuban students taught us americanos some Cuban songs and rhythms. We were in way over our heads, and in awe of the abilities these students had until now concealed. One shy girl laid down a ripping solo on the timbales; another girl acted as bandleader, playing congas, singing and dancing. We had a great time, and really bonded as fellow drummers.
Thursday, October 25:
On our final day, we watched the dress rehearsal at the Teatro. We said our emotional goodbyes and exchanged social media info with the students. We then visited the nearby cigar factory and grabbed lunch at a restaurant called El Chanchullero, that had a modern, young, edgy vibe. One poster on the wall bragged, "Hemingway never ate here." We spent the rest of the day exploring and eating our way through Habana Vieja, and ultimately returning to our favorite mysterious salsa club.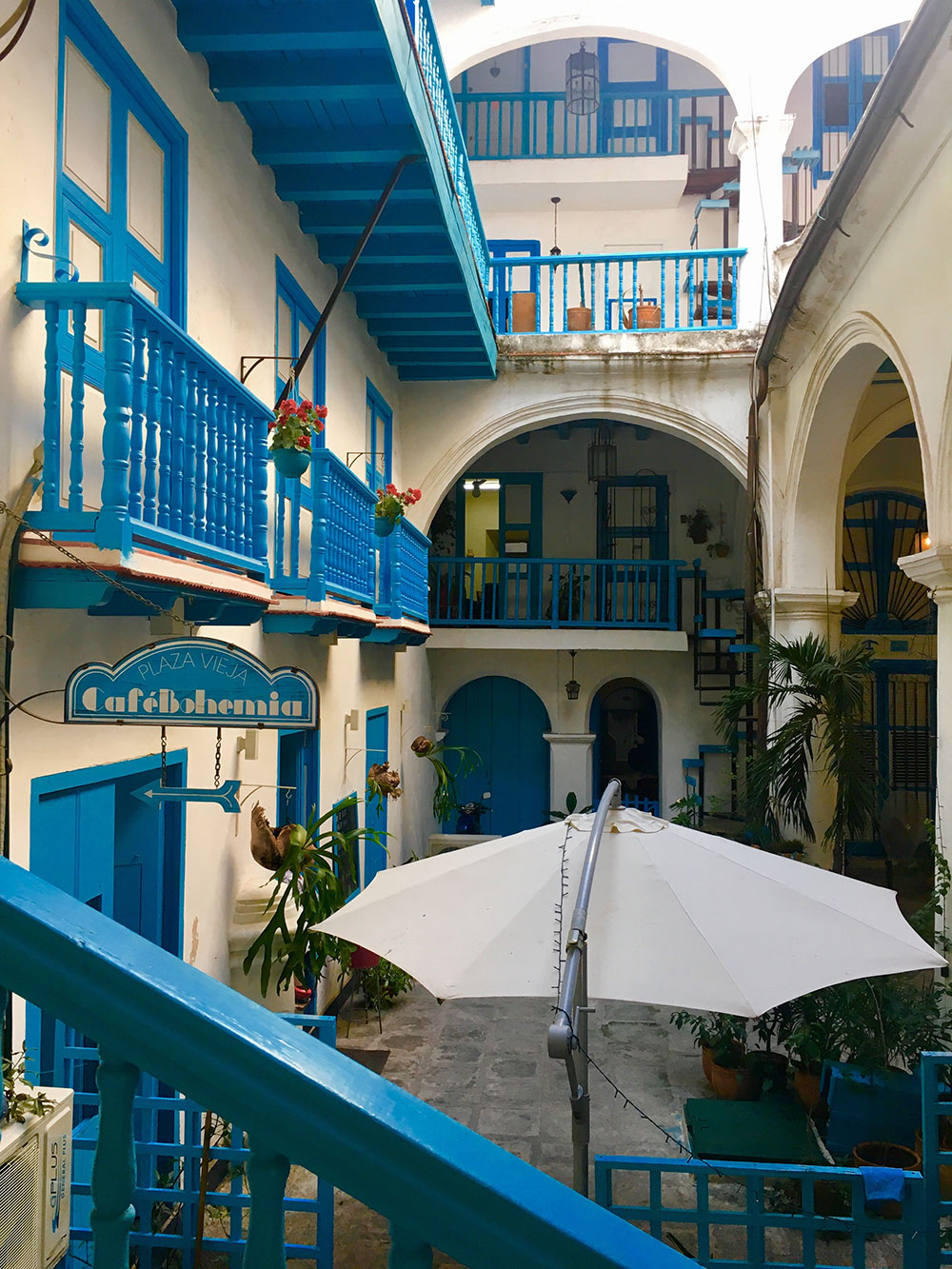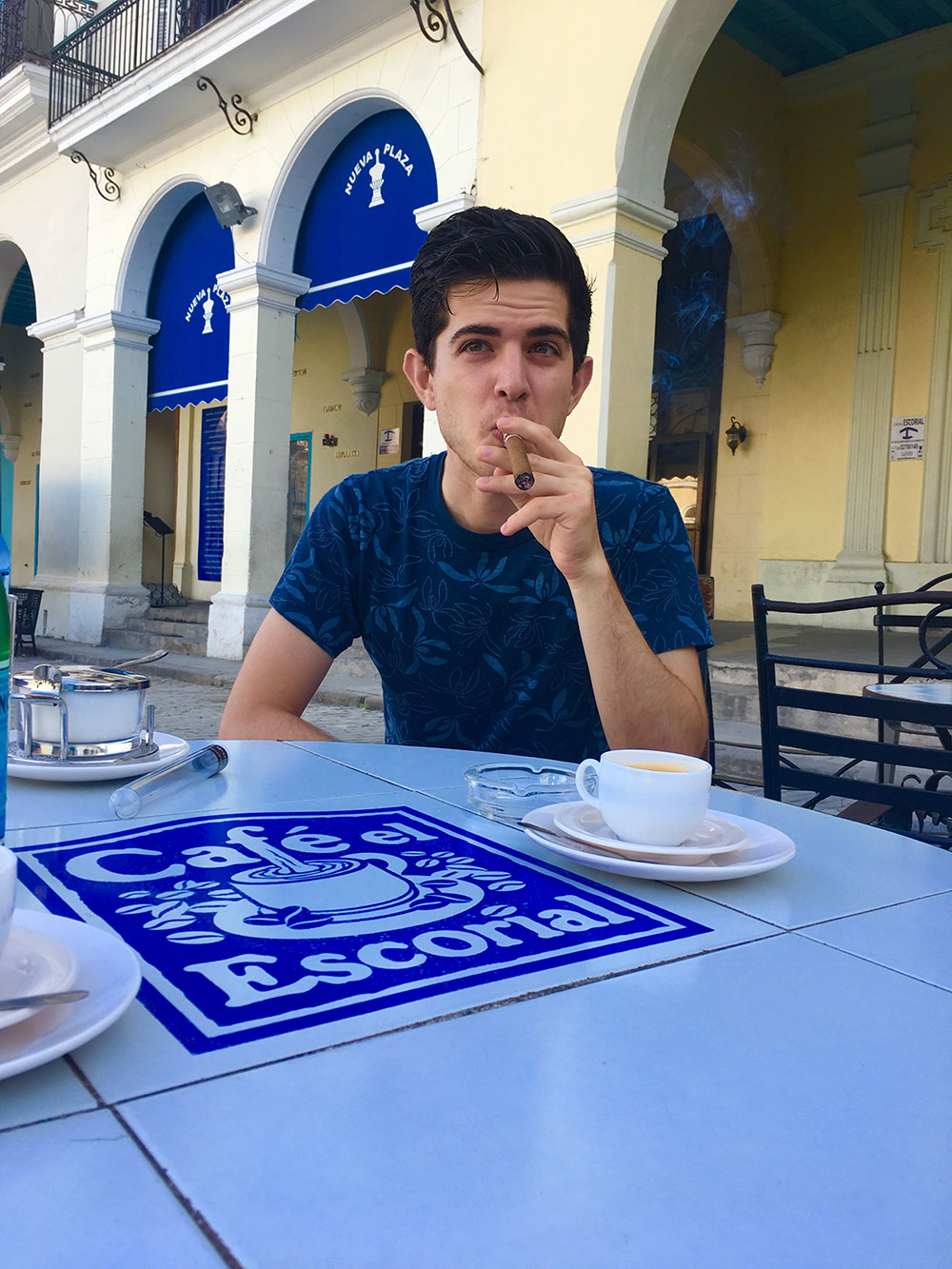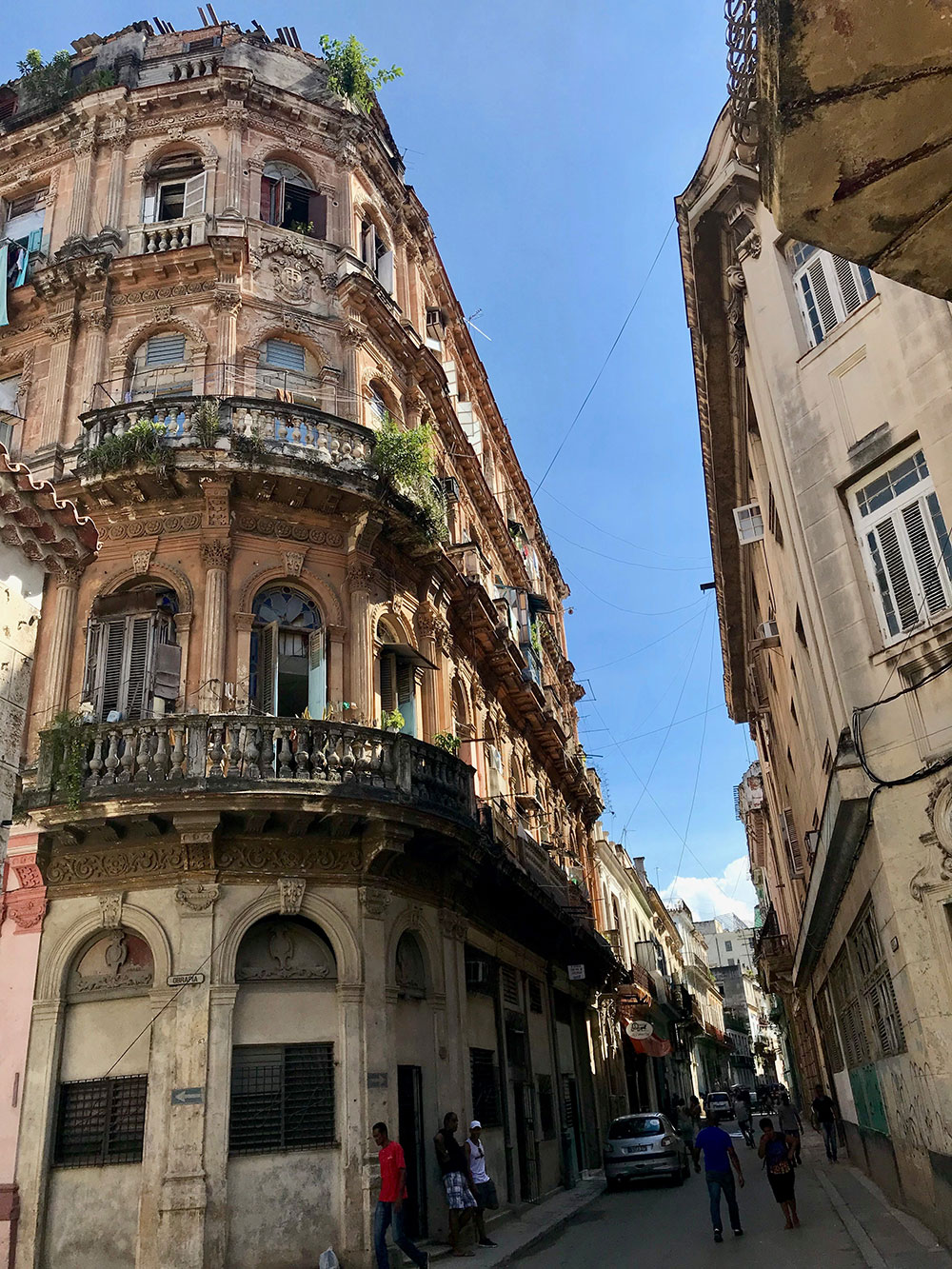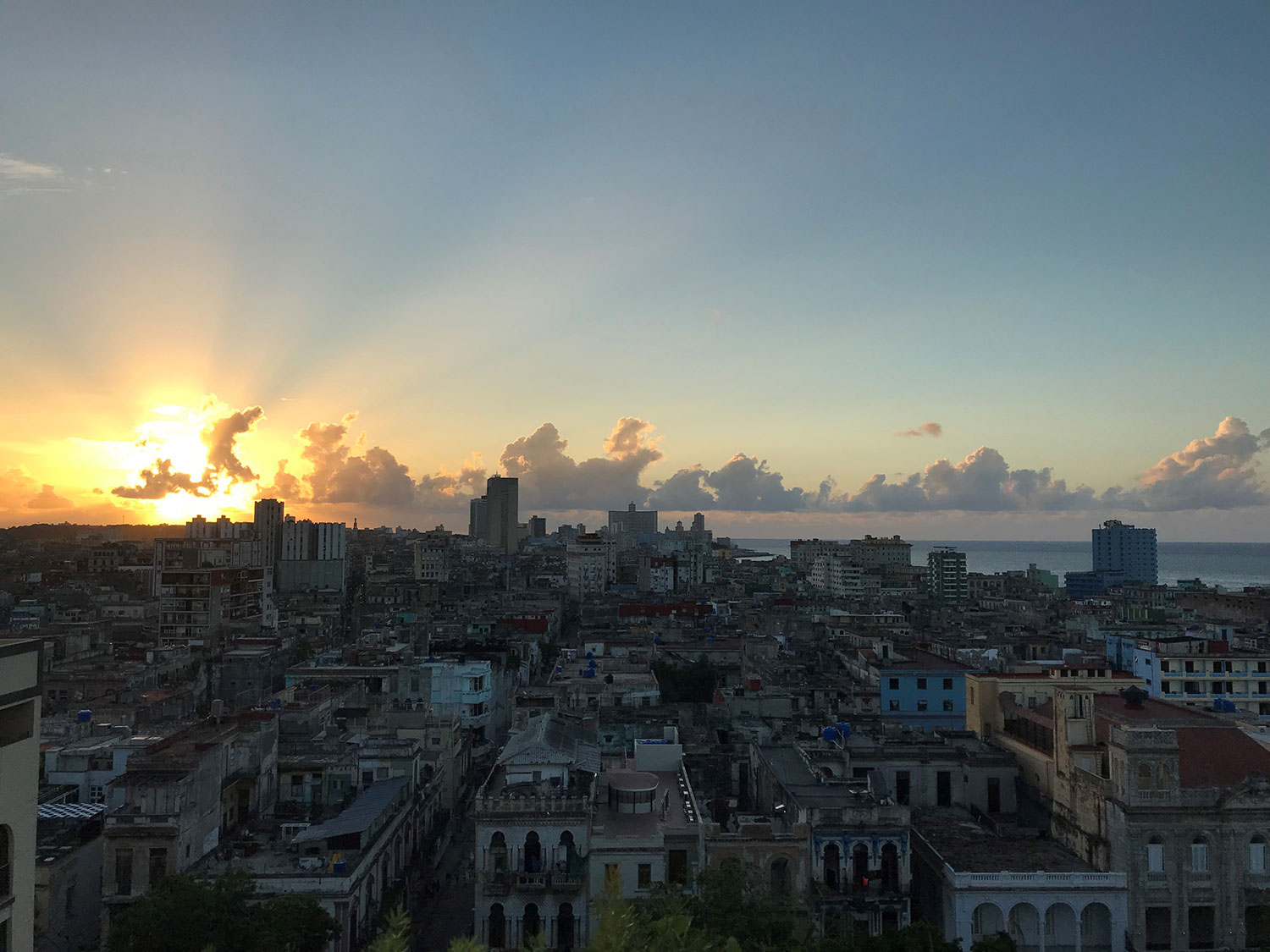 It was an unforgettable trip, cram-packing loads of culture into four days. It still boggles the mind that such a different world sits so closely to our home in Miami Beach. It was humbling to represent the New World Symphony in such a musically rich city, especially for percussion.
Signing off,
Charlie and Marcelina
Posted in: Fellows, Travel Journal
---